News
The DVD Recalled After a Week That Became a Collector's Item
The original 1998 DVD release of Little Shop Of Horrors didn't quite go to plan - but made a lot of people a lot of money...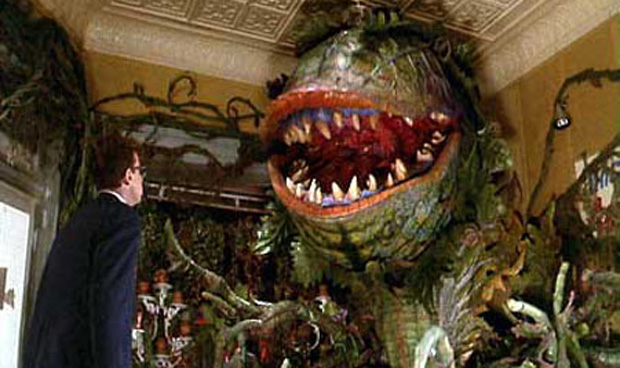 This article comes from Den of Geek UK.
In 1998, as you know, the DVD format was in its infancy. Take-up was fast, but there was still a long way to go to dislodge VHS as the film viewing format of choice. As such, some older releases have gone onto become collectors' items, given the relatively few quantities they were produced in. But one DVD instantly became one of the most sought after DVDs on the planet in 1998, when it was recalled after just a week on sale.
Warner Bros issued a special edition DVD that year of the 1986 take on Little Shop Of Horrors, starring Rick Moranis. But it accidentally included a special feature that shouldn't have been there.
Amongst those extra features was the original 23-minute ending to the movie, that was presented on the disc in black and white. The new ending saw Rick Moranis and co-star Ellen Greene eaten by a plant, and test audiences in 1986 hated it. A cheerier ending was shot and included. For the vast majority of people, this was the first time the older finale had ever been seen.
Not that they'd get to see it for long, as once its inclusion was discovered, a recall was ordered.
Why? Well, it was producer David Geffen who objected to the original ending's inclusion. Talking to Entertainment Weekly in 1998, he said that "of course I objected. They put out a black and white, unscored, undubbed video copy of the original ending", arguing that it "looked like s**t."
Geffen had planned to re-release the movie at some stage with the original ending intact, something director Frank Oz didn't know about. "I had a black and white version of that ending, David has it in color, and I didn't realize that," Oz said.
Warner Bros would fairly quickly reissue Little Shop Of Horrors on DVD without the contentious ending. Very swiftly though, fans started seeking out the now ultra-rare original release. The DVD, originally priced at $24.99 in the US, was soon going for ten times as much.
Even today, it'd set you back over $80 for a copy, in spite of the fact that Warner Bros, in 2012, released a DVD and Blu-ray of the film with the original ending restored and available as an option. That's the version that's available in stores now. It's also the cheaper option…