News
The Disaster Artist: James Franco Discusses His & Tommy Wiseau's Lifelong Similarities
During a SAG screening for The Disaster Artist, James Franco talks about the fascinating echoes between himself and Tommy Wiseau.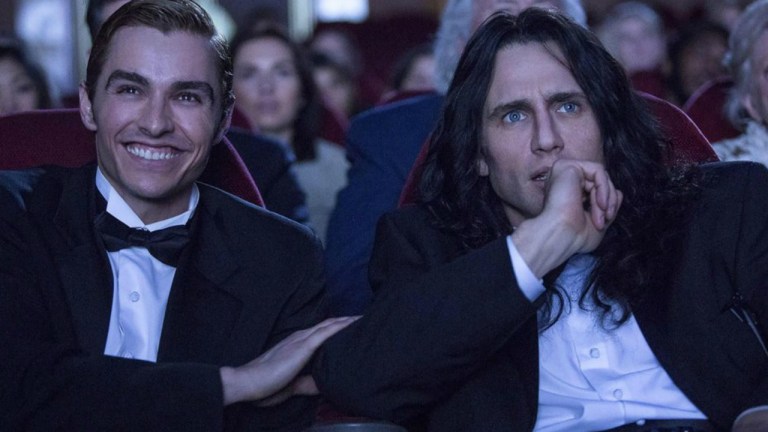 Oh hi Den of Geek readers, I didn't see you there. Did you know that James Franco has a biopic of sorts about Tommy Wiseau and the making of the legendary cult classic, The Room, on the horizon? Yep the eclectic Renaissance Man actor and filmmaker is diving into recent film history and mythmaking to pay homage to the most beloved bad filmmaker since Ed Wood. And with The Disaster Artist, Franco succeeds in front of and behind the camera, discovering humor and a strange admiration for a fellow actor-director. One whom many mistook for a vampire upon first encounter.
During a SAG screening of The Disaster Artist in New York this week, Franco was on hand with his brother and co-star Dave Franco, as well as actors Ari Graynor and Josh Hutcherson, to discuss The Disaster Artist's long journey from a late night reading of The Room star Greg Sestero's memoir (which Franco devoured before even seeing the infamous movie) to premiering his own opus about Sestero's experiences at SXSW and then the Toronto International Film Festival. Through all of that though, there was always Tommy. In fact, the most interesting aspect about Franco's experiences with Wiseau is how much overlap and shared artistic inspiration Franco had with the enigmatic filmmaker, as well a Sestero. After all, both Franco and Sestero are the same age… and according to Wiseau, he is too. Yep, Wiseau still rather cryptically claims he's whatever age Sestero is despite looking at least a full decade older.
"Tommy and I and Greg, we all had the same heroes," Franco marvels at the SAG screening. "In fact, in the book, I'm even mentioned, and Greg obviously wrote it before he knew I was going to adapt it. And he said, he did this movie Retro Puppet Master, which they shot in Romania, and he said, 'James Franco had auditioned for this movie and I got it.' So we had actually crossed paths, and then I played James Dean in 2001, and I learned later that Tommy had watched that many times." Indeed, as highlighted in The Disaster Artist, Wiseau and Sestero would watch the whole James Dean oeuvre for frequent inspiration for their acting craft.
Says Franco, "This is just a—even talent aside, just a genetic thing—I kind of resemble James Dean and then got cast as James Dean. Tommy looks nothing like James Dean but thinks he's James Dean…. So they're really striving, Tommy's striving. He quotes Rebel Without a Cause in [The Room]. 'You're tearing me apart Lisa!' He's aiming for that, it's just filtered through his sensibilities, so it just comes out like all the way over here."
Still, this duality is one of the reasons that Franco feels like it was kismet that he wound up telling Wiseau's story in The Disaster Artist, even if he sheepishly adds with a smile that he was Wiseau's second choice for who should play him.
"I approached them and learned later that there were two people who Tommy wanted to play him. Me and Johnny Depp," he says, pausing to add a Wiseau-styled vocal inflection on the pronunciation of the Ed Wood star's name. "And I was the one who came!"
Yet it all seems to have worked out. The Disaster Artist comes from a place of obvious love and fascination for Wiseau and Sestero's story. Rather than being wholly mocking, it is a tribute for young hungry actors in Los Angeles—and in the late 1990s and early 2000s, no less—trying to make it during the same period that Franco broke through. While their legacy is far more ironic, it is nonetheless a legacy. Franco even smiles that they referred to their new movie as "The Upside-Down La La Land." While these artists may not fully fulfill their dreams, they're trying just as hard, and fulfilled something for many moviegoers.
Apparently that still includes Wiseau himself. Wiseau has given his overall blessing and support to The Disaster Artist. Remarking at SXSW that he approved of "99.9 percent" of Franco's comedy-drama retelling of his life. When pressed about what was the 0.01 percent that didn't pass the smell test, he mumbled something about lighting at the time, but has since recanted even that. Indeed, during a recent New York Comic Con screening for The Room we attended, he appeared and mentioned the ambiguous "99.9 percent" again with an implicit qualification, but would not reveal what it was.
Franco himself though seems to have solved the riddle. At this week's SAG screening, he revealed he recently met Wiseau and Sestero for lunch at a location young actors have been eating at for decades (all three frequented the same spots while coming up). And Franco found a strangely intimate and honest Wiseau there.
"I went over there, and Tommy was like more honest than I had ever experienced him," Franco says, clearly still a bit sensitive over Wiseau—the director of what many call the worst movie of all time—impugning the quality of The Disaster Artist's lighting. "'Alright Tommy, come on. It's just you, me, and Greg. You said it was the lighting. Come on, I didn't make that up. He's like, 'Okay, okay. It was so much pressure, I had to say something! I did not know what to say.'"
He also had got a relatively thoughtful answer from Wiseau about the artistic reputation of The Room. More honest still, Wiseau admitted The Room may not have been the masterpiece he planned on making.
Says Franco in his eerie accurate Wiseau voice, "'You know, The Room didn't come out exactly how I intended.' Really? He's like, 'Yeah, but you know, it's okay because it still gets a reaction from people, and that's all that you need.'"
That it is. The Disaster Artist will too when it opens on Dec. 1.