News
The directors that tried to tackle The Man From U.N.C.L.E
An adaptation of 60s series The Man From U.N.C.L.E has been trapped in development hell for years. Ti charts the spy show's tortuous journey to the big screen...
For those of you that were kids or teenagers during the 1990s and were into cult TV, you will know that The Man From U.N.C.L.E. was a staple of Friday nights.
Although it was made in the 1960s, during the 1990s, BBC2 would show the likes of Thunderbirds, Captain Scarlet and Stingray at 6pm on a Friday night, and each time they would be followed by an episode of The Man From U.N.C.L.E.
As such, the phrase "Open channel six", the catchy theme and the agents' yellow triangular badges signifying their rank in the organisation became very familiar…
For those unfamiliar with the series, it followed global spy force U.N.C.L.E (The United Network Command for Law & Enforcement) as they tried to foil the nefarious operations of T.H.R.U.S.H (Technological Hierarchy for the Removal of Undesirables and the Subjugation of Humanity – not the thrush you're thinking about…).
Yes, T.H.R.U.S.H was the S.P.E.C.T.R.E to U.N.C.L.E's Bond (typing these full stops out is doing our head in), and it is clear that the series was heavily influenced by 007, as Ian Fleming was even credited as being a co-creator. It followed U.N.C.L.E agents Napoleon Solo (the suave Robert Vaughn) and Illya Kuryakin (David McCallum), who, despite being Russian, was one of U.N.C.L.E's leading agents during The Cold War.
The programme showed the two agents  as they went on a series of adventures that often involved secret formulas, weapons and defectors. But one constant was that they were always captured – often while they were distracted by attractive ladies.
The show ran for 105 episodes, and even saw several movies released (To Trap A Spy, The Spy With My Face, One Spy Too Many, One Of Our Spies Is Missing, The Spy In The Green Hat, The Karate Killers, The Helicopter Spies, How To Steal The World) and even one spin-off series, The Girl From U.N.C.L.E.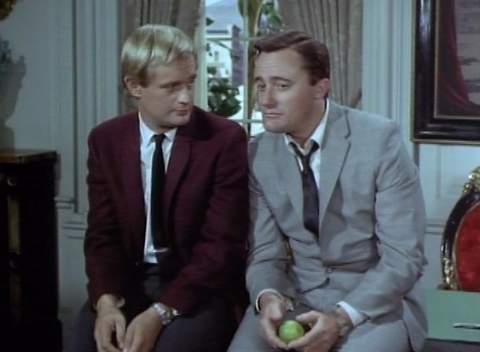 However, over the past two decades, when it seems Hollywood has been remaking anything and everything from the 1960s, The Man From U.N.C.L.E has remained in development hell, while less popular series such as Get Smart and Bewitched have been made into movies.
It made no sense.
In a world where Bond and Bourne are box office gold, you would have thought that Warner Brothers would have leapt all over The Man From U.N.C.L.E, transforming it into a big budget action series that would aim to reduce the campiness of the original 60s series and replace it with a more serious tone.
That was what Matthew Vaughn (Layer Cake, Stardust, Kick-Ass) had in mind when he was tasked with bringing it to the big screen. Warner Brothers reportedly gave him the gig in 2007, when Vaughn just missed out on directing Casino Royale due to production conflicts, and dropped out of X-Men 3 due to clashes with 20th Century Fox.  Warner Brothers are said to have given him U.N.C.L.E with the goal of giving Bond a run for his money.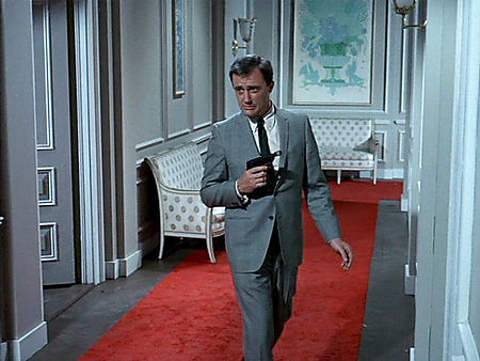 Vaughn reportedly caught the eye of Warners Brother after his pitch for Harry Potter And The Order Of The Phoenix seemed a bit much for them. In the words of Vaughn, "I did slightly scare them by saying the next Potter has got to be more like The Dirty Dozen. But I'm not going to be one of those directors who isn't honest about what he intends to do, and then changes everything when shooting has started and it's too late to fire him. I guess that's the producer in me."
When asked about his vision for The Man From U.N.C.L.E, Vaughn said, "I've always wanted to make a spy movie, and our idea is like nothing you've ever seen before. The name is the only thing that's staying from the original show. The studio is giving us a lot of freedom to break the rules."
"We're writing it at the moment (with screenwriter John Hodge of Trainspotting fame). We're totally trying to reinvent the whole genre. I'm a real Bondaholic, but I think The Man From U.N.C.L.E will show Bond a few things."
Apparently Vaughn agreed to direct the Warner Bros movie because he grew up believing the 1960s show's star Robert Vaughn was his father, until recent tests proved his biological dad is English aristocrat George De Vere Drummond.
Anyway, the project fell through and by all reports, Vaughn is now putting his love for 60s spy series into X-Men: First Class, which is reported to have a very Bondian feel.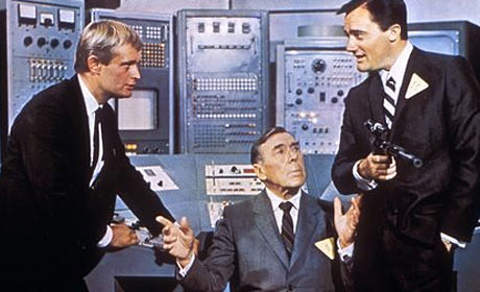 Tarantino has even spoken about doing a version of the series, though his vision was slightly startling. It is rumoured that during the 90s he wanted to do a film version with George Clooney as Napoleon Solo and himself as Ilya Kurayakin. Perhaps it's fortunate that never got greenlit.  
Rumours are already surfacing that Soderbergh has approached his old pal Clooney to star as Napoleon Solo in his version. While that may have worked in the mid 90s, one can't help but think Clooney is too old for the role now.
Earlier in the year, the project reportedly got a new writer in the form of Max Borenstein. He was  bought in to rewrite the script for director David Dobkin (Wedding Crashers), who was reportedly going to make the film in the vein of an action-comedy, much like I, Spy and Get Smart.
Now that Soderbergh has come on board, Dobkin has moved into a producer role, but it's not known how the director of Traffic and Ocean's 11 will handle the project. Will he play it like a comedy? Or go for the more serious route like his current project, Contagion? Warner Brothers reportedly liked Borenstein's script, so it is expected that this will be the one that goes into production, though I imagine Soderbergh will make some script changes beforehand.
Personally, as someone who grew up watching the series as a kid, I would love to see it done in a serious way as a potential rival to the Bond series. The last thing I want is another Bond-esque spoof like I, Spy or Get Smart, and I think Soderbergh has the talent to make U.N.C.L.E something special.
Only time will tell if this is the case though, or whether it goes back to development hell…
Follow Den Of Geek on Twitter right here.