News
The Dark Tower Movie: Idris Elba & Matthew McConaughey Talk Story
The stars of The Dark Tower, Idris Elba and Matthew McConaughey, talk about Roland and the Man in Black.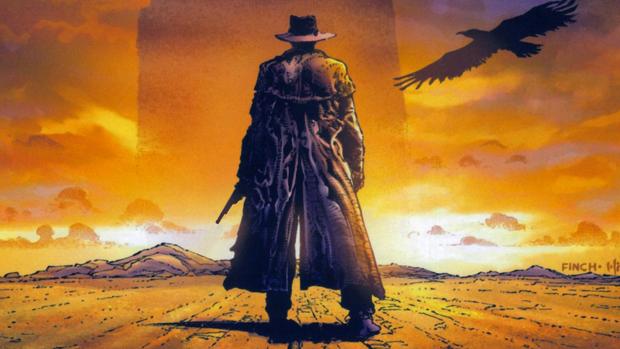 The Dark Tower movie, based on Stephen King's series of fantasy/horror novels, has been filming in South Africa and New York City for the past few weeks. The series, once thought to be impossible to adapt, will be ushered onto the big screen by director Nikolaj Arcel (A Royal Affair), stars Idris Elba and Matthew McConaughey, and King himself. To say that this long-gestating adaptation is under a lot of fan scrutiny is an understatement.
Luckily, Elba and McConaughey took some time off from shooting to talk to EW about their characters and what to expect from the film. As was already confirmed by King and Arcel before shooting even began, the movie will remix the events of the books and begin in media res. 
Said Elba about the first time we meet Roland, the main character, "When we meet Roland he's a bit lost. He's been walking around for a long time, so he definitely feels like a man who's… coiled." Elba also teased that Roland "has forgotten the face of his father" at the start of the movie, meaning we'll meet a somewhat defeated gunslinger in pursuit of Walter, aka the Man in Black, McConaughey's villain character.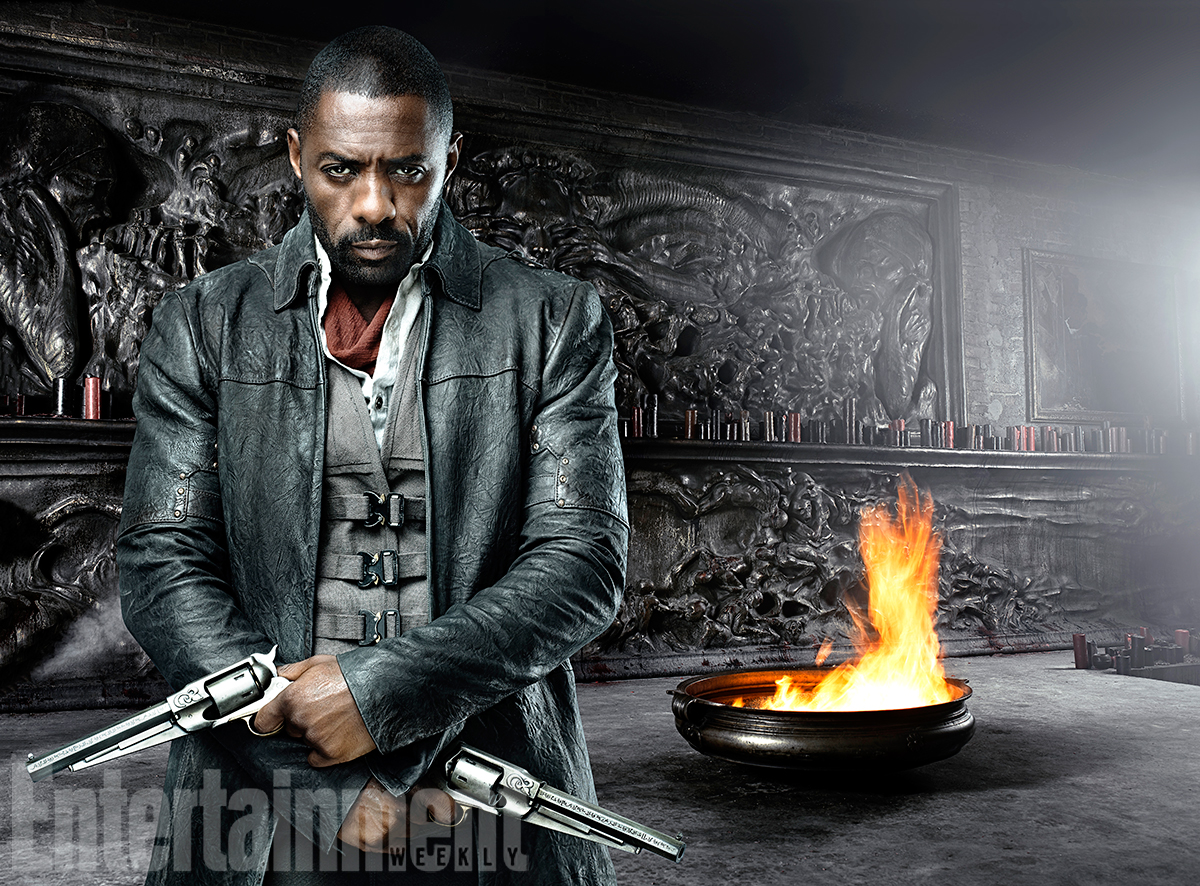 Elba described what makes Roland such an interesting character:
There's a mystical element to him. He's about 200 years old. He's been around for a long time, and has a deep-rooted connection with the [supernatural] nature of the film. Roland's completely tuned into that. When you meet him, he's very much a stoic man, doesn't want to talk. But when you get to know him, he really knows quite a bit about the world and his world's history.

And he very much knows the way The Man in Black works. He's so clued up on that, which is what frustrates him. Because he can't catch him.
While he's driven by rage at first, Roland soon finds purpose in his search for a young boy named Jake (newcomer Tom Taylor), who possesses the power of "The Shine," which is a power that should certainly be familiar to Constant Readers. Jake's power is sought after by the Man in Black as well, who wants to use the boy to destroy the beams that hold the mythical Dark Tower in place.
"Until he meets Jake, he doesn't have anything to believe in, really," Elba said. "He's really pent up and releases his soul through [defending] the boy."
Elba also addressed the controversy surrounding his casting as a character that is white in the books. Although King has supported Elba's casting, many fans feel that the black actor shouldn't portray the character as it betrays the source material. Said Elba:
"It's better just to treat it like no big deal. There should be no difference. The character that was written in Stephen's imagination, it could be any color. It just happens to be me and, you know? In the artwork, it just so happens to be a white guy, but I don't think that makes any difference. … I think what's great about it, if I want to say anything about it, is that it is a sign of the times in terms of a colorless society. People go, 'A good actor is a good actor,' you know?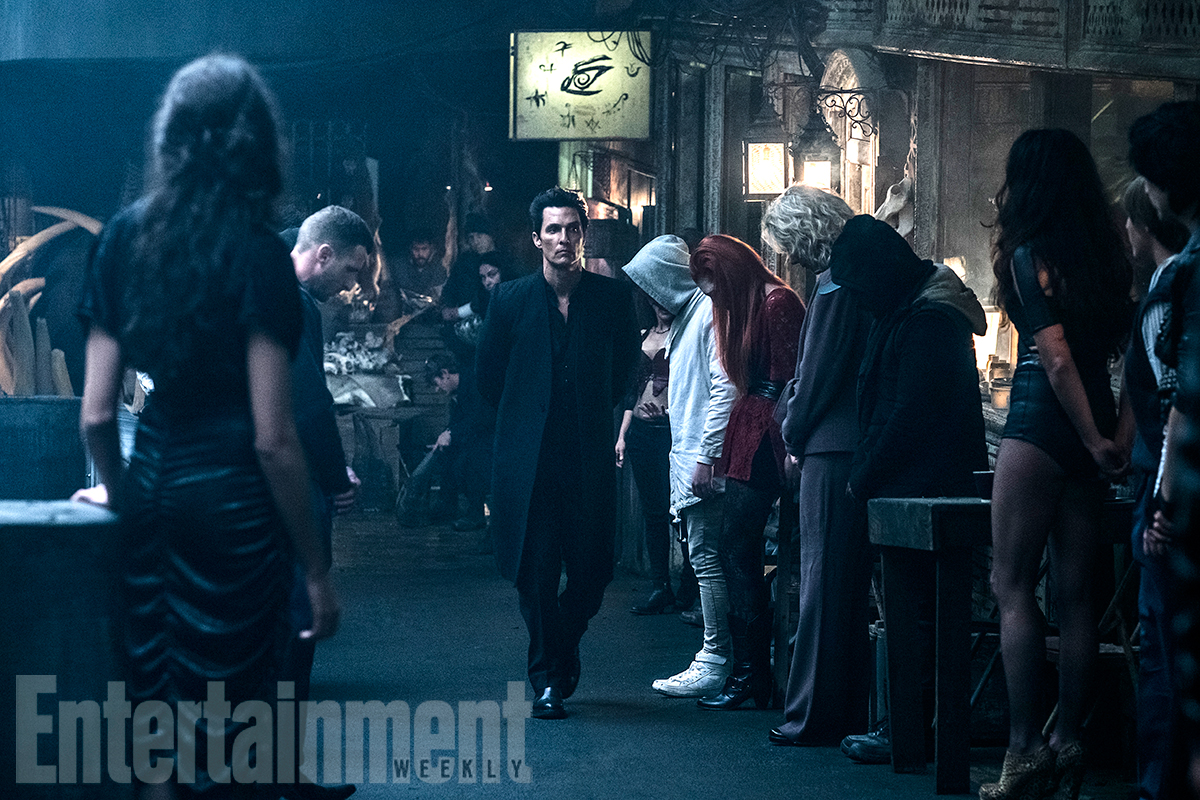 On the other hand, McConaughey has been a universally welcomed addition to the cast. He was actually the first cast member announced for the film, an important step for a movie that has suffered many false starts in the past. Now The Dark Tower movie is a reality and McConaughey is happy to talk about his character.
Surprisingly, McConaughey doesn't view Walter, a character that appears as a bringer of death in many of King's works, as a villain, describing him as "a man who exposes hypocrisies." But even he had to admit that Walter, who is known as Randall Flagg later in the book series and in the larger King universe, is still pretty evil: "You know, he's not literally the Devil, but I sure as hell think about him like the Devil. I think like the Devil would."
McConaughey shared an interesting tidbit about Walter's feelings towards the Gunslinger, who carries a deep hatred for the Man in Black. After all, the Man in Black is responsible for bringing about the apocalypse on Roland's world. Still, Walter doesn't feel the same hatred for Roland.
Said McConaughey, "I revere him. He's really the only true adversary I have. I expose hypocrisies, and he's the closest to pure there is. It's his persistent resilience to be good and altruistic. He's very precious to me. I almost don't want to see him go." It sounds almost like a Batman/Joker relationship, doesn't it?
Walter even communicates with Roland throughout the movie with the use of powerful crystal orbs that allow him to see through different worlds: 
So many times I'm just pumping him up, through sorcery, almost like the man in the corner of the ring for a boxer. 'Come on … you can do this … stay in the game,' because I want to keep him, I want to keep his vengeance to find me. I want to keep that very vital, you know? My want, my need, my mission is to bring down the Tower. My love, my adoration, my muse, my shadow, is Roland.
Why does Walter want to bring down the Dark Tower? It seems he just enjoys pure chaos. Once the Tower falls, All the gaps between the worlds are filled with blackness and evil," said McConaughey. "Once I bring the Tower down, and take a seat next to the Crimson King, I've got my own plans from there as well…"
The Crimson King? Yes, he's the evil god-like entity waiting for Roland and Walter at the top of the Tower. He's also Walter's master. We will undoubtedly learn more about this force of evil in the movie, as well. 
EWalso confirmed we'll see a couple of familiar locations from the books, including the Dixie Pig, a base of operations for the forces of the Crimson King in New York City, and Devar-Toi, a prison for the powerful psychics that Walter has kidnapped to help break down the beams of the Dark Tower. Walter hopes to capture Jake and bring him there.
Roland will have to stop Walter before he can complete his mission and destroy space and time once and for all. Time will tell if Roland can remember the face of his father. 
The Dark Tower is due out on Feb. 17, 2017.