News
The Crow Reboot Reportedly Removed from Sony's Schedule
The Crow reboot movie is essentially dead over at Sony, with star Jason Momoa and director Corin Hardy now gone.
While The Crow's titular vengeance-seeking spirit famously said, "It can't rain all the time," he probably couldn't fathom the comically rainy bad luck of the remake project, which just lost its star and director.
In the latest and most likely final development in the story of the The Crow reboot project's inauspicious odyssey, it is being reported (via Exhibitor Relations,) that Sony has officially pulled the project off its schedule. – It appears to be as clear of a death knell for a movie project as one could receive, especially considering its string of escalating misfortunes. Of course, like the titular character, The Crow franchise never truly stays dead and will likely go back to the drawing board with its reboot plans.
Read the Den of Geek SDCC 2018 Special Edition Magazine Here!
The Crow reboot project has been the film industry's equivalent of Teflon for about the past decade, since Sony Pictures can't seem to find a star or director to stick around. However, after years of turnovers, the team of would-be star Jason Momoa and would-be director Corin Hardy felt like an auspicious pairing, and, last we heard, the project was finally on track to begin production in a little over a month… until it wasn't.
Indeed, in a bit of news that was simultaneously astonishing and predictable, The Crow reboot movie, once again, lost its star (in this case, Jason Momoa,) and its director (in this case, Corin Hardy), as reported by Deadline on May 31. While even the Momoa/Hardy reboot team (pictured below from last year,) had stops and starts over the past few years (Hardy even quit at one point in 2016), purported "creative and financial difficulties" with producer Samuel Hadida – head of financing studio Davis Films – ended up serving as the final straw for this collaboration. The Hadida drama also stems from the producer's apparent inability to close the deal with Sony Pictures, which apparently made the studio's exit from the project imminent.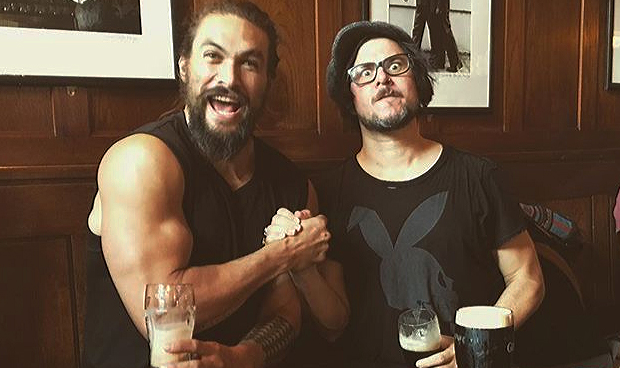 Of all the setbacks experienced by this plot-appropriately cursed production, this may be the most vexing, since the film had been in full pre-production with director Hardy, and it occurred as cameras were scheduled to roll in Budapest within five weeks. Moreover, as recent as March, Sony had set the release date of October 11, 2019, which seemed to be a surefire sign that The Crow reboot would, at long last, fly. This, unfortunately, pulled the project back to terra firma.
The Crow story adapts the original 1989 graphic novel of James O'Barr, who's remained very active during the reboot project's tumultuous process (we'll probably hear him chime on this latest development soon enough). The property is, of course, best known from director Alex Proyas's 1994 film adaptation, which starred Brandon Lee, in which the star was killed during an on-set accident. While there were soft-rebooted sequels in 1996's The Crow: City of Angels and subsequent straight-to-video follow-ups in 2000's The Crow: Salvation and 2005's The Crow: Wicked Prayer, the property never quite recaptured its 1994 pop culture splendor.
At this point, some seven years after the project was initially announced, Jason Momoa now joins a (frankly, impressive) list of would-be stars of The Crow reboot, which consists of Bradley Cooper, James McAvoy, Norman Reedus, Luke Evans and Jack Huston. Moreover, Corin Hardy joins a legacy line that included names such as F. Javier Gutiérrez and (in a previous reboot iteration,) and Rob Zombie.
Of course, the exiting duo aren't lacking for work. Jason Momoa will parlay his DC Extended Universe role as Aquaman toward the James Wan-directed Aquaman solo movie, which arrives on December 21 of this year. Corin Hardy's directorial work will next be seen in The Conjuring spinoff film, The Nun, which arrives on September 7.
This article was originally published on May 31, 2018 and has been updated with new information.