News
The Comedy DVD Round-Up
It's the time of year for lots of stand-up comedy DVDs and we're rounding them all up here!
A terrific tour and another terrific DVD release from one of the very best stand-ups currently on the circuit. It helps, too, that this is O Briain's most confident set to date, tackling subjects such as videogaming, Roland Emmerich, grizzly bears and a bit of piracy, too. Plus, there's an outstanding, just for the DVD, ending. Excellent stuff.
The extra material is superb, too, from a piece demonstrating the organ that stands unused for so long at the Hammersmith Apollo, through to the now-infamous drinking game commentary that O Briain includes on his discs.
This time, he's brought in Andy Parsons and Ed Byrne to watch the DVD back with him, and they make quite a few sage comments in between the drinking.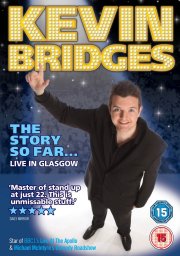 KEVIN BRIDGES: THE STORY SO FAR
The maiden DVD from Kevin Bridges sees him playing the SECC in Glasgow. It's a massive arena, and the set that Bridges performs is relatively general. But there are more hits in it than misses.
The highlight material for us is the segment where Bridges discusses the television viewing habits of his father, but there are lots of chuckles littered through a solid set.
The only extra you get on the disc is Bridges' Live At The Apollo set, which doesn't add a great deal to the package. But it's a decent inclusion, anyway.
RHOD GILBERT & THE CAT THAT LOOKED LIKE NICHOLAS LYNDHURST
Rhod Gilbert's second DVD release keeps the standard just as high as last year. Once more, he's put together some decent extra feature material, but it's the wonderful tempo of the main feature that's the gold here.
Gilbert is famed already for his rants, and his sheer anger at the most trivial of things. But there's a lot more than that in his set here, and while he ties material from the previous gig into this one, there's no shortage of hefty laughs.
There's a real technique to what Gilbert does that perhaps he doesn't always get full credit for, and the explanation of the show's title alone is worth checking the disc out for.
TIM VINE: PUNSLINGER
Hurling gags aplenty from the moment he takes to the stage, Tim Vine revisits his earlier show, Punslinger, for this year's DVD release. Massively underappreciated, Vine throws out joke after joke after joke, and it's easy to dismiss the craft underpinning his set by the sheer wonderful silliness of it all. It's not the best material he's put on DVD, but it's still a good, funny gig.
The extras are terrific, again, as Vine is one of the comedians who regularly goes the extra mile for the DVD release. The two highlights? Lots of try-out material, including lots of misses, and a genuinely interesting commentary track.
JIMMY CARR: MAKING PEOPLE LAUGH
Another jam-packed DVD, and this one has the distinction of presenting pretty much the entire gag, complete with the interval. It works well, too, giving you a chance to take advantage of a natural break in the act, as you would were you seeing Carr on stage.
The material is well tuned, varied, and hits the funnybone with regularity. And the disc package itself is brilliant, with lots of behind the scenes stuff to explore.
Carr says that he wants his DVDs to be as close to the feeling of going to one of his shows as possible, and including material such as the meet and greet afterwards only adds to this. Another strong disc.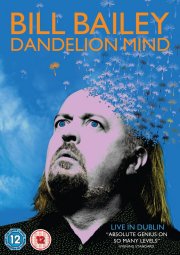 BILL BAILEY: DANDELION MIND
A tighter gig than Tinselworm, Dandelion Mind inevitably has its peaks and troughs, but whenever Bill Bailey hits his stride, he takes material and presentation in directions that none of his peers can match. And the good news is that he's on fire for good stretches of this performance. The crowd are very much on his side, too, and do make sure you keep seated until the credits have rolled.
Credit, too, for the interesting behind-the-scenes tour documentary, which finds Bailey hunting for a missing minibus in the Shetland Islands.
LEE MACK: GOING OUT
A masterclass in performance as well as comedy, Lee Mack also includes lots of extras on his DVD. There's the entire support act from Simon Evans, for starters. Then there's an interesting documentary following Mack on tour, including the early starts so he could hammer out scripts for Not Going Out as he travelled.
The gig is brilliant, up there with O Briain's as one of the top two gigs on disc of the season.
Agonisingly funny at times, pacey, and including a welcome Q&A at the end, we can only hope Mack will be back on the road soon, such is the quality of this release.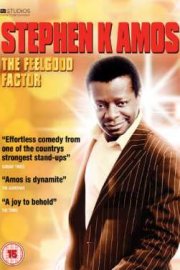 STEPHEN K AMOS: THE FEELGOOD FACTOR
Amos is a naturally fun man, and that sometimes get him through otherwise less successful parts of his set. That's the case anyway with his new DVD, which is enjoyable, but tickles the ribs less than some of the titles in this round-up.
It really does have its moments, though, not least a terrific ending that Amos has put together for the DVD. It just about has the edge on last year's release, but it does leave you with the feeling that Amos' definitive DVD gig is still in the future.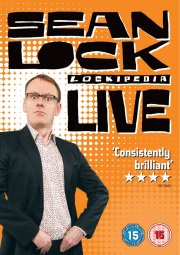 SEAN LOCK: LOCKIPEDIA
Madonna, Twitter, and strange confrontations on trains are just some of the topics covered in Sean Lock's second stand-up DVD. By turns whimsical, bitter and surreal, Lock's varied approach ensures that his material never lingers on one topic or mood for too long and the result is one of the more unpredictable, rambling stand-up DVDs you'll see this year.
Lock's oblique monologues are separated by his new invention, Audience Battleships, where he attempts to come up with jokes based on disparate words blurted out by audience members. Watching Lock desperately trying to think of amusing things to say – a kind of verbal escapology – is often as funny as his more rehearsed material.
Lock's closing routine, which involves Madonna scuttling around in a seedy hotel room in the dark, is wonderfully bizarre, ensuring that Lockipedia ends on a surreal high.
SIMON AMSTELL: DO NOTHING LIVE
We end our round-up on the weakest of this year's DVD releases, and we say that as big fans of Simon Amstell. His set here, though, doesn't at any point spark into life.
It feels as if Amstell is trying to be distinctive in what he talks about, yet as he goes about telling his stories, and throwing in welcome references to My So Called Life, he just seems to forget the jokes. On the one hand, we warm to the fact he's taking chances with his material. On the other, it really doesn't work very well.
It's quite a short set you get on the disc, too, measuring in at just over an hour. But it's still quite hard going.
All of the stand-up DVDs in our round-up are out now and available through the Den Of Geek Store by clicking on their DVD cover image.
Follow Den Of Geek on Twitter right here.