News
The Coen Brothers ready reckoner
A special treat for Ready Reckoner Friday: Martin sticks the Coen Brothers in the chair...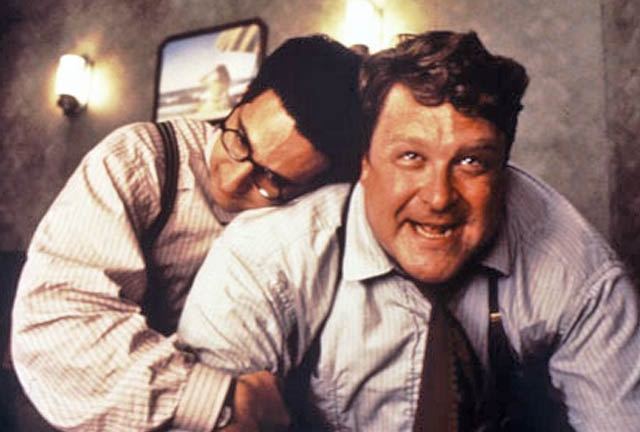 Endlessly defying strict categorisation, the Coen brothers have wrought a string of critical and commercial successes (though not always at the same time) for over twenty years. Best known for eccentric humour which relies on mantric repetition and for favouring character over plot, they remain beloved both of critics and actors, and many stars are rumoured to say 'yes' when offered a Coen brothers movie, without negotiation or even knowing what kind of film it will be…
Blood Simple (1984)
Dan Hedaya is the Texas bar manager who hires private-dick M. Emmett Walsh to spy on his possibly-cheating wife (played by Frances McDormand in a character dynamic she would later repeat in the Coens'
The Man Who Wasn't There
) in this convoluted thriller. The plot quickly takes off into a labyrinth of double-crosses and misadventures that might have had even Chandler rewinding to catch up. A competent thriller, with the Coens beginning to discover their idiosyncratic flair for character – by the time they have, however, the movie's over, and this can only disappoint Coen fans who were prepped by the likes of
The Big Lebowski
,
Fargo
and even
Miller's Crossing
.
Raising Arizona (1987)
Madcap and often bittersweet kidnap caper with Nick Cage and Holly Hunter as the ex-con cop couple who lighten an Arizona businessman's crop of quintuplets by one. Among the last work that
Men In Black
director Barry Sonnenfeld very ably undertook as a cinematographer, this is comfortably the most engaging and off-beat of the late-80s 'baby' comedies, and features a few bizarre portents: the 'prison break' scene seems to have either inspired
Shawshank Redemption
's or derived itself from Stephen King's source story, whilst Randall Cobb's Terminator-like bounty hunter presaged Javier Bardem's unstoppable assassin in
No Country For Old Men
(see final entry below). Additionally, Arizona's bounty hunter appears in a dream sequence clearly inspired by the Ghost Rider comic in whose movie adaptation Cage would star twenty years later.
Miller's Crossing (1990)
A gritty, blood-drenched period gangster offering where Gabriel Byrne is beaten up by Jon Polito so regularly that he's almost buffing his nails idly through the later wallopings. Tonally a halfway-house between the darkness of
Blood Simple
and the specious humour of
Lebowski
and
Barton Fink
. Albert Finney does a guest turn as Byrne's mob-boss that is only rivalled by Paul Newman (see
Hudsucker Proxy
below) in the Coen canon, at one point apparently turning into Arnold Schwarzenegger in a jaw-dropping display of machine-gun prowess.
Barton Fink (1991)
Set in wartime Hollywood, Coen stalwart Jon Turturro is the intellectual New York scribe lured to Tinseltown to write a wrestling picture, only to find the entire populace in 'development hell' and living on hopeless dreams of a better day. Fink suffers from 'Lebowski syndrome', as it is rarely appreciated on first viewing. The claustrophobic and faded hotel setting is the locale for a Lynch-esque examination of a breakdown caused by unregulated living, and only
Eraserhead
has covered the same ground as extensively, albeit with fewer comic flourishes. John Goodman cements his long partnership with the Coen brothers as Turturro's homicidally choleric neighbour, whilst the luscious period production design paves the way for…
The Hudsucker Proxy (1994)
Mailroom worker Tim Robbins is the patsy given the presidency of a 1930s corporation with the intention that he devalue its stock to a low enough point that the board of directors can buy the company out, after the unexpected suicide of their CEO. The most underrated Coen Brothers film,
Proxy
boasts the lushest production design of any period movie besides Peter Jackson's
King Kong
remake, but the stylistic replication of broad 1930s film-comedy went over the heads of many viewers and critics. The 'magical narrator' most famously embodied by Sam Shepherd in
The Big Lebowski
is prefigured here by Bill Cobbs' all-knowing janitor, and Paul Newman is formidable as the CEO-in-waiting.
Fargo (1996)
Ya! In
The Hudsucker Proxy
, the Coens mind-fucked their audience with a completely fictional account of the invention of the hula-hoop, and in
Fargo
they went a step further by opening the film with the announcement that it is a true story. It isn't, even though hopefuls later journeyed from as far as Japan looking for the buried ransom money around which the plot revolves.
Winner of Best Screenplay Oscar for lead Frances McDormand and also Best Original Screenplay, Fargo finds underachieving car salesman William H. Macy arranging the kidnap of his beloved wife in order to screw ransom money out of the father-in-law he hates. He chooses his accomplices unwisely, and when the bodies begin to pile up, laconic and very-pregnant cop McDormand is first on the scene…
The Big Lebowski (1998)
Slacker legend and ageing hippy Jeffrey Lebowski, a.k.a 'The Dude', ends up the unlikeliest of detectives when a couple of hoods mistakenly piss on his rug, thinking they are intimidating his millionaire namesake. Drawn into the kind of kidnapping scenario beloved of the Coens, The Dude finds himself dealing with psychopathic nihilists, scheming millionaires, irate police chiefs, hyperfeminist heirs and a continuing array of the most absurd characters in Coen brothers history.
Coen regular John Goodman makes his deepest impression as The Dude's vexatious best friend, 'Nam-obsessed vet Walter Sobchak, whilst Fargo's bigmouth Steve Buscemi barely gets a word in. The first viewing of TBL is irrelevant – it's only when you realise how unimportant the plot is that you can start to enjoy the aimless and hilarious ride. The most quotable and quoted film since Withnail and I, this is cult comedy gold.
O Brother, Where Art Thou? (2000)
George Clooney is the unexpected comic gem in this ribald and very arch pastiche of Humphrey Bogart's grittier early works. Superficially based on Homer's 'Odyssey',
Brother
finds state prisoner Clooney and chain-bound pals John Turturro and Tim Blake Nelson fleeing the law in 1930s Mississippi and facing numerous obstacles to freedom, such as treacherous cousins, bewitching washer-women sirens, George 'Babyface' Nelson and John Goodman as a psychopathic, bible-selling Cyclops. Besides being a hilarious romp,
Brother
is a tacit love-letter to Louisiana blues, with almost enough excellent musical breaks to qualify as an opera. The film's title is taken from a fictional movie in Preston Sturges'
Sullivan's Travels
(1941).
The Man Who Wasn't There (2001)
Still obsessed with early American film, this time the Coens turn their attention to noir with more commitment than in
Miller's Crossing
. Billy Bob Thornton conveys volumes with barely a twitch as the ultra-stoic 1940s barber who dreams of escaping his dull life and shrewish wife (Frances McDormand) by extorting money out of the rich neighbour who is cuckolding him, and investing it in Jon Polito's new-fangled dry-cleaning stores. Everything goes as wrong as it possibly can, and soon bodies are piling up
Fargo
-like, and though the tone is more comic, this is the blackest Coen brothers comedy to date. The black and white cinematography and bizarre obsession with flying saucers marks a return to the influence of
Eraserhead
for the brothers (see
Barton Fink
).
Intolerable Cruelty (2003)
Sometimes the Coens paint with enjoyably broad strokes – George Clooney was obsessed with his hair in
O Brother Where Art Thou
, whereas the slick and successful lawyer he plays in
Cruelty
is obsessed instead with his teeth. This is very frivolous fare that harkens back to the cinematic shenanigans of Spencer Tracey without quite capturing the requisite spark. Low-range Hepburn stand-in Catherine Zeta Jones needs to take some responsibility for that, but Gus 'I'll nail your ass' Petch and the scene where a horrified Clooney stumbles onto the centrefold in the 'Living Without Intestines' magazine are worth the price of admission by themselves, and Clooney's general comic surety rescue this second-weakest of the Coens' films; the weakest being…
The Ladykillers (2004)
It is painful to award one star to a film with such superb comic turns, but a one-star film in Coen country probably warrants three stars in any other list, and this remake of the classic Ealing comedy boasts a hilarious performance from Tom Hanks in the role of the eccentric criminal mastermind originally made famous by Alec Guinness.
The much criticised transposition from London to the deep South is not ultimately problematic; rather it lends a requisite gothic air to the piece and provides opportunity to revisit the musical landscape of Brother, but the fact is that Ladykillers has a weak script. Plot is secondary in the Coen universe, but the consolation of killer one-liners is absent here. That said, Spiderman's J.K. Simmons is excellent as the explosives man ('Easiest thing in the world!'), whilst Irma P. Hall is positively terrifying as the widowed landlady from whom Hanks and his cohorts are trying to hide their efforts to tunnel into a casino's strong-room.
No Country for Old Men (2007)
Unquestionably the darkest work from the Coens since
Blood Simple
, featuring the most chilling murderer since Hannibal Lecter in the form of Javier Bardem's itinerant assassin. Set in 1980,
Country
tells the story of a hunter (Josh Brolin) who stumbles across the carnage of a Mexican shoot-out between drug-dealers near the Rio Grande, and walks off with the $2 million left lying around.
But someone is always going to miss $2 million, and before long Brolin is being pursued by sheriff Tommy Lee Jones, hired gun Woody Harrelson and Bardem's ruthless killer, who murders his victims with the same high-pressure bolt that he uses to pop locks.
The cinematography emphasises the dark material; Country is a tableau of shadows, and there are barely any medium or close-up shots in the entire film. Even if the ending is horribly abrupt, this is a promising and dark new strand of chaos-driven narrative for the 'comedy Coens', only very sparsely leavened with their characteristic wit.