News
The Boat That Rocked press conference report
Nick Frost, Richard Curtis, Tom Sturridge, Rhys Ifans and Bill Nighy get together to talk The Boat That Rocked...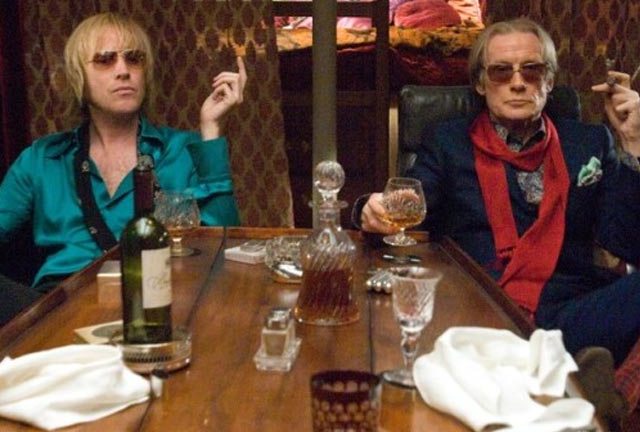 Richard Curtis' new film, The Boat That Rocked, has attracted a strong cast, with some terrific comedy talent on board (ho ho – we were clearly not included, with a gag like that). To promote the film, Curtis joined Nick Frost, Bill Nighy, Tom Strurridge and Rhys Ifans at the promotional press conference. And here's what happened…
KEY TO WHO'S WHO:Nick Frost – NFRichard Curtis – RCBill Nighy – BNTom Sturridge – TSRhys Ifans – RI
WARNING: There's a spoiler about the ending about two thirds of the way down…
Can someone explain about 'Boat Camp'
RC – Well, the boys were very good at that, and suffered through it. Basically, we did think that we should all practise living on the boat, so we lived for three days on the boat that we were eventually going to film on before it had been industrially cleansed.
So we put a lot of very spicy candles in every room and soft linen, which didn't hide the smell of goulash. And then we rehearsed during the day, and I seem to remember on the first evening, discipline was good and we watched some interesting documentaries about pirate radio and on the second evening discipline was… less good, and we did less research.
I think it gave everyone a sense of what we wanted to do, which was the feeling that in every scene of the movie everyone is acting all the time, because there are 12 people in most of the scenes, we didn't want the feeling that this is the scene where Nick talks a lot, and this is the scene where Rhys talks a lot – every scene was about everybody in the room, and I think everyone got used to that idea, that they had to be busy all the time.
To Bill Nighy: what are your memories about the pirate radio ships?
BN – I was pleased to be involved in this one because I do remember – I'm probably the only person who remembers all of pirate radio. I was there. And I did, not unlike the kid in the film, turn on my radio privately when my parents had calmed down and gone to sleep. It was a big deal, a big deal that is hard to explain and describe because… it is an unparalleled situation.
You went from your mum and dad's music, which was people singing in evening wear, to Jimi Hendrix… It couldn't have been more radical. Also, you gained outlaw status merely by tuning in, which was when you were 15, 16, that was of very good value. It was a big deal. And it was the first time that you could get a signal, I know it sounds weird now… but it was the first time you could get a signal and hear a song all the way through. And you could hear all of the songs, all of the time.
What's everyone's music taste?
NF – I am a hard house freak, and I don't care who knows, really. Anything under the Nukleuz or Captain Tinrib umbrella is good for me. And I'm really not joking… It's true. It's kind of like Bill talking about the musical revolution in the '60s. I kind of came in at the beginning of the house revolution, and there were pirate radio ships too, and I obviously didn't live through the '60s, but I think it had a similar feel, of social and cultural upheaval, and house music was the soundtrack to that… Sorry, that's the most intelligent thing I've ever said.
TS – Van Morrison is probably the most important person to me in the world. I can't really go a day without… I've already listened to about four Van Morrison songs this morning. Then as far as contemporary stuff… there's sort of a folk scene in London at the moment, headed by Laura Marlin and a band called Mumford and Sons, and a guy called Johnny Flynn, and a couple of people called Marcus Foster and Bobby Long… I suppose that's what I listen to most.
RI – I guess, you know, I missed out on the pirate radios and that. I kind of was hooked into it at the foothills of punk rock. So, yeah, The Clash and a lot of glue!
BN – I guess, all the usual suspects you can imagine. I'm a big Stones man, don't think I ever recovered from that. And The Who… I like American black soul music, which was my first big enthusiasm… Marvin Gaye and Aretha Franklin and all those people – Otis Redding, and Stax and Tamla Motown when it came along. And above all I guess, and more than anyone, I listen to Bob Dylan – I listen most days. And he remains the single most important artist in my life. And Van Morrison also would be on my list.
About the length of the film, and editing down the story
RC – Certainly the first assembly of the film was much longer, because we had a very fluid filming style on this film. Because there are so many people in every scene, we just put cameras on the shoulders of the cameramen, and wandered around.
So we could actually film a scene much faster than I used to when you used to do a wide shot then a two shot and a reverse and a single, and all of that. We dispensed with a most of that, so there was a lot of things which actually made the actors more free at some points to say what they want to say. I tended to say, say what you want to say at the beginning of the scene and at the end, and indeed if you can think of anything funny in the middle then do that as well. The original cut of the film was longer… I think it would be impolitic to say… A lot longer, double the length. The DVD is immense!
About directing the film, and how person a story is was
RC – It's a strange thing, it's suddenly occurred to me that I think it is a personal story in a different way…
In the movie, Philip Seymour Hoffman talks about these are the best days of our lives, and in some ways the film is about the time that a lot of people have, about between 20 and 26… a lot of people when they leave home, they move into a horrible flat, with six people who they hate two of them, like two of them, one of them never washes, one of them always has sex with everyone, one of them has never had sex with anyone and you listen to a lot of the music of your period. I lived in that sort of house and listened to Madness and the Specials and The Police and stuff like that.
And I think that in a way the film is autobiographical more about that sense of hanging out with your friends and playing and listening to music than it is about my youth where all I was was the little boy who listened to music under my pillow. I think that I wanted to direct this because I probably will direct the films that I write from now on.
What was it like filming the ending? (SPOILER)
NF – It was very exciting, really. And we shot it a lot, too. Didn't we shoot it about three or four different times…
RC – In about three or four different places, too, yeah…
RI – The rest of the cast drowned, that's why there are so few of us here…
RC – It was quite wet and quite cold, most of the time.
TS – My memory of the whole sinking experience is that, all of the stuff that we shot on the boat itself was horizontal all the time. And it is very difficult to pretend that you're dying when you see Nick Frost, Rhys and Bill literally kind of like splayed, pretending to be hanging vertically on the boat. Good times.
About music clearances
RC – There are some anomalies, I would say. There are one or two songs we tried to get, which we could never get to the bottom of why we couldn't get to the bottom of them. We couldn't get '(If Paradise Is) Half As Nice' by Amen Corner for some reason or another. And we wanted 'For What It's Worth' by Buffalo Springfield, but I think they've just decided it's been used too many times in too many ads, or something, and they just want it to be the song itself. And there was a Doors song we wanted, which was way over a million dollars, so we couldn't have that. On the whole, we got – there was some bargaining – but we got most of what we wanted.
Logistical problems
RC – In fact filming on the boat was fantastic, because it such a fantastic set. It's an actual, three dimensional set, so everywhere you put the camera, there's some sky, sea, rust, funnels, all that kind of stuff. And also the great thing about filming on the boat, it was quite close to what we were filming. Men of a certain age out on a boat with loud music playing smoking a lot. It made it quite easy.
Phillip Seymour Hoffman/ Pirate Radio
RC – I think that he absolutely loves the spirit of rock and roll. You know, he did that, what was it… Lester Bangs that he played in Almost Famous? So I've got a feeling, I don't know how much research he did, but the film is pretty self-explanatory, and he arrived knowing who he wanted to be and how he wanted to play it.
What's the musical genre you can least abide?
TS – Hard house
RI – You know those Andes, pipes thing. [mimes pan-pipes sound] That drives me mad.
RC – Experimental Jazz…
BN – Euro-techno-death-thrash-metal…
NF – Probably Big Band, even saying it has slightly made me a bit sweaty…
BN – Trad Jazz drives me nuts… Anything with brushes, anything where the drummer's got brushes.
Involvement of real radio DJs
RC – What happened on the film was I tried to do not much research, because I think that sometimes that research can stop you writing the film you want to write, and you end up writing somebody else's film… But it was great once I'd written it to be able to check that it wasn't, you know, horribly wrong. And Emma, my girlfriend, worked with Johnnie Walker at GLR for years, and she gave him the script and spoke to him about it. And we wanted everyone who played a DJ to learn how to be a DJ, so you guys did a bit of visiting, didn't you.
NF – … Yeah, we did. We had a DJ booth set up in a Central London location, so we could go along any time and just play records using the 50s equipment, and I went into see Johnnie Walker, which didn't end so happily for me… I think Johnny asked me to leave after about 10 or 15 minutes …
RC – What had you done wrong?
NF – I didn't do anything wrong. I just think that Johnnie, he's his own man, he's a legend, and he just wanted to play records and not really be watched. After a quite vigorous hello, where he physically wheeled me into his studio in my wheelie chair… and after about 10 minutes he said 'you'll have to go now'. And I left, and that's it…
The Boat That Rocked is out on 1st April 2009