News
The Biggest San Diego Comic-Con 2017 Stories
San Diego Comic-Con 2017 is over and done. If you're wondering what you missed, here are all the highlight news!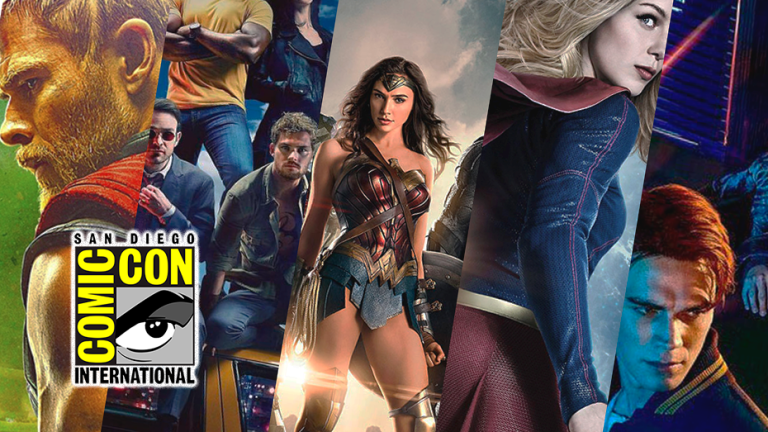 Well, another San Diego Comic-Con has come and gone, and it was, as usual, incredibly eventful. From a new look at the Justice League movie to trailers and interviews from every TV show you can possibly imagine, not to mention plenty of killer cosplay long the way, we saw it all…and covered it all.
So here, all in one place, is your convenient guide to everything we covered at SDCC 2017. Keep coming back to this page, too, because we're still updating it with all the amazing interviews we did!
Read and download the full Den of Geek SDCC Special Edition magazine here!
SDCC 2017 NEWS
Here's every tidbit of important news we caught at SDCC 2017 so far…
We pored over the new Justice League trailer for hints, clues, and speculation. Here's what we found!
We were there for the Game of Thrones San Diego Comic-Con panel, and we learned 10 new things while watching it.
Here's a new trailer for Marvel's The Defenders. Plus, everything else you need to know…
There's a new trailer for Thor: Ragnarokand it's going to Ragna-rock your world!
With filming just underway, director James Wan let the San Diego crowd dip its toe into Aquaman.
The Skrulls will be villains of the Captain Marvel movie! The film is set in the 90s and will feature Nick Fury…
Everyone gets up in arms over things like this, but the Justice League reshoots appear to be a matter of scheduling.
The trailer for Stranger Things season 2 from this year's Comic-Con has plenty of Upside Down details. Let's take a closer look…
Wonder Woman 2 is happening. As if we ever had any doubt!
Holy pop culture references, Batman! Check out the newly released trailer for Steven Spielberg's first science fiction adventure since the last Indiana Jones picture.
The Flash movie will adapt one of the most famous and controversial Flash storylines of all time: Flashpoint.
Here's the first trailer for Supergirl season 3! Plus, a plethora of new characters join the cast…
Katie McGrath understands why fans are so impressed with Kara and Lena's friendship on Supergirl.
Danielle Panabaker talks about what she'd like to see from Caitlin Snow and Killer Frost in season 4 of The Flash.
Here's the first trailer for The Flash season 4 along with everything else you need to know…
The first trailer for The Walking Dead season 8 is here!
We poured over the new Star Trek: Discovery trailer for clues about the story. Here's what we found!
Rainn Wilson is envisioning a different kind of Harry Mudd for a different kind of Federation in Star Trek: Discovery.
We go to Westworld at San Diego Comic-Con and lived inside Robert Ford's dreams first-hand. And we can help you find it.
We breakdown the many striking, and even terrifying, images from the Westworld Season 2 trailer that HBO dropped at SDCC!
During a chat at San Diego Comic-Con, Will Smith reveals his thoughts on how movie stardom has changed and become exceedingly rare.
We spoke to showrunner Diane Ruggiero-Wright at San Diego Comic Con last week where she let it slip that she tried to get an iZombie/Supernatural crossover going on The CW.
Riverdale showrunner Roberto Aguirre-Sacasa takes how weird and otherworldly the series might get.
Hear what to expect from Riverdale's next season from Archie and Jughead themselves.
Don't worry, it's renewed. Riverdale Season 2 will be back on the CW before you know it, but on a new night.
The producers and star of Syfy's Krypton tell us it will be about dystopia, revolution, and a Star Trek-esque use of time travel.
Krypton will introduce Brainiac and Doomsday to the small screen, and will also feature Hawkwoman and Adam Strange! Plus, a new trailer!
Legends of Tomorrow season 3's first trailer is a wild trip through time.
Who lives? Who dies? We chatted with the Arrow cast about the Season 6 repercussions of Lian Yu.
The Gifted stars Emma Dumont, Jamie Chung, and Stephen Moyer tell us of how the X-Men series deals with modern bigotry, sexism, and racism.
We chat with Inhumans stars Serinda Swan and Anson Mount about the joyful relief felt after screening footage of Medusa's hair.
Get your first look at the sixth season of Arrow, plus casting news.
Ant-Man and The Wasp will feature Michelle Pfeiffer as Janet van Dyne. Plus, more casting news!
During the Bright press conference at San Diego Comic-Con, Will Smith considers Christopher Nolan's problem with Netflix.
The first teaser trailer for Pacific Rim: Uprising, featuring John Boyega, is here!
Check out the new Stranger Things season 2 trailer, plus, everything else we know about the coming season…
Series creator Rebecca Sugar discusses how the seminal 90's anime had a huge impact on the DNA of Steven Universe.
Stephen Moyer tells us in a San Diego Comic-Con interview that his wife Anna Paquin gave him advice about the X-Men universe for The Gifted.
The first trailer for SyFy's Happy! is a slice of hard boiled insanity.
Get a brief look at Gotham's next season courtesy of this new hype video.
Earpers are a force to be reckoned with – they've got themselves a Wynonna Earp season 3 from Syfy!
American Horror Story Season 7 will be called "Cult". Here's the first teaser trailer…
During the Westworld panel at SDCC, Ed Harris admits he doesn't know why some things happen on Game of Thrones… but he likes it!
In honor of her 25th anniversary, Harley Quinn is going to take over Batman Day this year. Possibly by force.
Oliver's five-year flashback story on the island may be over, but that doesn't mean Arrow Season 6 has ditched flashbacks altogether.
Get a new look at the Justice League movie with this brand new trailer!
Rumor has it that Ben Affleck is leaving the cowl behind after Justice League, but the actor says he's not going anywhere.
Holy pop culture references, Batman! Check out the newly released trailer for Steven Spielberg's first science fiction adventure since the last Indiana Jones picture.
Whether it was fan service or a deep dive into Brienne of Tarth's psychology, Game of Thrones star Gwendoline Christie talked Tormund.
Seth Green's animated sketch show has The Walking Dead in its sights.
Spend the next few months catching up with all the amazing work by this year's Eisner Award winners!
Archer's creators are gearing up for a lighthearted season 9 set in a tropical paradise.
The Death and Return of Superman is finally going to get the animated movie treatment it deserves.
Iwan Rheon played one of TV's great villains on Game of Thrones, but his pragmatic politician in Marvel's Inhumans is something else altogether.
Get ready for Batman vs. Jack the Ripper in the Gotham by Gaslight animated movie.
Here's when you can expect Vikings season 5, plus the first trailer!
The Gifted showrunner confirms for us that "the X-Men are gone" in the series, and that it takes place in its "own universe."
During the San Diego Comic-Con panel for Westworld, Evan Rachel Wood reflects what a rare opportunity the show and Dolores are.
Marvel's Iron Fist Season 2 is definitely happening!
The Gifted, the new X-Men show coming from Fox and Marvel TV, has just dropped a substantial new trailer at SDCC!
Alan Moore & Kevin O'Neill close out their time with the League in grand fashion.
Jeff Lemire returns to DC to eat Marvel's lunch with The Terrifics.
Todd McFarlane's long-gestating Spawn movie reboot is finally becoming a reality, thanks to Blumhouse.
Childhood nostalgia trumps as everyone gathered around to celebrate Hey Arnold! at Comic-Con.
The new trailer for Black Lightning is electrifying! Watch it here…
Here's your first look at the second half of Fear the Walking Dead season 3! Plus, everything else we know…
At Game of Thrones' Comic-Con panel, Sophie Turner dismisses the idea Littlefinger can manipulate Sansa anymore, saying the Stark is woke.
BritBox will be bringing multiple reconstructed lost Doctor Who episodes to its streaming platform, starting in September.
DC unveiled footage from Freedom Fighters: The Ray, the new animated series coming to CW Seed at SDCC.
A few more details about Doomsday Clock, the massive Justice League and Watchmen DC Comics story coming this fall.
Stargate is making a comeback! Ten episodes of Stargate: Origins will arrive online this autumn.
Fargo and Legion creator will bring the Fantastic Four's most powerful villain, Dr. Doom, back to the big screen for Fox.
Here's a new look at Marvel's Inhumans! Plus, everything else we know about the show…
Spider-Man joins a few Capcom characters as the latest additions to Infinite's roster.
Death Note, Netflix's adaptation of the popular manga series, has unleashed a new clip. It's very creepy…
Grant Morrison will return to Batman with a sequel to his classic graphic novel, Arkham Asylum.
Nickelodeon brought Rocko to Comic-Con. Here's what we learned!
At the SDCC Ghostbusters panel, Ivan Reitman reveals that the animated Ghostbusters movie will be from a ghost's POV.
The Legendary Defender is needed once more, Voltron Season 3 hits Netflix in August. Check out the trailer!
Sherlock showrunner Steven Moffat says he's not currently working on a new season, but also gives us some hope for the future…
Call of Duty's next zombie mode has finally received a trailer! Check out the bloody carnage…
Here's your first look at HBO's adaptation of Fahrenheit 451 along with everything else we know.
We finally have a premiere date for Marvel's Runaways. Check out our hub for everything else we know…
Kingsman: The Golden Circle is shaping up to be just as epic as the first movie.
All the bloody pieces are fitting into place as Jigsaw, formerly Saw: Legacy, releases its first trailer.
Shazam is the next DC movie to go before cameras. The film is expected to begin shooting in early 2018 with director David Sandberg at the helm.
SDCC 2017 PICTURES
Take a look at some of the most memorable moments we captured at San Diego Comic-Con this years (with more photos to come)!
[gallery:6]