News
The Big Movies Of Winter 2008
Summer blockbuster season is heading towards its last few movies, and that means 007, Harry Potter and more are on the horizon...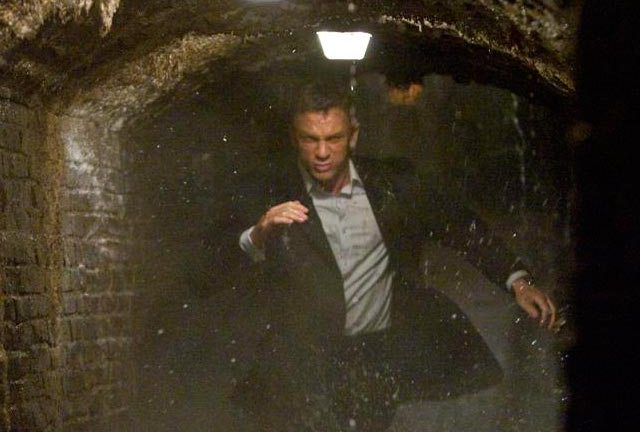 Believe it or not, but the summer blockbuster season only has about a month left to it. So for the big event films, all attention will then switch towards the Christmas season. And the studios have lined up a fair few treats…
Quantum Of Solace31st October
The winter blockbuster season starts in October this year, as Halloween will see not only the latest Saw movie in cinemas (but you guessed that), but the 22nd official cinematic outing of James Bond. Hopes are high for Quantum Of Solace, with the first trailer doing nothing to dampen expectations. We suspect that it'll be the second biggest movie of the Winter, and we look forward to seeing what director Marc Foster does with his big gig.
The Express7 November
Gary Fleder previously directed thrillers Kiss The Girls, Things To Do In Denver When You're Dead and Runaway Jury. And while he's been busy on the small screen with October Road, he's got Dennis Quaid and Clancy Brown together for a drama based on an American Football college hero. Hmmm. It ain't got to play well in Blighty, is it? The last American Football movie to score big over here was, er, ummm… Even the wonderful Friday Night Lights barely made a dent…
Harry Potter & The Half Blood Prince21st November
For a long time, this was assumed to be the penultimate Potter movie, until Warners decided to split the final book into two. So instead, it's the last Potter movie for two years, and it's based on a book with one or two pivotal moments, but quite a lot of nothing happening. That won't stop it being the big hit of the season, of course.
Transporter 35th December
Jason Statham returns, although director Louis Letterier had upped sticks to do The Incredible Hulk movie. In his place steps the brilliantly-named Olivier Megaton, and from the teaser that's emerged, it's more of the same. Good, good…
Madagascar: Escape 2 Africa5th December
Great. We've now got text-speak in movie titles. Would it have really hurt to call it Madagascar 2? Anyway, this is DreamWorks' second animated release of the year, and it's a follow up to the surprisingly sizeable worldwide hit of a few years' back. If it follows the Shrek sequel template, expect this to be a fairly safe bat, with the aim being to make enough cash to generate a third.
The Day The Earth Stood Still12th December
Increasingly looking like the only blockbuster film released in November and December with grown-ups in mind (Transporter 3 excepted, natch), this remake of the classic Robert Wise movie has Keanu Reeves in the cast, and a trailer already out in the open, that we've talked about here…
Australia26th December
Baz Luhrmann goes off in search of an Oscar, surely, with his epic mix of war and drama, starring Nicole Kidman, Hugh Jackman and Bryan Brown. Expect much attention from the Academy Awards.
Bedtime Stories26th December
We get two Adam Sandler comedies this year, and this one is directed by Adam Shankman, who told the world he could actually direct proper movies with last year's Hairspray (a couple of ropey, but very successful, Steve Martin vehicles were his earlier career highlights). He's back in the world of family comedies, though, and we'd wager this will be quite a hit, but just a little bit twee, given that it's all about the stories Sandler tells to his niece and nephew coming true…
ChangelingJanuary 1st
This is more like it. Clint Eastwood bangs out another film, this one set in 1920s Los Angeles. Angelina Jolie and John Malkovich star, and it's the story of a kidnapped child that's returned home, only for suspicions to arise that it may be the wrong person…
Which are you looking forward to? Leave your thoughts in the comments below…