Features
The big animated movies of 2014
From Studio Ghibli and DreamWorks, through to Laika and Disney, 2014 may not have a Pixar movie, but it has lots of other animated treats.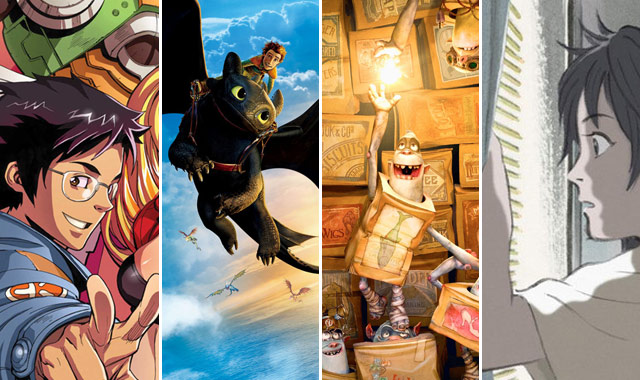 Last week, we took a look ahead at the 25 must-see movies of 2014. Now, we're focusing in on the animated films too. Our focus is primarily the mainstream releases, but we've tried to find some interesting, lower profile projects too. And whilst we've listed them in reverse order of how much we're excited to see them – with the exception of the The Wind Rises, which we're coming to in a second – we'd happily sit through six or seven of these tomorrow if the chance arose.
We'd add Henry Selick's The Shadow King to this list in a shot if it looked like it had any chance of getting finished next year. We can live in hope, though.
Anyway, we'll start with The Wind Rises though, for reasons we're about to explain…
THE WIND RISES
It'd be remiss not to start with a film that's already been widely released in Japan, but won't make it to the UK until next year. It's the final film from arguably the greatest ever director of animated movies, Hayao Miyazaki.
His last movie, and his first since Ponyo, is The Wind Rises, a film that focuses on Jiro Horikoshi. Horikoshi designed the fighter plans that Japan used in World War II, and early reviews suggest that while The Wind Rises isn't Miyazaki's best, it's still a strong tale of a man with a dream. In this instance, the dream soured somewhat, and it'll be interesting to see how the film deals with that.
It looks stunning, and is perhaps our most eagerly awaited animated film of 2014, even if it's technically a 2013 movie.
On with the rest of the list…
PLANES: FIRE AND RESCUE
Appreciating that some people really enjoyed Planes, we really didn't. A tired, unambitious retread of Cars, albeit in the sky and with less impressive visuals, it was unsurprising that Pixar's name ended up nowhere near it. Why Disney's had to go on it is a pity though, especially as Disney is making better films than Pixar at the moment.
Nonetheless, a sequel to the relatively cheap to make and thus quite profitable Planes follows next summer, with a July 2014 release. It's called Planes: Fire & Rescue, and Bobs Gannaway – who directed the decent Tinkerbell: Secret Of The Wings – is bringing it to the screen. Dane Cook is back to voice Dusty again.
It's hard to get in any way excited for a follow-up to a not very good animated movie that's turning up just a year later, and thus we can't pretend we are. We're happy to be surprised, though. That aforementioned Tinkerbell film, while no classic, was a little better than it looked, after all.
POSTMAN PAT: YOU KNOW YOU'RE THE ONE
A British animated movie heading to the cinema screen in April, Postman Pat: You Know You're The One is the big screen debut of the enduringly popular letter-deliverer of Greendale. This is Pat in the modern age though, so he's got the small matter of, er, a television talent contest to tackle. Don't worry, though: Pat hasn't forgotten his roots, and the film features the familiar characters from the show, and voice work from Stephen Mangan (as Pat), Gary Barlow (as, stay with this, Pat's singing voice), David Tennant and Rupert Grint.
On directorial duties is Mike Disa, who helmed the second Hoodwinked movie, as well as working on several Disney films. The film, CG animated, was due out originally last year, but was put back to 2014. The finished product is due on May 23rd.
RIO 2
Blue Sky Studios finally found a second franchise to run alongside its phenomenally successful Ice Age films when Rio hit reasonably big. In 2014, it's thus got Rio 2 primed and ready to go.
Carlos Saldanha is back on directing duties, and it's looking like he's going to deliver another delicious carnival of colour, spectacle and sound. Certainly, Rio was one of the most lively looking animated movies we've seen in some time. What it lacked though was much in the way of a strong story. For all the dressing, and the terrific music, it didn't have a particularly good tale to tell. It just had fun characters to tell it with.
So that's the challenge with Rio 2. The tale – co-written by the late Don Rhymer, who sadly has died at the age of 51 from cancer – will take Jewel and Blu to the Amazon rainforest. And it's not long until Nigel The Cockatoo – voiced again by Jemaine Clement – catches up with them.
At the very least, we expect Rio 2 to be good fun. If they've cracked a better story, then there's the potential for it to do a lot, lot better.
HOME
Once upon a time, this was called Happy Smekday! It's a potentially strong oddity too, coming from director Tim Johnson, who's previously made the excellent Antz and the hugely underappreciated Over The Hedge.
This time, his story is based on Adam Rex's book, The True Meaning Of Smekday! It follows Captain Smek, the leader of a bunch of aliens known as the Boov. They invade Earth, and start moving the human race – until one girl manages to avoid them, and the adventure goes from there.
DreamWorks has set a November 2014 release for this, and if Johnson can capture the wit and style of his earlier films, then it may be a sizeable Christmas hit. We've not seen any footage of this one yet, but the ingredients already have us interested at the very least.
MR PEABODY & SHERMAN
DreamWorks Animation has been having a tough time over the last year or so. It's released three expensive, non-sequel movies, and two of them have performed below expectations at the box office. The two that stuttered – Turbo and Rise Of The Guardians – deserved better, especially the latter. The Croods, while having its moments, was arguably the weakest of the three, and thus the one that soared.
DreamWorks' next is another non-sequel – that makes four major blockbusters in a row from one studio that haven't been – and it looks a strong one. Mr Peabody & Sherman is based on characters in the Peabody's Improbable History segment of The Rocky And Bullwinkle Show (a Rocky And Bullwinkle short is coming from DreamWorks next year, too). It follows a talking dog, the smartest being on the planet, and the boy he adopts.
It's already got lots of interesting ingredients, not least a score from Danny Elfman, and interesting source material. And it also has The Lion King director Rob Minkoff calling the shots. The film's February 2014 UK release will bring to an end a decade-plus quest from him to bring this material to the screen.
It's Minkoff's first fully animated film since The Lion King (although he's also behind the live action/CG Stuart Little movies). And it looks strong, based on what we've seen thus far. It will, however, be going head to head with The LEGO Movie, which we're coming to right now…
THE LEGO MOVIE
Now this could be something really special too. With the Cloudy With A Chance Of Meatballs pairing of Phil Lord and Chris Miller directing, The LEGO Movie instantly has a whole host of potential (they directed 21 Jump Street as well). But then factor in that this is an animated movie set in the stylised world of LEGO, digging into lots of DC characters as it does so (Batman, Superman, Green Lantern, Wonder Woman), and there's yet more reasons to be excited.
Of course, finding a good story to thread through all of this is no mean feat. The movie can go a long way on novelty value, but Miller and Lord show no sign of relying on that. Certainly the new trailer for the film has gone down a treat.
Colour us excited for this one. And don't expect it to short change you on the comedy front either.
BOOK OF LIFE
This one's had a really chequered life. Originally a DreamWorks Animation project, the project was dropped by the studio, but it allowed director Jorge Gutierrez (co-creator of El Tigre) to take the rights and shop the movie elsewhere.
That he did, and the film moved into production at Reel FX, an animation studio best known for CG Looney Tunes short films, and a bit of work on the Open Season follow-ups. The film's been signed up by Fox Animation Studios, which will be putting the film out as its first standalone release next September.
And, in truth, this could be brilliant. It's been described as a love story set against the backdrop of a Mexican Day Of The Dead celebration. Guillermo del Toro is amongst the producers, and the voice cast features Channing Tatum, Zoe Saldana, Danny Trejo and Ron Perlman.
Gutierrez has been trying to get this made since 2001, and it finally makes it to cinemas in October 2014. It sounds quite dark, quite quirky and really quite distinct. We hope we're proved right.
BIG HERO 6
How does Walt Disney Animation Studios follow the majestic Frozen in 2014? The wise answer is by going completely the other way. Big Hero 6 is the first feature film from Walt Disney Animation Studios to tap into the Marvel characters at the studio's disposal. The Big Hero 6 of the title are a superhero team, albeit not a well known one.
Early signs look very positive here. Don Hall is directing, and he made the charming Winnie The Pooh movie for Disney a few years back. Furthermore, the concept art and early footage that Disney released promises a very stylised look and feel for the movie. The challenge will be to find a story at the heart of it that's not a conventional heroes come together and save the day tale. Cinema is a bit awash with those at the moment.
Walt Disney Animation Studios, however, is on a superb run of form, and Big Hero 6 is a bold venture, that deserves encouragement. It's set for release on November 7th 2014.
HOW TO TRAIN YOUR DRAGON 2
If we had to pick one mainstream Hollywood animated film to plump for in 2014, it'd be this. The first How To Train Your Dragon movie was a real treat, and co-director Dean DeBlois has remained on board to direct this sequel, and a further follow-up due in 2016. To DreamWorks' credit, it looks like it's not rushed this first sequel, which follows the original by four years.
It's got the core relationship with Hiccup and the assorted dragons at the heart of it again, and John Powell is contributing a new score (his music to the first film is exquisite). Kit Harington, of Game Of Thrones vintage, voices the villain, a dragon trapper by the name of Eret. And Cate Blanchett and Djimon Hounsou are additions to the voice cast too. The new film will pick up five years after the first.
We've hugely high hopes for this one, and DreamWorks has earmarked a confident June release date for the film. It might just be the blockbuster animated film to beat in 2014.
THE CONGRESS
Based on the novel The Futurological Congress by Solaris writer Stanslaw Lem, The Congress is the latest film from Ari Folman – the director responsible for the wonderful 2008 animated feature Waltz With Bashir.
The Congress is about an ageing actress whose likeness is used as the basis for a much younger-looking digital version of herself. Her likeness then becomes an avatar which other people can inhabit in the virtual world, like Second Life with animated celebrities.
Mixing live action with animation (the only such hybrid we've allowed in this list, primarily because of just how wonderfully stylised the animation looks), and featuring a brilliant cast – Robin Wright, Paul Giamatti, Jon Hamm, Harvey Keitel, and Danny Huston to name a few – this promises to be a thought-provoking and very unusual work of philosophical science fiction.
THE STORY OF PRINCESS KAGUYA
The co-founder of Studio Ghibli, Isao Takahata has directed some truly charming animated features during his tenure. Grave Of The Fireflies is perhaps his most famous, but the romantic drama Only Yesterday is a charming film, as is his ecological fable Pom Poko. The Story Of Princess Kaguya is his latest project, a feature intended to double with Miyazaki's The Wind Rises before delays forced it back to a November 2013 release in Japan.
Based on a Japanese folktale, it's about a field worker who finds a tiny child inside a stalk of bamboo. Since he and his wife are childless, they raise the infant as their own child, little knowing that she's a princess from the Moon. To emphasise the story's traditional origins, Takahata and his team have animated The Story Of Princess Kaguya in the loose, shimmering style of traditional watercolour paintings. It's a technique Takahata employed once before in his quirky, episodic slice-of-life drama My Neighbours The Yamadas, and it's put to refined and particularly captivating use here.
THE BOXTROLLS
Laika has two films to its name thus far. Number one is the outstanding Coraline. Number two is the excellent ParaNorman. In September 2014, it brings us its third feature, The Boxtrolls, and this time, it's going to be a CG animated/hybrid production, rather than stop motion (it's still primarily based in stop motion, which is wonderful news). We'd rather it was stop motion, in truth, but then we look at what Aardman did with the lovely Arthur Christmas, and our hopes remain high. Certainly the Laika style looks very much in tact here.
It's based on Alan Snow's novel, Here Be Monsters! (Snow is one of the film's producers), and it's the story of a young orphan boy by the name of Eggs, who's raised by the Boxtrolls. Who are the Boxtrolls? Good question. They live in caves, they collect up rubbish, and they're a quirky, lovable bunch. That is, until, Ben Kingsley's exterminator has them in his sights. A dash of Flushed Away to it? Possibly. But Laika's films have real identity to them, and we'd wager this is no different.
The voice cast features young Isaac Hampstead-Wright, and he's joined by Elle Fanning, Simon Pegg, Toni Collette, Jared Harris, Nick Frost, Tracy Morgan and Riched Ayoade. Thus far, we've just had a teaser trailer for the movie, which is the one you can see above. But we remain hugely excited to see what this ultra-talented studio has produced next. While we're waiting, we'll just watch Coraline, if it's okay with you…
Follow our Twitter feed for faster news and bad jokes right here. And be our Facebook chum here.