News
The Batman Movie Villains Update
Jonah Hill is out of The Batman solo movie, but other details have arisen about who is in.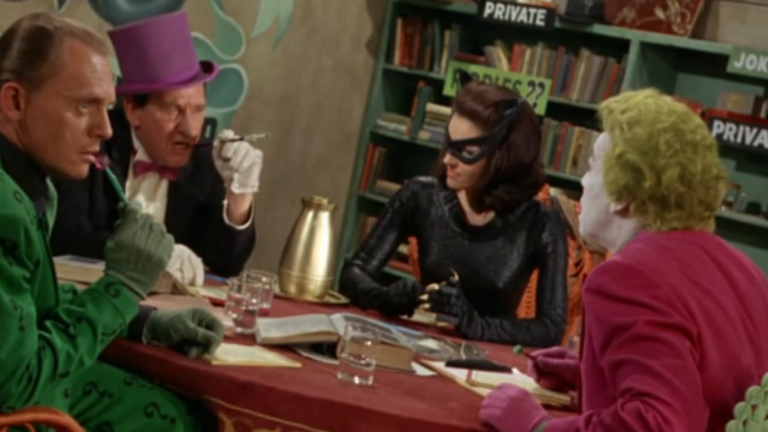 Things are about to get really busy in Gotham City. The Batman solo movie is scheduled to begin filming in early 2020, and we're already seeing a flurry of casting announcements. And considering that there's no more wretched hive of scum and villainy (sorry, wrong franchise) than Gotham, expect a lot of that casting buzz to revolve around assorted Batman villains. And there have been plenty of reports that indicate that Batman is going to have to take on a number of his most well known foes in this movie, although in what capacity that might be, we still don't know.
But with early casting talks always comes the occasional departure. Back in September it was reported that Jonah Hill was in talks for a villain role in The Batman, joining Robert Pattinson as Bruce Wayne/Batman and Jeffrey Wright as Commissioner Gordon. It was unclear at the time whether Hill was in talks for the Penguin or the Riddler, and that may have been a point that was still being negotiated between the actor and the studio. Now Variety reports that Hill has exited negotiations, and the studio will now "go back to the drawing board to see which actors take those roles." In other words, it sounds like both Penguin and Riddler are definitely going to appear in The Batman solo movie. Interestingly, Borys Kit has word that Seth Rogen was also approached for the Penguin role, at a time when WB expected Hill would play the Riddler. Kit also seems to think that talks between Hill and WB might get revived at some point. UPDATE! Paul Dano is now in talks for The Riddler.
The confirmation that both Penguin and Riddler are in the movie comes with the knowledge that The Batman will also feature Catwoman, played by Zoe Kravitz. That's three of the big four Batman villains already lined up for this movie (not to mention three of the four members of the United Underworld from the 1966 Batman theatrical film), and it would seem to lend credence to the idea that this movie will lean into the idea that Gotham City is overrun with extraordinary villains, although who the main antagonist could be remains to be seen.
As for that missing piece of the "big four" Batman villains? Don't hold your breath for Joaquin Phoenix to make an appearance as the Joker. Back in September, Joker director Todd Phillips told Variety that a Phoenix/Pattinson showdown would "definitely not" happen in the future. On the other hand, that was before Joker broke October box office records, generated considerable critical acclaim, and a firestorm of controversy and word of mouth, not to mention Oscar buzz for Phoenix's performance as the Clown Prince of Crime.
For now, it seems safe to confirm that Penguin, Riddler, and Catwoman will all appear in The Batman. And if you're doing three villains, why stop there? Don't be surprised if more minor Batman villains end up joining the cast, too. We'll have plenty of updates before The Batman opens on June 25, 2021.
The full schedule of upcoming DCEU superhero movies can be found here.
Mike Cecchini is the Editor in Chief of Den of Geek. You can read more of his work here. Follow him on Twitter @wayoutstuff.