News
The Banana Splits Movie Trailer is Here to Creep You Out
These aren't the Hanna-Barbera characters you remember. Mainly because they never killed anyone. That we know of.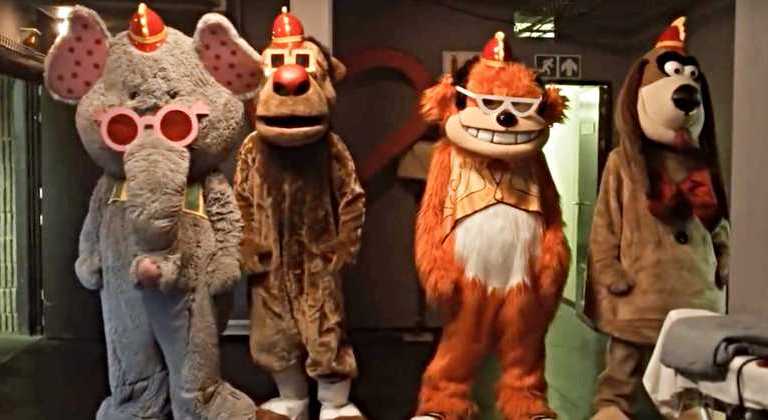 While we sit and twiddle our thumbs waiting for a Five Nights At Freddy's movie, Syfy's Banana Splits Movie will seemingly go some way to keeping us sated for a bit.
Gore is not the first thing you tend to think of when reminiscing about the beloved live-action Hanna-Barbera series, but Fleegle the Beagle, Bingo the Gorilla, Drooper the Lion, and Snorky the Elephant are coming back in a rather more violent capacity to dish out some bloody vengeance in The Banana Splits Movie.
Directed by Danishka Esterhazy (Level 16) and written by Jed Elinoff & Scott Thomas, this reimagining of the 'Splits takes them down a dark path, one that they likely never envisioned when they blessed the small screen back in '68 to '70. The original actors to wear the suits are probably wondering what in the good gravy they did to deserve this new reboot, presuming they're still alive – we did no research on this because we worried it would make us sad, and we prefer to exist in a state of Schrödinger's Splits.
As the official synopsis enquires:
A boy named Harley and his family (brother Austin, mother Beth, and father Mitch) attend a taping of The Banana Splits TV show, which is supposed to be a fun-filled birthday for young Harley and business as usual for Rebecca, the producer of the series. But things take an unexpected turn — and the body count quickly rises. Can Harley, his mom and their new pals safely escape?
See the first trailer below…
The Banana Splits Movie stars Dani Kind (Wyonna Earp), Finlay Wojtak-Hissong (The Kindness Of Strangers), Steve Lund (Bitten), and Sara Canning (War for the Planet of the Apes) and is set to get a DVD and Blu-ray release over the summer, before gracing Syfy later this year.