News
The Asset: Michael Keaton, Samuel L. Jackson and Maggie Q to Star in Martin Campbell Actioner
Director Martin Campbell will tackle an actioner, titled The Asset, which will star Michael Keaton, Samuel L. Jackson and Maggie Q.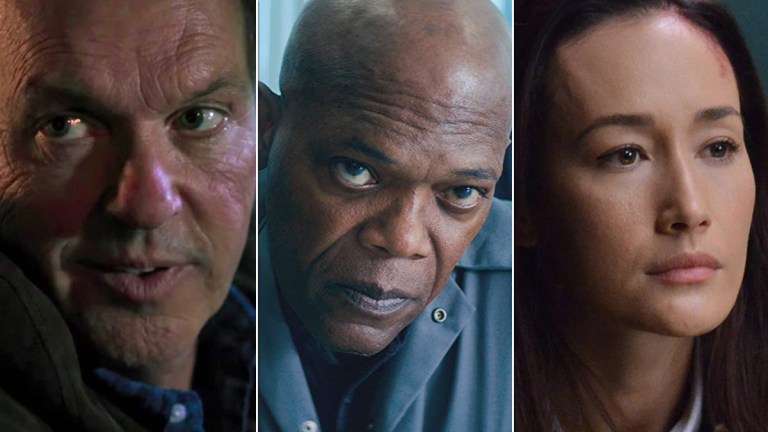 The Asset, a developing assassin-focused action-thriller, is shaping up auspiciously at Millennium Media, having locked down director Martin Campbell – known from esteemed James Bond offerings Casino Royale and GoldenEye – as well as an intriguing main cast trio.
Michael Keaton, Samuel L. Jackson and Maggie Q are set to star in The Asset, reports Deadline. The actioner will see director Campbell working off a script by Richard Wenk, who brings a scribe CV from action offerings such as The Equalizer movies, Jack Reacher: Never Go Back, the 2016 remake of The Magnificent Seven, The Expendables 2, The Mechanic and 16 Blocks. Wenk is also attached to Sony's mooted Kraven the Hunter Spider-Man spinoff film.
The described plot of The Asset will focus on the characters of Rembrandt (Keaton) and Anna (Maggie Q), "two of the world's premier assassins who share a mysterious past from Vietnam." While the two have competed for high-profile contracts around the world, it seems that the murder of a shared friend (and Anna's mentor), Moody (Jackson), thrusts the wetwork rivals into a tentatively alliance to track down the killer; an effort that will send them back to Vietnam.
Further Reading: How Goldeneye Updated the James Bond Franchise
The Asset is yet another high-profile picture for Michael Keaton, who's still riding his post-Birdman surge, having recently appeared in Disney's live-action Dumbo. Co-star Samuel L. Jackson remains perpetually-ubiquitous, with a 2019 that saw him appear in Spider-Man: Far from Home, Shaft, Avengers: Endgame, Captain Marvel and Glass. As for Maggie Q, the action siren and former star of The CW's Nikita, she's coming off a run on the thriller series, Designated Survivor, which started on ABC and recently came to an end on Netflix. She'll next be seen in the February-scheduled Fantasy Island reboot movie.
The film's New Zealand-hailing helmer, Martin Campbell, most recently directed international superstar Jackie Chan – depicted in uncharacteristically dark form – in 2017 film The Foreigner. Besides the aforementioned Bond movies – both of which are widely-regarded as the franchise's best – his other notable efforts include the 2011 Ryan Reynold-headlined DC movie disappointment, Green Lantern, 2000 high-altitude survival epic Vertical Limit and twice directed Antonio Banderas as the legendary swashbuckling vigilante for 1998's The Mask of Zorro and 2005's The Legend of Zorro.
Further Reading: What Went Wrong With the 2011 Green Lantern Movie?
Campbell is joined for The Asset by producers Arthur Sarkissian, Moshe Diamant and Rob Van Norden, along with executive producers in Avi Lerner, Trevor Short, Boaz Davidson, Jeffrey Greenstein, Jonathan Yunger, Gareth West, Christa Campbell, Lati Grobman and co-executive producer Lonnie Ramati.
The Asset doesn't have a release date yet, but production is reportedly set to commence on January 8, 2020, shooting across the globe in locations such as London, Bucharest and Da Nang.
Joseph Baxter is a contributor for Den of Geek and Syfy Wire. You can find his work here. Follow him on Twitter @josbaxter.