News
The Adam Sandler ready reckoner
He divides more people than Freddy Krueger, but whether you love him or hate him, he's a box-office stalwart. Here's his work to date...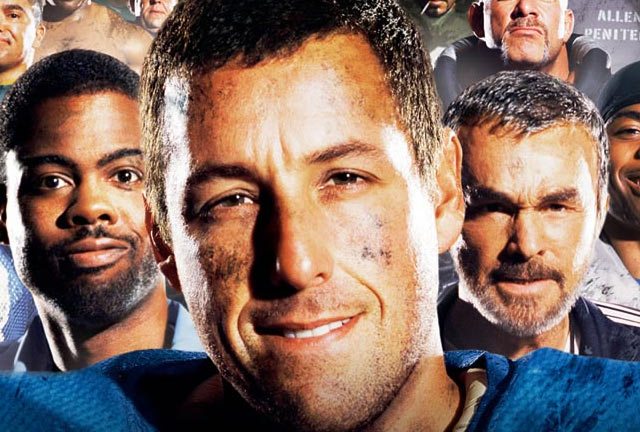 He's a love it or hate it comedy star, but if a movie studio is looking to add a hit comedy to its line-up, then he's the first person they call. His movies aren't expensive to make, generally make a truckload of cash, and here's our overview of his career to date…
Airheads
We've skipped smaller roles in Coneheads and Going Overboard to start with Michael Lehmann's – he of Hudson Hawk and Heathers fame – fun tale of three band members holding a radio station hostage. It's more Brendan Fraser's movie than Sandler's, but you won't be short-changed on chuckles, even if you won't remember much about it the week after…
Mixed Nuts
Bad, bad, bad. Jumping on a Steve Martin vehicle when the great man's career was undergoing one of its lowest ebbs was not a good plan. Directed by You've Got Mail and Sleepless In Seattle helmer Nora Ephron, this is a Christmas movie that's best forgotten. As it has been. Phew.
Billy Madison
A real guilty pleasure, but a pleasure nonetheless. Billy Madison gives Sandler a chance to be a comedy leading man, and he's on top form as the layabout being sent back to school. The song near the end is genius, and it's a breezy, enduringly funny movie.
Happy Gilmore
For many, this is their favourite Adam Sandler film, although for this writer, it only just about scrapes its fourth star. Still, comedy and golf tends to work a treat (further evidence: Tin Cup, Caddyshack), and it gels again here, as Sandler takes on a traditional fish out of water role. He needs to win a golf tournament to satisfy an irrelevant plot contrivance, and has a ball doing it. Bonus marks for Carl Weathers popping up in there, too.
The Wedding Singer
Arguably his best and most complete film, The Wedding Singer is exceptionally funny, and pairs Sandler up as the bumbling singer of the film's title. Enter Drew Barrymore as a future bride, and the stage is neatly set for a very funny, celebratory rom-com. Among the cameos, Steve Buscemi practically takes the film with him whenever he appears…
The Waterboy
Sandler's first megahit (following the good success of The Wedding Singer) cemented him as one of Hollywood's biggest comedy stars. Oddly, it's not too great a movie, with Sandler as Bobby Boucher migrating from carrying the water to being part of a US football team. Kathy Bates is good value, and there are a couple of chuckles, but it's an odd film to launch Sandler into the stratosphere.
Big Daddy
An easy, effective comedy, the kind of which Sandler could happily do in his sleep. This time he becomes a foster father to try and impress his father, but ends up lumbered with the kid full time. You can fill in the plot in a matter of seconds, but there are enough laughs to get away with it.
Little Nicky
A fairly ambitious misfire, as well known for squeezing Quentin Tarantino into one of his ill-advised acting roles. A flop at the box office, but an intriguing one, that finds Sandler this time playing the son of the devil. It's a messy movie, though, that suffers from not enough laughs and not enough conviction in its premise.
Punch-Drunk Love
The first real attempt by Sandler to take on a serious role, in Paul Thomas Anderson's low-key follow-on from Magnolia. It's a good, understated performance, too, with Sandler pairing up exceptionally well with Emily Watson. Perhaps the least Adam Sanlder-like film that he's ever made, or is ever likely to.
Mr Deeds
An unambitious but entirely workable remake of Mr Deeds Goes To Washington, Sandler again manages to attract good co-stars to help shoulder some of the work. In this case, it's John Turturro, who explores his rarely-seen comedy side, although it's very much Sandler's picture. And not a bad one.
Anger Management
A misfire, that really should have worked. The pairing of Sandler and Jack Nicholson as the anger management patient and instructor was box office gold, but nowhere near as funny as it could have been. A lazy script, and the two leads taking it easy, are the key complaints. The pair of them still turn in enough to just about scrap a second star, though.
50 First Dates
A reworking of Groundhog Day, and a re-teaming with Drew Barrymore, and once again the tills lit up. The screen didn't, though. The premise – that Barrymore's short-term memory loss problem means she forgets everything at the end of the day – is ample enough for a decent comedy. Yet the best joke involves Rob Schneider being hit, again and again. There's not much else, sadly, to titter at.
Spanglish
Another serious turn, and once again it pays dividends. Spanglish is a quiet, underrated drama from James L Brooks (Terms of Endearment, As Good As It Gets). Sandler takes his place in a talented ensemble, and while he never excels, he fits the film well.
The Longest Yard
A perfectly sound remake of the Burt Reynolds original (also covered by Vinnie Jones in Mean Machine), The Longest Yard remembers to include a good few funny moments in the midst of its seen-it-before tale of prisoners forming a US football team to take on the guards. Easy comedic entertainment, but this time it doesn't suffer for it.
Click
Yikes. A surprisingly melancholy, very uneven mix of drama and comedy that throws all its laughs into the trailer, throws in some special effects money, yet leaves you counting down the running time until the end credits. Henry Winkler's appearance is always welcome, but the film wastes an intriguing concept. One of Sandler's worst.
Reign Over Men/a
We've not actually checked this one out yet, but have heard some decent things about it. Can't give it a rating off the back of that, though…
I Now Pronounce You Chuck & Larry
A film that pretends that political correctness never happened. Sandler, for reasons of the shaky plot, agrees to marry a male work partner, but works into the script plenty of chances to show that he's heterosexual really. A bizarre supporting turn from Ving Rhames is thrown in, and a lot of cheap, yet funny, gags.
You Don't Mess With The Zohan
Is Sandler's star beginning to wane? Possibly, as the box office returns for this tedious and surprisingly unfunny comedy are a little below Chuck & Larry. Not one of Mr Sandler's best, and that's been quite kind…
Not seen: Bulletproof
Agree? Disagree? Head to the comments…