Features
The 10 unluckiest fictional airlines in cinema
From zombie outbreaks to food poisoning, here's our selection of the 10 unluckiest fictional airline companies in cinema...
You rarely see real-life airline companies in movies, and for good reason – planes in the movies are always being overrun by snakes, art thieves, the undead, and that actor who plays Hercule Poirot.
movie airline companies are so unlucky, in fact, that even the best efforts of Hollywood's finest actors, heart-throbs and action heroes – from Brad Pitt to Bruce Willis, and Jack Lemmon to Mark Hamill – can't stop their planes from dropping out of the sky or getting into some kind of mishap or other.
To this end, here's a far-from-exhaustive look at what we think are the 10 unluckiest airlines in movie theater…
Stevens Corporation
As seen in: Airport 77 (1977)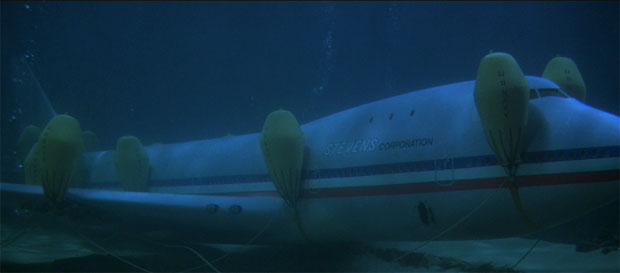 You'd be forgiven for thinking that a company with just one passenger jet to its name would be able to keep the thing in the air, but the Stevens Corporation, which some reason uses its sole plane as a home for its priceless art collection, hadn't reckoned on the antics of a group of daring thieves. 
One bungled mid-air heist later, and the Boeing 747 has crashed into the ocean and sunk to the bottom with its all-star cast still on board. The moral of this story is, surely, that valuable works of art shouldn't be kept on aeroplanes. The stuff might give the passengers something to look at, but it attracts thieves and makes the plane too heavy to float.
In 1978, the Stevens Corporation saw sense and purchased a luxury cruise ship instead, which now houses a handsome collection of art and regular cabaret performances from Cleo Laine and Liza Minnelli.
Trans American Airlines
As seen in: Airplane! (1980)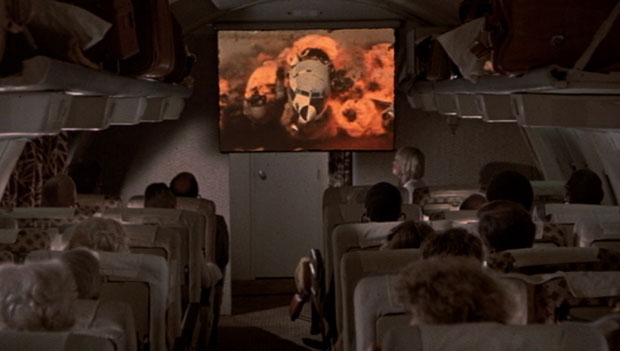 Remarkably, Trans American Airlines isn't the worst company on this list, but it's probably one of the clumsiest. Not only do they serve terrible meals (avoid the fish supper option, that's our advice), but their in-flight entertainment's horrendous, too.
And even if you don't happen to be flying with TAA, don't think that you're safe while relaxing in the departure lounge, either. 
Probably best to wait in the car park.
Windsor Airlines
As seen in: Die Hard 2 (1990)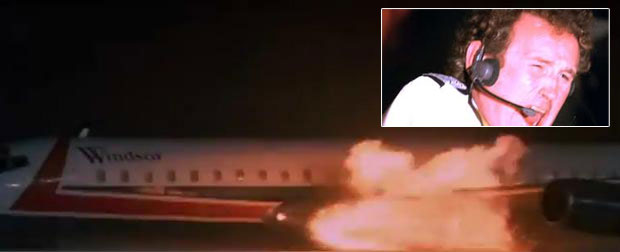 "I've got 230 people flying up here on gasoline fumes!"
You have to feel sorry for Colm Meaney's British pilot in Die Hard 2. Tricked by William Sadler's villain into thinking the runway's a good few feet further below his plane than it actually is, he prepares to make a blind landing at a snowbound Dulles Airport.
Macho cop John McClane does his best to avert disaster by waving a couple of burning twigs in the air, but it's too late. No sooner has an air hostess reassured an elderly passenger with a breezy, "We're like British Rail, love – we may be late, but we get you there", than the Windsor Airlines plane has crashed into the runway, killing everyone on board.
Plummy British accents aside, it's a disquietingly horrible moment in Renny Harlin's 1990 sequel, particularly if you're a viewer in the UK – to this day, we refuse to fly to Dulles airport. In memory of the passengers who lost their lives on the Windsor Airlines flight, commemorative T-shirts are now available.
As for Windsor Airlines, they were privatised in the early 90s, resulting in several smaller British airlines, higher ticket prices, and an at-seat trolley service selling hot drinks and light refreshments.
Atlantic International Airlines
As seen in: Passenger 57 (1992)
When the FBI finally catches up with "the world's most dangerous hijacker" Charles Rane (played by Bruce Payne), what do they do with him? Sit him on an ordinary passenger jet (belonging to Atlantic International Airlines) in the hope of flying him to a court in Los Angeles. And did they clap him irons and keep him in the hold with the luggage? No, they put him in what appears to be business class, where he enjoys a "bloody" sirloin steak before he makes a break for freedom and takes over the jet.
Thankfully, one of the passengers happens to be ex-cop John Cutter (Wesley Snipes) who responds to the threat by side-kicking Rane and everyone he's associated with in the sternum. Unfortunately for Atlantic International Airlines, the damage to its reputation had already been done. A court hearing failed to get to the bottom of how all those guns got past security, and the company folded in 1993.
Oceanic Airlines
As seen in: Executive Decision (1996)
Arguably the most unlucky fictional airline company in the world, Oceanic first leapt to prominence in 1996's Executive Decision, when Flight 343 was hijacked by a group of terrorists led by David Suchet. The situation was saved thanks to a dangerous operation which involved sneaking a group of specialists on board with the use of a stealth bomber. Steven Seagal was shockingly killed in the early stages of the mission, but Kurt Russell manages to disarm a bomb, get rid of the terrorists and land the stricken plane.
Remarkably, Oceanic Airlines survived the negative publicity surrounding the Executive Decision incident, and its name has turned up repeatedly in movie and television since 1996 – most infamously in Lost, when the crash of Oceanic Flight 815 resulted in the deaths of several passengers and the confusion of millions of unsuspecting viewers.  
Volée Airlines
As seen in: Final Destination (2000)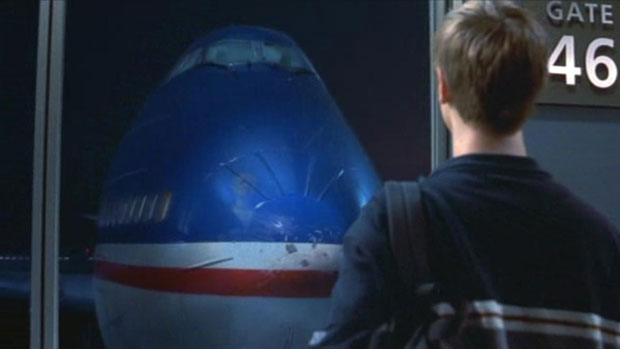 Volee Airlines Flight 180 from New York to France exploded in mid-air following an engine failure in the 2000 horror movie, Final Destination. Thanks to a mysterious premonition, American teenager Alex (Devon Sawa) managed to save himself and his friends by stepping off the plane before take-off – the rest of the passengers were less fortunate.
When the passengers who failed to board the ill-fated flight later died in unrelated freak accidents, Volée Airlines released a statement in 2001 stating that horrible and unexpected deaths were statistically rare among their customers. In a bid to drum up business, passengers were also given vouchers entitling them to a free in-flight chicken dinner and a single cup of house white wine.
Fresh Airways
As seen in: Red Eye (2005)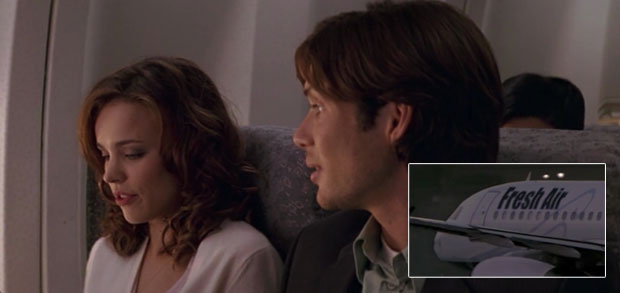 In Wes Craven's 2005 suspense thriller, Rachel McAdams' hotel manager is quietly threatened by pal Fresh Airways passenger Jack Ripner (Cillian Murphy) into assisting him in a plot to kill a high-ranking US politician. Although the stewards and stewardesses aboard the flight were utterly oblivious to what was going on, the heroine managed to escape Ripner's clutches and thwart his terrorist plot.
In the wake of the incident, Fresh Airways has promised to improve its security by bringing in a new form of eye scanning technology. Basically, if a passenger's eyes look as cold and unblinking as Cillian Murphy's, they're immediately refused a seat on the plane.
South Pacific Airlines
As seen in: Snakes On A Plane (2006)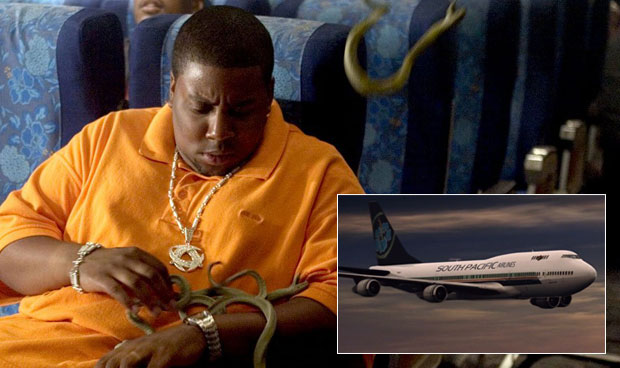 The real South Pacific Airlines was defunct by the mid 1960s, which could be why the security in Snakes On A Plane was so lax – how else do you explain the ease with which crime boss Eddie Kim manages to sneak a crate full of snakes on a Boeing 747? Kim hopes that the snakes will cause the plane to crash, thus preventing key prosecution witness John Sanders from testifying in a Los Angeles court.
Fortunately, FBI agent Neville Flynn (Samuel L Jackson) keeps his cool when a varied collection of vipers starts biting the passengers in the middle of a flight to Los Angeles. Using his superior skills of shooting and shouting, Flynn successfully ejects the snakes from the plane and saves the day, though the plane's almost totally wrecked in the process.
In a statement posted shortly after the incident, South Pacific Airlines said that, in the light of this movie's events and those of Passenger 57, it would be willing to pay for all captured hijackers and mob-killing witnesses be taken to Los Angeles via bus in future.
Atlantic
As seen in: Airborne (2012)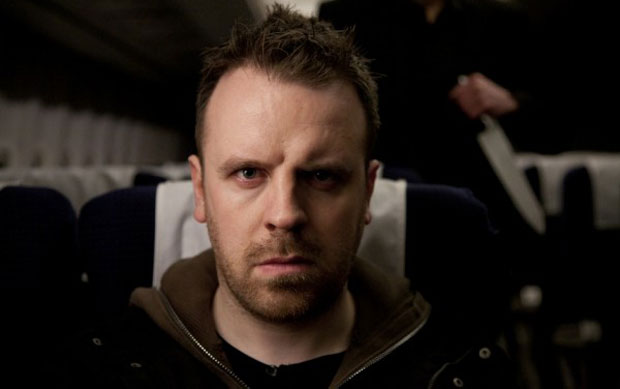 Yet more terrorists take over a plane in this low-budget British horror, only this time, they're after a vase which contains an ancient god of death. What is it about terrorists stealing things from planes in mid-flight? Why couldn't they have snatched the vase at the airport? Wouldn't one of the luggage handlers broken it anyway?
With the hijackers proving just as inept as those in Airport 77, the god in the vase is unleashed and begins possessing the passengers, who then start killing each other in grisly ways.
Shortly after the incident, an airline representative said to an assembled group of journalists, "Vase? I didn't hear anything about a missing vase. Now if you'll excuse me, I have an appointment to keep with Abholos, Devourer in the Mist."
Belarus Airways
As seen in: World War Z (2013)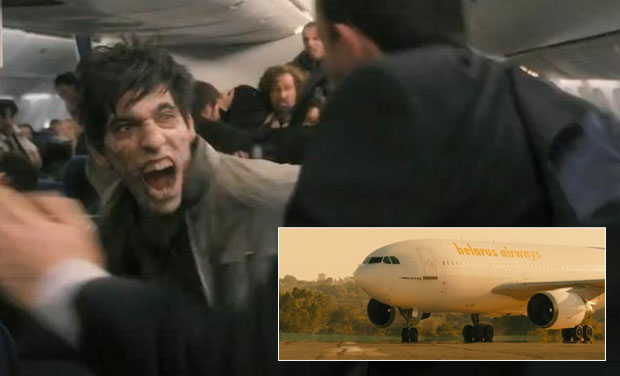 If you think the other airlines on this list were unfortunate, at least they didn't suffer from a mid-air zombie outbreak. It's during a flight from Israel to Wales that the passengers of a Belarus Airways jet are suddenly set upon by a zombie, who comes snapping and drooling from a closet.
Quickly realising that everyone on board faces certain death (especially when an attempt to prevent the outbreak with a stack of luggage fails to do the trick), UN operative Gerry Lane (Brad Pitt) sets off a hand grenade, destroying several zombies but causing an air crash in the process.
In the wake of the crash, Belarus Airways remained defiant. "Sure, Gerry Lane – if that is, in fact, his real name – saved the entire world with his zombie vaccine", a representative said, "but he destroyed several Welsh cottages with his hand grenade antics, and he owes us a new passenger jet. Besides, we have it on good authority that the people on board weren't zombies – they were just suffering from food poisoning brought on by the in-flight fish supper."