News
Terminator 6 Adds Hunger Games Writer
Tim Miller and James Cameron's Terminator revival has added writer Billy Ray to put the finishing touches on its script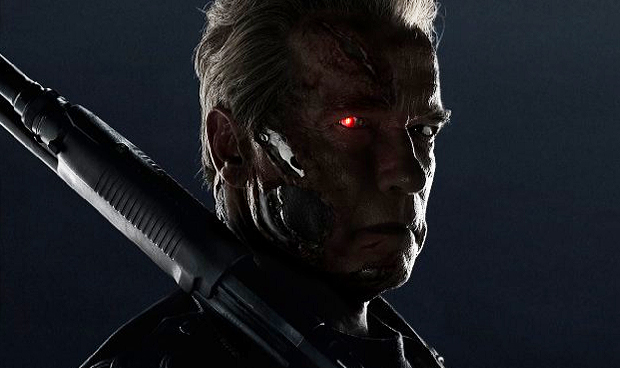 The Terminator franchise marches forward, unkillable, impenetrable, like some kind of…bad robot.
The revival for The Terminator film franchise is a go, according to The Tracking Board. The news hinges on the August 7 announcement that David Ellison's Skydance Media reupped with Paramount Pictures for a 4-year distribution deal. Consequently, the trade site went so far as to confirm that the "Untitled Terminator Revival Project" will, in fact, "move forward" with the team of original mastermind James Cameron and (as previously reported,) Tim Miller, the celebrated director of 2016's Deadpool, occupying the helm (in addition to his new gig directing sci-fi film Neuromancer).
Director Tim Miller (Deadpool) and producer James Cameron (Terminator, duh) have brought in Hunger Games writer Billy Ray to polish off the the upcoming new Terminator's script, according to Variety. 
The script has already written by a committee that includes David Goyer, Justin Rhodes, and Josh Friedman. Now Ray should be able to finish things off nicely.
Ray helped shepherd the Hunger Games film franchise to the big screen by writing the first film's script. In addition to that, he's best known as a writer of prestige dramas and thrillers such as Captain Phillips, State of Play, and the incredibly underrated and criminally forgotten Shattered Glass. 
Where can the 1984-launched The Terminator franchise possibly go after over three decades, five films and the (generally forgottten,) 2008-2009 Fox TV series Terminator: The Sarah Connor Chronicles? It's an especially potent question with its central star Arnold Schwarzenegger having just turned 70 years old. As Cameron told News.com.au last month:
"The question is — has the franchise run its course or can it be freshened up? Can it still have relevance now where so much of our world is catching up to what was science fiction in the first two films. We live in a world of predator drones and surveillance and big data and emergent AI (artificial intelligence)."
James Cameron reportdly will be Superman Returns-ing this, setting the film after the second installment and ignoring the rest of the continuity. 
Arnold Schwarzenegger himself has confirmed that he will return in front of the camera for the revival film, which he refers to simply as "Terminator 6." In an interview with Austrian news outlet Kleine Zeitung (via The Playlist). 
Linda Hamilton will be returning to the franchise as Sarah Conner, marking the first time since 1991's Terminator 2: Judgement Day that both she and Schwarzenegger have appeared in a Terminator film.
The untitled Terminator revival is scheduled to premiere on July 29, 2019.