News
Tau Trailer: Netflix Sci-Fi Film Starring Maika Monroe and Gary Oldman
Netflix movie Tau is a sci-fi thriller in which a woman must overcome the technology of a smart house run by an evil A.I.
Tau may sound like the name of a pretentious casino, but it's also the title of a Netflix sci-fi film that's rooted in the quite-real concept of artificial intelligence, specifically those connected to smart houses.
The film, directed by longtime Marvel Cinematic Universe animatics artist Federico D'Alessandro, stars Maika Monroe as a woman who's forced to participate in a sinister experiment inside a smart house that's equipped with a revolutionary artificial intelligence program, the titular Tau, which is voiced in sinister fashion by Gary Oldman.
Tau Trailer
As the Tau trailer proves, sci-fi is simultaneously far, yet so close to 2001: A Space Odyssey's "I'm sorry Dave, I'm afraid I can't do that" moments.
The trailer depicts what appears to be a near-future setting, in which a woman named Julia (Monroe) is forcibly abducted by tech guru Alex (Ed Skrein), and made to become one of the unwilling guinea pigs in a technological experiment with a smart house that's completely controlled by Tau (Oldman), Alex's newly developed A.I. system, which is both demanding and sadistic. Consequently, Julia's only hope of escape is to crack the cold exterior of Tau and make nice with the angry A.I.
The topic of artificial intelligence is certainly white-hot right now, and the premise of Tau could easily pass for an episode of the (Netflix-distributed) tech-minded horror anthology series, Black Mirror. Indeed, the claustrophobic fancy-house setting also matches director Alex Garland's tech-minded horror film, Ex Machina. Plus, fans of television's Mr. Robot might also evoke some similarities to the smart house-related misfortunes Sandrine Holt's Susan Jacobs.
Tau Release Date
Tau is set to stream suspiciously on a device near you when it premieres on Netflix on June 29.
Here's the official Tau poster.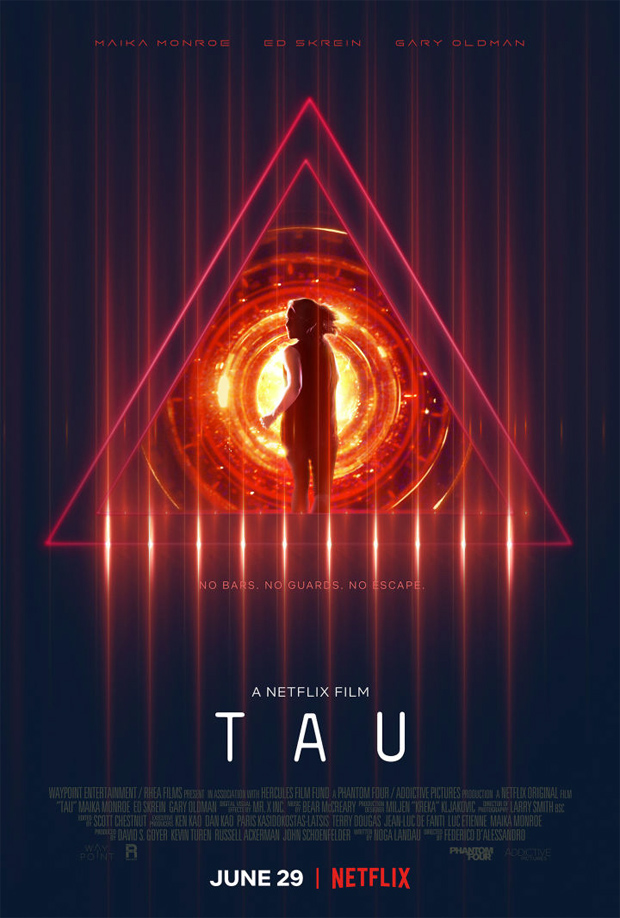 Tau Details
Star Maika Monroe is coming off recent films such as Shotgun, The Tribes of Palos Verdes, I'm Not Here, as well as blockbuster sequel Independence Day: Resurgence, horror film It Follows and acclaimed thriller The Guest.
Gary Oldman, the veteran actor, is coming off a culminating career moment with a Best Lead Actor Oscar win for his role as Winston Churchill in Darkest Hour.
Ed Skrein recently fielded the thriller, In Darkness, in which he co-stars with fellow Game of Thrones alum, Natalie Dormer. The actor also served as the main villain of the surprise hit, Deadpool, and fielded the Jason Statham franchise continuation, The Transporter Refueled.
Joining the primary trio in the Tau cast are names such as Fiston Barek, Ivana Zivkovic and Sharon Clarke.
Federico D'Alessandro takes the helm here in what will be his feature-length directorial debut. D'Alessandro, an animatics and storyboard artist by trade, has worked on several Marvel Cinematic Universe films, ranging from Thor, The Avengers (and its sequel,) to Doctor Strange, along with several other high-profile pictures, the most recent of which was 2017's The Mummy. Here, D'Alessandro works off a script by Noga Landau, who's primarily known as a story editor from Syfy TV series The Magicians.