News
Taron Egerton Sings in New Look at Rocketman
Dexter Fletcher's Elton John biopic looks like it could be quite something...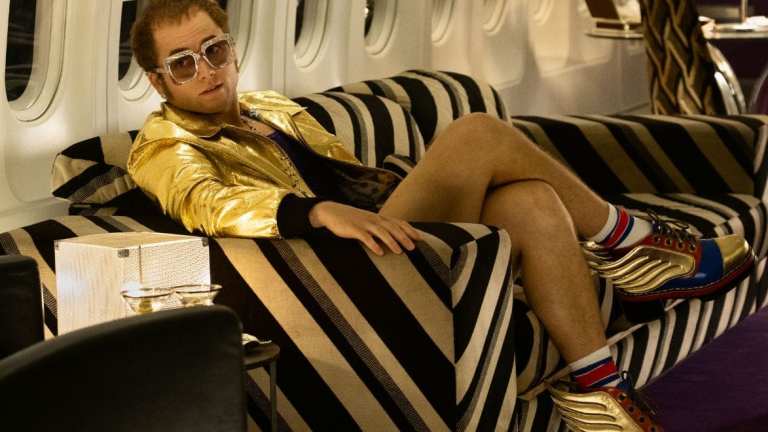 A new behind the scenes featurette about the making of Elton John biopic Rocketman gives us a chance to see Taron Egerton in action as the iconic singer. Egerton blasts out his own version of "Tiny Dancer" in the video, released this week by Paramount. In the new clip, Jamie Bell also pops up as Bernie Taupin, along with rising star Richard Madden (Bodyguard) and Bryce Dallas Howard.
Tom Hardy was originally cast in the role of Elton back in 2013, but dropped out after admitting he was struggling to nail it.
"I'm not a singer. I have no idea really," he told The Sun. "I'm really trying because of Rocketman but it's hard to open my mouth in that way."
Eventually, Kingsman: The Secret Service star Egerton was brought in to replace Hardy, and his Eddie The Eagle director Dexter Fletcher seems delighted with the way things worked out. Fletcher famously took over the reins of controversial Oscar favorite Bohemian Rhapsody after Bryan Singer was fired from the production with just a few weeks left of filming, and it'll be interesting to see what Fletcher has done with a biopic that is more essentially his own
The stars have certainly aligned in their strange way for Rocketman, with Fletcher happy with Egerton's peformance as Elton. "Taron is an actor of incredible range. Taron is actually singing in the film and he's so convincing. His voice is incredible."
Music producer Giles Martin agrees. "Elton said, 'I don't think I have heard anyone sing my songs better than Taron.'"
Have a watch…
Elton himself has been involved in developing Rocketman for the screen, clearly wanting a project about his life to be something special and not run-of-the-mill.
"This film is going to make people's jaws hit the ground," producer Matthew Vaughn teased previously. "Elton just said, 'Tell it all. Go as R-rated as you need to'. And we do just that, with his blessing. The flaws and the genius are all there."
We suspect there may be more to this one than the usual biopic beats.
Rocketman opens on May 31.