Reviews
Takeshi Kitano Collection DVD review
Renaaissance man Kitano delivers an almost-infuriatingly mixed bag in this new collection. But there's much to enjoy…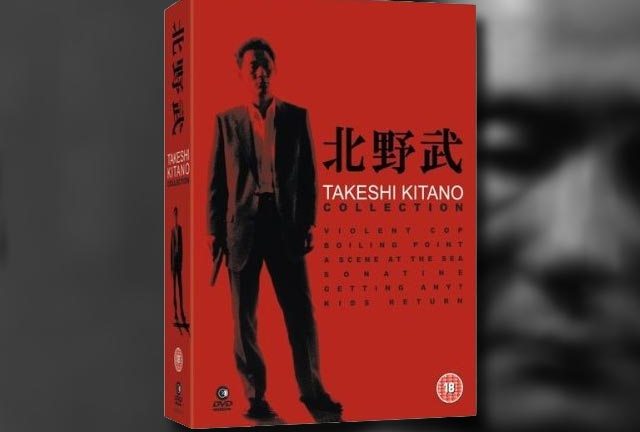 Takeshi Kitano is a Japanese phenomenon. Lovingly also known under his nom-de-plume "Beat" Takeshi, he is an incredibly popular show business figure, a true Maverick and Renaissance Man, equally comfortable as an actor as well as a writer, director and all-round artist who started off as a comedian before moving on to serious roles.
Whereas he is one of Japan's true super stars, he has yet to gain proper face-recognition in the West. As an actor he is probably best known as a teacher ("Let's be friends") called… Kitano in Battle Royale (2000). As a director he may have gained most recognition with his recent remake about the blind Swordsman Zatoichi (2003). Ironically the series he is most associated with in the UK is Takeshi's Castle, an over the top game show so heavily edited that it virtually excludes any of his appearances.
Second Sight's new Takeshi Kitano DVD set features his first six films as a director: Violent Cop (1989), Boiling Point (1990), A Scene at the Sea (1991), Sonatine (1993), Getting Any? (1995) and Kids Return (1996).
Four of those productions can broadly be described as crime or gangster dramas, though Kitano's idea of Yakuza subjects is far removed from your typical Japanese action flick. Typical plot summaries (Boiling Point: "Having disrespected the local yakuza, gas station attendant Masaki finds himself in need of a gun and falls in with psychotic ex-mobster Uehara who has his own grudge") really do those productions a disservice by raising wrong expectations. These films are just as much – or even more so – about days on the beach, playing baseball or dealing with general family issues as they are about revenge or gangland in-fighting.
In a lot of ways those films are reminiscent of the way the French Nouvelle Vogue took plot elements of the American Film Noir and completely reimagined them to create a truly new kind of cinematic experience.
Don't expect highly stylised fight scenes in these films. Kitano does have a number of fairly bloody eruptions, however, and his fights are more realistic in that you often just see a bunch of people quickly jumping on top of one another and kicking and hitting all over the place. In actual fact a lot of the violence, as well as other key scenes, takes place off-screen, as Kitano frequently cuts to reaction shots of other bystanders and lets the viewers entirely imagine the main action.
Melancholic – at times jazzy – music underlines the overall mood of those productions and there are a lot of bizarre twists in those films. Kitano certainly has a very sly, quirky humour that permeates his oeuvre.
In actual fact, given Kitano's frequently irreverent approach to a traditional gangster plot, one becomes curious to see how he'd approach subjects outside of the stereotypical Yakuza environment, and, lo and behold, when he does so he becomes even more enigmatic…
A Scene at the Sea is the story of a deaf garbage collector and how he transforms himself into a surfer dude. It is easy to see the kind of film Hollywood would create from this plot: lots of personal re-invention, tons of gung-ho scenes on the surf board, lots of ra ra when he overcomes his obstacles, a bombastic soundtrack and tons of slow motion. Yet in Kitano's movie, we effectively have a surfer film with practically no surfing scenes! True, we get some shots of surfers at sea and also a few glimpses of the main character's first devastating attempts to ride the waves, but the moment he starts improving, all we get are reaction shots from other people or verbal acknowledgments about his progress. It's an equally fascinating as well as frustrating play with conventional viewing habits.
The other non-gangster production, Getting Any?, is often described as "hilarious" or in the style of the Airplane movies, yet only one word truly sums it up: painful. The less said about it, the better, but this is one of those productions that prove that humour works best when within one's own historical and cultural background. Let's face it: When did you last laugh out loud at a cartoon from Punch? And did anyone ever really think those Italian military comedies from the 1970s were all that funny? I may be biased, but I have seen very few pure Asian comedies that I could stomach, and Getting Any? despite (or maybe even because) of all his usual quirks, completely failed to impress me.
Extra-wise there is very little in this set; just a 70-minute interview with Kitano made for French television, and two audio commentaries by Chris D. Chris D is an expert on Japanese Yakuza movies and his tome about "Outlaw Masters of Japanese Film" is often considered a must-have for anyone interested in those movies. With that authority, an additional punk music background and a name as hip as his, one would expect his commentaries to be high energy doses of worthwhile information. However, they generally consist of either long periods of silence, pointing out the bleeding obvious in any given scene, or rattling down entire lists of filmographies (without added info) on the most important actors and technicians involved in those productions. He also manages to interminably draw out very basic sentences in his slow, monotonous drawl.
Truth be told: I had previously subjected myself to listening to his commentaries for other DVDs and just couldn't make myself do so again for this set. Instead I occasionally listened in to some random passages in the hope that my previous conception may have been prejudiced, however, it did appear to be more of the same. My "favourite" piece of audio commentary Chris D style came when he spent a minute or two meandering about how a certain underground parking house in Violent Cop looked just like any other underground parking house anywhere else in the world. Riveting info, it sure wasn't, which really is a pity as the films that he supplies commentaries for are practically begging for a well informed guide to lead the Western viewer through these often enigmatic productions and intriguing imageries.
The films in this set probably deserve to be savoured over a longer period of time. Watched in relatively quick succession, some of his initially quirky idiosyncrasies soon become clichéd Kitanoisms and after a while end up appearing less original than one might otherwise expect. I am glad that not every film out there is like a Kitano production, but I am equally happy that I had the chance to become immersed in his very unique universe for a little while.
Film:
Extras:
The Takeshi Kitano Collection is out now.