Reviews
Taken DVD review
Liam Neeson's strong central performance keeps Taken chugging along. The extras are forgettable, though...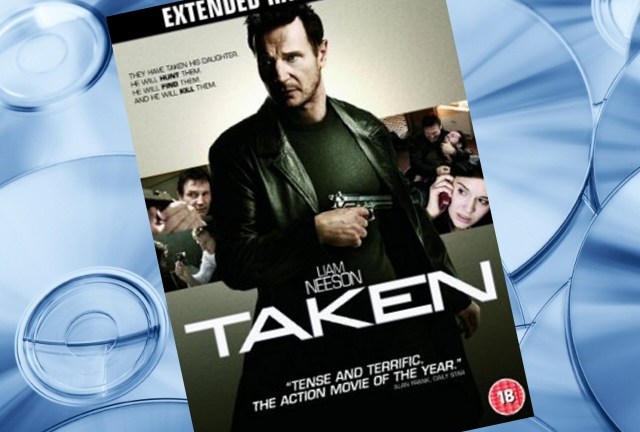 Released almost a year ago in its home country of France, this Liam Neeson vehicle has been rolled out slowly over the globe with its release just taking place in the States, making the No.1 slot in the Super Bowl Weekend, no less. But here in the UK, Taken hits the home market with a paltry one-disc version.
Liam Neeson plays Bryan Mills, a man with a past (a paramilitary "preventionist" for the US government) and a father/husband who let his work get in the way of a full and satisfying life. But that's history as big boy Bry tries to make up for absence, though his ex-wife (Famke Janssen) is rather frosty and his daughter Kim (Maggie Grace) not so trusting. Due to Mills wanting to appease his family, he lets his suspicious nature down and grants Kim permission to travel to Paris and beyond!
And that's where things take a nasty turn as she is kidnapped almost as soon as she hits the French city. Mills finds out and uses all his powers and knowledge to track her down and save her, uncovering corruption and all sorts of bad stuff on the way.
This simplistic plot is reflected in the script with some basic expositional material at the start, though it does turn into a more monosyllabic piece as events unfold. One example of the cliched nature of the genre takes place in an exchange between Mills and his ex-wife's new hubby. After Mills demands a private plane to Paris and his daughter's step-dad asks when, Mills booms, "An hour ago." Groan!
Mills isn't one for talking, though; he just wants info about his daughter and if you don't have it, you end up either dead or in need of some swift medical attention. And this is where Taken comes across as rather laughable at times. The sheer number of people that Neeson comes across and damages will somewhat engage your suspension of disbelief. Not just the numbe, though, it's the way he casually offs his opposition that might have any of the audience above teenage years feeling slightly incredulous.
Your suspension of disbelief will be stretched to the limit when the filmmakers try to pass failed Aussie poplet Holly "Kiss Kiss" Valance as a convincing 'diva'. And the notion that a pair of teenage girls go to Europe to follow U2 on tour was also risible, but I digress.
Taken is ridiculous in parts but it's down to Neeson's affability that you buy into his character and his dire need to save his daughter. That's also why you'll forgive him when he commits some of the more gratuitous acts in the film. The direction is also tight and the filmmakers waste no time in any of the scenes and the film itself barely comes in at 90 minutes.
A brief adventure and one that won't disappoint if you're a fan of the action genre and it's certainly better than most in the oeuvre. It's not thoughtful in any way (doesn't give you time to do something as mundane as thinking) and it comes off as an action version of Polanski's Frantic – coincidentally starring another affable actor, Harrison Ford. All in all, a stoutly told adventure that offers no originality but will keep you gripped and rooting for Neeson all the way.
Extras Disturbingly, there's no commentary included. I was under the impression that that sort of omission was against the DVD Geneva Convention. Even worse, no deleted scenes, no outtakes and no easter eggs! It's like it's 2001 all over again. I can only imagine that when the film comes to a DVD release in the US later this year, the producers will see fit to correct these erroneous decisions.
And what we do get is a half-arsed collection of behind-the-scenes footage that barely lasts forty minutes in total. First up is the bog-standard "making of" which barely scratches the surface, though if you like some hearty back-slapping you will not be disappointed. I was rather horrified to hear Liam Neeson claim, with some glee, "It's good to fire guns and chase bad guys." I thought the Jedi were peaceful!
Elsewhere, there's an alarmingly pointless five minute look at the premiere that took place almost a year ago in a grotty looking UGC multiplex in Paris. C'est la vie! Lastly there are six scenes which get a "Side by Side Comparison" treatment. It's literally the same footage in the film shot by another camera placed behind the main one. Absolutely pointless and anyone interested in filmmaking will gleam nothing from it.
Film:
Disc:
4 February 2009