News
Taika Waititi and Jemaine Clement Hint What We Do in the Shadows Crossover This Season
Taika Waititi and Jemaine Clement on the What We Do in the Shadows TV series...and using their movie characters this season.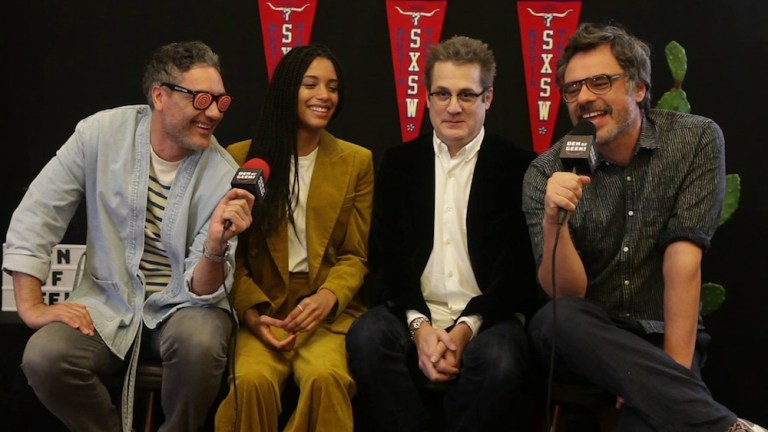 For a certain set of horror and comedy enthusiasts, What We Do in the Shadows remains the best vampire movie of this decade. The definition of an instant cult classic, the picture from Taika Waititi and Jemaine Clement, who both wrote, directed, and starred in the film, follows several Eurotrash vampire roommates as they attempt a daft documentary about their Undead lifestyle in New Zealand. The prospect of turning this Halloween delight into an ongoing comedy series was always going to be a challenging one, but FX might've struck on a novel idea by having the original creators involved in numerous ways on the upcoming What We Do in the Shadows TV series.
Which is exactly what we wanted to discuss when we sat down with Waititi and Clement, as well as producer Paul Simms and writer Stefani Robinson at SXSW. While early in the interview, Waititi joked that during the development of the series he got Thor: Ragnarok and left Clement to work on the series alone—both are credited as executive producers but only Clement is credited as a writer alongside Robinson—we know Waititi is still slated to direct an unknown number of episodes. And since the What We Do in the Shadows TV show is set in the same universe as the movie, we had to wonder if Clement's Vlad and Waititi's Viago could find their way from New Zealand to the series' Staten Island setting in New York City.
"It's possible," Clement and Waititi say in practical unison. Producer Simms then adds to the prospect by teasing that we will see Waititi and Clement's vampires by the season finale.
"It's very possible," Simms says with a hint of the cryptic. "If you like the movie, you'll be very satisfied at the end of the first season of the show." And after Clement points out it is still their universe, Waititi concludes, "There might be a crossover." You can see the full exchange plus more of the interview right below.
The semi-confirmation reminds that What We Do in the Shadows is a project that just doesn't spin-off from the original 2014 comedy but builds upon it, which was apparently the concept when producer Scott Rudin first pitched the idea to Waititi (or as the filmmaker muses, hypnotized him during a 3am phone call that scared him so badly that he was compelled to do the TV show).
A series of course offers the opportunity to expand the mythology from the original film. A personal favorite moment, for example, was when Clement's Vlad pulls a Gary Oldman from Bram Stoker's Dracula and turns into an animal with a human face… only he is so bad at it, the best he can accomplish is turning into a housecat. After I mention the scene at SXSW, Clement cannot recall if it was his or Waititi's idea. However, Waititi very vividly remembers Clement's most insistent character flourish he'd extensively written about: orgies.
"I remember writing it, and most of the scenes that you wrote involved your character… your character has a very big obsession with orgies," Waititi says still smiling behind his novelty Den of Geek sunglasses. "That's all I'll say. Your character. That particular character you play." Clement, with a protesting sheepish grin, insists that it was just a single "three-person orgy." That's all.
Later in the interview, when I ask what NYC tourist attractions Vlad and Viago would seek out when they came to the Big Apple, Simms answered perfectly for both of them: "Jemaine's character? Well the Museum of Sex, quite obviously."
We'll have to wait to see if that museum comes to pass at the end of the first season, but the vampire mayhem begins next week when What We Do in the Shadows premieres on March 27. In the meantime, the video interview above includes these exchanges, plus an illuminating revelation by Clement about where the love story between Waititi's Viago and an old flame in the 2014 film came from in his own real-life, personal history.
David Crow is the Film Section Editor at Den of Geek. He's also a member of the Online Film Critics Society. Read more of his work here. You can follow him on Twitter @DCrowsNest.