News
Sylvester Stallone Eyes Jack Johnson Biopic
The recently-pardoned late boxing legend, Jack Johnson, will be the focus of a Sylvester Stallone-developed biopic.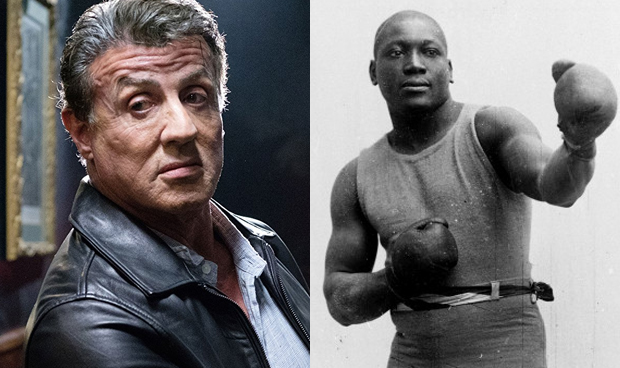 Sylvester Stallone is about to develop a major boxing movie that has nothing to do with Rocky or Creed. Indeed, the focus of this prize-fighter picture will be historic in nature, telling the story of Jack Johnson, the first African-American heavyweight boxing champion, whose name has recently generated headlines.
A biopic about Jack Johnson will be the first project on queue for Stallone's newly-launched Balboa Productions company in a partnership with MGM, reports Deadline. Indeed, Stallone is not wasting any time after the posthumous presidential pardon issued on May 24 to the historically persecuted boxing great, Jack Johnson; a move by President Donald Trump that was met with rare bipartisan support. Appropriately, Stallone had provided one of the loudest voices calling for the long-advocated move.  
Jack Johnson's plight is a prime example of Jim Crow era injustices. On October 11, 1912, Johnson stood accused of violating the Mann Act (an anti-prostitution law), said to have kidnapped his girlfriend and would-be wife, Lucille Cameron, across the state line into Chicago. While that case (brought about by Lucille's mother,) fell apart, it encouraged another accuser, a prostitute with whom Johnson had been involved years prior, to make her own allegation, leading to a trial – overseen by future segregation-enforcing baseball commissioner Kenesaw Mountain Landis – in which he was convicted and sentenced to 1 year and 1 day in federal prison. – Johnson, however, skipped out on bail and fled to Montreal with Lucille, continuing his boxing career around the world, until finally surrendering to U.S. authorities in 1920 to serve his sentence.
Johnson's story was prominently chronicled in Ken Burns's 2005 PBS documentary, Unforgivable Blackness: The Rise and Fall of Jack Johnson.
Stallone's dramatized cinematic vision of Jack Johnson's life – Balboa Productions' first picture in a multi-year deal with Starlight Culture Entertainment – will see him partner with Eighty Two Films producer Braden Aftergood, who is attached to the July-scheduled Keanu Reeves thriller, Siberia, as well as the 2017 Jeremy Renner/Elizabeth Olson-headlined crime drama, Wind River and the 2016 Jeff Bridges-starring contemporary western thriller, Hell or High Water.
MGM's President, Motion Picture Group, Jonathan Glickman along with the company's EVP Production, Adam Rosenberg, will oversee the project on behalf of the studio.
We'll be sure to update you on Sylvester Stallone's Jack Johnson biopic as the details arrive. At the moment, he's finishing off his hit sequel, Creed 2, which is set to arrive on November 21.