News
Suspiria Trailer, Release Date, and Everything to Know
Luca Guadagnino's Suspiria remake has a new trailer you won't soon forget.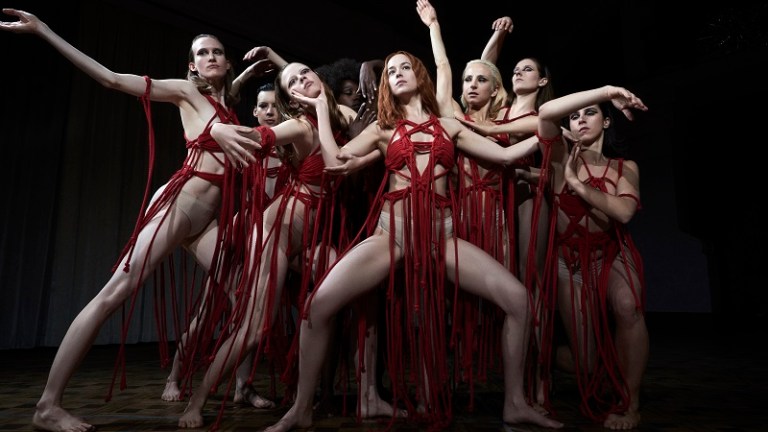 A new generation of horror fans will get their brains broken in Luca Guadagnino's upcoming remake of Italian horror master Dario Argento's atmospheric giallo classic Suspiria. The remake's screenplay was written by David Kajganich. Radiohead's Thom Yorke scored the film.
Check out the haunting new trailer for Suspiria!
Suspiria Trailer
Here's the earlier trailer, too…
Check out the official synopsis: 
"A darkness swirls at the center of a world-renowned dance company, one that will engulf the troupe's artistic director (Swinton), an ambitious young dancer (Johnson), and a grieving psychotherapist (Ebersdorf). Some will succumb to the nightmare. Others will finally wake up."
Suspiria Cast
Chloë Grace Moretz co-stars with Dakota Johnson and Mia Goth in the film, which comes from Frenesy Film Company and Mythology Entertainment.  Tilda Swinton plays the artistic director, Lutz Ebersdorf plays the psychotherapist and Jessica Harper, who starred in the original, comes back to haunt the screen.
Suspiria Release Date
The ballet-school set thriller will hit theaters on November 2, but it's opening a week early in some markets, on October 26.
The original 1977 Suspiria, which was written by Argento and Dario Nicoladi, told the story of a young American ballet dancer, played by Jessica Harper, who gets accepted to a prestigious dance academy in Germany. Shortly after she enrolls, the school is plagued by a series of increasingly grisly murders. The dancer soon realizes that the school expects her to dance with the devil. That film also featured Stefania Casini, Flavio Bucci, Miguel Bosé, Alida Valli, Udo Kier, and The Dark Shadows TV series' Joan Bennett in her final film role. Argento directed two spiritual sequels to Suspiria — 1980's Inferno and 2007's Mother of Tears — as part of his Three Mothers Trilogy, which told the story of three ancient witches from the 11th century.
"Suspiria" is the Latin word for sighs.
further reading: Suspiria Ending Explained
Suspiria Review
Whether they help to support Guadagnino's remixed version of the story itself is another matter. His vision of ancient feminine power unleashed could in theory be a heady one that would catapult Suspiria directly into the concerns and issues of today. Instead, this still always interesting and sometimes wildly experimental film ends up in a netherworld between past and present, horror and art house, thick red blood and dreary gray stone.