Reviews
Survivors DVD boxset review
38 episodes (but not many extras) across a 12 disc set: meet the original Survivors...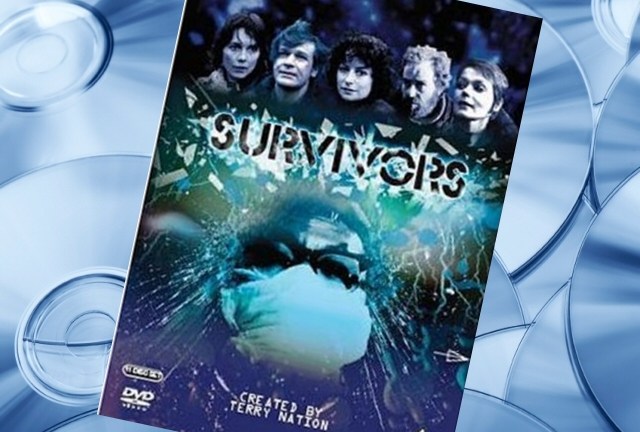 Hot on the heels of the opening transmission of its remake, the good folks at 2|Entertain have packaged the original series of Survivors in its entirety in a whopping great big box set. That's all three series consisting of 38 episodes at 50 minutes each, phew! So what is this 'cult' Seventies show all about?
Survivors is a tale of, if you hadn't guessed, survivors. More specifically, people who survived a plague (1% of the population), later referred to as the 'death', that was accidentally let loose by a well-traveled scientist. The opening titles depict, in an incredibly tight manner, how this happens and within 30 seconds we get the gist (a bit like The Prisoner in that respect). In our 'modern' world we are all too aware of how quickly a virus can spread, so it may seem quite normal (not to mention realistic) to us sophisticates, but in its own time, the sequence was viewed as a sci-fi exploration of the future.
Of course, it isn't sci-fi and could have happened quite easily (as it still could). Over the three series we join the survivors as they strive to find food and harmony in their new world.
In a prescient move (foreshadowing Lost), the cast is quite some size; people drop out, new chaps (and chapettes) join the original gang and then some reappear. Sadly, though, the cast seems to fall into two groups: those with an RP accent and those from Wales. Survivors was ahead of its time in many fashions, but class was not one of them.
The tale begins in what could only be referred to as a 'middle class' home, with Jenny playing tennis in the garden, and is book-ended in the very last scene (don't worry, no spoilers here) of the very last episode where we are treated to another woman in an even more luxurious setting, sipping some wine. 'Survivors' indeed.
That first scene I mentioned is one of the most enduring images of the entire collection; after Jenny is called away from her tennis game, the viewer is presented with her 'partner' – a, gasp, machine! As she goes away the machine continues to spit out balls and the camera lingers on the automaton. No master to control it, yet it continues its duties as mankind is about to bite the proverbial big one. Great stuff.
But this promise, heavily evident in the first series, begins to wane in the second series and even more so in the third. Although slow in nature, the first introduces us to a wealth of characters (none of whom crack a smile much, unfortunately – I know it's the end of the world and you've lost all your loved ones, but come on! This is telly!) and the varying situations they face from week to week.
These premises can't carry it for long, though and, after some of the gang take a trip to London, not much happens for almost the entirety of the second series. The introduction of the city galvanizes the series in a gripping two-parter early on, but then we're back to the goings on in the farm. It bases itself on a 'freak/controversial subject of the week' agenda.
The absence of Abby in this series does not help either – she receives no 'farewell' story (see notes in the 'Extras' section) and Jenny, bless her, is no equivalent. She'd be more suited to Play School than trying to help rebuild Britain. Still, she is one of the most likeable characters in the show.
Greg Preston is stoutly played by Ian McCulloch, but becomes so stoic and humourless that his absence isn't really felt (though he does come back for a cracking self-penned tale). Similarly, Charles Vaughn, played with distinction by Denis Lill, is admirable but over the course of the series his single-minded persona weighed rather too heavy for this viewer.
It has to be said, there is a great charm to Survivors and I can't help but think of it as a more serious version of The Good Life (and that's meant with lurve). The storytelling (in the early days) is very 'now' but at the same time 'then'. Quite often characters come and go with little explanation; there's no fifteen minute "Oh they're dead/gone, what are we gonna do?" style scenes we witness too often on our televisions (and films for that matter). People are rarely mourned as life not only goes on, it is actively searched for.
But I can't help but feel that if Terry "Creator Of the Daleks, Apparently" Nation had continued with his involvement, then the show could have lasted a bit longer. Sure, his dialogue is as clunky as it is unspeakable (though they do give it a damn good try) but the storylines (episodic and arcs) were sleek. In that respect, one of my favourite moments came in the episode Revenge, where Anne and the man she abandoned and left for dead (she even said he was), Vic, are reunited after spending eight episodes or so apart – genuinely exciting moment and a wonderful reveal. These kind of moments are peppered throughout the series and come in the form of deaths and misunderstandings which I won't spoil for you.
Like me, (depending on your age), you'd probably spend a lot of the time either wondering where you'd seen a particular actor before or saying, "Ah, that's whats~his/her~name, they were in Doctor Who!"; a testament to the series that they not only secured established actors but also presented new talent – get ready for the sight that is a mid-seventies Brian Blessed. Awesome stuff!
ExtrasI'm sure the makers would have included 'Scene Selection' and 'Interactive Menu' in the 'Special Features', such is the dearth of extras. Unless you like photographs! Each series has a gallery – one of which comprises some from the collection of Lucy "Jenny" Fleming – that will keep even the most picture-hungry amongst you satiated.
The only added bonus is an edition of the excellent BBC FOUR series, The Cult Of … that concentrated on Survivors. Excellent, yes; but all too brief. We are treated to contemporary interviews with some of the main players that you wish would go on for the length of the series itself. Carolyn Seymour is incredibly frank about her dismissal from the show (citing alcohol problems) and the rest of the cast, although they gush about how forward thinking the show was, are keen to pick up some the more negative aspects, such as the production (and problems therein) alongside the class issues contained in the narrative (referred to above).
Infuriatingly, though (especially so in an age when we're used to proper extras), that's your lot. The producers of this set haven't even included the commentaries or interviews conducted for the individual series sets released in the last couple of years.
So if you're already a fan, you've probably got the three series box sets already on DVD, meaning that £60 or so is an awful lot of cash to fork out for a half hour documentary. But at half the price of the three separate sets, this makes for a value packed collection of well meaning, if slightly overdone, apocalyptic tales. Or you could just watch the new version on the iPlayer.
Series:
Extras:
---