Reviews
Surf's Up DVD review
An animated movie that's surprisingly well worth a spin; Lucy checks out Surf's Up...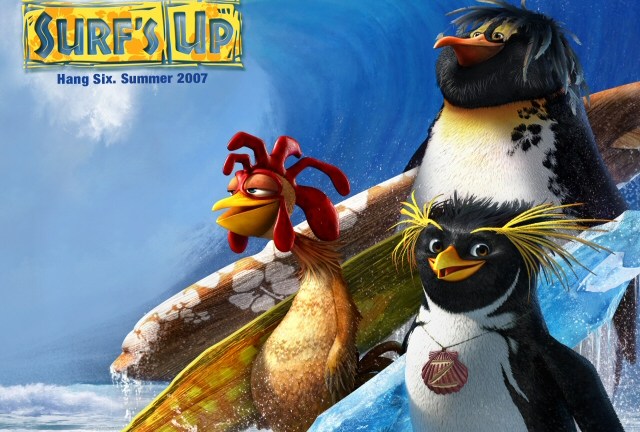 I love animated movies. Really. However, the way things are going in the movie business at the moment, it would be easy to get bored of all these animated movies, particularly as lots of them star talking animals. But the big kid in me won over and I thought I'd give this one a spin.
I haven't seen Happy Feet so am unable to draw any comparison between the two. I'll just take Surf's Up for what it is. Which is actually a very good movie.
The plot of this movie – which is filmed as a documentary – follows Cody Maverick, an ambitious surfing penguin. Born in Shiverpool, Antartica, Cody is desperate to get out and make something of himself, and he feels surfing is his ticket out of town. Cody's day job as a fish-sorter is increasingly getting him down, so when the talent scout for the Big Z Memorial Surf Off on Pen Gu Island arrives in Shiverpool, he jumps at the chance to go and compete.
Big Z has been Cody's idol since he was a baby. Big Z was killed in a surf off many years ago, but it hasn't stopped Cody aspiring to surf like him. So the Memorial Surf Off is his biggest dream, and with his cocky attitude, he is certain he can win. But he hasn't reckoned on the bigger, scarier waves on Pen Gu Island, or Tank Evans – the champion of the Surf Off for nine years running.
Evans, the most vain, egotistical penguin you're ever likely to meet, isn't really worried about Cody. He doesn't see some small town penguin as a threat, and an impromptu challenge between the two verifies this fact. Cody is wiped out, along with his confidence.
This is where the story really begins. Cody meets some unlikely friends whilst on Pen Gu Island and begins to realise that surfing isn't all about competition – it's about doing it for the fun of it. As this realisation hits him, Cody changes his outlook on life and embraces his new-found friends all the more, and even finds love. Blimey.
I thought this was a really good movie. The visuals are absolutely stunning, although I would love to see what they look like in HD. But I digress. Surf's Up looks good, and the documentary style made it a little different to so many other films and I really thought it worked because you get the clever asides and rolling-of-the-eyes to the camera, which appealed to my sense of humour.
The characters and storyline were good too. But what really put the icing on the Surf's Up cake for me was the character Chicken Joe, voiced by Jon Heder. Chicken Joe was absolutely hilarious all the way through, a totally spaced out but lovable character with the majority of the 'funnies' in the script. That role was made for Heder's voice.
If you like CGI movies, there's no reason why you won't enjoy this. It isn't as packed with jokes as some recent animated movies, but the storyline and characters are great fun and there's a moral to the story which will appeal to parents teaching little ones right from wrong. A good family film.