Reviews
Supernatural season 3 DVD boxset review
A very good series of Supernatural is matched to a fine selection of extras...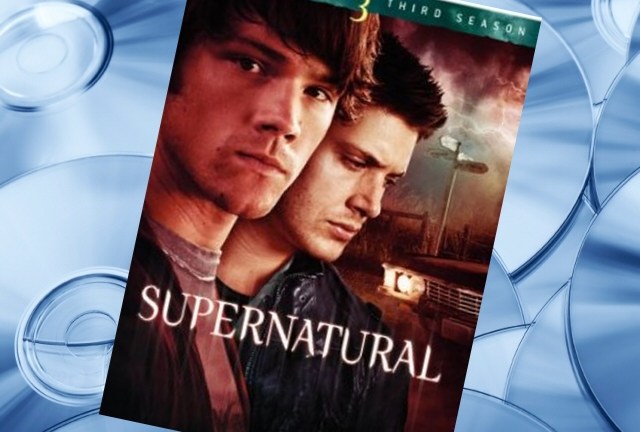 First off, those of you who buy this set must realise that you won't be getting the usual run of 22 episodes. Like a lot of American television shows, series 3 suffered from the inopportune arrival of a writers' strike, so there are only 16 episodes in the set. This is felt towards the end of the series, and the finale seems to try and cram two episodes into one. However, the rest of the series is a cornucopia of writing excellence.
As you might remember, Series 2 ended with Dean selling his soul to the devil so that Sam might live. Dean now only has a year until the devil himself comes to collect his immortal soul and drag him screaming to Hell. However, knowing how long you have left to live seems to have liberated Dean and he has now turned reckless. This recklessness produces a tension between the brothers, as Sam can't live with the fact that his brother gave his life to save his. So whilst Dean is just getting on with things, Sam is always looking for a way to liberate his brother's soul. It makes for genuine moments of realisation and tension.
Joining the two main characters on this journey are Bela (Lauren Cohan) and Ruby (Katie Cassidy). One is a hunter that exploits the situation to make as much money as she can and the other one is a demon, that likes Sam and wants him to be a great leader in the coming battle. I'll let you discover who is who. Although these characters are brilliant in their own right, you don't get the feeling that you really know them before the series ends. Maybe they will be used more in Season 4?
There are some genuinely good episodes in this set and none get to you more than the episode where Sam keeps living through the same Tuesday again and again, a la Groundhog Day, and has to watch his brother die each and every day in hundreds of different ways. How Sam copes with it gives an insight into how he will react when his brother eventually dies, and how he will get through the following years.
On the flip side, there is an episode where Dean suspects that he may be a father, and you see him thinking about a future he doesn't have any more. There is also a wonderful episode featuring a cursed rabbit's foot, which features some genuinely funny moments. My favourite though, is the Ghost Facers episode, which is filmed in a manner that anyone who has seen Cloverfield will recognise.
Extras
This box set includes an electronic version of the episodes in a format that can be played on most media players – which is a cool bonus in its own right. However, there are also lots of little extras spread across the five discs and, although none of them are spectacular, most of them are interesting.
There are brief episode guides and explanations and also a guide to the series' uncredited star – the brothers car. This is an excellent series, and only suffers because of the lack of episodes. I just wish that there were another six episodes to fill in some of the gaps, but if the writers have anything about them then the gaps will be filled in Series 4. Yes. I know that Series 4 has been on TV recently, but I hadn't seen Series 3, so I have used my Sky box to record them.
An excellent box set that is priced well at the moment.