News
Superman: Red Son Release Date, Trailer, Cast, and Details
DC's animated movie adaptation of Superman: Red Son is almost here. Here's everything you need to know...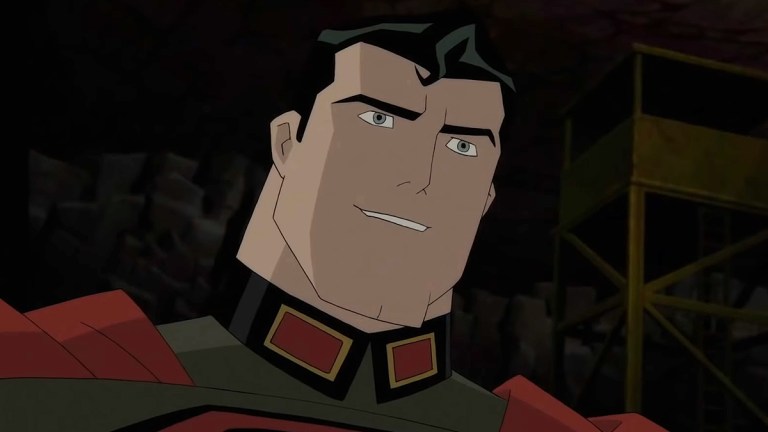 Superman: Red Son is the next iconic DC Comics story to get the animated feature treatment, and it's coming very, very soon!
Indeed, the 2003 comic miniseries from Mark Millar, Dave Johnson, and Killian Plunkett, which might just be the best known Elseworlds tale ever, is set land its animated movie in February, 2020.
The original story imagines a world where baby Kal-El's ship crashed in Ukraine instead of Kansas, and then Superman was raised as a Soviet superweapon. It features some of the sharpest Elseworlds design work ever done, adapting the entire Justice League into brutalist Soviet art styles. And it's one of those rare Millar (Kick Ass, The Ultimates) books where the heart is bigger than the shock value of the story.
Check out this brand new clip…
Superman: Red Son Trailer
Check out the full trailer for Superman: Red Son, bringing the classic comic story of the commie Kryptonian to life in vibrant animated form!
Superman: Red Son Release Date
Superman: Red Son will arrive on digital on Feb. 25, 2020 and Blu-ray combo pack on Mar. 17.
We've got details of the special features you can expect to find on the home release below…
DC Showcase: Phantom Stranger (Animated Short) – Animation legendBruce Timm helms Phantom Stranger as both executive producer & director from a script written by Ernie Altbacker (Teen Titans: The Judas Contract). Set in the 1970s, the short follows young adult Jess as she joins her friends at a party in adilapidated mansion hosted by the mysterious Seth … when odd things begin to happen to Jess and her friends, can Phantom Stranger intervene? Peter Serafinowicz (The Tick) gives voice to Phantom Stranger, and Michael Rosenbaum (Smallville, Impastor) provides the voice of Seth. Phantom Stranger also features the voices of Natalie Lander, Grey Griffin and Roger Craig Smith.
Cold Red War (New Featurette) – An exploration of the Cold War through the lens of the Elseworlds classic Superman: Red Son, as Superman rises to power and tension escalates between the United States and the Soviet Union.
Two episodes from Superman: Red Son – The Motion Comics.
A Sneak Peek at the next DC Universe Movie, Justice League Dark: Apokolips War – An advanced look at the next animated film in the popular DC Universe Movies collection
Superman: Red Son Story
Based on DC's famed Elseworlds tale from 2003, Superman: Red Son takes place in an alternate reality where the spaceship bearing the last survivor of Krypton crash lands – not in rural Kansas, but in Stalinist Russia. Can this Cold War-era Earth survive the coming of a Soviet Superman?
Superman: Red Son Cast
Jason Isaacs will voice the Soviet Superman. Diedrich Bader is Lex Luthor, Amy Acker is Lois Lane, Vanessa Marshall is Wonder Woman, Phil Morris is James Olsen, Paul Williams is Brainiac, Roger Craig Smith is Batman, Sasha Roiz is Hal Jordan, Phil LaMarr is John Stewart, Jim Meskimen is John F. Kennedy (yes, you read that right), Travis Willingham is Superior Man, William Salyers is Josef Stalin, and Winter Ave Zoli is Svetlana.
Superman: Red Son Details
Red Son was kind of adapted by Supergirl during season 4 after introducing a different version of Supergirl who had been raised by Luthor in Kasnia. This movie is expected to hew closer to the source material.
The Red Son movie was announced by DC as the first film on the 2020 slate back in July at their San Diego Comic Con screening of DC Universe Movie Batman: Hush.
The second movie announced is a follow up to 2017's pleasant surprise, Justice League Dark. This new one will be Justice League Dark: Apokalips War, implying that Earth's magic users (Constantine, Zatanna, Swamp Thing, Deadman, Black Orchid, and of course Batman) will be heading to do battle with the evil New Gods of Apokalips. That is…not a typical pairing, which sounds like it's going to make an interesting conflict. 
The final movie on the announced docket is Superman: Man of Tomorrow. Few details were given for the last animated feature of 2020 for DC, but they did say that the film will be looking at Superman early in his career. They also pointed out that the previously announced DC animated shorts will be screening with these new movies. For more on the DC animated cinematic universe, the DC live action cinematic universe, the DC Animated Universe, the Arrowverse, or the rest of the Multiverse, stick with Den of Geek!