News
Superman IV Villain Nuclear Man Will Return
Destroy! Destroy Superman! Nuclear Man will make his official in-continuity DC Comics debut this summer.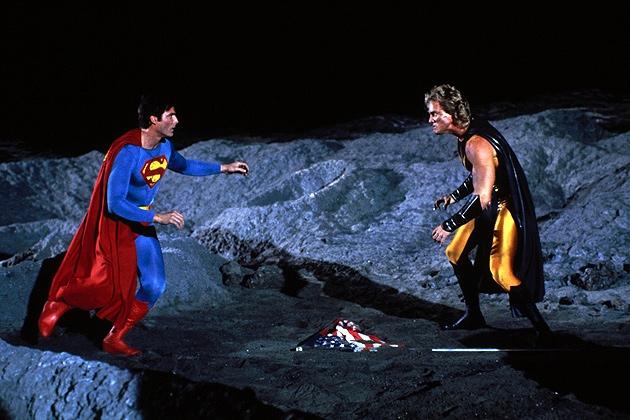 "I am experiment? I am freak-o?"
Holy moley, Superman IV: The Quest for Peace is terrible. It's terrible in lots of ways, big and small. But to me, the worst of it is that it had potential. Yes, you're reading this right. I enjoy watching this movie from time to time because I can see glimpses of the Superman movie it should have been.
For one thing, this was a movie with its heart in the right place. Christopher Reeve really wanted to make a movie about the threat of nuclear war, and he only wanted to return to the role of Superman if he could tell stories with a message. Unfortunately, the script was an overly simplistic mess with an absurdly low budget for a superhero flick. Reeve, and most of the rest of the cast, deserved better.
And then there's Nuclear Man, a character who made a striking visual in 1987, the first brightly-colored baddie to take on the Man of Steel on screen. Frankly, Nuclear Man could have been cool. A different power set from the Phantom Zone villains of Superman II, a costume with a color scheme perfectly designed to offset the primary colors of Supes' suit. He had some freaky side abilities, too. The guy gave Superman radiation poisoning by scratching him with his gross, roach-ass looking long nails, for starters.
What's more, Nuclear Man was almost, kind of, if you squint a little, the first live-action version of Bizarro. He's made from Superman's DNA…not quite an "imperfect duplicate" but the theme is there. And there was an extended sequence cut from the theatrical version of the film which involved a VERY Bizarro-like "prototype" Nuclear Man. 
So yeah, maybe Nuclear Man deserved better, too. And maybe he's gonna get his chance. August's Superman #2 will feature the official comic book debut of Nuclear Man, written by Brian Michael Bendis with art by Ivan Reis. Nuclear Man's only other comic book appearance was in the comic adaptation of Superman IV: The Quest for Peace, and since that's not in-continuity, it doesn't count. But this one does, and for real, this Ivan Reis art is insane…
That sure is Nuclear Man, crazy costume, disgusting nails and all. And he sure does look pretty badass when drawn by Reis (who, admittedly, can make anything look good). I never thought I'd be this excited for a Nuclear Man comic, but here we are.
Superman #2 arrives on August 8. I am so there. I wrote more about the history of Superman on film right here.