News
Summer Blockbuster Awards 2007: The Best & Worst
So with Bourne out of the traps, and given the fact that we've seen Knocked Up, that's all the summer movies accounted for. So here are our awards, then...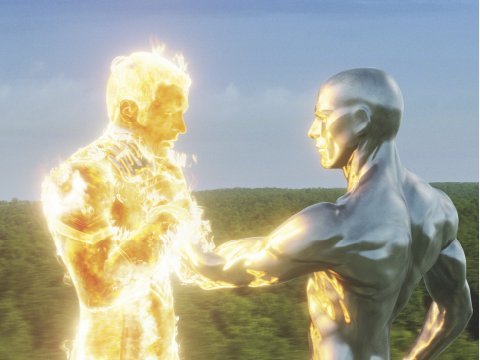 Best FilmBOURNE ULTIMATUMNothing, truthfully, came close, and rarely have we seen a blockbuster so lean. Knocked Up was great, but Bourne has a shout of film of the year, yet alone film of the summer.
NomineesKNOCKED UPDIE HARD 4.0HARRY POTTER
***
Best DirectorPAUL GREENGRASS (Bourne Ultimatum) & DAVID YATES (Harry Potter)For reasons outlined above, Greengrass gets his nod. But Yates deserves to share the gong for his lean Len Wiseman gets a nomination for the surprisingly tight first half of Die Hard 4.0, in case you're wondering….
NomineesLEN WISEMAN (Die Hard 4.0)JUDD APATOW (Knocked Up)
***
Best ActorBRUCE WILLIS (Die Hard 4.0)Simply because, single-handedly, he made a film work. Die Hard 4.0 was a pleasant surprise, simply to see Bruce doing his stuff so well.
NomineesSETH ROGEN (Knocked Up)GEORGE CLOONEY (Ocean's 13)MATT DAMON (Bourne Ultimatum)
***
Best ActressIMELDA STAUNTON (Harry Potter)Whoever decided to cast Staunton as a major role in a Potter movie needs a medal. The best thing in an already surprisingly-good film. The woman is a national institution.
NomineesJOAN ALLEN (Bourne Ultimatum)KATHERINE HEIGL (Knocked Up)
***
Best Supporting ActorDAVID STRAITHAIRN (Bourne Ultimatum)The same guy who was great in Good Night And Good Luck and Sneakers all those years ago. Give this man more big meaty roles.
NomineesTHOMAS HADEN CHURCH (Spider-man 3)ALAN RICKMAN (Harry Potter)AL PACINO (Ocean's 13)
***
Supporting ActressDAME MAGGIE SMITH (Harry Potter)No other nominees. Maggie rules. End of.
***
Best Special EffectsTRANSFORMERSWe created the category especially for Transformers. Otherwise, the film wouldn't have a cat in hell's chance of winning anything.
NomineesPIRATES OF THE CARIBBEAN 3SPIDER-MAN 3
***
Worst FilmPIRATES OF THE CARIBBEAN 3They'll make a fourth one of these, inevitably. Equally inevitably, it'll be about four hours long and just as boring as number three.
NomineesSHREK 3FANTASTIC FOUR: RISE OF THE SILVER SURFEREVAN ALMIGHTY
***
Worst ActorKEVIN SMITH (Die Hard 4.0)Smith wasn't in it for long, but is it any coincidence that when he appeared as the wildly unconvincing Warlock that the film started heading off the rails? And yes, that nomination for Radcliffe is harsh, as he was okay in Potter 5 – he just needed to be that bit stronger to hold a lot of the character stuff together. Pisses all over Kevin Smith, though.
Nominees:MOST OF THE CAST OF FANTASTIC FOURDANIEL RADCLIFFE (Harry Potter)TIMOTHY OLYPHANT (Die Hard 4.0)JULIAN SANDS (OCEAN'S 13)
***
Worst ActressJESSICA ALBA (Fantastic Four: Rise of the Silver Surfer)We're all for admiring Jessica Alba, but crikey, don't give her any pivotal plot stuff to do or anything. Unless you're an idiot.
NomineesKIRSTEN DUNST (Spider-man 3)KEIRA KNIGHTLEY (Pirates 3)
***
Worst DirectorBRETT RATNER (Rush Hour 3)In interviews, Ratner comes across like he knows what he's talking about. On screen, there's much less evidence, sadly.
NomineesGORE VERBINSKI (Pirates 3)MICHAEL BAY (Transformers)
***
Disappointment Of The YearTHE SIMPSONS MOVIEBecause, Spider-pig and the rock and hard place joke aside, what was there? Given the pedigree of the show, the movie should have been a classic, instead of an overlong, okayish episode.
NomineesSPIDER-MAN 3SHREK 3
Start your argument engines, and we'll see you in the comments field….