Features
Summer 2014: an overcrowded movie season?
With next summer's schedule stuffed full of robots and reptiles, we wonder whether the 2014 film season will be too crowded for comfort...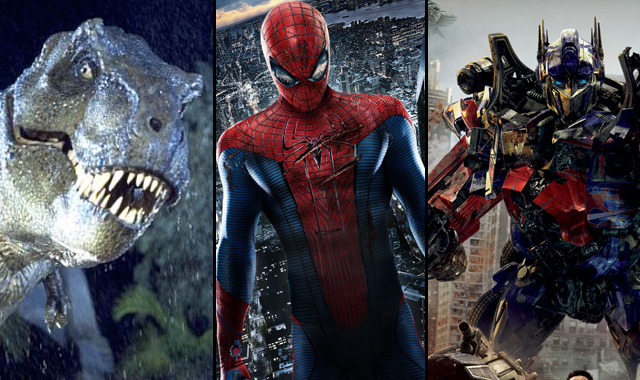 We've barely made  a dent in 2013, but news of next summer's major releases are already emerging. Over the past seven days, we've learned that Godzilla, Jurassic Park 4 and Ninja Turtles will all be coming out in May and June 2014.
It's quite common, of course, to see the summer months full to brimming with effects-heavy, expensive movies aimed at a broad audience. Continuing a tradition established by Jaws in the 70s, those few weeks between May and August are dominated by high concepts, sequels, super-heroes and grand special effects.
What we often see, during this busy rush of promotion, is a careful staggering of movies which would attract a very similar audience – after all, there's little point in releasing three horror movies on the same day, since forcing cinemagoers to make a choice could mean that all three films lose out on potential ticket sales.
In 2012, for example, we saw the US release of The Avengers in early May, leaving a generous gap between two potential superhero competitors – The Amazing Spider-Man, which came out on the 3rd July, and The Dark Knight Rises, which came out just over two weeks later on the 20th July.
Inevitably, some films still did better than others, but the careful planning of releases meant that each movie had its own opportunity to rake in the cash before something else came to take its place – a move which made sense from the studios' perspective, and also from an audience's point of view, too. In previous years, overcrowded movie schedules have resulted in some prominent casualties – Green Lantern simply couldn't hope to compete against X-Men: First Class and Transformers: Dark Of The Moon, which were all released in June 2011.
Movie studios appeared to have learned from these bruising losses, as we've recently seen movies rescheduled if the competition looks too great. Last year, Paramount shifted G.I. Joe Retaliation from June 2012 to this March – in part for some late reshoots, but also, it was suggested, to move it away from high-profile release of The Amazing Spider-Man. Similarly, Warner moved Bryan Singer's Jack The Giant Killer (now called Jack The Giant Slayer) from a summer 2012 release window to the cooler, quieter month of March 2013.
Looking at this summer's release schedule as it currently stands, we appear to be looking at an extremely crowded season. Not only because of the sheer number of expensive movies, but also because so many of them cater to a very similar audience.
May, in particular, has five major releases to speak of: The Amazing Spider-Man 2 (2nd May), Godzilla and Ninja Turtles (both 16th May), Dawn Of The Planet Of The Apes (23rd May) and Pixar's The Good Dinosaur (30th May). In June, we have Jurassic Park 4 scheduled for June 13th, How To Train Your Dragon 2 out the following week (20th June) and Transformers 4 the week after that (the 27th). In July, X-Men: Days Of Future Past and The Hobbit: There And Back Again are both scheduled for release on the same day – the 18th.
Apparently anticipating this rather stuffed period, Marvel Studios has cannily kept its movies well away from the fray; Captain America: The Winter Soldier will hit US cinemas on the 4th April, and its potentially risky Guardians Of The Galaxy is due out on the 1st August. (Incidentally, although X-Men and Spider-Man are Marvel comics, their movies are made by Fox and Sony respectively.)
What's notable about May and June's releases – apart from the sheer number of reptiles and other animals they contain – is that they'll all be tapping into the same youthful audience, and will potentially feature quite similar incidents. A giant reptile will be laying waste to cities in Godzilla, while primates will continue their spread across America in Dawn Of The Planet Of The Apes. Dinosaurs will be roaring and snapping at things in Jurassic Park 4, while robots will be smashing stuff up a few days later in Transformers 4.
This sudden, probably coincidental glut of creatures and anarchy is somewhat worrying. With going to the movies such an expensive proposition these days (particularly when you factor in the 3D surcharge, which we know most of next summer's releases will include), many cinemagoers will be forced to choose which movies to avoid until they appear on DVD or Blu-ray.
It's likely, of course, that the schedule will change somewhat over the next 18 months or so, either because of production delays or simply to avoid unnecessary competition. Godzilla, for example, could face a delay, particularly as Frank Darabont's busily rewriting the screenplay for its scheduled shoot in March.
We certainly hope that Hollywood's studios see sense and negotiate a slightly different order of release. With many of summer 2014's major movies looking very promising indeed, it would be sad to see a great film lost in the blockbuster rush.
Follow our Twitter feed for faster news and bad jokes right here. And be our Facebook chum here.