News
Submission Trailer: Stanley Tucci Stars in Student-Teacher Seduction Drama
Submission also stars Addison Timlin, Kyra Sedgwick, Janeane Garofalo, and Peter Gallagher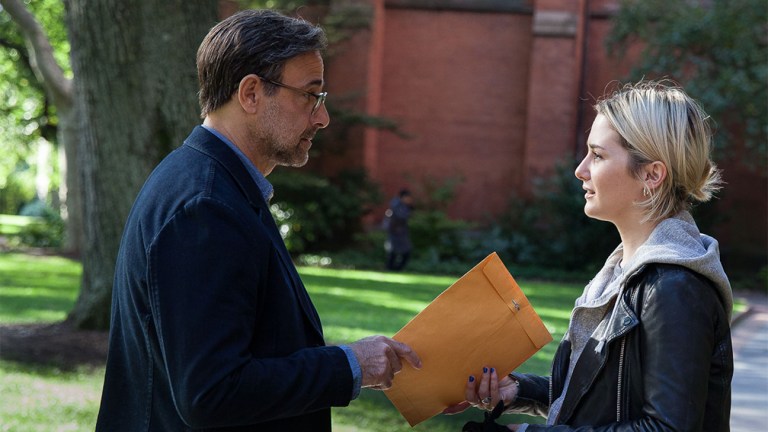 The first trailer for Submission, a film about a male college professor and his younger, female student, has just hit the web. 
Stanley Tucci stars alongside Addison Timlin, Kyra Sedgwick, Janeane Garofalo, and Peter Gallagher in a story that follows Ted Swenson (Tucci), a writer and professor at a small liberal arts college. When one of his creative writing students, Angelo Argo (Timlin), begins to write a story about a young woman embarking on a sexual relationship with her professor, the lines between their relationship begins to blur.
In many ways, this seems like a timely film, but from the looks of the trailer, which asks the question who is the victim and who is the victimizer in this situation, it seems like the film could play into some dangerous tropes—mainly, the idea that men in power who are "seduced" by younger women are similar to women in positions of limited power who are coerced into sex by men in powerful positions.
It's hard to tell from a trailer, though. Perhaps this is exactly the kind of nuanced exploration of sex, power, and coercion that we need right now. We'll have to wait and see.
Submission is directed and written by Richard Levine, and premiered at last year's Los Angeles Film Festival. It is based on Blue Angel, a novel by Francine Prose that was, in turn, inspired by te 1930 film The Blue Angel starring Marlene Dietrich.
Submission will hit select theaters in New York City on March 2 and will be released in L.A. and other select cities on March 9th.