News
Stripes is Becoming a TV Show
The Bill Murray comedy classic, Stripes, is getting a single-camera sitcom on CBS. So better refresh yourself on Old Yeller.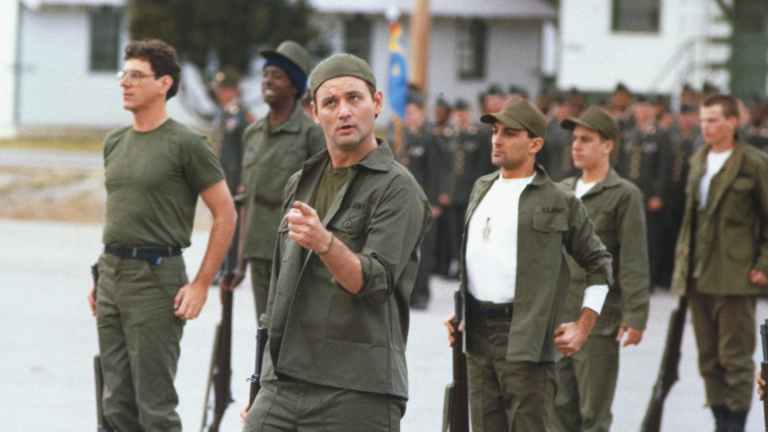 In the race to create more content for television and film that echoes back to nostalgic properties, it was inevitable that one day it would be Stripes' turn. And that day is today, as CBS announced late Thursday that the comedy classic from Ivan Reitman, Harold Ramis, and the irreplaceable Bill Murray at the top of his lethargic disinterest is getting a television series.
Indeed, as revealed via Deadline, Stripes will be a single-camera comedy for CBS (so more Young Sheldon and less Big Bang) and will of course be a workplace comedy of sorts about the United States military. The project is being developed by the production company Whitest Kids U'Know, with Trevor Moore, Sam Brown, and Zach Creggar writing the script. Meanwhile Reitman, fresh off producing the Ghostbusters remake last year, will both be an executive producer on this series and direct the pilot.
As with the original film, Stripes the series will follow "a rebellious outsider" who finds his purpose in life when he enlists on a whim into the U.S. Army and gets thrown into the literal company of ragtag loners and nuts. Together, they form a very dysfunctional but defiantly proud team. It is unclear whether the central character will be Bill Murray's John or someone who aspires to this fabled U.S. hero's lofty legacy, but we're sure hoping he has a nerdy buddy who joins him and comes to regret it, a la Reitman's Russell.
Honestly, this has all the pitfalls imaginable with rebooting a beloved brand decades after the original's heyday. But a few more that should be worth noting is that Stripes came out in a different time. One where the Vietnam War was still fresh—they made light of it—and there was a bit of a scrappy attitude about American pride coming off a loss. Also it was only the dawn of the Reagan Years, and making a joke out of military service—especially after nearly two decades of unending war in the Middle East—was not such a taboo. Further, aspects that have not aged well about Stripes is its treatment of women, be they Army officers in showers or other Army officers harassed into giving into the leads' luggish charm.
In short, it is hard to imagine anything like Stripes being made in today's climate, given strong gravity pulling from both directions of the political spectrum. However, a generic workplace military comedy for CBS? Yeah, we imagine that is very doable.
Stripes will also be produced by Sony Pictures TV.