News
Street Fighter: Assassin's Fist Trailer Released
The new live-action web series about Ryu, Ken, and Akuma will be released on Machinima and we have the first look!
Around the time when the Mortal Kombat franchise saved itself from falling into obscurity thanks to its successful reboot sequel game, they also found a new audience with Mortal Kombat: Legacy, a live-action web series taking place within all facets of the game's mythology. Garnering millions of YouTube hits, of course there would have to be some kind of response from a rival game. In 2010, a fan-film was created called Street Fighter: Legacy and it has since been optioned into its own web series under the name Street Fighter: Assassin's Fist.
Now we have ourselves a trailer to go with it.
While there has yet to be a release date announced, the live-action web series will be shown exclusively on ever-popular YouTube channel Machinima.
The story appears to be based on the tense rivalry between Akuma and his brother Gouken (or Gōken, as they appear to be spelling it here), as well as how it relates to the more loving rivalry between Gouken's prize pupils Ryu and Ken. Ryu's story is the backbone of the Street Fighter franchise, so it's nice to see emphasis on it. After all, in the last twenty years, we've had two major attempts at showing off the Street Fighter mythos in live action with one being a campy misfire and the other being… well, perhaps the less said about Legend of Chun-Li the better. Among their many problems, one of the biggest criticisms is how neither film truly embodied the game's spirit. Ryu, the main hero of the games, was relegated to an off-model supporting character in the first movie and a verbal Easter egg in the second.
As we're now one step closer to a live-action Clay Fighter series, I'm pleased. Here's some funky fresh press release action for you fine folks.
The live-action series, which is distributed by Content Media, is the brainchild of Ansah (The Bourne Ultimatum, Snow White and the Huntsman), a member of the creative team behind the hugely successful fan film Street Fighter: Legacy—which has received almost 5,000,000 views to date. Ansah, who also stars in the series (Akuma), wrote the script with Christian Howard, who reprises his role as Ken Masters from the original fan film. The series also stars Mike Moh as Ryu, Togo Igawa (47 Ronin, Memoirs of a Geisha, The Last Samurai) as Gōtetsu, Akira Koieyama as Gōken, Gaku Space as Gōki, Mark Killeen (300: Rise of an Empire, The Dark Knight Rises) as Mr. Masters, and Hal Yamanouchi as Senzo.

Through the coming of age story of Ken & Ryu, we are shown the back story of some of the game's most iconic characters, and over the course of the series we will see how the past, present, and future of all of those characters are intertwined, as the battle to become Ansatsuken Master threatens to tear apart another generation of brothers.

"This series was meant for Machinima," said Allen DeBevoise, Chairman, Co-Founder and CEO of Machinima. "We have successfully launched popular game-inspired web series in the past, and Street Fighter is about as iconic as they come. We couldn't be more excited about working with the incredible production team behind the series and the folks over at Capcom to launch not only a compelling and action-packed series in its own right, but also one that stays true to the Street Fighter lore." DeBevoise continued, "After the success of Mortal Kombat: Legacy 2, we will once again provide all of the episodes on the day of launch to our fans to ensure they get exactly what they want—the entire series from start to finish!"

"We can't wait for our fans to get the opportunity to experience Street Fighter: Assassin's Fist," said Matt Dahlgren, Senior Product Manager at Capcom. "Working with filmmakers who are so passionate about the brand was an extremely rewarding process and we couldn't be more pleased with the results. Their work embodies the heart and soul of what Street Fighter is and we're thrilled that Machinima will be able to deliver the epic series to those who care about the celebrated franchise as much as we do."

Street Fighter: Assassin's Fist is Machinima's latest live-action series based on one of the world's best-selling video game franchises, and is one which will very much stay true to the game, featuring fight moves and action performed by the cast with stunning attention to detail. It follows on the heels of last year's highly successful airing of Mortal Kombat: Legacy 2, the successor to, Mortal Kombat: Legacy, as well as Halo 4: Forward Unto Dawn. Combined, the three series have garnered more than 130,000,000 views on Machinima.

A thrilling, multilayered series, Street Fighter: Assassin's Fist takes the audience back to the formative years of iconic characters Ryu and Ken as they live a traditional warrior's life in secluded Japan. The boys are, unknowingly, the last practitioners of the ancient fighting style known as "Ansatsuken" (Assassin's Fist). The series follows them as they learn about the mysterious past of their master, Gōken, and the tragic, dark legacy of the Ansatsuken style. Can their destiny be changed, or will history repeat itself?

"Street Fighter: Assassin's Fist is what a live-action Street Fighter should be," said Ansah when he announced the project at last year's San Diego Comic-Con. "This takes the story right back to the start: the origins and motivations of Ryu, Ken, Gōken and Akuma. This will become the definitive back-story from which further epic adventures will follow."

"Our priority is to stay true to the appearance, fighting techniques, and canon of the Street Fighter game," Quella added. "At the same time, we've managed to make this an emotion-and-character-driven story, which will surprise viewers who might just be expecting a super-faithful fight fest!"

The series is produced by Assassin's Fist Limited (a UK based company) in association with Lonely Rock Productions, Gloucester Place Films, Capcom U.S.A., Inc. and Evropa Film.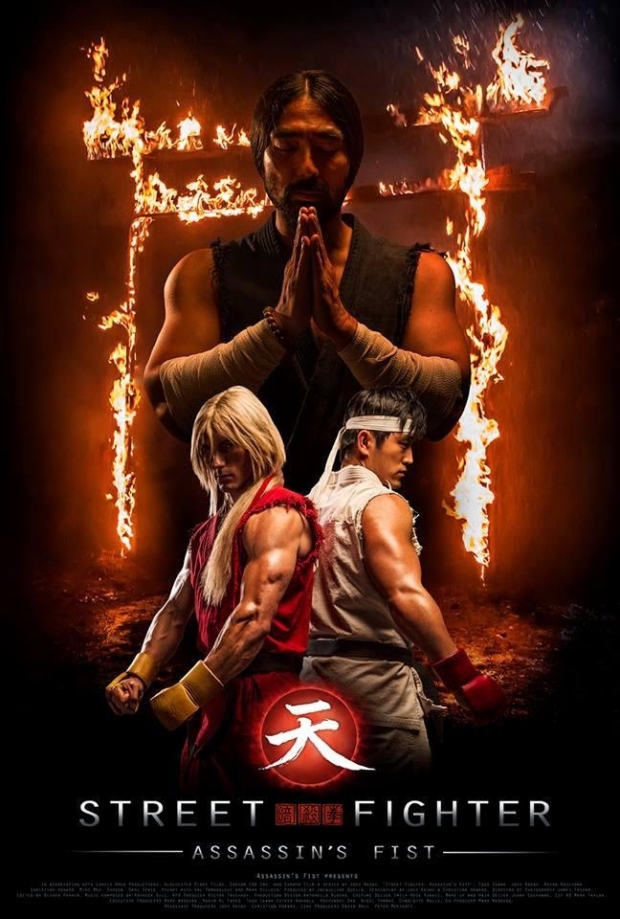 Like us on Facebook and follow us on Twitter for all news updates related to the world of geek. And Google+, if that's your thing!