Reviews
Stone DVD review
Aussie biker flick Stone arrives back on DVD in double-disc style...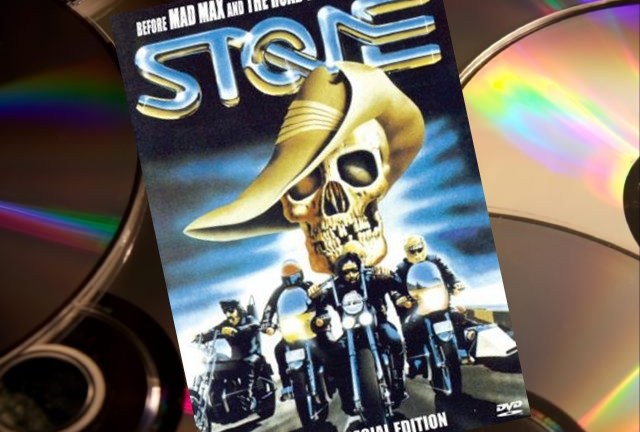 Don't know what rock, or should I say, stone, I have been living under, but I must admit that up until I saw this DVD the Aussie biker movie Stone meant absolutely nothing to me. I had some very vague recollections of a VHS release in the 80s, but – truth be told – these were only triggered when I saw some of the memorabilia on display in the DVD extras and I had absolutely no idea that tens of thousands of followers regularly gather in Oz to celebrate the movie's crucial anniversaries.
A lot is made on the DVD cover about the fact that Stone came out years before Mad Max ("Before MAD MAX and THE ROAD WARRIOR there was STONE"), yet luckily none of the film makers actually focus much on this during the interviews as the relation between these two Australian movies really is tenuous.
Whereas Stone is heavily influenced by the spate of American biker movies that came before it (e.g. Hell's Angels On Wheels, The Wild Angels), it's not a conventional biker movie, but a dystopian road movie that may have derived some inspiration from the classic flicks, but really lifts them to a different level altogether. And let's face it: last time I checked Mad Max was not riding a Harley but a super charged Pursuit Special.
True, one of Stone's minor characters is called Bad Max, so a certain amount of osmosis can be assumed, but overall the similarities between the pictures are fleeting and only seem to have been brought up as both productions originated in Australia.
Stone is Sandy Harbutt's first and only feature film. Previously just a budding actor, for this movie Harbutt in unison acted as The Undertaker in one of the lead roles, directed and co-wrote the script and the lyrics on one of the songs as well as being the producer and production designer. Despite its massive success, the movie seems to have effectively killed off his career in the movie business. Based on some of the comments in the extras it appears that his often confrontational stance with the Australian movie industry made him virtually unemployable from then on.
After accidentally witnessing the murder of a politician, The Gravediggers – a Satanist bunch of Vietnam vets haunted by their war experiences and now pursuing their alternative lifestyle on the backs of their Kawasakis – is being hunted by a mysterious assassin who kills individual members through ever more ingenious means, including a decapitation and a spectacular stunt by Peter Armstrong falling down an 86 ft high cliff.
In order to prevent further killings undercover detective Stone (Ken Shorter) is smuggled into the gang and adopts their way of living. Stone may have long hair and likes his bikes, but he does look kinda girly, thrives on health food, has a university degree and adores playing tennis with his jet setting girlfriend. Still, it doesn't take long before he seems to get immersed into the continuous life on the road with his newfound buddies.
Though the narrative is, of course, similar to that of similar American productions, the feeling is refreshingly Aussie. From the accents to the scenery, the music and even the depiction of an Aboriginal biker everything indicates a willingness to adapt the traditional format towards a more antepodean angle. The soundtrack by Billy Green, who also plays a character called "69", deserves a special mention. Green's clever mix of didgeridoos, harps and Moog synthesizers with some more conventional hardrock tunes results in a strange, often hypnotic, fusion of rock and folk, creating one of the most unusual and best biker soundtracks ever.
Stone has the usual mix of sex, drugs and rock'n'roll, a number of memorable characters including one, Dr Death, who likes to sleep in a coffin, some fast paced action sequences and a heavy but enjoyable mix of counter culture philosophy. For one particular scene Harbutt even managed to convince 400 real life bikers to form a spectacular funeral cavalcade. Okay, so the final shoot out between bikers and assassins is somewhat short and anti-climactic, but Stone's last bloody lesson learnt about the biker ethos is quite punchy and to the point and not easy to forget.
This DVD is released as a 2-disc Special Edition. The first disc contains the film and a trailer. Disc 2 has Stone Forever, a feature length documentary filmed during the massive 25th Anniversary celebration of the film's release in 1999, The Making of Stone, a contemporary 30 minute short, a Stone makeup test and a director's slide show with commentary provided by Harbutt.
Those extras certainly make for entertaining viewing, but it is hard to understand why these would have warranted a separate disc. Given that we don't even have an audio commentary, I dare say that they could have easily featured on one single DVD. During the main documentary we also get to see clips of deleted scenes that the director, probably with good reason, wanted to have removed from the feature film. Why all of these weren't included as part of the extras remains a bit of an enigma. And why was it not also possible to include some additional newer extras created specifically for this release?
But all of this is just petty nagging. Severin, overall, has created an excellent, worthwhile release of a movie that – at least outside of its native country – has not yet received the proper recognition it deserves.
Stone, probably the best biker movie ever made. It sure beats the average American production to a bloody pulp.