Reviews
Stephen Fry in America DVD review
One of the BBC's most enjoyable series of late arrives on a barren DVD...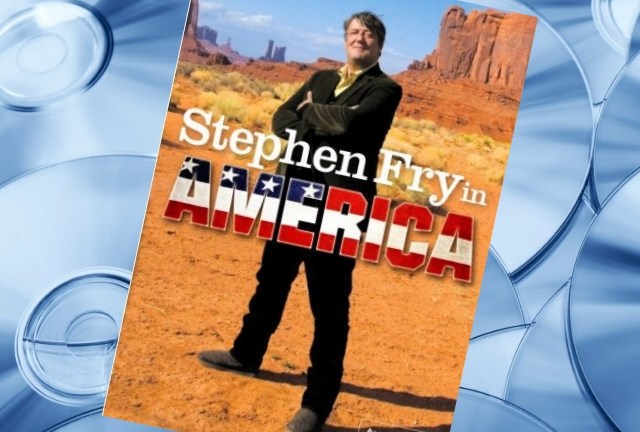 It didn't take a tenuous excuse of "I could've been born in America" to justify the despatching of Stephen Fry to the States to make a BBC documentary. The underlying basis of this series is the fact that Fry's father almost took a teaching post in New Jersey when the man who would go on to play Melchett in Blackadder was still embryonic in his mother's womb. Equally, Fry's dad could've found himself working as an academic at any number of places around the world and this programme could've been Fry of Arabia, Fry Up in Scotland or Stephen Fry in Outer Mongolia (where some cruel people would no doubt prefer him). We don't need a solid reason to send the erudite personality globetrotting in the name of good TV: just push the man off with a cameraman in tow and most often something of interest will be the result.
So, guided by an enthusiasm for his subject (and his stomach) our national treasure takes off to discover a nation of treasures at the wheel of a black London taxi, which feels right in a weird way. His vehicle of choice is pretty appropriate and acts as a motorised parallel to our presenter: something very quaint and British facing up to the vast overblown expanse that is the United States of America. Making his way right across the Union in six episodes, Fry gives us a quite unique whistlestop tour of the USA that embraces its diverse culture, exceptional characters, immense contradictions and incredible attractions.
The QI host strikes the right balance between the entertaining and the informative and impressively manages to represent the myriad, melting point nature of America. Though, as Stephen frequently remarks, everything feels "very American" but yet for every mainstream cliché (roadside diners, full-gusto American football games and wild west fantasising) our man finds a minority story such as those of homeless people in St. Louis, the Navajo peoples who still live in pueblo dwellings and the hippy family holed up in a former missile bunker in Kansas. Fry is an amiable travel companion and refreshingly rarely succumbs to cynical sneering. Completely casting aside that British bitterness, he's a gracious guest who genuinely enjoys the company of his hosts and takes interest in their real experiences; whether they be blue-collar coal miners, border patrol guards, Nevada brothel workers or – God himself – Morgan Freeman at his blues club in Mississippi.
The problem is that the USA is so enormous and diverse, it's impossible to sum up in a six-episode series. The idea of getting to the heart of each of the fifty states' idiosyncrasies and individual identity is an ambitious goal anyway, so of course there are several regions that don't really get a satisfactory look-in. Colorado, for example, only sees Fry sitting inside at Aspen drinking hot chocolate and Ohio receives nothing more than a brief reflection on the Kent State University shooting through an archive photo-montage. For taking that cab completely across all fifty states though, Fry and his team have by no means concocted a failure.
DVD Extras Alongside the full-length episodes, the double DVD set includes a few select sequences that didn't make the main broadcast; the most extensive being a conversation with a role-playing pilgrim at Plymouth Rock where the Mayflower landed centuries ago. There's little else beyond these six outtakes which is a bit of a let-down and it would no doubt have also been helpful to have a handy scene-selection menu to enable quick browsing (the DVDs don't break it down into episodes but rather two three-hour blocks). It's tantalising to think of all the terrific 'made for DVD' material that could've been captured; then perhaps we'd have a greater American odyssey that successfully squeezed in more of the magnificent land than was possible here.
Overall, it's a solid example of the BBC documentary standard and a fine addition to the celebrity travelogue genre. Stephen Fry in America may not manage to completely conquer the big nation on the other side of the Atlantic, but it doesn't do a bad job. It's captivating, compelling and slightly eccentric, as only everyone's favourite Brit intellectual could provide.
TV Series:
DVD:
---