Features
Stars and Filmmakers On Ender's Game
Meet the fine folks--including director Gavin Hood, Asa Butterfield, and legend Harrsion Ford--who finally brought the classic sci-fi novel to the screen.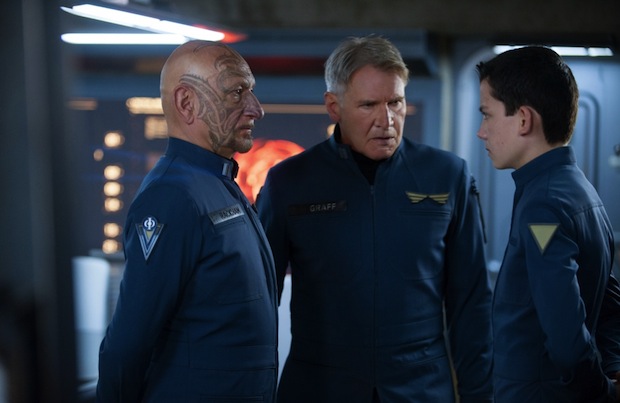 28 years. That's how long it took to bring Orson Scott Card's classic 1985 sci-fi novel Ender's Game to the big screen, with the project being developed for at least 20 of those. Card's combination of military science fiction and children's coming of age story was unique for its time, and the movie is similarly striking in its own way: It actually offers up ideas in addition to visual razzle-dazzle, which happens far too rarely in expensive Hollywood genre spectacles.
The film tells the story of 12-year-old Ender (who is six in the book but ages to 12 by the time it's finished), who is recruited by the militaristic future government of Earth to be trained — due to his tactical brilliance and other, less savory aspects of his personality — as a ruthless leader of humanity's forces against invasion by an alien race called the Formics. Beaten back once before by warrior Mazer Rackham (Ben Kingsley), the Formics could be poised to return and a new military commander needs to be groomed.
Three principal members of the creative team behind the film — director Gavin Hood and producers Roberto Orci and Gigi Pritzker — along with stars Asa Butterfield (Ender Wiggin) and the legendary Harrison Ford (Colonel Hyrum Graff) met with reporters recently in Los Angeles to discuss the making of the film and its long road to the screen.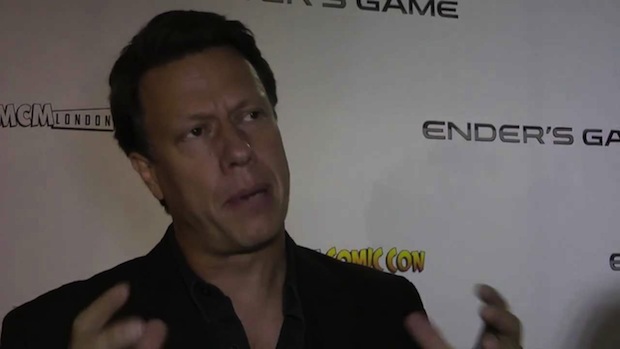 For Pritzker, who has been working for years to get the film made, that path was unusually arduous. "I got Ender's Game many years ago from my nephew, who was in eighth grade at the time," the producer recalled. "He struggled with reading, but he came to me and said, 'I read this book, and it was really great.' So I read the book, and it allowed a young boy and a middle-aged woman to have an incredibly interesting conversation. And he said, 'Wouldn't it make a great movie?' Now that boy is a father studying for his Ph.D, and the movie is coming out. It's been a really long journey!"
The drive to get Ender's Game made into a movie wasn't as long for Hood, who read the book five years ago while looking for a new property to adapt. "My agent was looking for an adaptation for me to do again," said the South African director. "I'd done that on Tsotsi (his Oscar winning Best Foreign Film) and really enjoyed it…The book was sent to me, and I had no idea of its history. But I related to it, because I was drafted when I was seventeen. The book brought up all these old feelings of being taken away from home, and having people alternately yelling at you and praising you for aspects of your personality that are not the ones your mother would praise. It was a very disturbing time, and I came out questioning my own nature. I thought, 'Wow, that's what's happening to Ender!'"
Orci, whose other writing and producing credits include both of J.J. Abrams' Star Trek movies, Cowboys & Aliens and the first two Transformers pictures, was relieved to not be sitting at the keyboard and pounding out the script this time. "This one I got to approach as a fan. I got to say, 'Do I like this, or don't I?' I was a fan of the book for so long that I'm not sure I would have had the perspective, frankly, to do it justice. I read Gavin's script and thought it was true to the book, and I couldn't have done it better. And it was a relief! I'm not on the hook to be burned at the stake for how I wrote it!"
A critical aspect of the film is its casting and Asa Butterfield — last seen in Martin Scorsese's Hugo — recalled his audition. "Well I first got the script in the summer of 2011 I think, and it really stood out to me," he said. "I'm a huge fan of science fiction so this is definitely one of my favorite scripts. I was flying around in zero gravity shooting laser guns. What more could you want? Then when I found that there was a book, I read the book and I loved that. When I Skyped with Gavin the director, we talked about the character, his view of him and where I wanted to take it. It was very interesting for me to be able to have that much of a discussion about such a complex character, and I ended up flying here to LA to audition in front of Gavin and just after that I got the role."
One of the more interesting elements of the story for Butterfield — an avid gamer — was the simulated battles that Ender must go through as he prepares for his command, which Butterfield didn't find too far off from what he experiences nowadays. "One of the really important discussions even in today's society is how children of my generation are growing up around this technology," he said. "It has shaped their lives…It's crazy how much has changed in the last five or 10 years, and then imagine 50 years from now how that's going to become an even bigger part of our lives. So to take that idea and making it such an important part of the story was really exciting, because I do enjoy computer games. Being able to take some of my knowledge and put it into my performance was something new."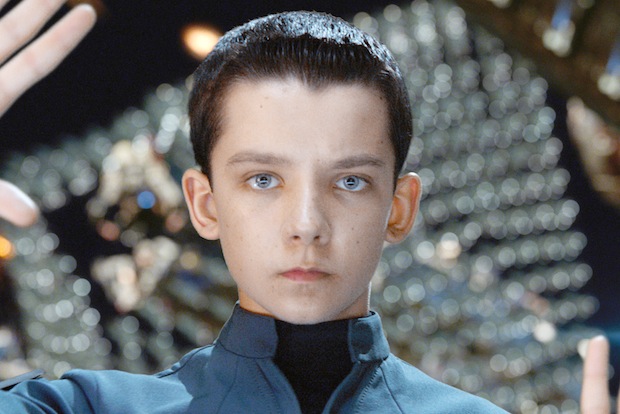 Despite the intensive training that he and his fellow young actors went through — which includes stints in versions of both military boot camp and space camp — Butterfield said that meeting his co-star, screen legend Harrison Ford, for the first time might have been the most intimidating moment of the shoot: "I think I can speak for a lot of people in that they would be pretty nervous about meeting Harrison Ford, and I was definitely one of those people," he admitted. "For me, once you got to know him you do get on really well. He's such an amazing person and an amazing actor. Because there were so many young people on the set, I think he really brought the best out in us."
Ford brought his own personal brand of gravitas — as well as one of the great screen presences of sci-fi cinema — to the role of Graff, the trainer whose job is to recruit young children and turn them into killing machines. "I thought it was an interesting subject that I hadn't seen in film," says the soft-spoken Ford after he sits down (and yes, a hush even falls over the journalists as well — this is still Han Solo and Indiana Jones to many). "I saw an interesting character that was responsible for supporting some questions about responsibility, the military, the relationships between young people and old people, and a lot of things that intrigued me. When I met with the filmmakers, I had a sense that they were very ambitious and focused on making a film that I thought would be useful to a young audience. So, it was altogether attractive to me."
The 70-year-old actor admitted that returning, so to speak, to outer space for the first time since doing Return of the Jedi in 1983 meant little to him ("I don't have any sort of genre preferences"), but also acknowledged that the methods of creating an outer space environment on film had changed enormously since the days of Star Wars. "Well, obviously the techniques to create the visual elements have changed enormously. When we were making Star Wars, they were putting together space ships out of plastic model kits of cars and boats and trains and gluing them all together, and then putting them on a stick and flying them past the camera. And it worked. It was fine. Add a little music and you believed that big spaceship coming over your head.
"The capacity to create effects in the computer has made the job easier, but it has also introduced the complexity that you can with a few more keystrokes generate such a busy canvas that the eye doesn't know where to go," he continued. "You lose human scale on an event and you're just wowed by the kinetics and the visualization. But, often in those cases I feel you lose touch with the human characters and what it is that they would feel and how they might feel, and that's still the most important part.  So I think you have to be very careful with effects that they don't overpower the story with the visual element."
As for working with his young lead, Ford said, "Asa is an amazing young person.  He's a very accomplished actor.  He's got a wonderful capacity to focus and concentrate.  And, he has a wonderful work ethic.  That, combined with talent, I think bodes well for his future." Ford also spoke warmly about co-stars Kingsley and Viola Davis (who plays child psychologist Major Anderson), adding, "I have the utmost respect for Sir Ben Kingsley and Lady Davis. They're both tremendous actors and I was delighted to have the opportunity to work with them. Sir Ben is hugely imaginative in the creation of his characters. I had no idea what to expect from his version of Mazer Rackham. I thought it was really intriguing and useful in the telling of the story. Viola is just a wonderful, visceral actor to work with, and I enjoyed working with her also, enormously."
It remains to be seen whether Ender's Game will have the same hold on mainstream moviegoing audiences as it has had on readers of sci-fi for nearly three decades, but Pritzker — who has been with this project the longest of anyone still associated with it — said that bringing the book to the screen was an education in itself. "I learned tenacity," she said. "It took years to make this film. To follow through, you have to put your head down, and you can make it happen. I also learned about the strength of good source material. People love this book. Everyone in front of the camera and behind the camera made this movie for the same reason: They love this story."
Like us on Facebook and follow us on Twitter for all news updates related to the world of geek. And Google+, if that's your thing!