News
Star Wars: The Last Jedi – Laura Dern's Vice Admiral Amilyn Holdo Is the Resistance's New Leader
Laura Dern's Vice Admiral Amilyn Holdo becomes a new Resistance leader in Star Wars: The Last Jedi. Poe Dameron doesn't like it one bit.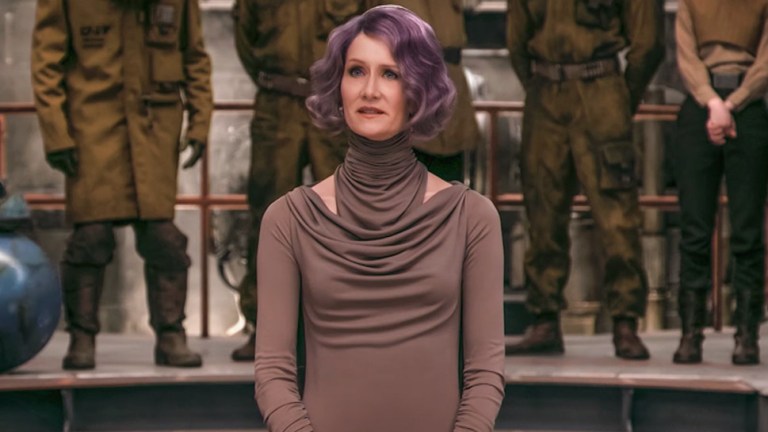 It's been one heck of a year for actress Laura Dern, who's just finished an excellent run on Twin Peaks: The Return as well as HBO's Big Little Lies. Oh, and she's about to close out 2017 with her Star Wars debut in The Last Jedi. She plays Vice Admiral Amilyn Holdo, a military leader unlike any we've seen before and who is designed to be a morally ambiguous throughout the new film. 
What's immediately striking about Holdo is her appearance, which is decidedly lavish and not at all battle-worn. Holdo's certainly more reminiscent of a young Princess Leia in a white dress than the less flashy general we met in The Force Awakens. Judging from the pictures we've seen of the new movie thus far, Holdo is supposed to be the complete antithesis of the rugged soldiers in her command. And that doesn't just come down to looks.
The difference is evident in her ideals and approach to the war, too, according to EW. This puts her at odds with Poe Dameron (Oscar Isaac), who is loyal to Leia and doesn't agree with Holdo's tactics, which seem to be more utilitarian in nature than Dameron more emotional approach. Dameron wants to get into the fight, even if the odds are against him, whle Holdo is more open to biding her time and striking when the time is right. In other words, Poe's going to have a very tough time falling in line with Holdo's command. 
"She doesn't particularly look like your typical military leader, and so I think there's a bit of distrust for Poe," Isaac told EW. "He's not sure what to make of her, and then the way she speaks, the things she says."
"She enters the Resistance to shake things up," Dern said. It's unclear why or how she enters into the fight. My guess is that, after the Resistance on D'Qar is forced to scatter when the First Order launches a counter-attack in retaliation for the destruction of Starkiller Base, Holdo takes command of the Resistance fleet. After all, she's a Vice Admiral, which would indicate that she commands a ship. 
EW describes Holdo as a leader who's not afraid to make sacrifices for the greater good. She's focused on the bigger picture and the survival of the Resistance, which finds itself in a pretty weakened state after its recent battles with the First Order. Poe, who is a soldier and not a strategist, has to figure out how to come to terms with his new boss. 
"Even if something seems like it's not the most heroic thing to do in the moment, thinking about the bigger picture is sometimes more important," Isaac said. "That's something he's trying to wrap his mind around, but at the same time, with the Resistance being in such a precarious situation, he wants to do the right thing, and doesn't want to just wait and let things happen. He doesn't necessarily agree with the way Holdo sees the role of the Resistance in this particular moment."
It makes sense that a rivalry would exist between these two characters. After all, as EW reveals, Holdo also learned everything she knows from Leia. So its both of Leia's students scrambling to save the Resistance and the Republic from total annihilation. 
We've already learned a bit about Holdo's backstory in the novel Leia, Princess of Alderaan by Claudia Grey. She was born on the planet Gatalenta during the era of the Galactic Empire and was one of Leia's younger classmates at the Apprentice Legislature of the Imperial Senate. The two became friends and Leia confided in Holdo about her involvement in the Rebellion. This bond has seemingly lasted well into adulthood, as Holdo continues to serve Leia in her fight against tyranny. 
Whether Holdo can do Leia justice remains to be seen. We know that The Last Jedi will be the last time that fans will see Leia in a Star Wars film, due to the passing of the Carrie Fisher late last year, so perhaps Holdo will be taking a more permanent role as the face of the Resistance? Or will Poe step up to become the leader he believes he can be?
We'll find out for sure Dec. 15.