News
Star Wars: The Last Jedi Director Rian Johnson Talks Captain Phasma
Director Rian Johnson explains his approach to Captain Phasma in Star Wars: The Last Jedi, especially after her disappointingly brief debut.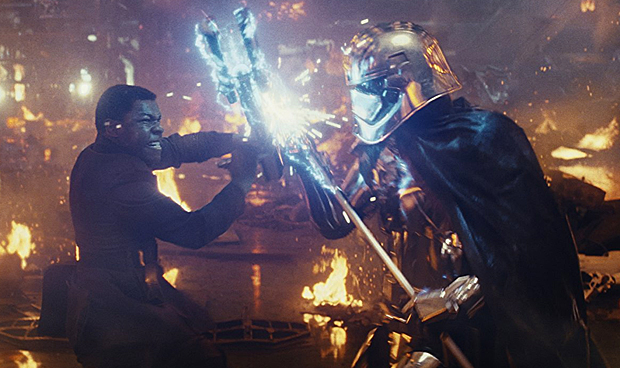 Listen to the Star Wars Blaster Canon podcast:
Subscribe: Apple Podcasts | Stitcher | Soundcloud
Warning: Spoilers for Star Wars: The Last Jedi ahead.
Amidst the Star Wars Sequel Trilogy takeover, currently manifesting as the box-office-dominant middle act, Star Wars: The Last Jedi, Gwendoline Christie's chrome-plated Stormtrooper leader Captain Phasma remains a source of mystery and controversy – and no, not for the issues with which the film currently bombarded. It seems that the once-promising female villain just can't get enough screen time. Thus, director Rian Johnson gives a rather forthright explanation for this fact.
The impressively shiny and sinister visage of Phasma was a prominent part of the promotional period that built toward the 2015 Sequel Trilogy opener, Star Wars: The Force Awakens, serving as the focus of myriad merchandise and, notably, action figures. However, after anticipated role for the 6' 3" Game of Thrones actress, Christie, failed to live up to that hype, it was presumed, and even teased, that brighter prospects were ahead after reports confirmed her return for The Last Jedi. However, when asked by IGN if bigger plans were in the works for Phasma, director Rian Johnson answers unequivocally, "No."
While Johnson doesn't seem to have any disdain for the character, it appears that the once-again brief length of Phasma's role is attributed to The Last Jedi's excess of content. As the director further explains at length:
"I mean, as you can see, man, we had a really full movie already. We had a big, big movie with a lot of characters we were trying to serve, and the God's honest truth is, every character had to find their natural place. And Phasma supports Finn's storyline, obviously, and there just… until she shows up to fight him at the end, look through the story that we have, there's just not a lot of space to go into a big Phasma storyline in it. So, the truth is, it's just a very big cast and you have to kind of pick your battles with it."
Indeed, Phasma's story is intrinsically attached to the arc of John Boyega's Finn, who, as a former faceless First Order Stormtrooper, served under the ruthless taskmaster until defecting to the Resistance in The Force Awakens, making a special enemy of her as a result. While Phasma's brief role in that film climaxed ignominiously with her held at gunpoint by Finn and – in a scene we don't even get to witness – sent down a trash compactor of the subsequently-destroyed planet-killing celestial body, Starkiller Base, her survival was explained in a canon-adherent comic book series and novel. Those materials set up a showdown with Finn in The Last Jedi on Supreme Leader Snoke's imminently-exploding starship; a duel in which Finn emerged victorious, leaving Phasma's helmet damaged, revealing her left eye, at which point she's swallowed by a collapsing floor into a fire, once again leaving her fate ambiguous.
While nothing has been confirmed, the rather anticlimactic nature of that confrontation and Phasma's apparent proclivity for avoiding certain death makes it reasonable to assume that Christie will be back for a final showdown with Finn (or Stormtrooper FN-2187,) in the untitled Star Wars Sequel Trilogy closer, giving her another chance to deliver a denouement to moviegoers that will hopefully justify the initial spectacle.
Pertinently, back at a post-screening Q&A for The Last Jedi (via EW), Johnson quipped with the observation that Phasma has become "the Kenny from South Park" of the Star Wars Universe. Moreover, star Mark Hamill also speculated, "I think she's got to survive. She falls through the flames and lands on a big pile of rubbish."
Star Wars: Episode IX will – with or without Captain Phasma – close out this sequel saga when it arrives on December 20, 2019.