News
Star Wars: The Last Jedi – Benicio del Toro Plays Hacker Named DJ
We finally know what kind of character Benicio del Toro's DJ is in Star Wars: The Last Jedi!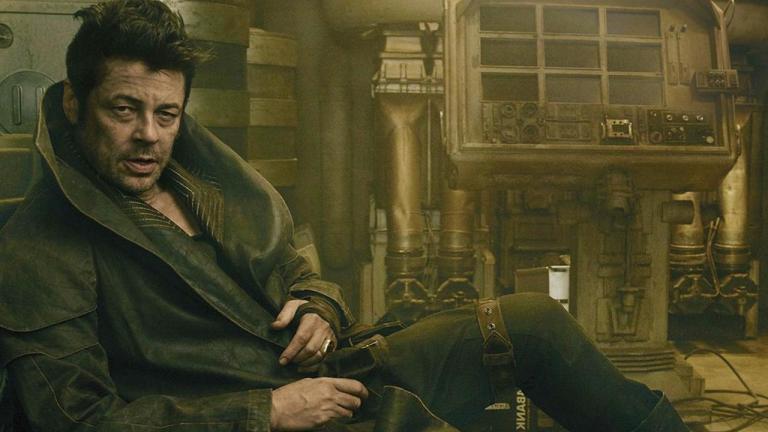 When Benicio del Toro was cast in Star Wars: The Last Jedi, he described his character as a villain, but then walked back his comments later in an interview with ET. Said del Toro: "I don't know if he's a villain. People are saying that, but it's like they read a different script than I read." The only thing that's been known for sure is that del Toro's character is named DJ.
Well, EW has revealed a few new details about the character, catching up with del Toro, John Boyega, and Kelly Marie Tran to talk about DJ and his role in the movie. 
"DJ is an enigmatic figure whose tattered, threadbare clothes, and lackadaisical attitude conceal a sharp mind and expert skills," said del Toro. 
EW confirms that DJ is in fact a "codebreaker" — a hacker or "slicer," as it's called in the galaxy far, far away — who Finn (John Boyega) and Rose Tico (Kelly Marie Tran) need to recruit during their mission in the lavish city of Canto Bight.
"We just need a codebreaker and he's the best in the galaxy. Unfortunately, he's very dodgy and only in it for financial gain. He doesn't fight for any side," Boyega said about DJ.
It'll apparently be hard to pin down whose side DJ is really on. When you hear Boyega tell it, it sounds like DJ is a mercenary who's out to gain from the highest offer.
"He has distinct opinions," Boyega said. "The Resistance bombs the First Order one day, the First Order bombs the Resistance on another. It's an ongoing war that will never end. For him, he's trying to benefit off of that — which doesn't make him the person you want to trust."
Tran said that both Finn and Rose have to constantly keep an eye on DJ, who's shifty and could betray them at any moment for a higher bidder. 
"When I was on set with that character, I felt like there was a tiger in the room, and I always had to be watching," Tran said. "Like an animal, at any moment he could do something, and I didn't know what."
It sounds like we're about to meet yet another scoundrel in del Toro's character, and this one might not end up fighting for the right side. We'll find out for sure on December 15 when Star Wars: The Last Jedi hits theaters.
Read and download the full Den of Geek Special Edition magazine here!