News
Star Wars: The Force Awakens Reveals Identity of Voice Cameos
The identities behind the voice cameos in Star Wars: The Force Awakens revealed some interesting trivia.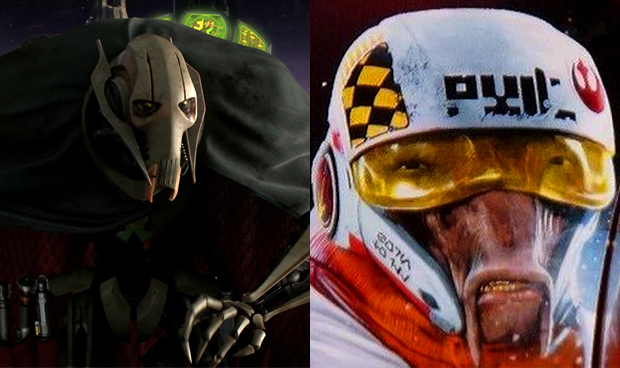 As Star Wars: The Force Awakens readies to cross the $2 billion global box-office mark just over a month after its release, some interesting tidbits have been released regarding the identities behind the array of uncredited voice cameos in the film.
StarWars.com has released an official list of the names behind the various voice cameos spread throughout the film. While the reveals were not Earth-shattering, they actually did manage to clear up a misconception regarding one intriguing enigma in the Resistance pilot, Ello Asty. With rumblings that a voice cameo from filmmaker and fanboy royalty, Kevin Smith was hidden in The Force Awakens, speculation pointed to him being behind the character's (all-too-brief) lines. However, it seems that it was really repertory Star Wars voice talent, Matthew Wood, best known voicing the "uncivilized" cybernetic, four-armed, lightsaber swinger, General Grievous in prequel, Star Wars Episode III: Revenge of the Sith.
The alien male Abednedo character Ello Asty generated headlines in the lead-up to The Force Awakens, when images of his action figures revealed a notable Easter Egg with a helmet covered with text in Aurebesh (the standard written language of the Star Wars universe) that translated into "Born to Ill," which was a clear reference to the classic 1986 album, "Licensed to Ill" from rock-rap pioneers, The Beastie Boys (a known favorite of director J.J. Abrams). Even Ello Asty's name is a clear rearrangement of the band's 1998 album "Hello Nasty." Wood's lines as Asty occurred during the culminating attack on Starkiller Base.
…and as for Kevin Smith, it seems that his voice cameo was not quite as eventful as originally imagined, playing a Stormtrooper reacting to arriving Resistance fighters who screamed, "We have incoming at 28.6! Move!"
Barring a mention of Daniel Craig's hilarious role as a Mind-Tricked Stormtrooper, which was actually played in-person by the James Bond star, the official voice cameo list provides some other interesting tidbits. Names from animated series' Star Wars: The Clone Wars and Star Wars Rebels like Sam Witwer, Catherine Taber, Dee Bradley Baker and James Arnold Taylor have sporadic roles in the film. Plus, the voice identity of the meme-inspiring, baton-wielding, traitor-checking Stormtrooper FN-2199 is now confirmed as David Acord of TCW and Rebels.
We'll save the spoilers. However, if you've seen Star Wars: The Force Awakens, then you likely already know if Matthew Wood's Ello Asty will be returning for Star Wars: Episode VIII on December 15, 2017.