News
Star Wars: The Force Awakens Deleted Scene Pits Chewie Against Unkar Plutt
A new deleted scene from Star Wars: The Force Awakens reveals a confrontation between Chewbacca and Unkar Plutt at Maz Kanata's castle!
Warning! This article contains Star Wars: The Force Awakens spoilers…
For your convenience, click on the drop down menu above to go straight to the Star Wars: The Force Awakens news you're looking for!
Star Wars: The Force Awakens Deleted Scenes
If you thought Star Wars: The Force Awakens didn't have enough Chewbacca in it, then a new deleted scene revealed ahead of the 3D Blu-ray Collector's Edition of the film will make you a very happy fan. Featuring Chewie, Rey, and Jakku junk boss Unkar Plutt, who was played by Simon Pegg, the short scenes fleshes out what happened after Rey stole the Millennium Falcon from her former oppressor.
Check out the scene below:
As you can see, Plutt didn't just give up on the Falcon once it zoomed out of Jakku's atmosphere. He chased Rey all the way to Maz Kanata's castle, where he confronted the young hero for stealing his ship, which he also stole. Chewie sets Plutt straight, though. The clip ends abruptly, with Plutt challenging an injured Chewie. According to EW, the deleted scene doesn't end there. In fact, what happens next is quite…disarming. Let's just say that Plutt probably won't be coming back for Rey any time soon.
If you'd like to see more deleted scenes – perhaps even new ones – you can buy the 3D Blu-ray Collector's Edition here. 
Here's a new teaser for the deleted scenes you'll get to watch in the blu-ray release:
Here's a list of the deleted scenes you can expect to see on the Star Wars: The Force Awakens Blu-ray:
Finn and The Villager
Jakku Message
X-Wings Prepare for Lightspeed
Kylo Searches The Falcon
Snow Speeder Chase
Finn Will Be Fine
Star Wars: The Force Awakens Review
From our review…
"The good news is that Star Wars: The Force Awakens is a terrific and at times purely wonderful movie. It has its faults for sure – every Star Wars movie has at least some – and while I wouldn't call it a truly great motion picture, it is a worthy follow-up to the original trilogy. It captures so much of those movies' warmth, sense of fun, and entertaining tone that it leaves the prequels quickly behind as a bad, distant memory. It has a sweep and grandeur all its own…"
Star Wars: The Force Awakens Release Date
Star Wars: The Force Awakens, the first big film adventure to a galaxy far, far away in 10 years, premieres on Dec. 18.
Star Wars: The Force Awakens Rating
Star Wars: The Force Awakens has been rated PG-13 for "sci-fi action violence" by the MPAA. This is only the second Star Wars movie to get a PG-13 rating. The first was Revenge of the Sith. Probably for all the "sci-fi dismemberment" and "sci-fi child murder" that one contained.
For your convenience, we've broken up this Star Wars: The Force Awakens news hub into sections for you. Simply click into the section you want and you'll have all the information you need!
Star Wars: The Force Awakens Trailers
We have compiled all the trailers and TV spots for Star Wars: The Force Awakens in one place for your convenience. You'll find all the footage from the film revealed so far below.
Watch the brand new trailer right here!
The international trailer for The Force Awakens has arrived, and it has a bit of new footage, including a stunning moment between Daisy Ridley and Kylo Ren! Check it out below:
Here's the second teaser for Star Wars: The Force Awakens:
Here's the original one, too…
A new TV spot has arrived with a few pieces of new footage from Star Wars: The Force Awakens, including a funny little exchange between Han Solo and Rey, as they charge into battle against the First Order. 
Check it out below:
This TV spot features a few new lines from Andy Serkis' Supreme Leader Snoke:
Here's another TV spot for The Force Awakens, and it's all about Lupita Nyong'o's Maz Kanata. And there's even more new footage in this one!
Check it out:
The force is calling to you…

Check out the first official TV spot for #StarWars #TheForceAwakens.https://t.co/tsKiEvZAK7

— Twitter (@twitter) November 8, 2015
You're going to want to take a look at this TV spot, as well. We get some new footage and dialogue. And most exciting, a look into the cockpits of some of those new X-Wings!
Check it out below:
Is that Sullustan Nien Nunb, the alien that flew the Millennium Falcon with Lando during the Battle of Endor? Wouldn't that be neat. We're already getting Admiral Ackbar after all. 
There's another TV spot making the rounds, and this one is all about Finn. Looks like he's shadowing Han a bit in the film, and he's definitely not ready for all the trouble he's in for. Check out the TV spot below:
There's yet another TV spot that premiered on Cartoon Network this weekend. There isn't too much new footage, although we do get a shot of an assault on Maz Kanata's castle as well as Finn manning a familiar gun on the Millennium Falcon. Check it below:
Here's another TV spot, and it has quite a bit of new footage, including our first look at Admiral Ackbar! Check it out below:
The latest from the aggressive Star Wars: The Force Awakens promotional campaign are three new TV spots that might have about one second of new footage between them:
At the Star Wars: The Force Awakens panel at SDCC 2015, the cast and crew of the film shared behind the scenes footage that revealed new details about the movie.
Although J.J. Abrams and Kathleen Kennedy underwhelmed at first by announcing that there wouldn't be a new trailer or scenes for the public until the Fall, the behind the scenes footage did deliver plenty of new images that focused on several moments from the film.
Here it is below:
The first clip from Star Wars: The Force Awakens has arrived, and although it's a scene we've seen before in chunks in the trailers and TV spots, we get some actual information out of it.
First, check out the clip below:
Those who have been saying that Finn is a TIE fighter pilot can pretty much rule that out now. In fact, I don't even think he's a REAL Stormtrooper in the film. But now I'm just speculating. What we do know is that Rey is a pilot, which will undoubtedly fuel the fire about who her parents are. The thing is that she could still be a Skywalker or a Solo since both Han and Luke are exceptional pilots. But Rey's story does seem to mirror Luke's quite nicely in the film…
There's also a new TV spot – because it seems like we're going to get one a day until the film drops now…Nothing really exceptional about this one. It's all recycled footage pretty much, but there is a new Lupita Nyong'o voiceover. Check it out:
Star Wars: The Force Awakens Plot
Unsurprisingly, we know little to nothing about the story of Star Wars: The Force Awakens. Nothing official, anyway (Story Rumors here). What we do know is that the new trilogy will see the old generation team up with a new generation of heroes to continue their fight against an oppressive force.
We do know that Daisy Ridley (Rey), John Boyega (Finn), and Oscar Isaac (Poe Dameron) are the three young heroes that will inherit the battles of their predecessors. And there are at least four villains, Kylo Ren (Adam Driver) and Supreme Lord Snoke (Andy Serkis), apparently strong in the dark side of the Force, with Captain Phasma (Gwendoline Christie) and General Hux (Domhnall Gleeson) rounding out the First Order cast.
The story still pits two factions against each other: an oppressive militaristic and tyrannical government known as the First Order against a small band of freedom fighters known as the Resistance.
It was revealed during Star Wars Celebration that the Empire and the Rebel Alliance had been renamed. Following the events of Return of the Jedi, the Empire became the First Order. The Rebel Alliance turned into the Resistance, although there's information to suggest that the Rebel Alliance managed to form a government known as the New Republic at some point between the two movies.
It would make sense that after the Battle of Endor, the fall of the Emperor, and the countless casualties on both sides, there would be some kind of change in the leadership and name of each faction. A distabilized Empire would probably go through some kind of reorganization that would re-label them the First Order.
We saw this happen in the Legends Expanded Universe. The Empire became the Imperial Remnant and eventually joined with the New Republic (the government that was born out of the Rebellion) during the Yuuzhan Vong conflict in The New Jedi Order books. That's all non-canon now, of course. 
There's only one confirmed location in the film: a desert junkyard planet called Jakku. We originally thought it was Tatooine, but J.J. Abrams confirmed the new planet during the Celebration panel. 
At least two other planet scan be seen in the second The Force Awakens teaser, a forest world not unlike Endor and an ice planet not unlike Hoth. Take that how you will. 
J. J. Abrams talked to EW about Star Wars: The Force Awakens for the magazine's Fall Movie Preview, and revealed some new and very interesting details about Kylo Ren, one of the villains in the new films. 
About the origins of Ren's mask and lightsaber, Abrams said, "The movie explains the origins of the mask and where it's from, but the design was meant to be a nod to the Vader mask. [Ren] is well aware of what's come before, and that's very much a part of the story of the film."
"The lightsaber is something that he built himself, and is as dangerous and as fierce and as ragged as the character," Abrams continued.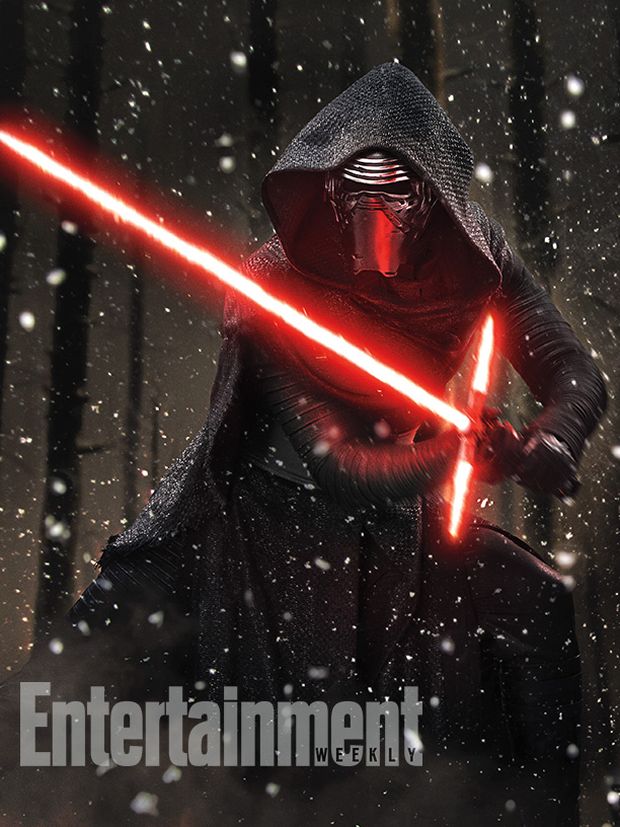 The director went on to suggest that Ren could very well be an inverse to Luke Skywalker in terms of the character who comes from nothing: 
"As you see in the best of storytelling, and no doubt the best of Star Wars, these are tales in which an everyperson has to step up. And I think that what makes Ren so unique is that he isn't as fully formed as when we meet a character such as Darth Vader," Abrams said. "And I think that there are two sides to the Force. Both sides, arguably, would see themselves as the hero of their story, and I think that applies here."
Last, but definitely NOT least is a small detail on Ren's name. It would seem that "Ren" is actually a surname given to members of the Knights of Ren, like "Darth" for Sith Lords.
So there's a whole new, villainous faction of Force users out there, huh? We'll find out soon enough!
There are three other important tidbits Abrams revealed in another EW article:
1. "Rey was ditched on Jakku by her family when she was a child and has no idea why—or why they never returned." This would support our theory that Rey is absolutely a Skywalker or a Solo in hiding.
2. "Unlike Rey, [Finn] has learned a lot about Luke Skywalker — but he has been taught he was a villain who destroyed the benevolent Empire." That probably explains why Luke is in hiding and Leia is organizing a Resistance.
3. "We were very lucky to get to have [Gwendoline Christie] in the movie. She's not in many scenes, but her presence is powerfully felt when she's there." 
Star Wars: The Force Awakens Cast
Again, we're only dealing with official character details on this page. That means that only CONFIRMED characters are on this list. Likewise, we're not sure what characters many of the cast members are playing in the film, so we've kept our speculation off this list, too. Go to page 6 if you want that speculation, though. 
Besides Han, Chewie, Luke, Leia, C-3PO, and R2-D2 (because you should already know them), here are the confirmed characters of Star Wars: The Force Awakens…
Daisy Ridley as Rey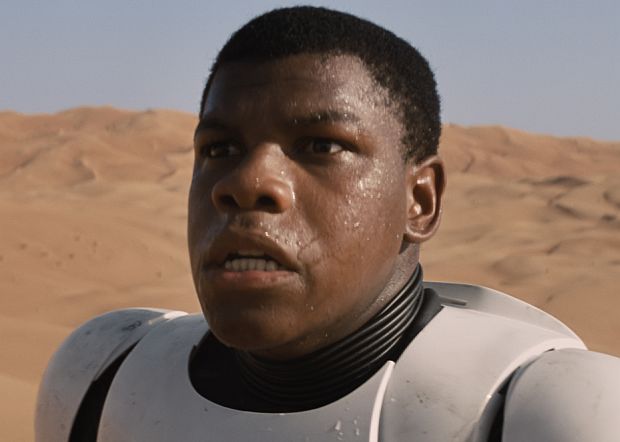 John Boyega as Finn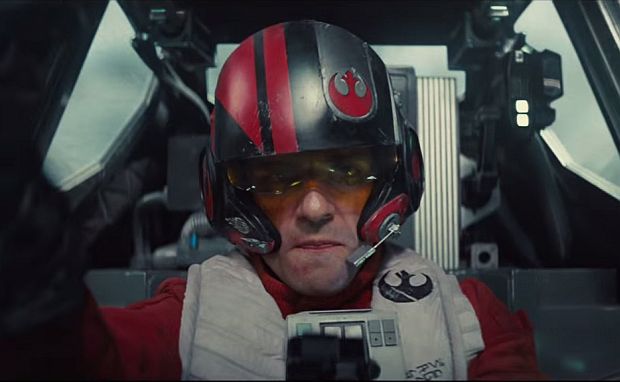 Oscar Isaac as Poe Dameron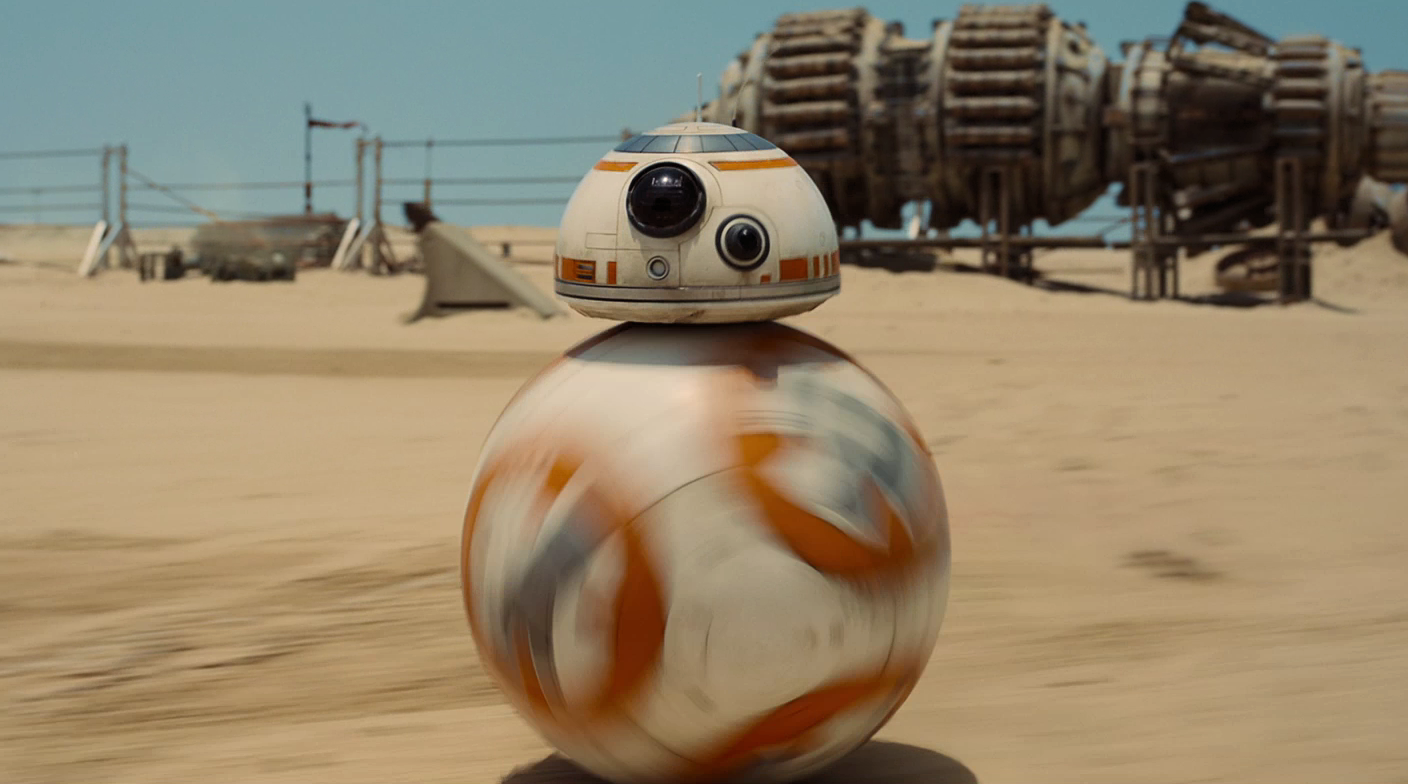 BB-8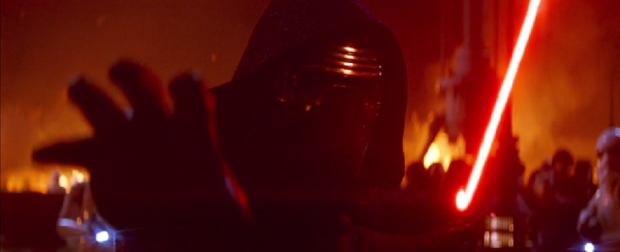 Adam Driver as Kylo Ren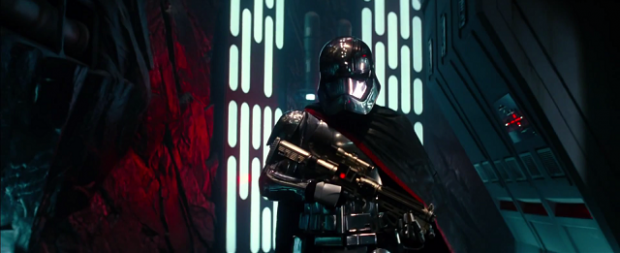 Gwendoline Christie as Captain Phasma (Chrometrooper)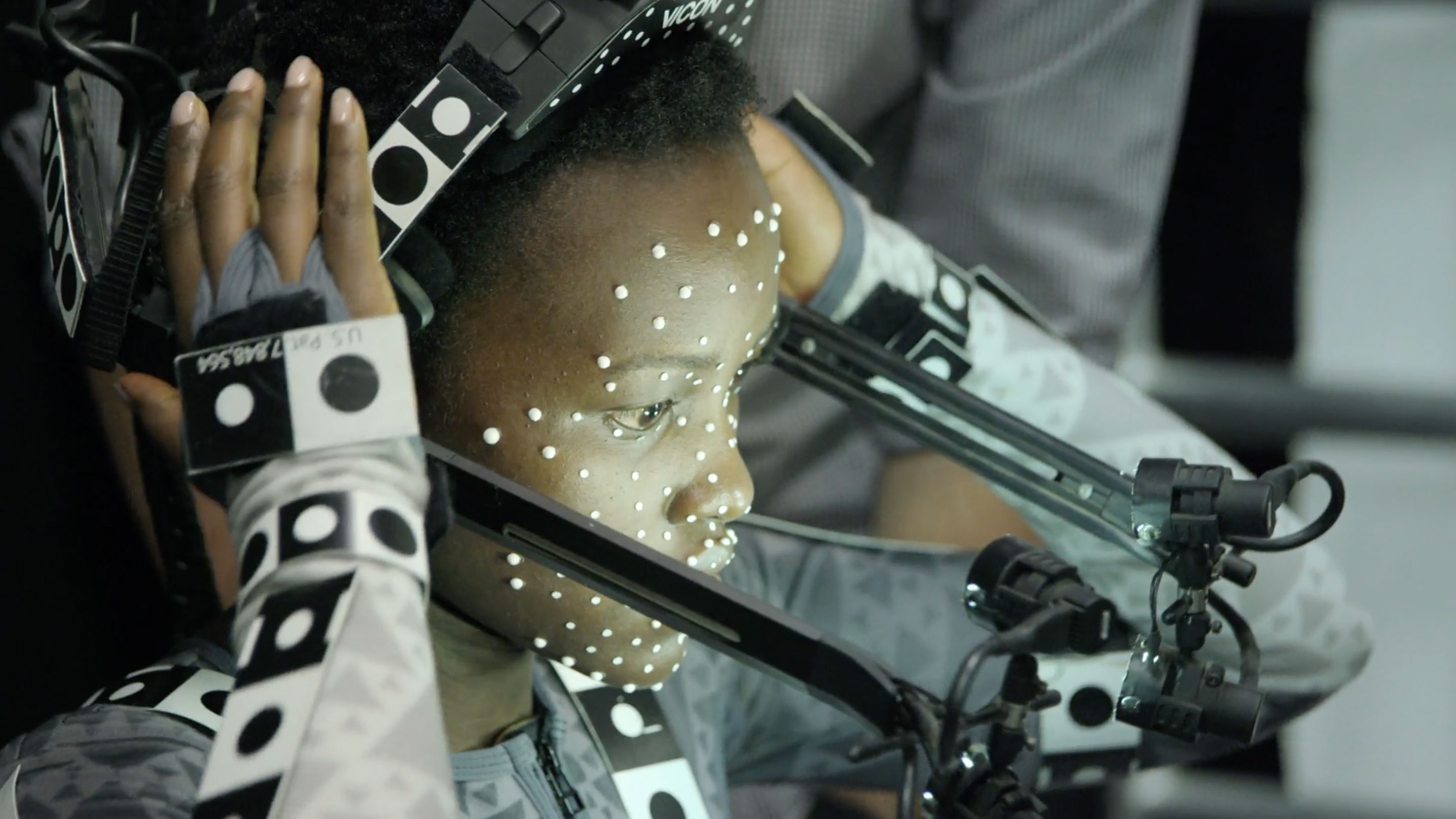 Lupita Nyong'o as Maz Kanata
One character we haven't heard a lot about is Maz Kanata, who is played by Oscar-winner Lupita Nyong'o.
Which is interesting, since the character's voice has been heard in the last two The Force Awakens trailers. You'll recall her little speech in the latest TV spot for the film: "I have lived long enough to see the same eyes in different people. I see your eyes. I know your eyes."
Nyong'o did motion capture for the character, who is an alien pirate Rey, Finn, and Han meet up with at some point in the film. We had a good idea of what her character looked like, but it really took director J.J. Abrams' confirmation in an EW interview for us to be certain. In fact, you've seen Maz Kanata front and center in the official poster for the movie (Scroll up to the "Star Wars: The Force Awakens Poster" section of this hub.)
She's in the center of the movie's poster, to the left of R2, with large goggles. Mr. Abrams shared some new details about the character, as well. Here's what he had to say…
Abrams says about the character's look that, "I had some specific ideas about how she would work and what she would do. I had this pitch about these goggles that she wore. Her eyes are an important aspect of her character, and you'll see how it plays out."
In the film, Kanata lives in a castle filled with the biggest scum in the galaxy. What's her backstory?
"Her history is that she was a pirate for a long time," Abrams says. "She's lived over a thousand years. She's had this watering hole for about a century, and it's like another bar that you'd find in a corner of the Star Wars universe." But you won't hear what species she is or what planet she comes from in the movie. All that will arrive later: 
"All that backstory will be forthcoming," Abrams says. "In the movie, you don't learn these things, but I know that these are things that are coming out in other venues." That means we'll probably get a Maz Kanata backstory in the books, comics, or future games…
In terms of choosing Nyong'o for the role, Abrams says that he thought about it for a long time, and originally considered creating a puppet for the character instead: "I wanted to do the creature as a puppet originally, but once we figured out the things that she was required to do, it felt like [performance capture] was the way to go."
"Maz needed to look and feel and be just like one of those creatures. And given her mobility, and given the role that she played, it became clear that that was one creature where we should use the tool of CG," he says. "But the performance was all Lupita. She was there on set, and we did capture sessions afterwards as well, and I can't say enough about working with her."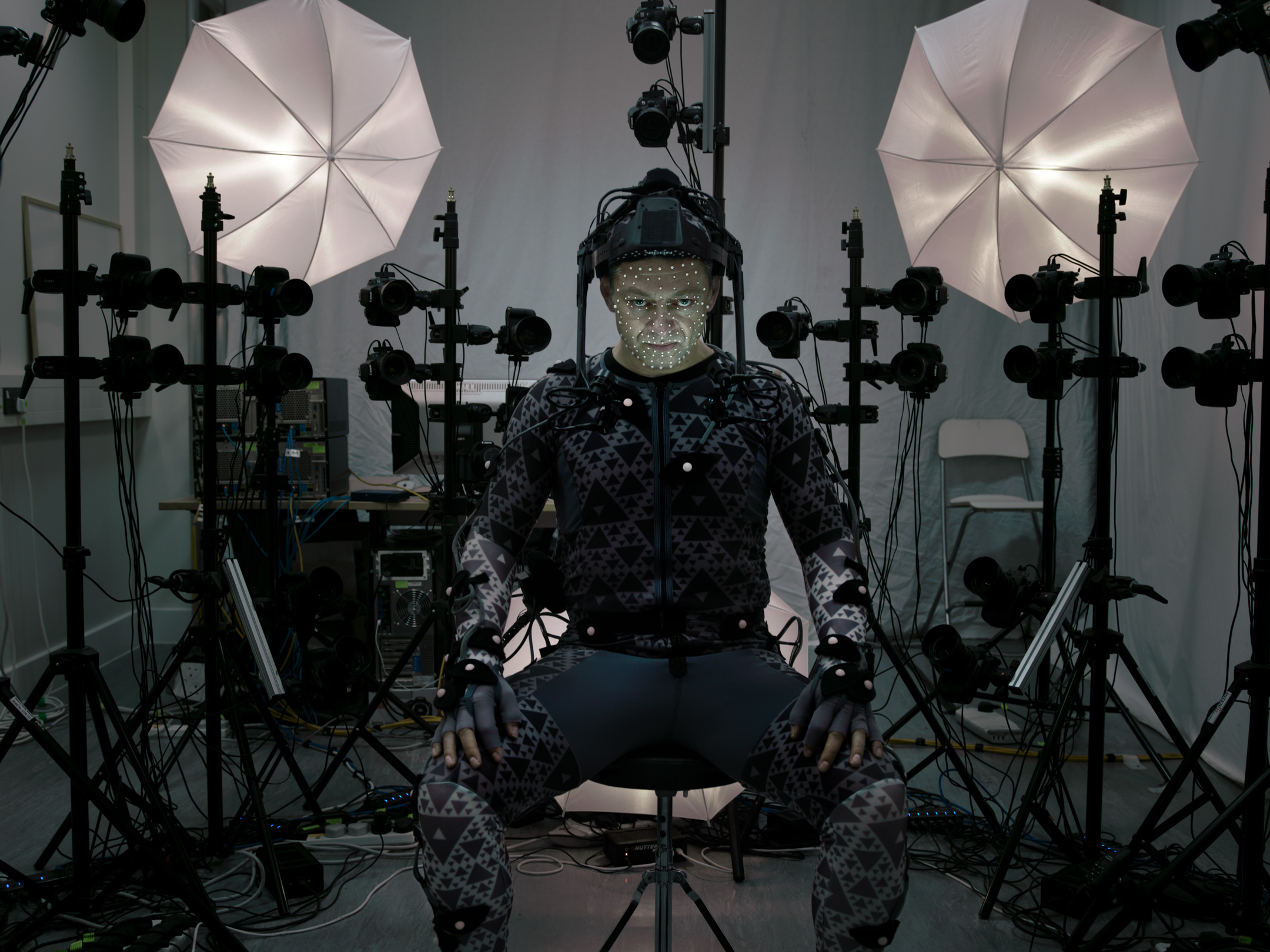 Andy Serkis as Supreme Lord Snoke
Andy Serkis has been chatting to EW about the mysterious Supreme Leader Snoke, who is believed to be a villain in the upcoming film, although we don't know what the character looks like and have only heard him speak once.
You might remember the now-famous opening line of the very first The Force Awakensteaser: "There's been an awakening. Have you felt it?" And that's pretty much all we have to go on. Now though, Serkis had a few things to say about the character, which he did motion capture for.
For one thing, Serkis says the character was very much a secret, even to him. "It's the first time I've been on set not yet knowing what the character's gonna look like. I mean, talk about secrecy!", he revealed.
Serkis and director JJ Abrams worked closely on the character. "When we first started working on it, [Abrams] had some rough notions of how Snoke was gonna look, but it really hadn't been fully-formed and it almost came out of discussion and performance."
And the process of finalising the character has continued throughout post-production, Serkis and Abrams' collaboration defining Snoke.
"We shot on set of course", Serkis said, "and I was in the scenes I have with other actors, but the beauty of this process is you can go back and reiterate, keep informing and honing beats and moments. So J.J., after we shot last year, we've had a series of sessions where I'd be in London at The Imaginarium, my studio, while he's been directing from L.A., and we've literally been creating further additions and iterations to the character. That's been fascinating. And in the meantime I've been able to see the look and design of the character grow and change as the performances change. So it's been really exciting in that respect".
While we won't find out anything for sure about the character until the premiere of the film, Serkis gave a quick background on Snoke. "Supreme Leader Snoke is quite an enigmatic character, and strangely vulnerable at the same time as being quite powerful. Obviously he has a huge agenda. He has suffered a lot of damage. As I said, there is a strange vulnerability to him, which belies his true agenda, I suppose".
Finally, when asked if Snoke 'suffered a lot of damage' due to the civil war between the Empire and the Rebellion, Serkis said "no, he's a new character in this universe. It is very much a newly-introduced character. He's aware of what's gone on, in the respect that he has been around and is aware of prior events. I think it'd be fair to say that he is aware of the past to a great degree".
It'll be interesting to see how Snoke's reveal plays out and if he's a parallel to Emperor Palpatine in a way. He sounds very much like an outsider who suddenly decides to bring about chaos in the galaxy.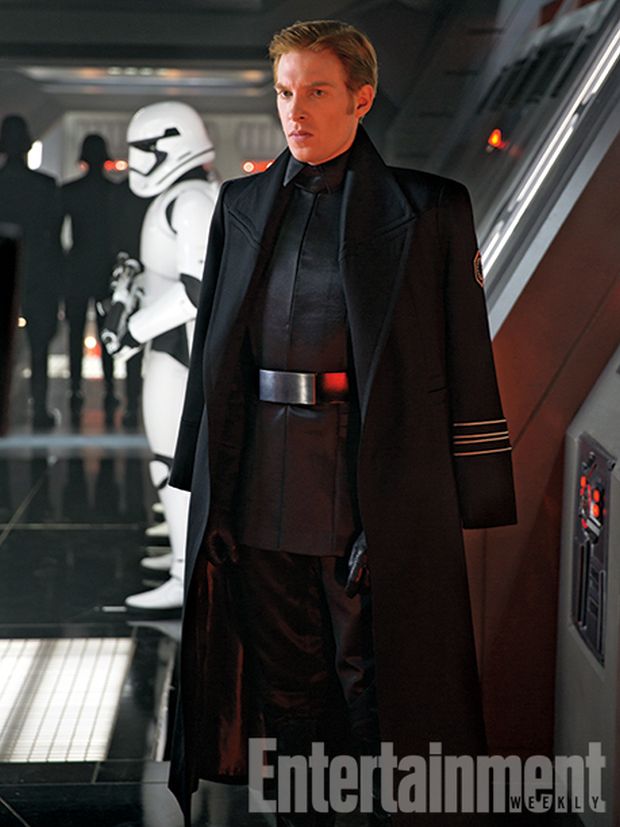 Domhnall Gleeson as General Hux
During the Star Wars: The Force Awakens panel at SDCC 2015, it was revealed that Domhall Gleeson's character is a First Order officer named General Hux. Gleeson said of his character, "I'm evil." He also revealed that Hux is in charge of the First Order base, which is called Starkiller Base. 
As Gleeson explains to EW, Hux's rapid rank ascent for someone at such a young age is likely the result of his ruthlessness. Unlike the masked, crossguard lightsaber-wielding warrior Kylo Ren, Hux's role as an antagonist is more in the capacity of a Grand Moff Tarkin-esque behind-the-scenes maker of machinations. As Gleeson states of Hux's ant-individualist motivation:
"It's a desire to lump everything in its place and just have power. The desire for power is hugely motivating for a lot of people and normally the people who want all the power are not the ones who should have it."
Expanding on the Tarkin comparison, it seems that Hux might have played an integral role in the creation of the film's nightmarish weapon of mass destruction in Starkiller Base, which is a snowy planet modified into a terrestrial hybrid Death Star-like weapon. However, upping the ante on the planet killing battle station that was "no moon," Starkiller, named after the original name for Star Wars' conceptual pre-Luke protagonist, has been strongly speculated to be much more devastating. Rather than blowing up planets with a devastating blast, evidence points to Starkiller Base living up to its name in the most literal sense with the pure power to transform entire suns into insatiable red giants in an act that destroys entire solar systems!
Admiral Ackbar is back for one more TRAP! in Star Wars: The Force Awakens. Actor Tim Rose, who played Ackbar in Return of the Jedi, will reprise his role for the film, although he couldn't divulge any more details than that. 
"Out of the need to be secret, we're not actually able to get everything we need to do our jobs as well as we could," Rose told The Australian. "And as someone who has been doing it for 35 years, I find it very frustrating."
This next character isn't a reveal we saw coming. Empire has unveiled a new alien character we'll first meet in The Force Awakens.
His name is Constable Zuvio, and he's pretty ugly. Not a lot of details on this guy except that he's a "vigilante law officer on a mostly lawless world," according to Lucasfilm. He "keeps order in a frontier trading post," and is "tough and humorless." That's pretty much it on official details. 
Oh, there's a picture, too: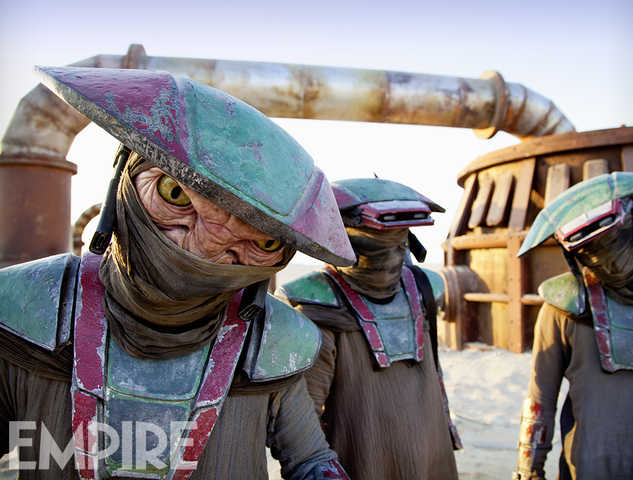 Told you, pretty ugly. What we can gather about the character is that he's probably from Jakku and will probably have a run-in with Finn and/or Rey at some point in the film. At least that's what we reckon from the picture, which shows a desert background not unlike the planet we've seen in the many trailers. 
The rest of the cast, in undisclosed roles, is as follows:
Max von Sydow will also join the original stars of the saga. While their roles have not been confirmed, the internet has been guessing for months. Turn to page 2 for all that speculation.
Additionally, Carrie Fisher's daughter, Billie Lourd, has joined the cast. What role she's playing remains to be seen, but there's some serious speculation about a rather obvious choice but she has revealed she's definitely NOT playing a young Princess Leia. Christina Chong is also on board in an unnamed role. Game of Thrones' Miltos Yerolemou also has a small role. 
Lizo Mzimba has been tweeting out confirmation of a number of minor roles. According to him Jessica Henwick (Nymeria in Game of Thrones season 5), James McCardle (as someone named "Xavier), Tony Bailey (as a Stormtrooper…guess they aren't clones anymore!), and Sam Carr (as a Padawan of some sort). Some badasses from The Raid 2 have also joined up.
We'll continue update the character list as we learn more details! 
Star Wars: The Force Awakens Poster
As promised last week, we finally get the official poster for Star Wars: The Force Awakens, and it's absolutely a beauty. See any familiar faces? Also, whatever that giant big globe is in the background of the poster, it's no moon…
Buy the complete Star Wars saga on Blu-ray right here.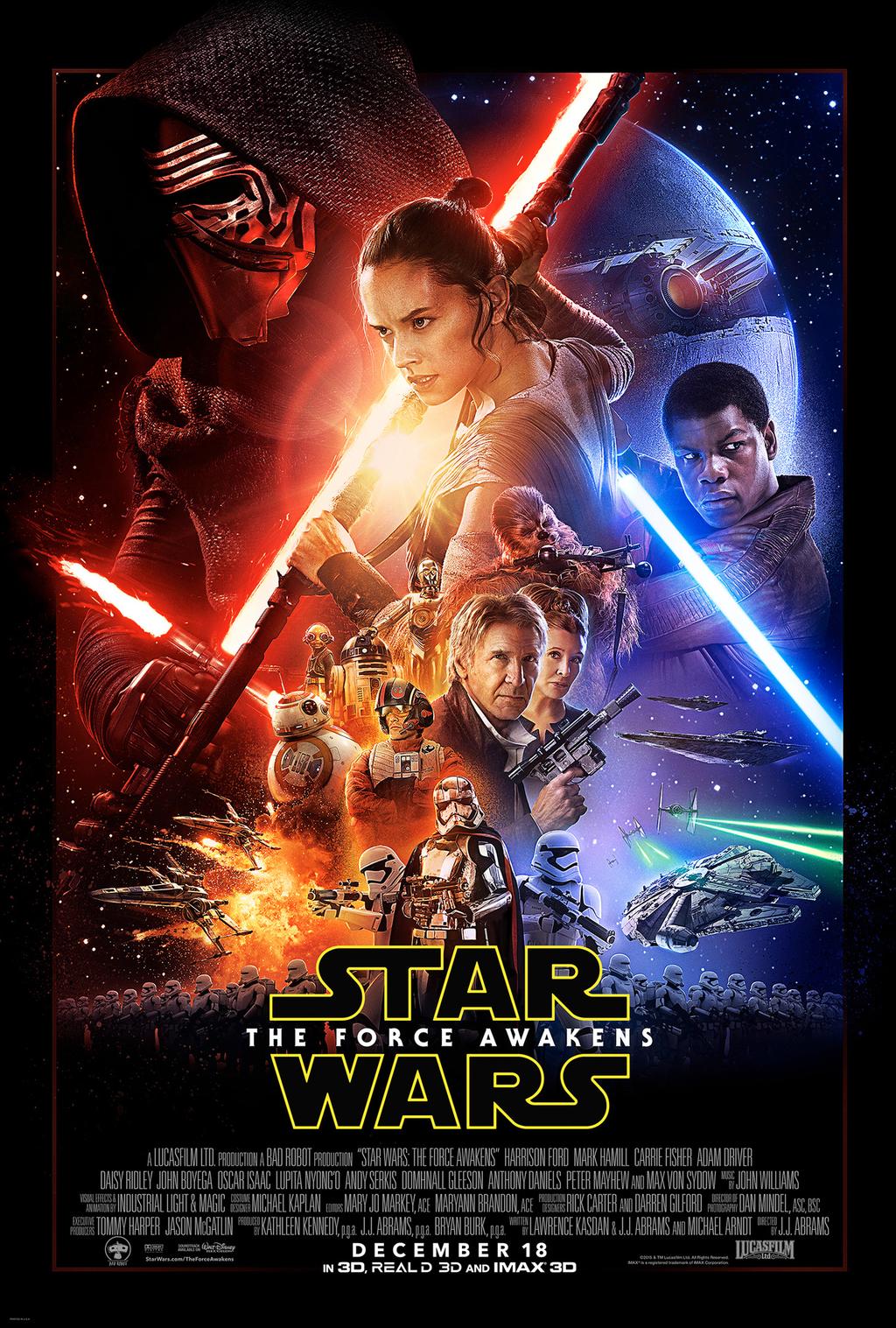 Oh, and there's a Korean poster for the film, too, that's pretty good-looking: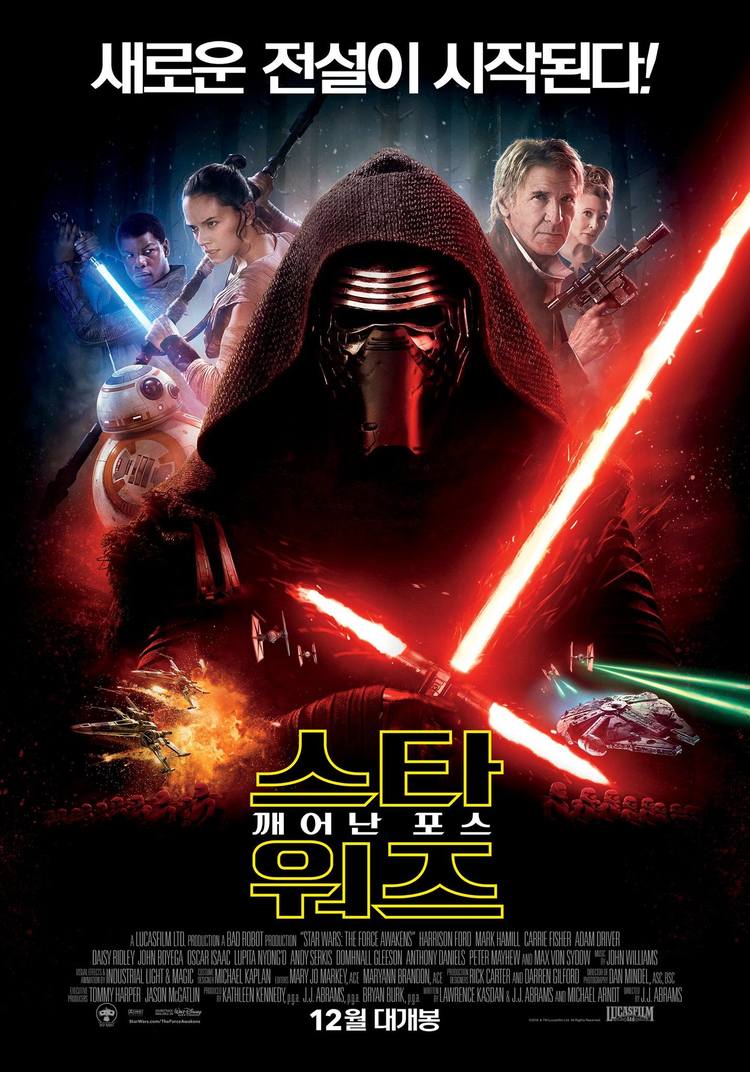 There are some new international posters making the rounds after the release of the Chinese trailer: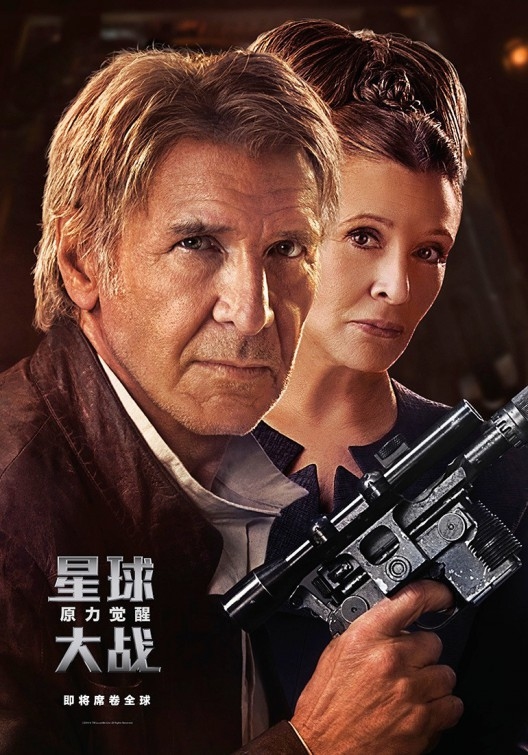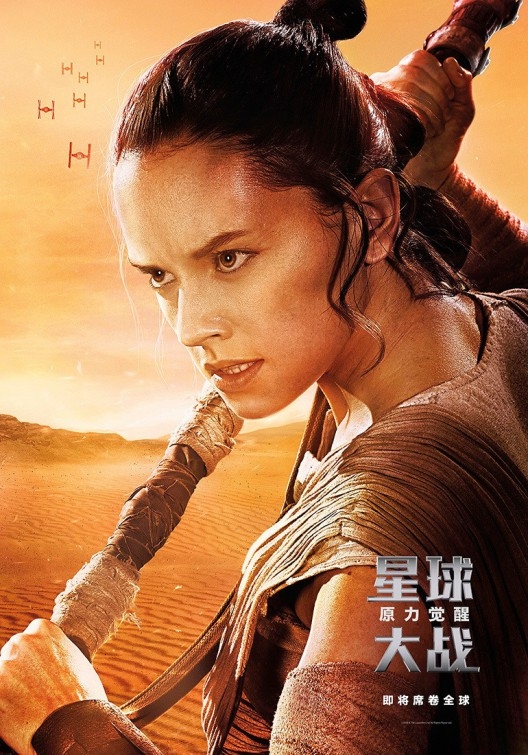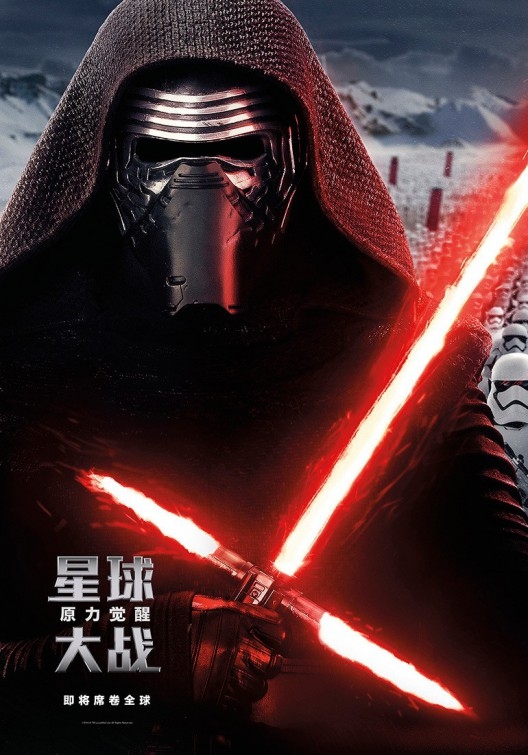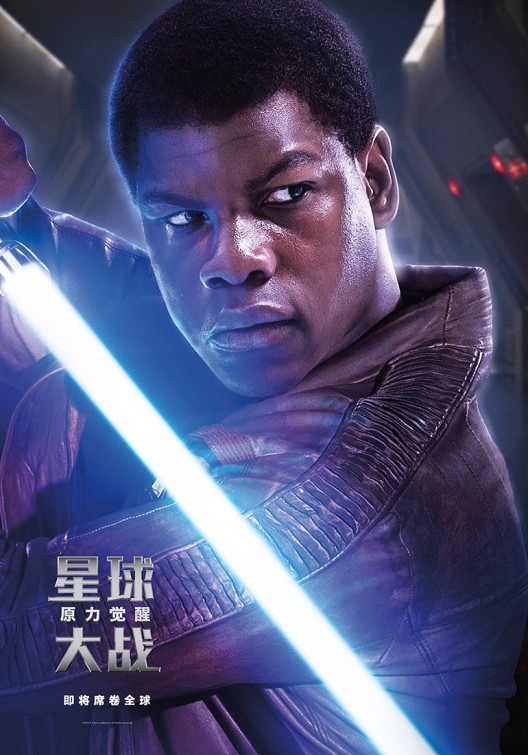 There is also a series of character posters that highlight the heroes and villains of Star Wars: The Force Awakens. Front and center are Han, Leia, Finn, Rey, and Kylo Ren. Check out the posters: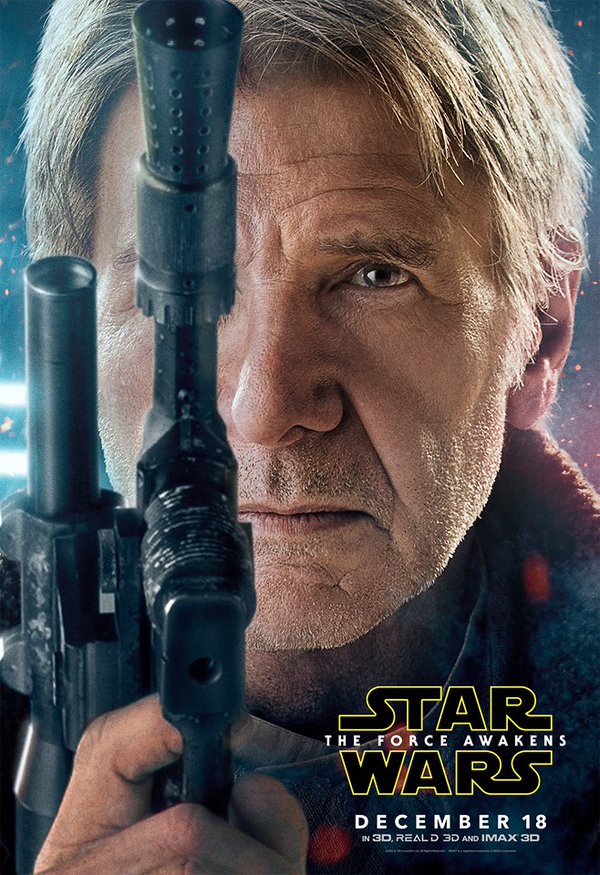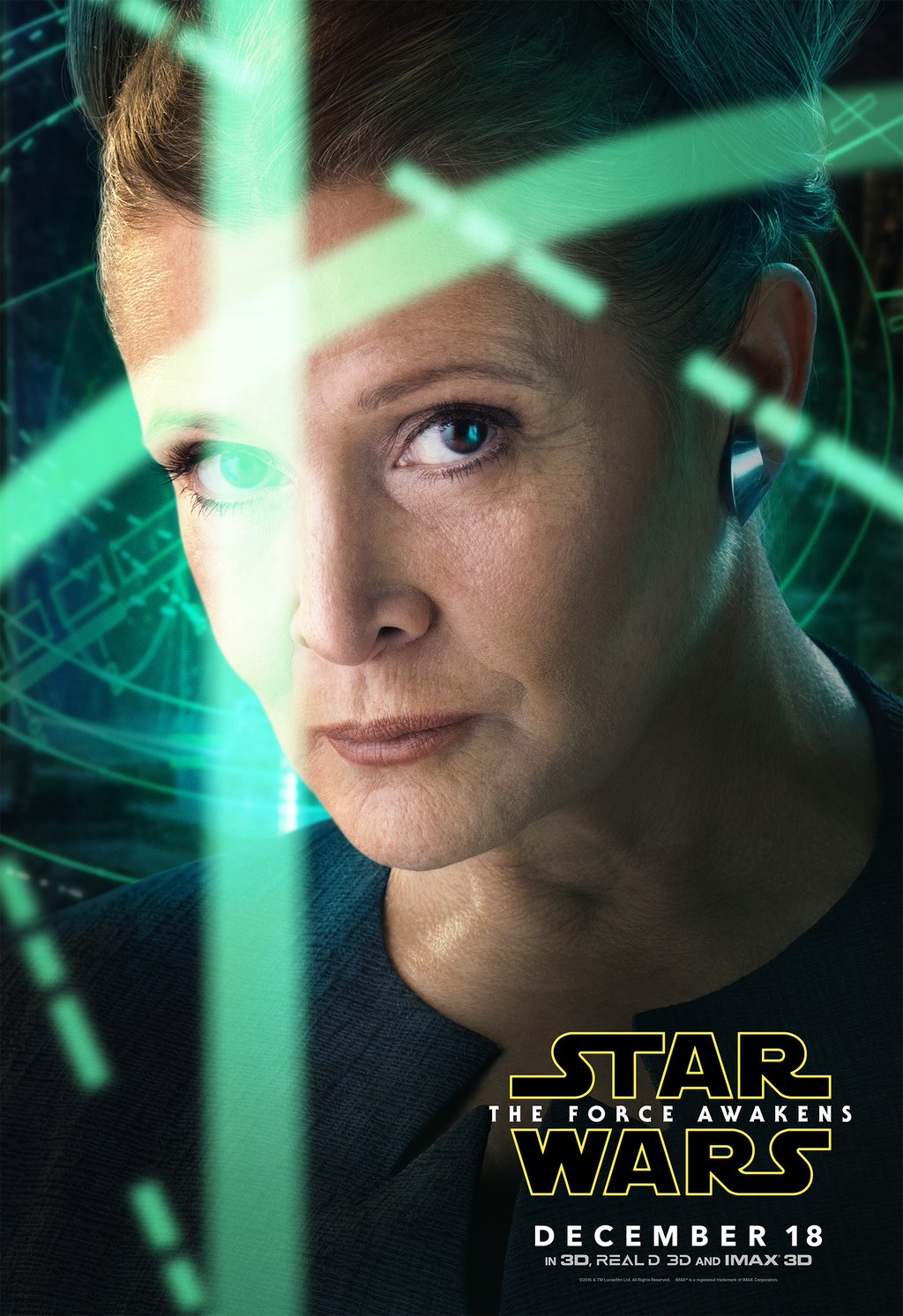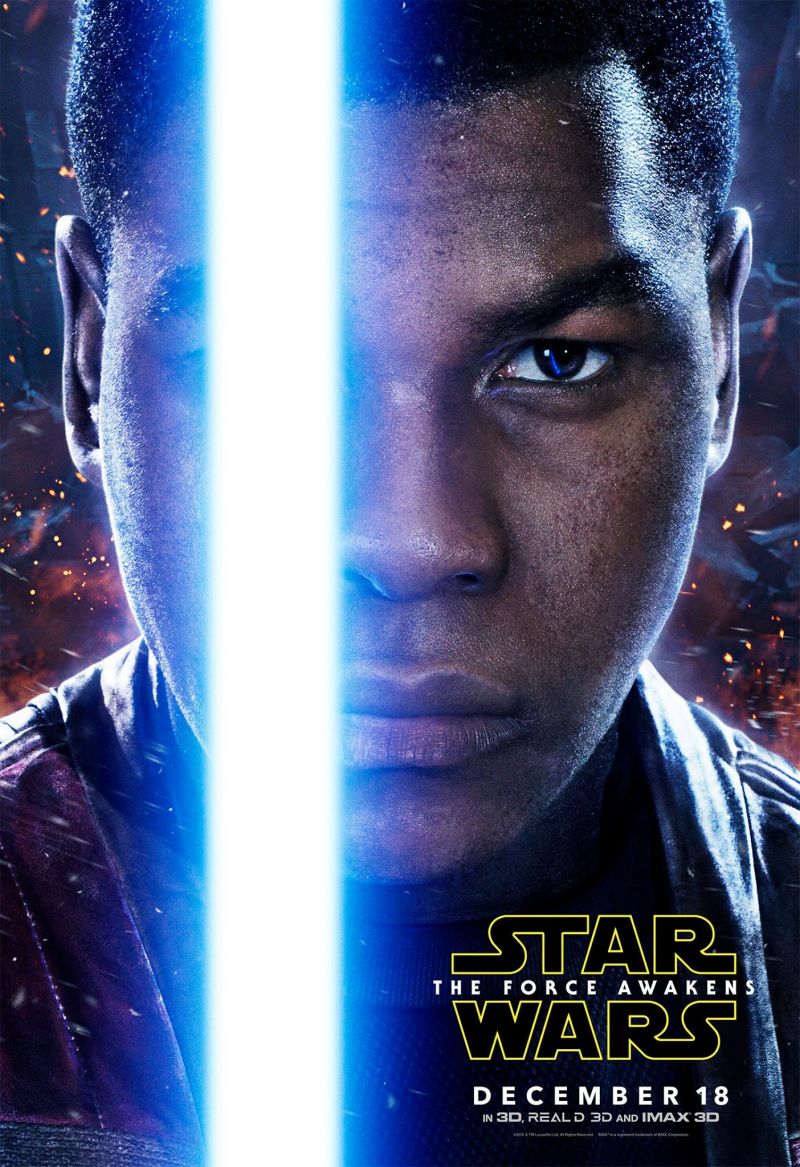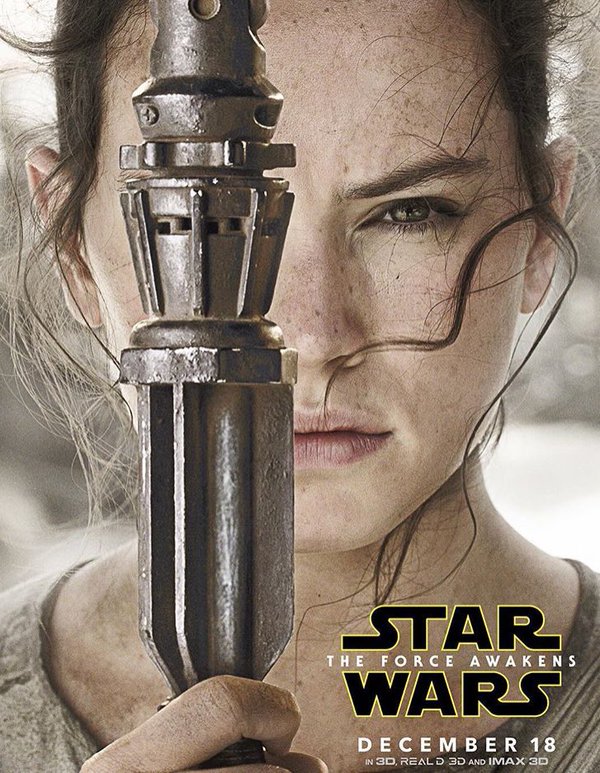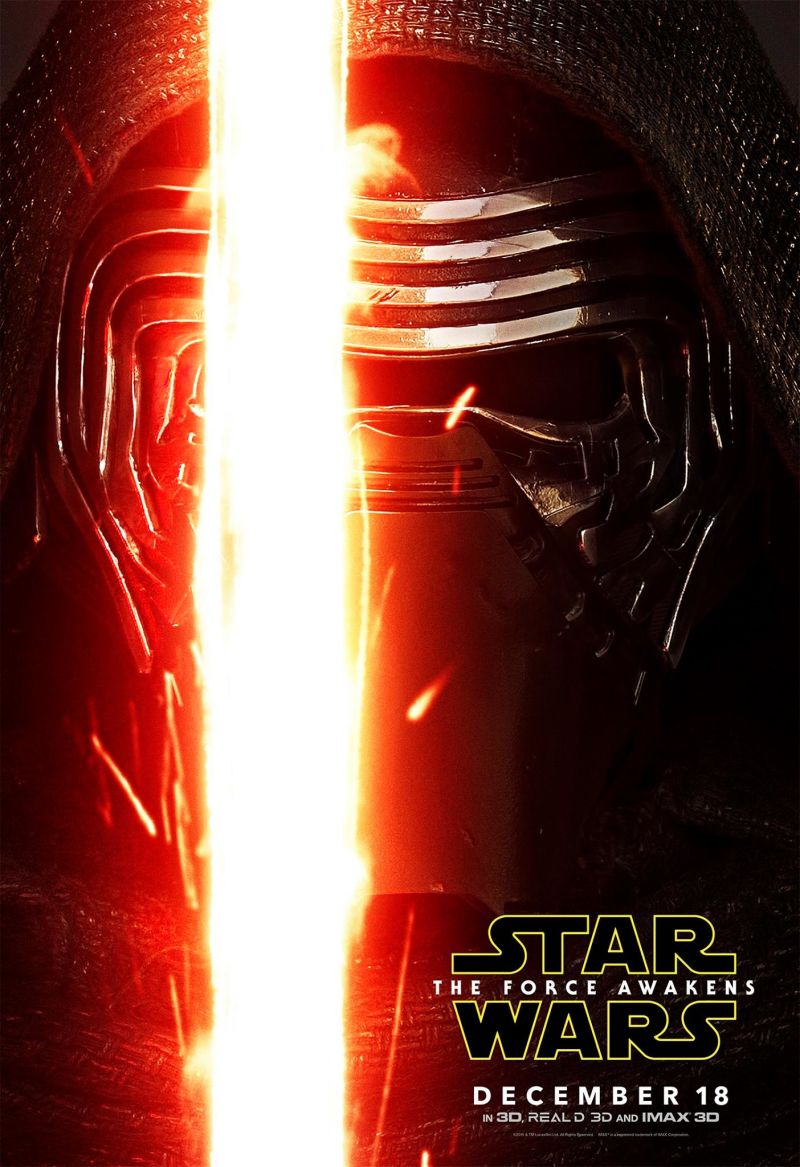 There's also an IMAX poster, which you can pick up through AMC.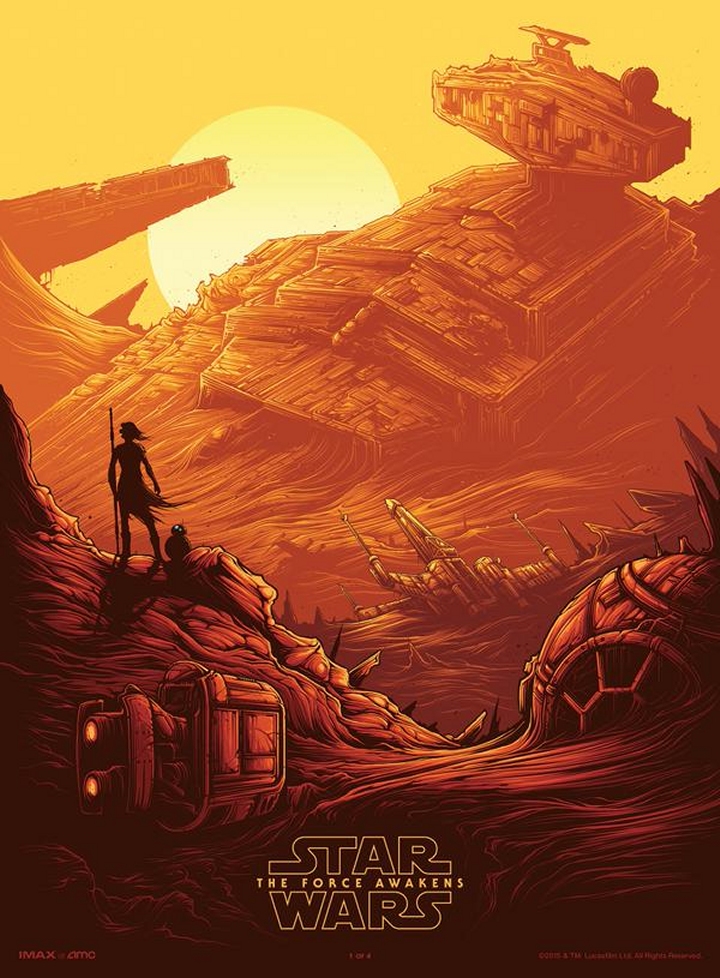 These retro posters might remind you of the original promotional posters for A New Hope from way back in 1977: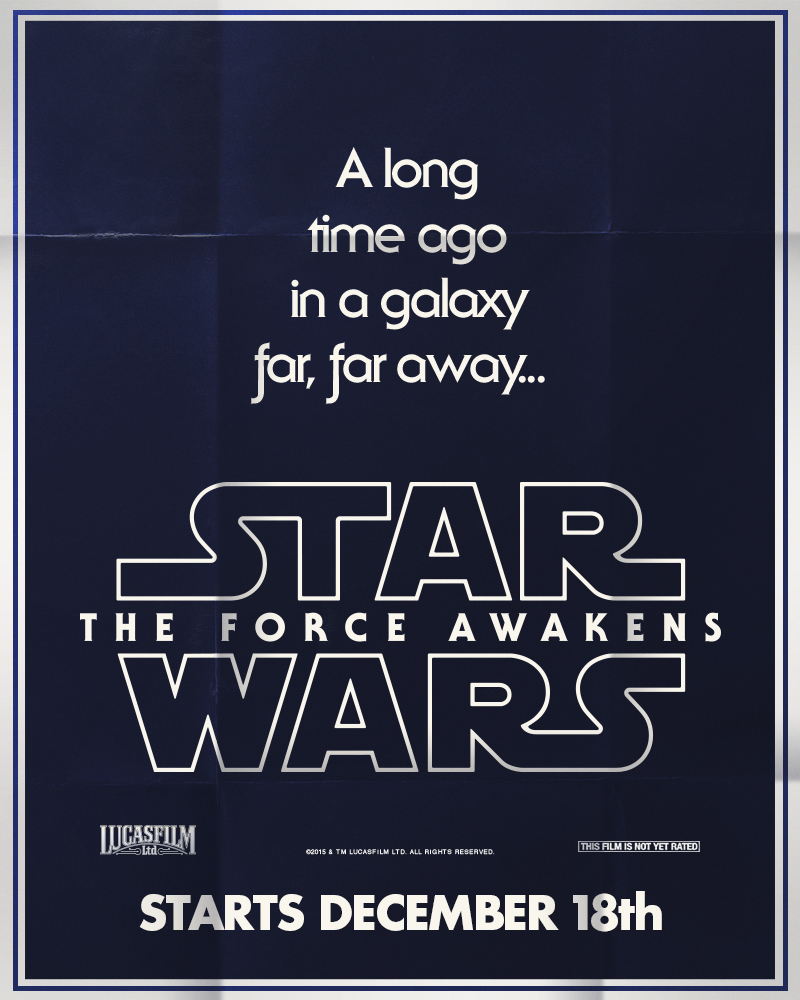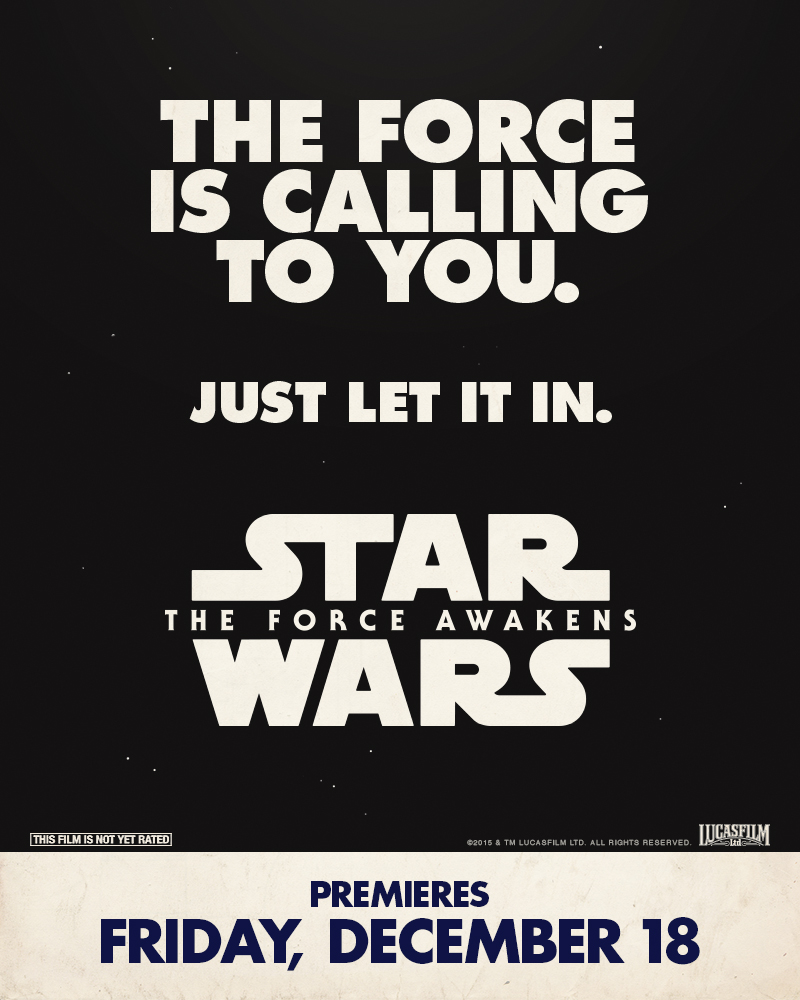 The biggest The Force Awakens reveal at D23 was undoubtedly a convention-exclusive poster for the film, designed by Drew Struzan, who also designed the posters for the Special Editions of the Original Trilogy and all of the prequel posters. The poster was handed out at Disney's live action panel.
Here it is: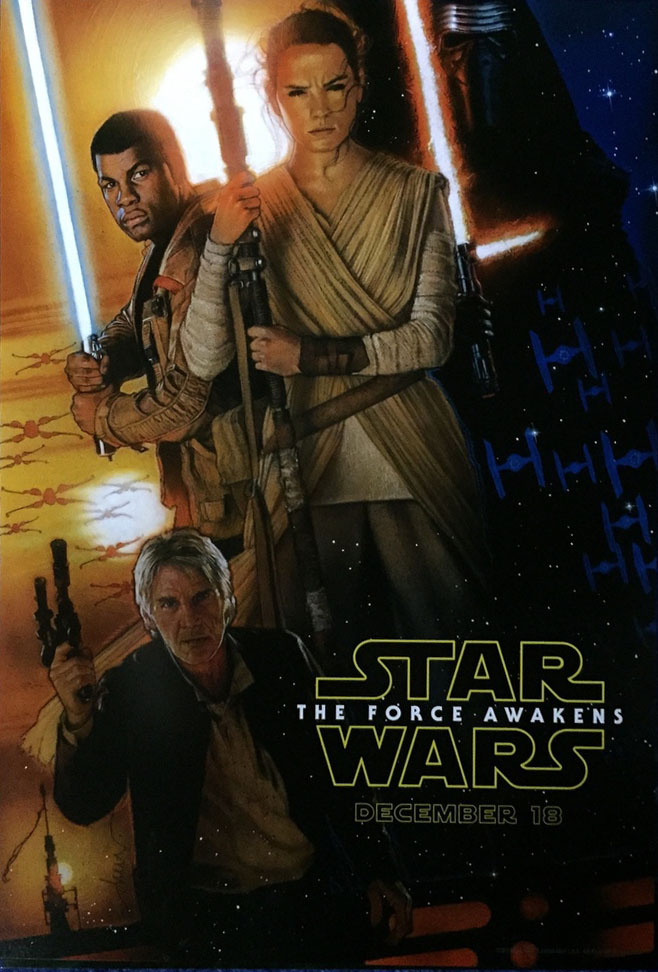 The poster comes via IGN. Note that the official Star Wars Twitter handle said that this poster is "just a commemorative poster for the Expo, not the official poster."
Many more posters arrived in time for Force Friday's big merchandising push for the new film. Here are three posters released: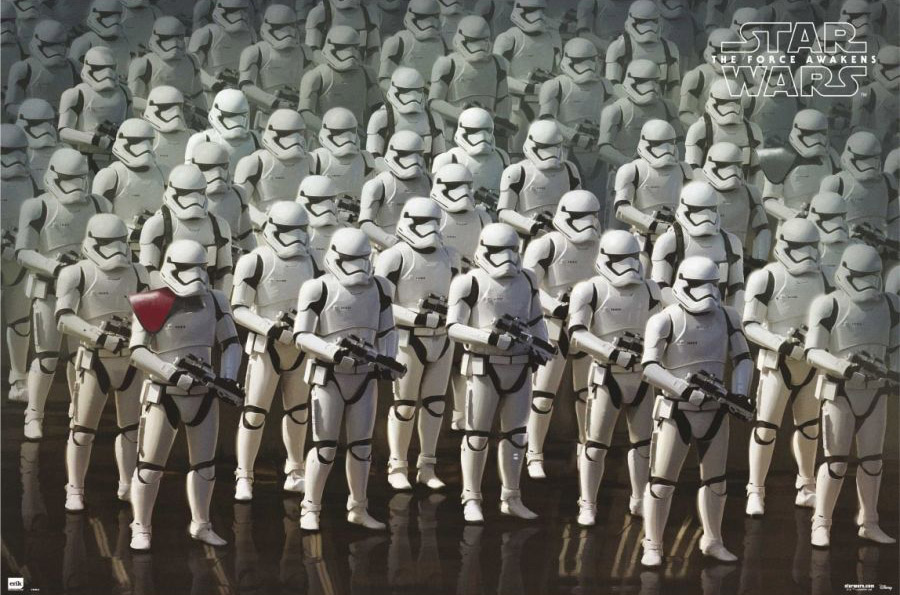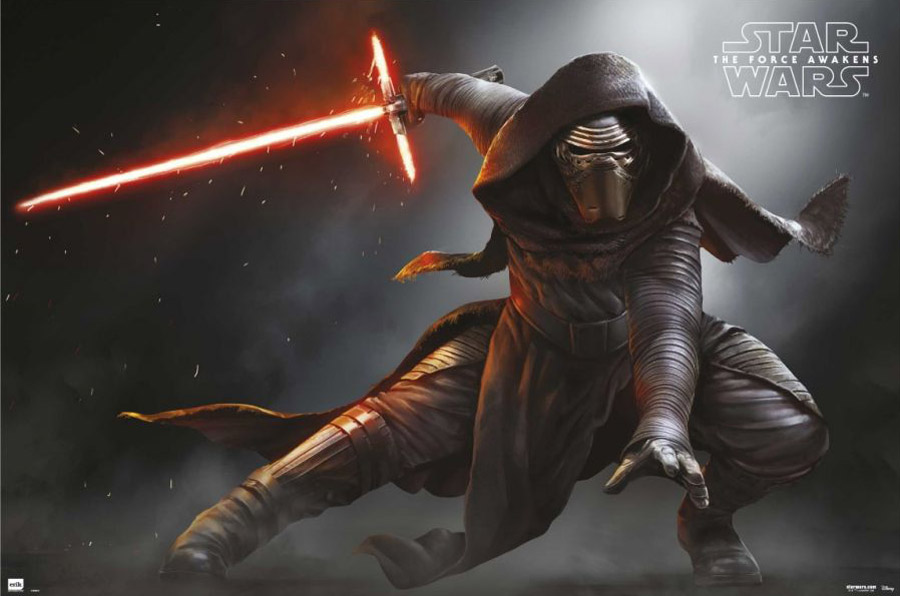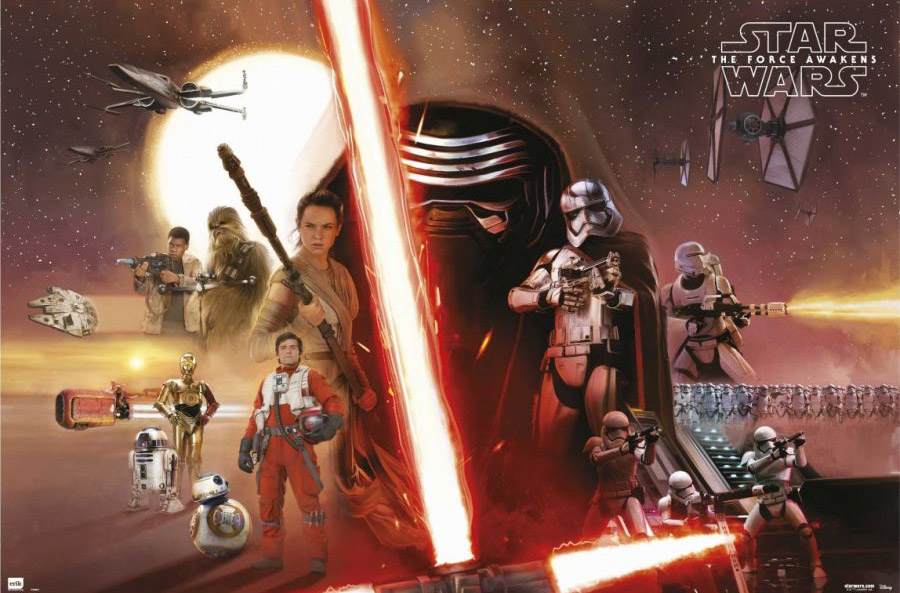 Star Wars: The Force Awakens Images
A bunch of new pictures from the upcoming film were revealed today by Rolling Stone as part of their feature on the film. The best shot of all is one featuring Kylo Ren kneeling before that charred Darth Vader helmet we've seen in trailers and TV spots recently: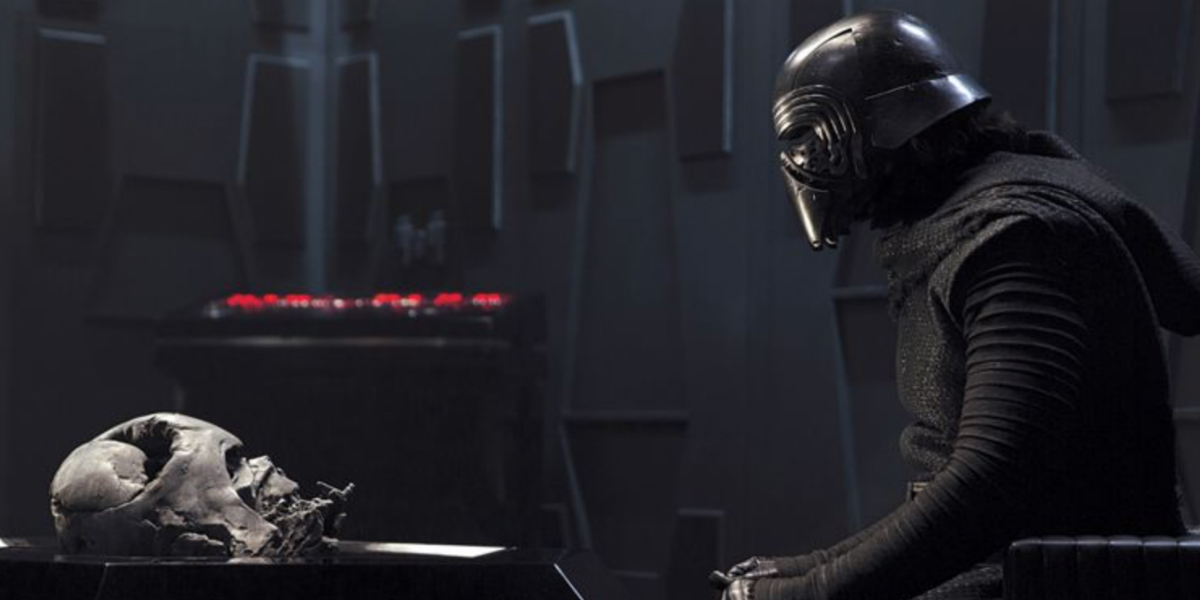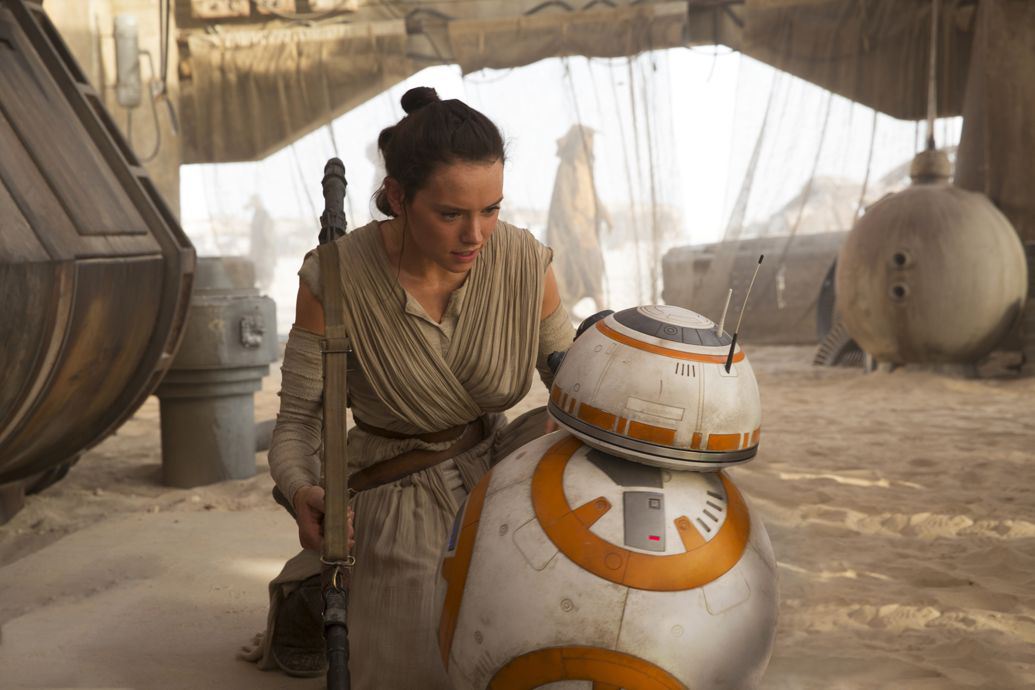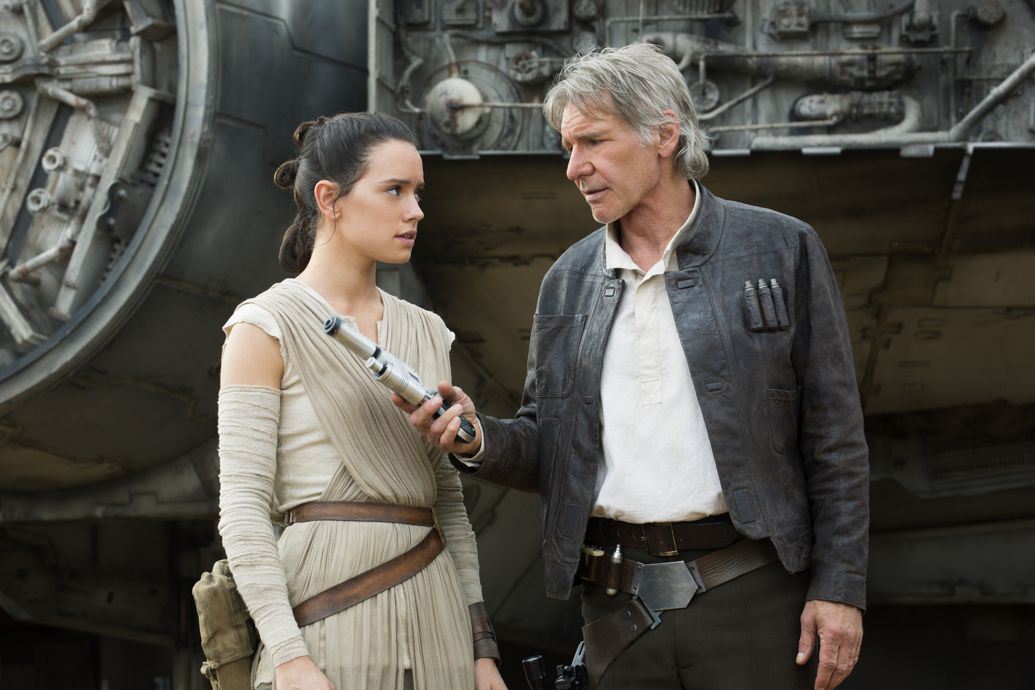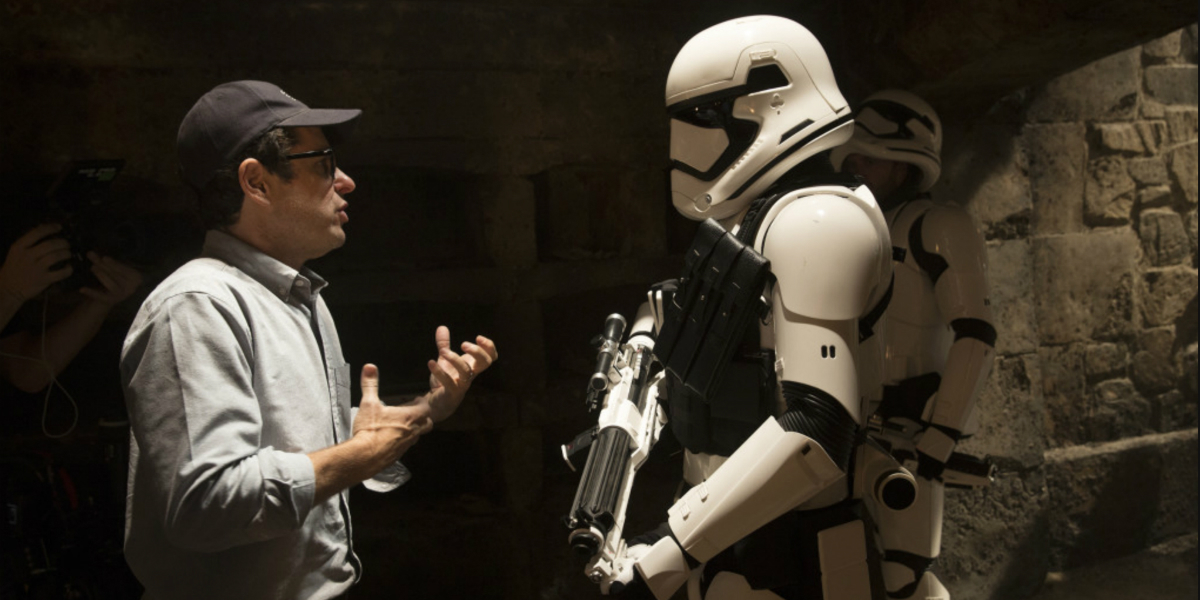 We have tons of new photos from the film, courtesy again of the EW article above: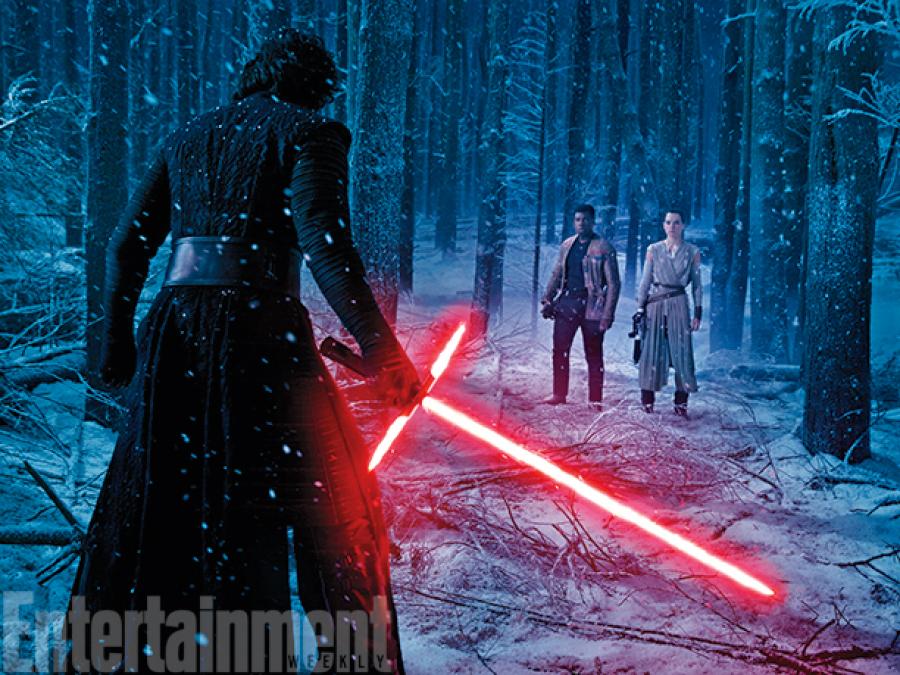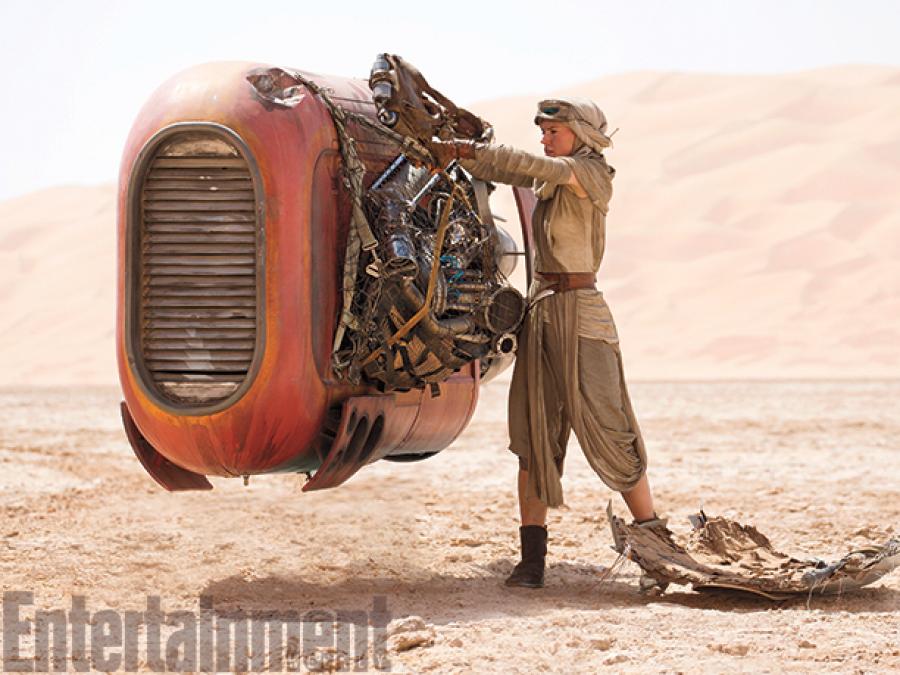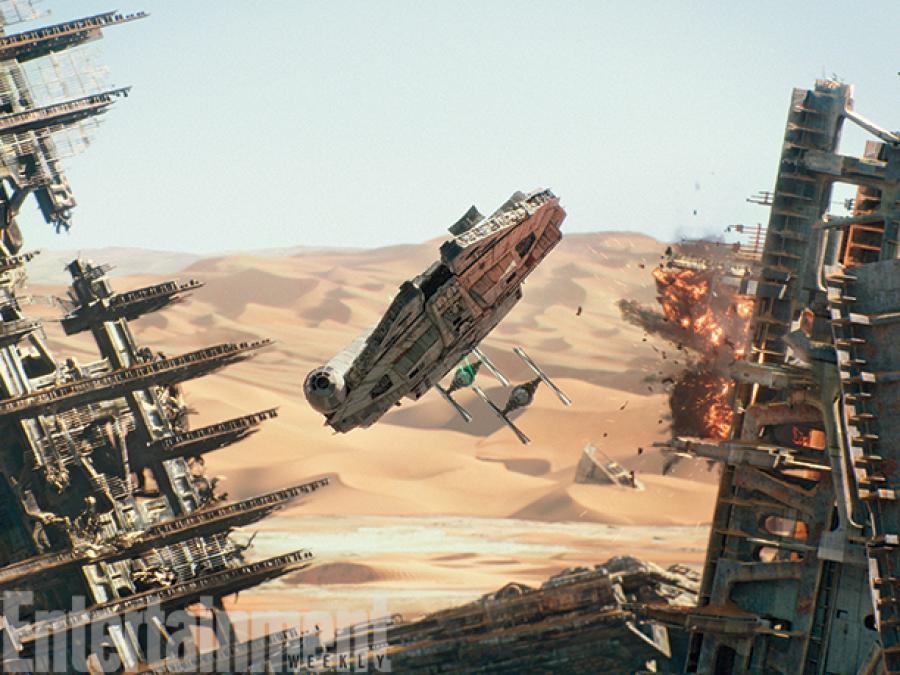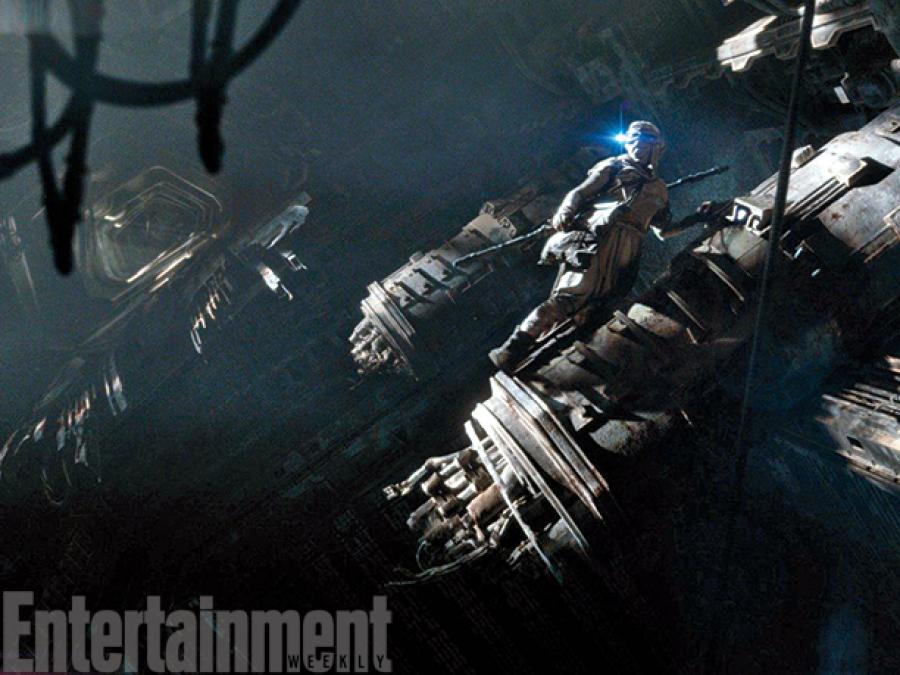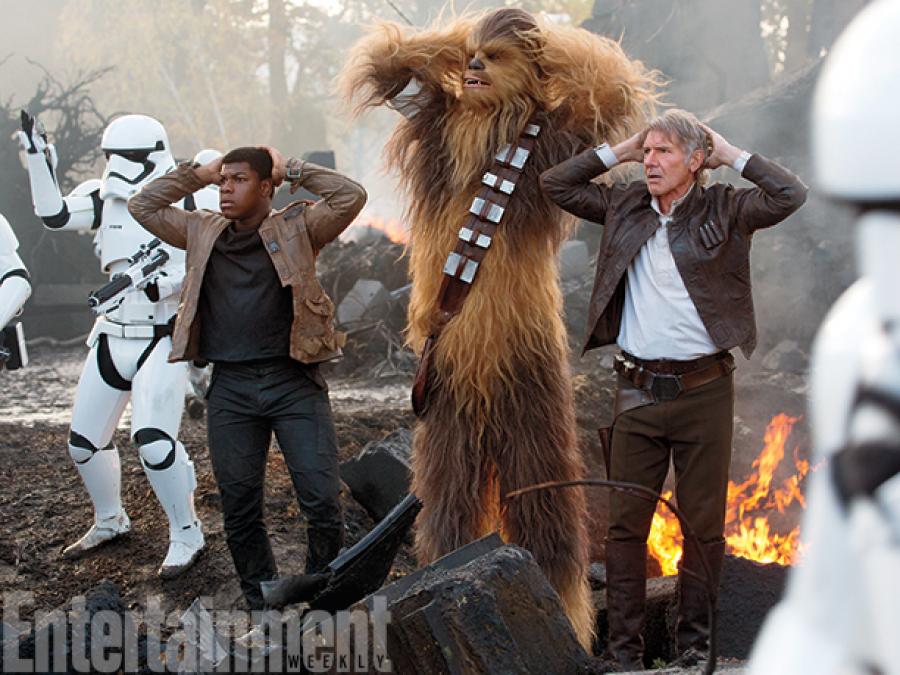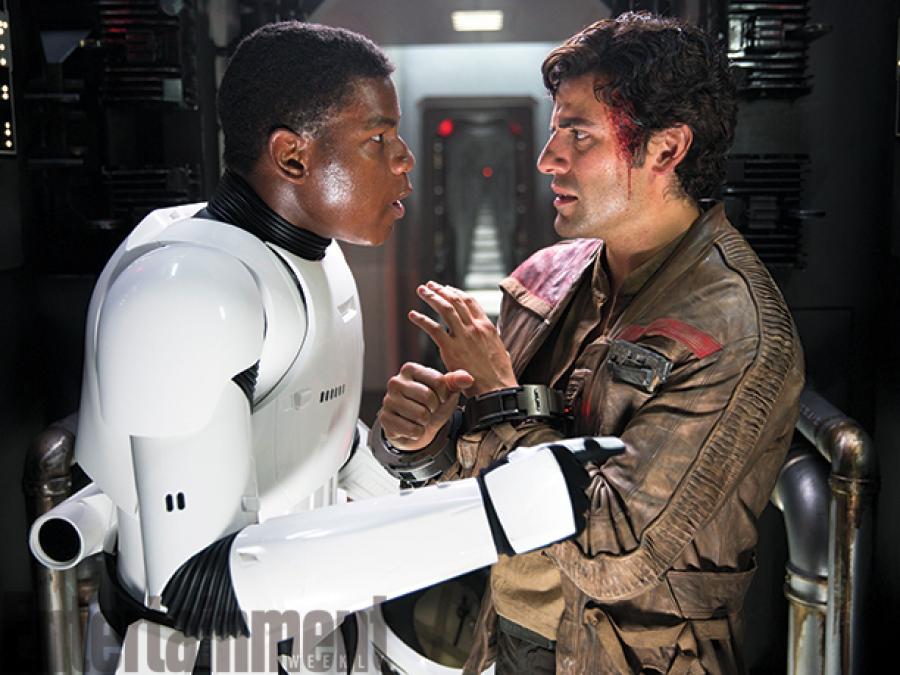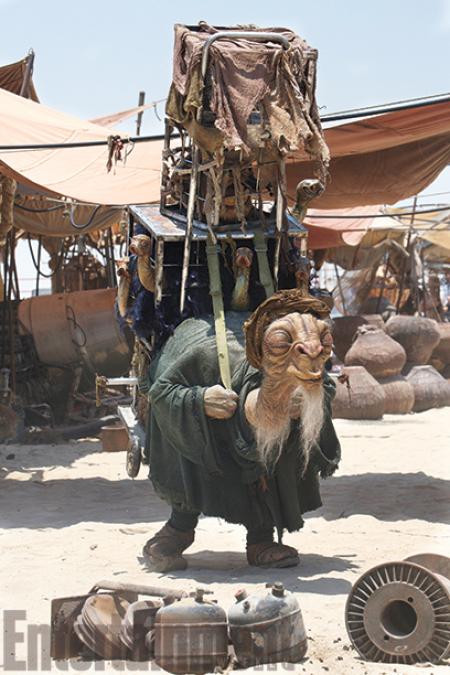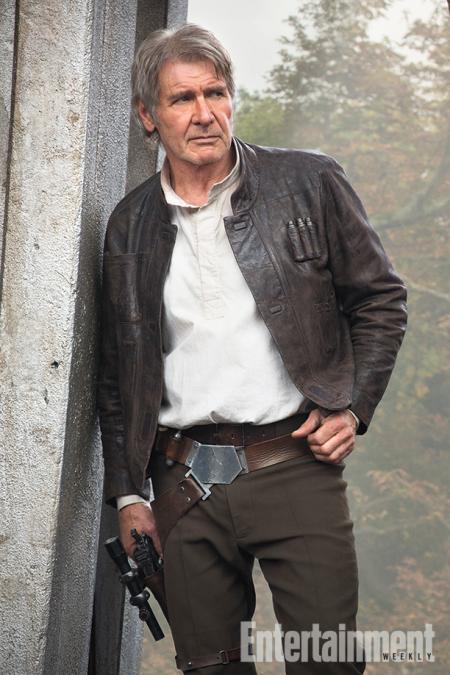 Check out these new behind-the-scenes pictures from The Force Awakens set: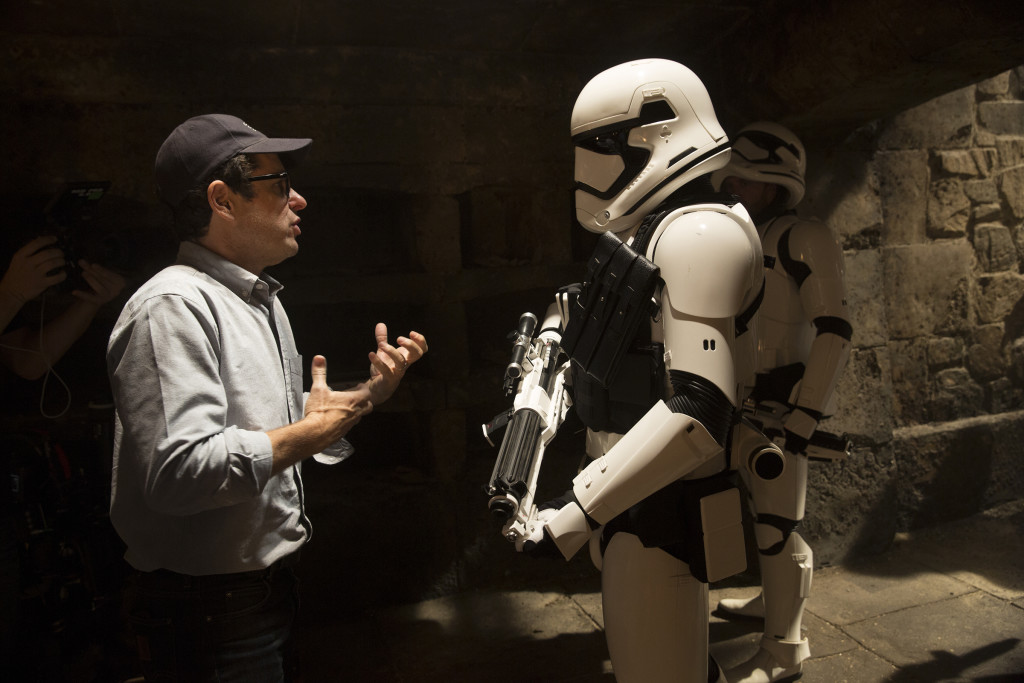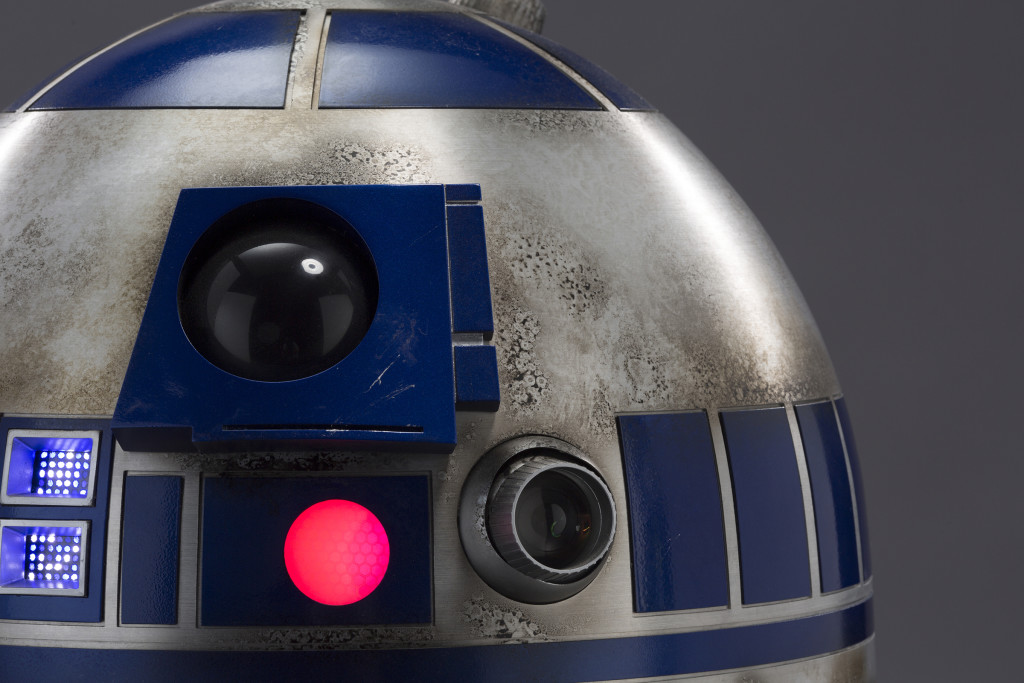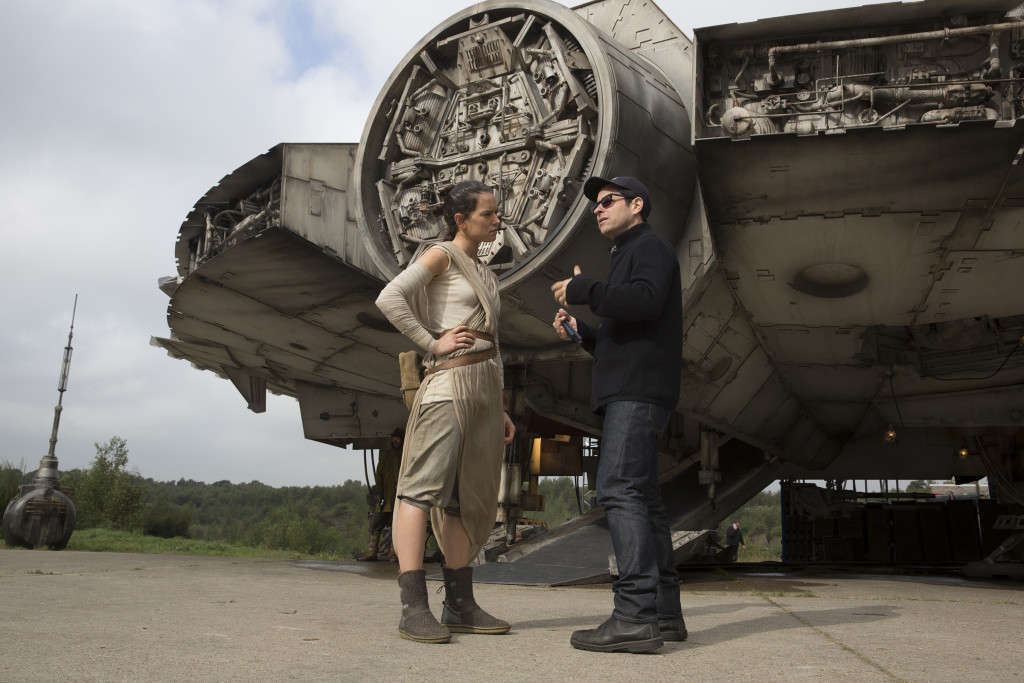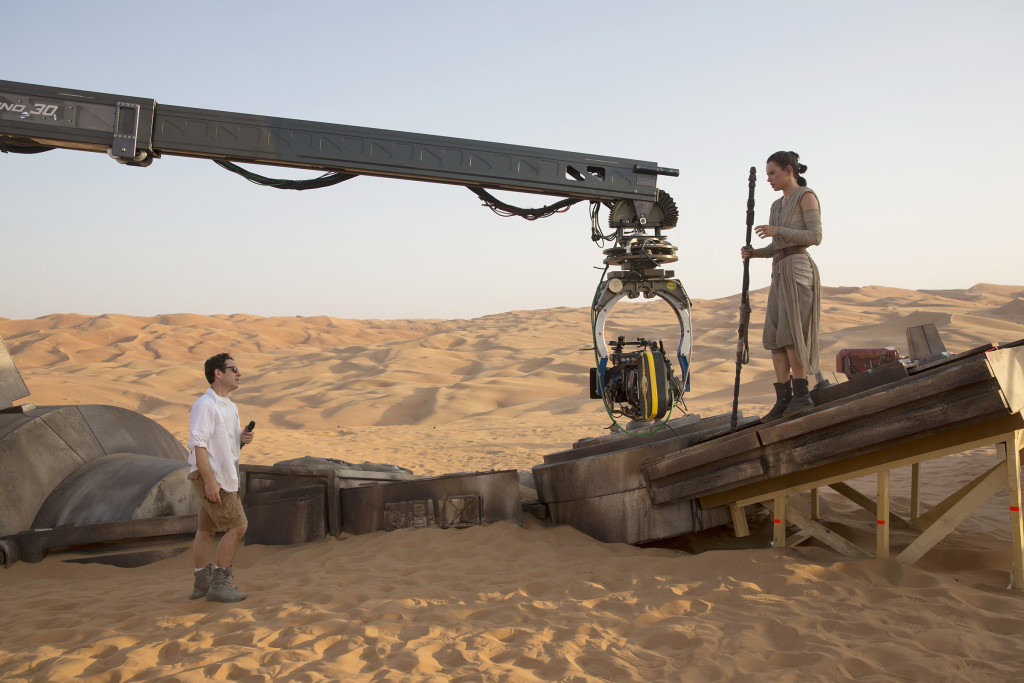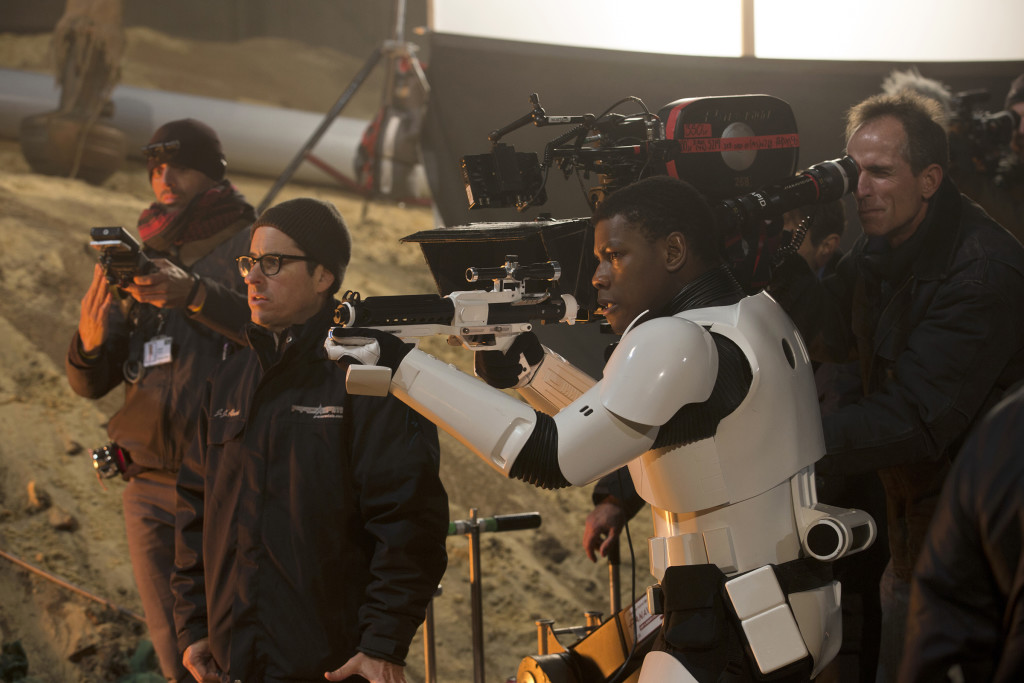 You probably heard that a new trailer arrived for Star Wars: The Force Awakens last week. Heck, you might have even seen it! If so, you've probably broken down that trailer, dissected it, analyzed it, and speculated. Well, these new official hi-res photos from Disney might help with that: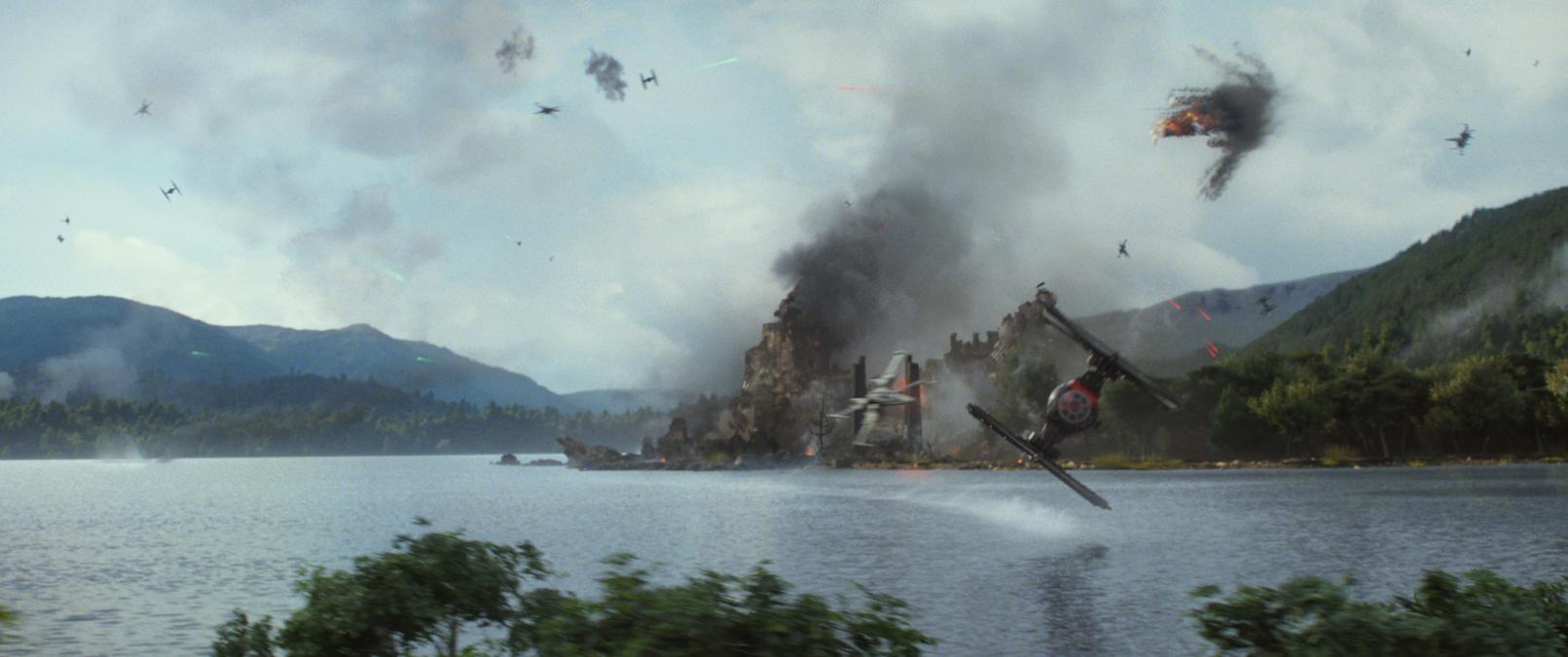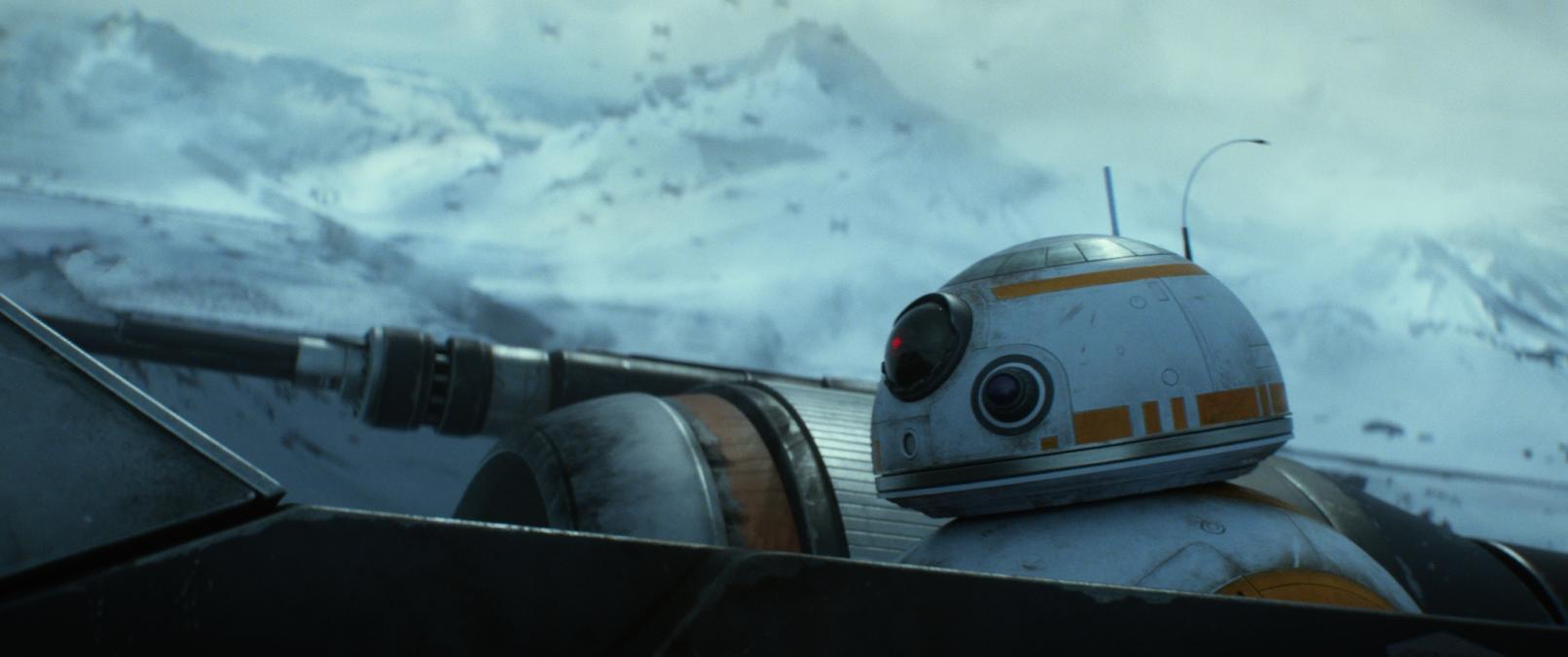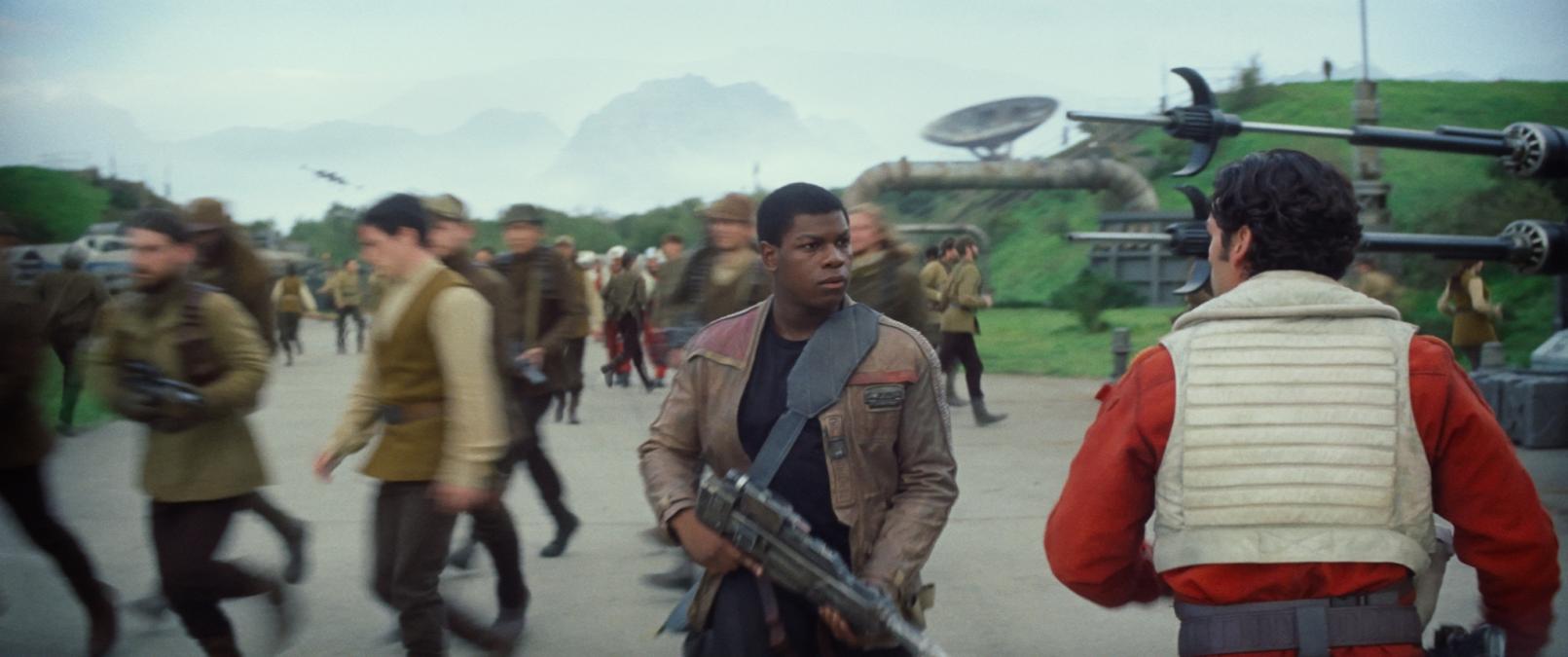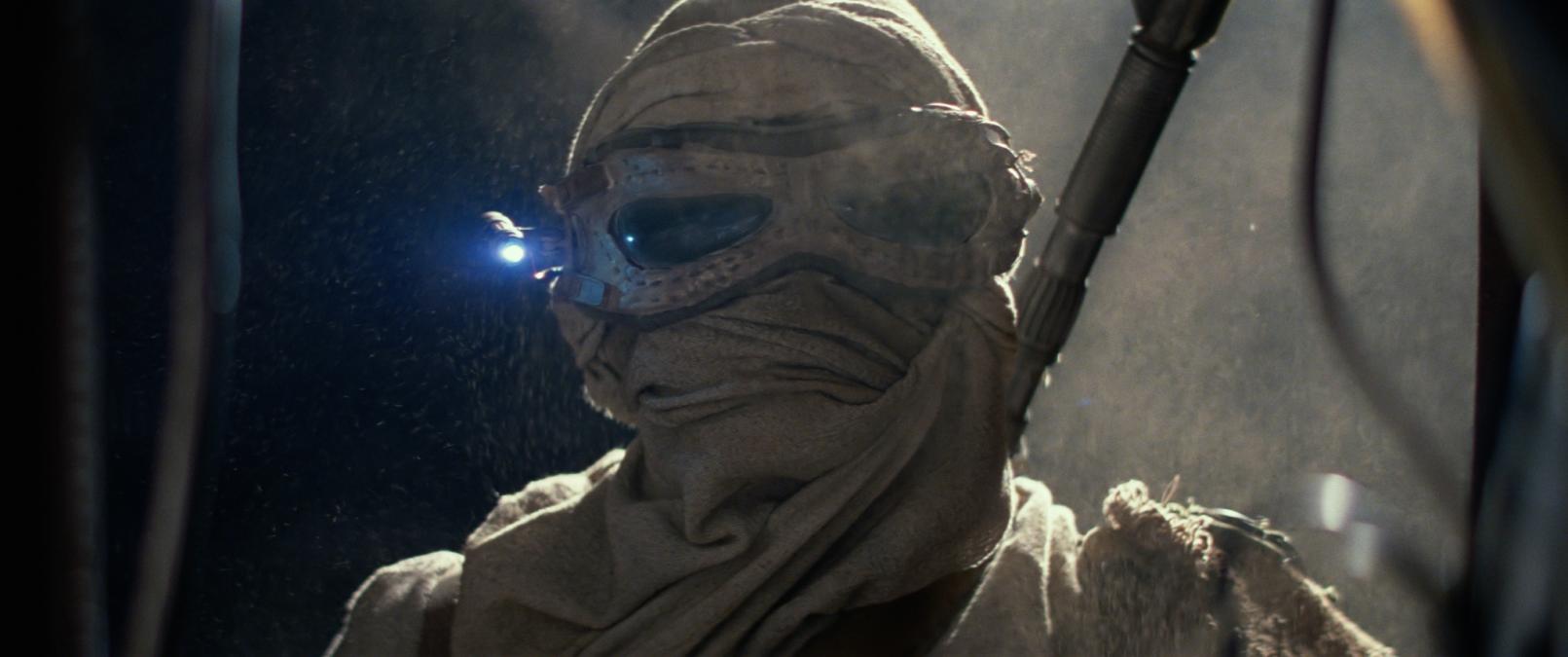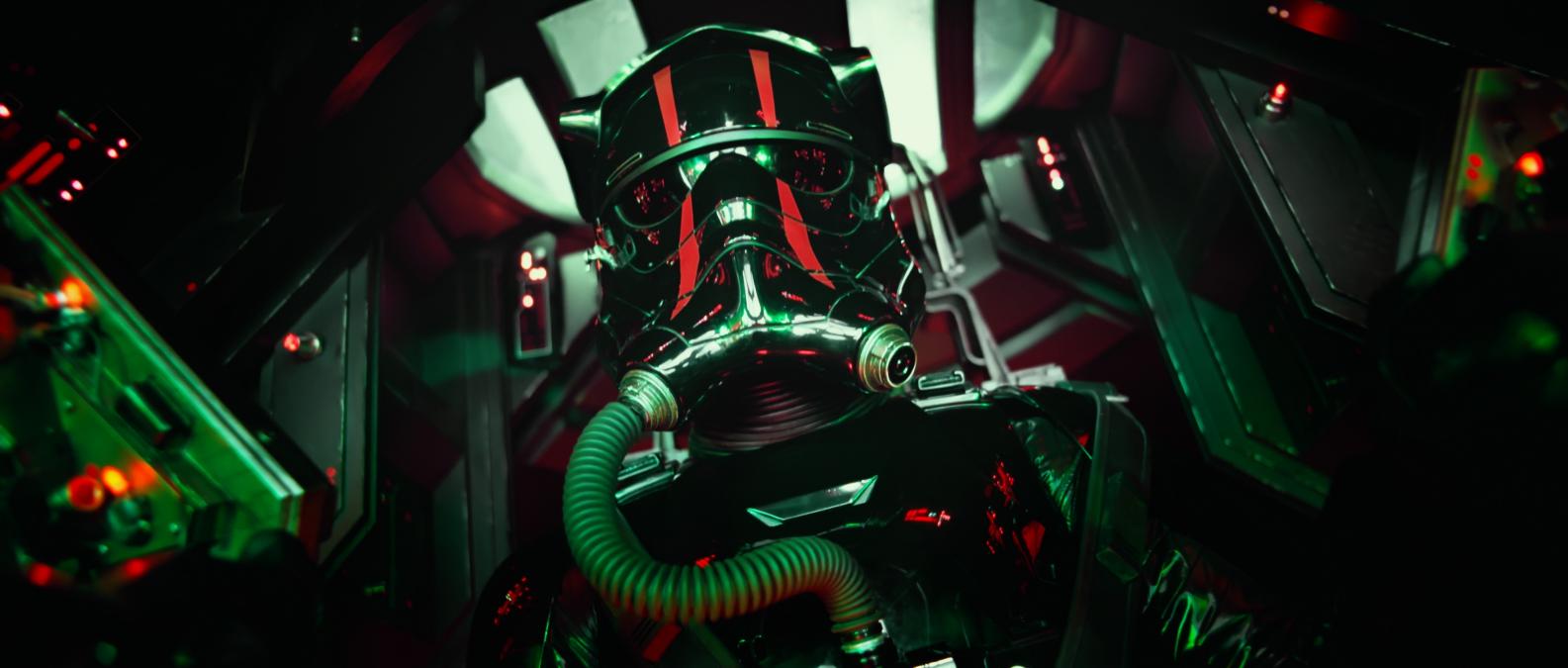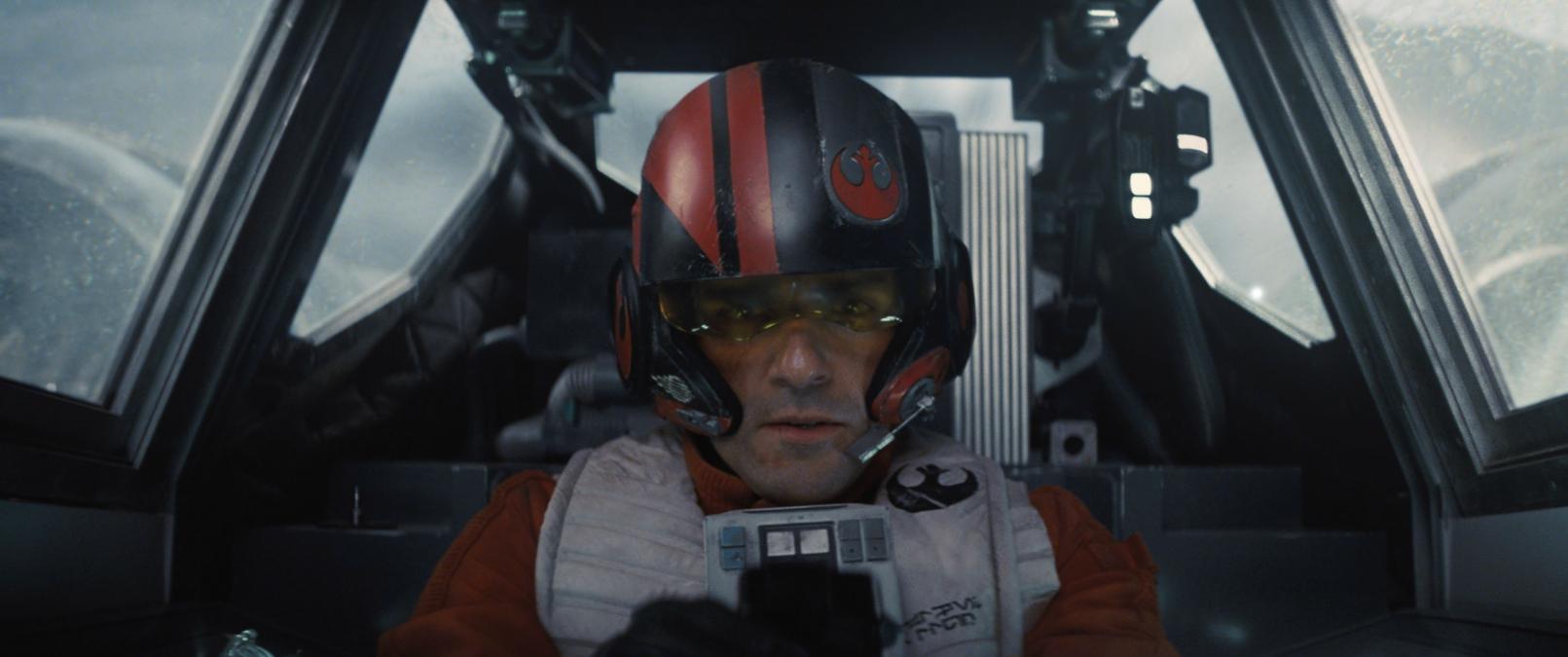 The next bit of info comes from Fathead, a company that specializes in vinyl wall graphics. Promotional material gives us a closer look at plenty of the characters, ships, and weapons in the new film, and even has one even more interesting detail: the new Stormtrooper blasters shoot blue laser beams instead of red, according to the Finn image…
Check these out: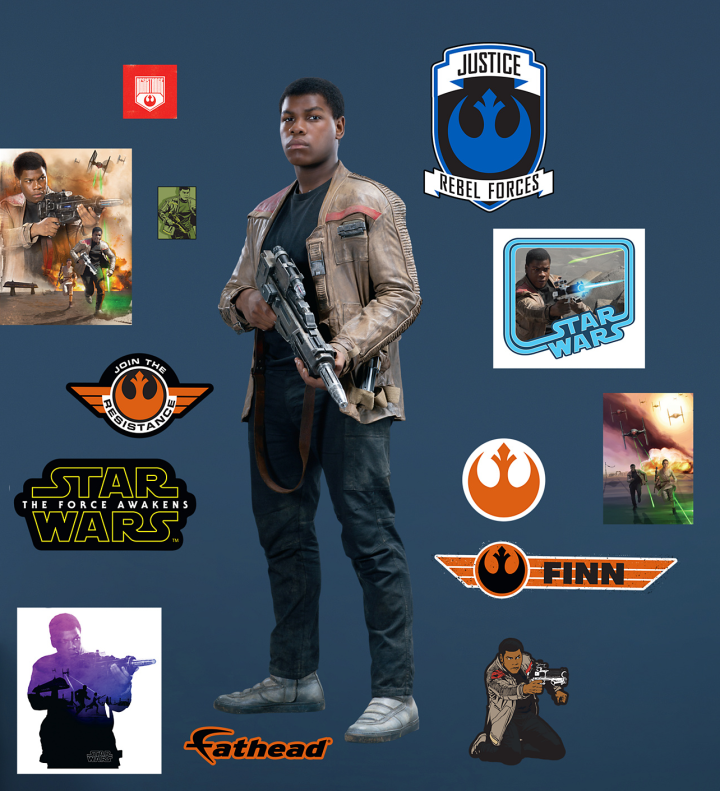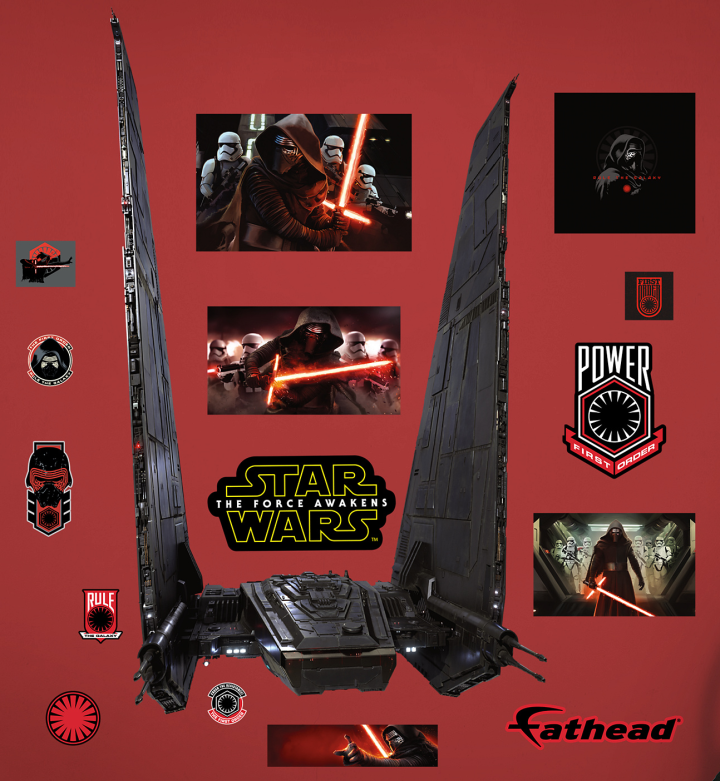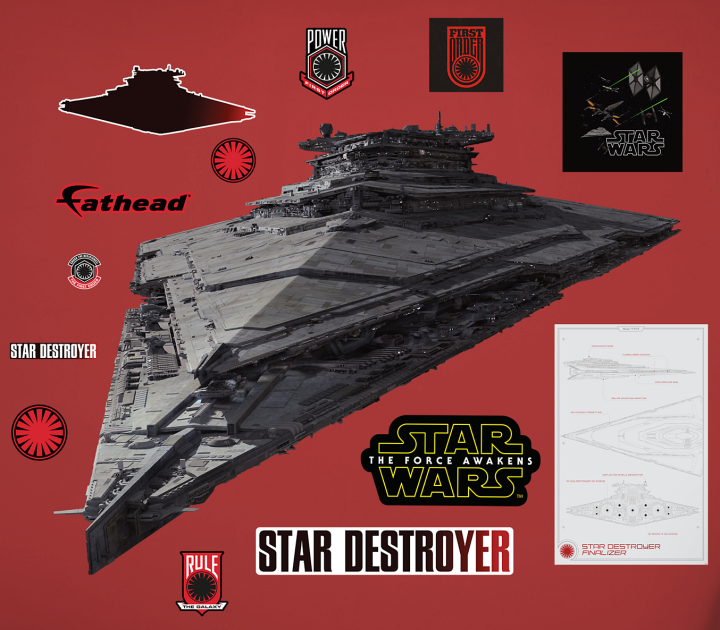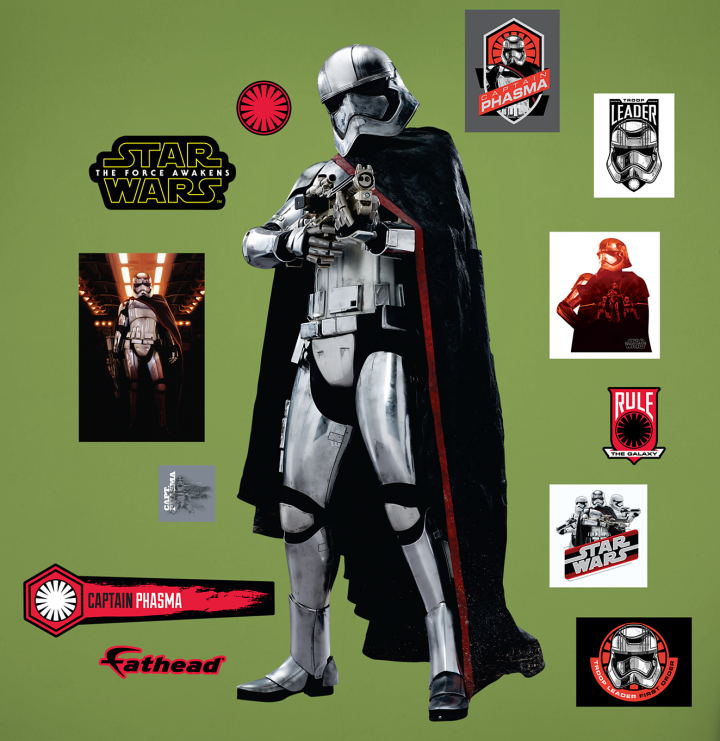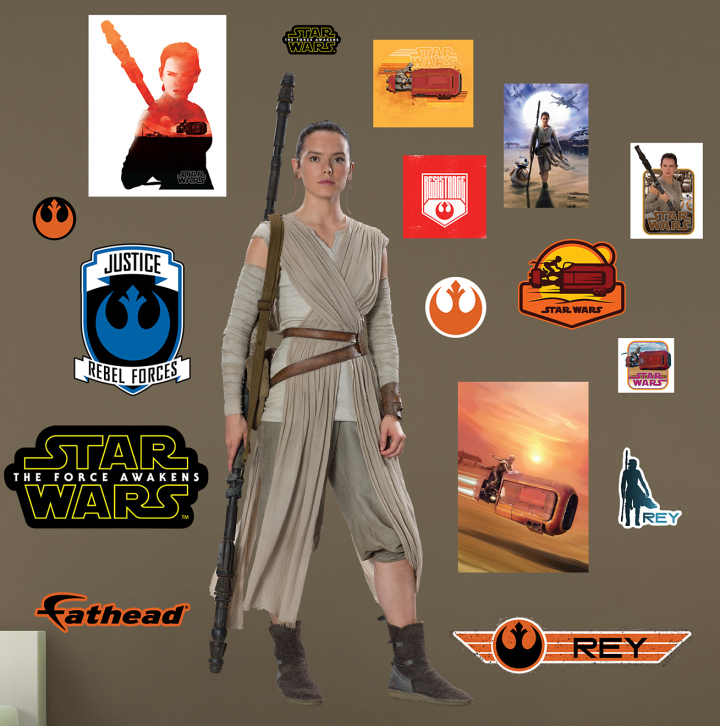 The Rest
It looks like we've got the running time for J.J. Abrams' The Force Awakens. The folks over at Following the Nerd are reporting that the new Star Wars movie will run for 136 minutes.
That'd make it the third longest Star Wars film (Attack of the Clones is currently the longest, at 142 minutes), three minutes ahead of The Phantom Menace). This hasn't been confirmed officially, we should note.
In other news, StarWars.com announced the release of a new art book called The Art of Star Wars: The Force Awakens, which will illustrate all the great designs and concepts behind the many characters, aliens, weapons, and ships of the new movie. 
Here's the very cool cover: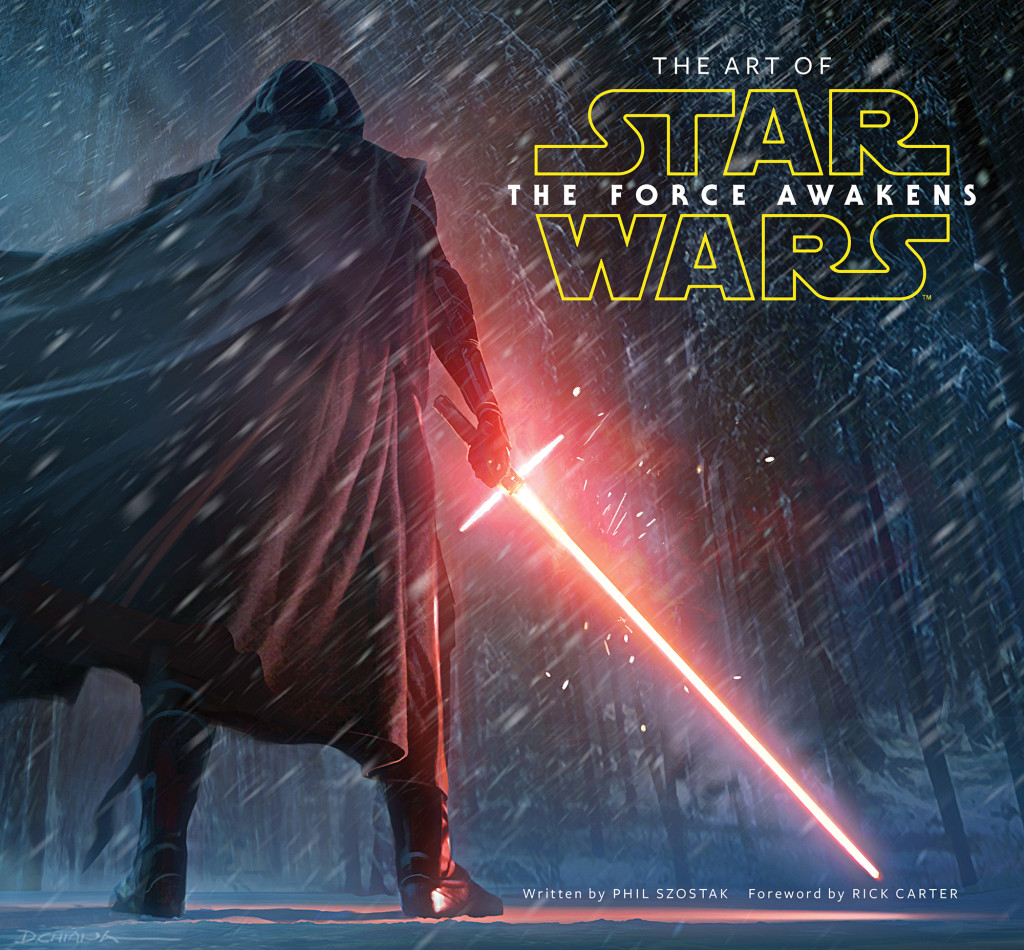 The Art of Star Wars: The Force Awakens, written by Phil Szostak, is a portal that takes you from the earliest gathering of artists and production designers at Lucasfilm headquarters in San Francisco to the fever pitch of production at Pinewood Studios to the conclusion of postproduction at Industrial Light & Magic. Arriving in stores on Dec. 18, the same day that Star Wars: The Force Awakens hits theaters, it takes fans deep inside the evolution of the film. Exclusive interviews with the entire creative team also provide a detailed look at what it took to bring director J. J. Abrams' vision to life, while the unused "blue sky" concept art offers glimpses into roads not traveled.
Ah, so you're still with us? While we're happy to see you, please keep in mind that this particular section of our Star Wars: The Force Awakens article consists of almost nothing but the unconfirmed. While we've tried very hard to present you only the juiciest, relatively credible bits, please remember, we're still dealing with the internet, here. Approach everything you read and see in this section with a healthy degree of skepticism.
Now, on with the show…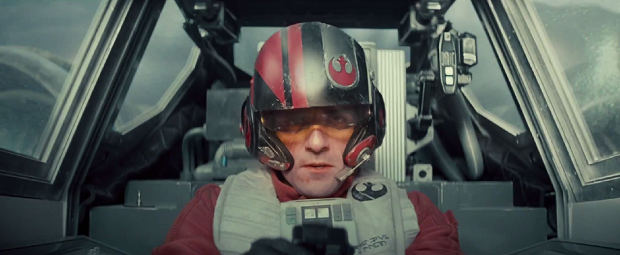 Star Wars: The Force Awakens Spoilers
The plot will focus on a trio of new characters, possibly including the teenage characters described in the open casting call in December of 2012, along with "some very familiar faces." The filmwill take place 30 years after Return of the Jedi and the story will not mesh with that of the Star Wars Expanded Universe. The new Star Wars timeline will only contain the six previous films as well as The Clone Wars and Rebels animated series, although future novels, comics, and video games will all be part of Lucasfilm's new Star Wars canon. In particular, the events of Rebels may have some bearing on Episode VII but we'll get to that soon enough…
I'm not going to attempt to piece together the entire story in any kind of chronological order, I'm just going to stick to some supportable bits and pieces about the characters, and let you fill in the blanks. Keep in mind, though, this is a J.J. Abrams production. There's bound to be a great deal of misdirection at play here. We start with fairly mild spoilers and then move on from there, and things get more severe as you go on. Last chance to jump off!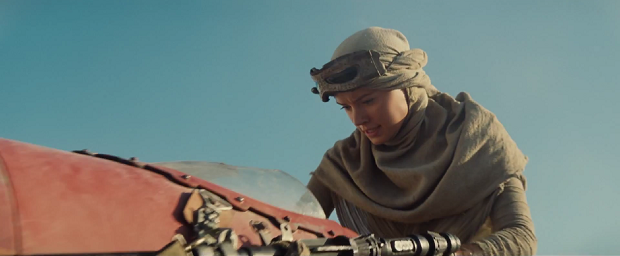 Daisy Ridley's Rey is likely the main focus of the story, along with John Boyega's character (more on him in a minute). According to Making Star Wars, this downed AT-AT on a mysterious desert world is Kira's home:
Then there's John Boyega's character. Finn may or may not be Force sensitive, as well:
It appears that Finn is a Stormtrooper who crash lands on Jakku, meets up with Rey and sets off on an adventure that will change his life.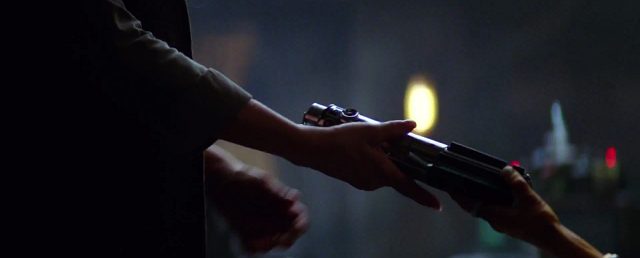 It seems that the thing that kicks off everyone's journey involves these characters finding a lightsaber, and setting out to find its original owner. By most accounts, this is Luke Skywalker's lightsaber, and Luke hasn't been seen in years. 
And that brings us to…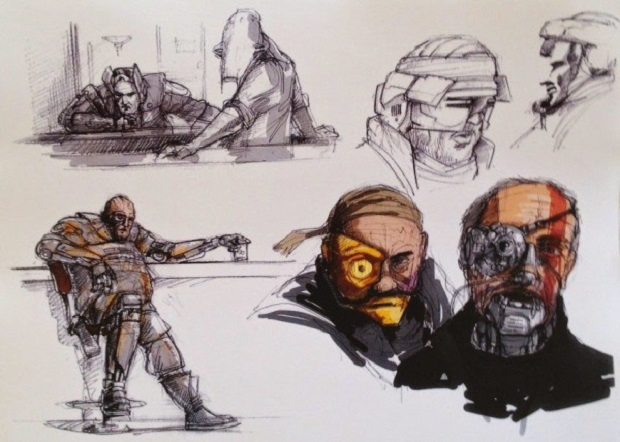 In the course of their quest to track down that lightsaber's owner, they're going to meet a cyborg. According to Making Star Wars, this is Max von Sydow's character, and he's described as "a beaten man…old enough to have lived through the Clone Wars, seen the Intergalactic Civil War unfold and then the aftermath of the fall of Emperor Palpatine…"
By virtually all accounts Han Solo will play a "gigantic" part in the film. However, he isn't necessarily going to have all the trappings that you normally associate with the character. What does that mean? Well, that would be spoiling, but there have been some reliable reports out there about this if you want to read them. You can get a look at some new Han Solo concept art right here, too. Making Star Wars even has a report on Han's fate in the film. Read it if you dare. 
On the other hand, Luke's involvement in the film might be a bit smaller than we expect, if this report is correct. He might very well only cap the first film in the Sequel Trilogy before having a much larger role in the last two films. 
Standing in the heroes' way will be at least four villains: Driver's Kylo Ren, Christie's Captain Phasma, Gleeson's character, and Serkis' Uber. They're all reportedly Imperials, according to Making Star Wars.