News
Star Wars: Snoke Prequel Could Happen
Andy Serkis says that we might yet see more of Supreme Leader Snoke in a potential Star Wars prequel.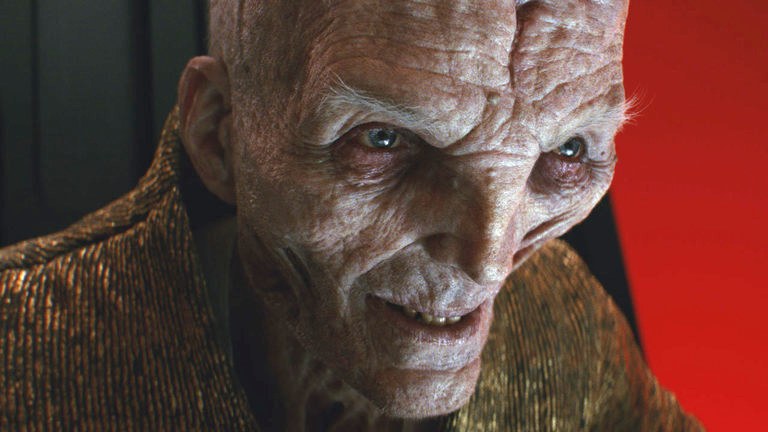 Supreme Leader Snoke's storyline in Star Wars: The Last Jedi has been one of the major points of contention among fans since the release of the movie last December. The villain's role in the film has left many audience members perplexed and even frustrated with writer-director Rian Johnson's story choices.
But when it comes to the actor who played Snoke in the first two films of the Sequel era, things have simply gone according to plan. In a new interview with EW, Andy Serkis has opened up about Snoke's true identity and whether we'll ever learn more about the villain's origin. 
Serkis hints that the reason Snoke's backstory has been kept a secret is so that it can be explored down the line in a potential prequel film.
"We wanted him to have a great deal of mystery […] J.J. [Abrams] and I discussed it, and Rian [Johnson] and I did discuss backstories to him, where he came from," said Serkis. "I've been asked to not shed anything, should we want to bring him back in any way whether [in a] prequel or whatever."
That said, Serkis made clear, "I'm not in discussions with anybody at all about it."
After his appearance in The Last Jedi, we still don't know much about the character or his true intentions. Not much has been said about the villain in the Expanded Universe, either – beyond a few details about his interest in young Ben Solo. Serkis thinks there's definitely more to be said about the character, though.
"Yeah, I would love to think that there is room for him to come back. I think anything's possible in a Star Wars movie. I'd be all up for it. I think there's a lot more to be had from the character for sure, but I'm not in discussions with anybody at all about it."
As for fan expectations, Serkis does understand that some of the decisions made concerning his character might have angered some in the fandom, especially those who spent the better part of two years speculating about the Supreme Leader's true identity. Audiences discovered in The Last Jedi that there wasn't anything more substantial hidden behind the veil of Snoke's first appearance in the Star Wars universe. No secret identity or crazy connection to one of the other characters. As far as the first two Sequel films are concerned, Snoke is just another cackling villain akin to the Emperor. 
"I think there's something cool about that. It still does remain a mystery for people. I know that some people find it incredibly frustrating, but I think it allows for further exploration and layering at a further point."
As of this writing, Lucasfilm hasn't slated any further films into its schedule beyond 2019's Episode IX. We know that Johnson is now developing his own Star Wars trilogy, and Game of Thrones creators David Benioff and D.B. Weiss were recently tapped to write a series of films. There have also been rumors of further standalone films featuring Obi-Wan Kenobi and Boba Fett, but those have not been confirmed.
Could Snoke get his own Star Wars Story down the line? We'll let you know as soon as we hear anything!