News
Star Wars Rogue One's Donnie Yen on Why He Joined the Film
Global action star Donnie Yen discusses his Rogue One: A Star Wars Story character and why he took the part.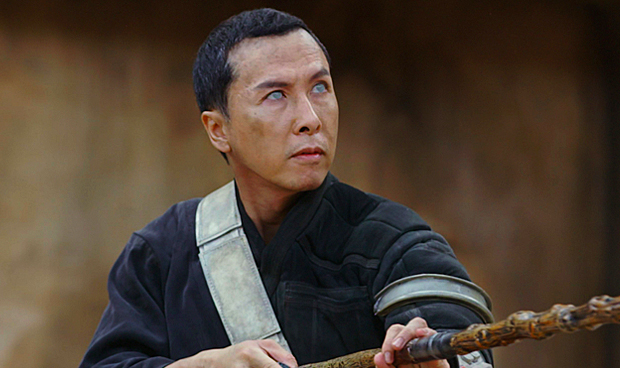 Rogue One: A Star Wars Story arrives Friday amongst box-office competitors with the sublime, ominously eclipsing effect of the Death Star orbiting Alderaan. While the tone-departing standalone in the Star Wars cinematic tentpole is carrying the banner of its Oscar-nominated star Felicity Jones in Western markets, the Asian box-office scene will undoubtedly focus on the film's inclusion of Chinese action movie icon Donnie Yen, who plays the badass blind warrior monk Chirrut Îmwe.
In an interview with Collider, Donnie Yen discusses his newfound place in Star Wars history. While the veteran action superstar has fielded sporadic roles in Western releases such as 2002's Blade II and the recent Netflix original sequel Crouching Tiger, Hidden Dragon: Sword of Destiny, his Rogue One involvement seems to be signaling the beginning of a drive for more American mainstream roles. However, barring the obvious benefit of expanding his international appeal, Yen confesses that there was one primary reason that he accepted his role in Rogue One, stating:
"Just being part of the whole universe, the Star Wars universe, that I'm immortalized and I'll be remembered by all the children. My kids love Star Wars, so how cool is that?" Adding, when asked of his reasons for doing the film, "That is the main reason. – Seriously."
Yen is known for his blazing fast onscreen assemblage of flying fists and superb staff combat, utilizing the Wing Chun martial arts style. It's something to which he continually pays tribute starring as its early 20th century originator in the successful (albeit loosely biographical) Ip Man film trilogy, the most recent of which (Ip Man 3) saw him tangling onscreen with boxing legend Mike Tyson, resulting in a fight sequence shoot that legitimately left the former champ injured with a fractured finger. Thus, when asked how his fighting style would translate to the Star Wars universe, Yen answers:
"I never really thought about what I wanted to bring in terms of some particular flavor of action or martial arts or combat. But, I believe, as an actor, no matter how you try to be different, you're always going to come in with your own individuality and I've been in the action film industry forever. So, when you see me playing the character, you will see Donnie Yen's particular flavor."
Chirrut Îmwe, a spiritual, but non-Force-sensitive freelance adventurer of sorts who formed a partnership with assassin Baze Malbus (Wen Jiang), is an especially unique new character in the Star Wars canon. However, Yen states that Rogue One director Gareth Edwards and the team generally gave him free range as an actor to flesh out the character's backstory and attributes on his own, with the Lucasfilm Story Group only providing general guidelines. According to Yen:
"Certainly, as an actor, I was responsible [for crafting] my character, but at the same time, it takes very clear direction from all my producers and certainly Gareth [Edwards] and they gave me this whole platform for me to explore."
For the 30+ year action film career of Donnie Yen, this supporting role in Rogue One: A Star Wars Story is, in many ways, an international coming out party. Indeed, the impressive spectacle of Yen applying his signature fighting style against Stormtroopers is a welcome surreal sight that should help boost the film's numbers in the ever-expanding Asian box-office market. It could also be the start of more roles in American mainstream films, especially with his appearance opposite Vin Diesel in the decade-dormant franchise revival xXx: Return of Xander Cage, which hits on January 20.
Rogue One: A Star Wars Story brings its inventive wartime caper for the oft-mentioned Death Star plans, arriving at theaters at the stroke of midnight on Friday, December 16.