News
Star Wars: Rogue One Reshoot Details
Star Wars: Rogue One will go through reshoots starting this month and into July. Tony Gilroy is assisting...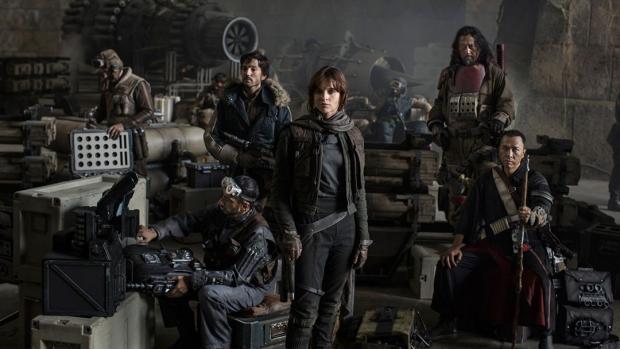 Update – 10.12.16
Star Wars: Rogue Onestar Felicity Jones (aka Jyn Erso) commented on the much-discussed reshoots (see below), in a recent Hollywood Reporter interview, saying:
Obviously when you come to the edit, you see the film come together and you think, 'Actually, we could do this better, and this would make more sense if we did this.' I've done it so many times. I mean, you wouldn't just give your first draft on this story, would you?
This echoes the sentiment LucasFilms president Kathleen Kennedy expressed, saying:
I'm sure if you picked up the phone and called every single large, technical movie and said, 'You ever gone in and done reshoots?' they'd all say, 'Oh God, yes.' So why has it turned into a big story? Because it's Star Wars, and they put a spotlight and scrutinize every single thing that gets done. But it was always planned and nothing unusual.
These are obviously biased sources, but they also have a point. We'll have to wait and see how Star Wars: Rogue Oneturns out. Whether it's good or it's bad or something in-between, the reshoots will only be part of that story.
Update 4 – 06.06.16:
There has been no shortage of drama or intrigue as fans and the media continued to speculate about what might be happening behind the scenes at Disney and Lucasfilm with the Star Wars: Rogue One reshoots, which were originally reported by Page Six last week. 
EW, through several anonymous sources at Lucasfilm, has clarified what's true and false about the upcoming reshoots, which are scheduled to start this month and take up to five weeks to complete, just in time for Celebration London, this year's big Star Wars fan event taking place on July 15-17.
According to EW's sources, reshoots were scheduled for Spring 2016 before filming even began. The reshoots had to be shifted to this summer in order to give director Gareth Edwards and his team more time to figure out what they wanted to tweak.
"The changes have everything to do with clarity and character development and all take place [as inserts] within scenes we've already shot," said one source, refuting the rumor that up to 40% of the film was going to be reshot. "It's a lot of talking in cockpits."
"If we were rewriting the movie and reshooting 40 percent of movie, we would not be finishing in August," said another source working on the film. "People really would be panicking – and changing the release date."
While reshoots are now standard procedure when it comes to big blockbusters, four to five weeks of reshoots are a bit longer than usual. Sources at Lucasfilm explain that the timeframe is to allow the Rogue One cast to reunite, especially since many of the actors are currently involved in other projects.
"It is a complicated schedule trying to pull people in around other things they're doing," the source says. "And this cast is spread out all over the world."
EW's sources also confirm that Tony Gilroy (Michael Clayton) has been brought on to offer notes on the first cut of the film, as well as tweak the script, adding new dialogue. Gilroy previously did similar work with Edwards on 2014's Godzilla. Gilroy will also assist as second unit director. 
Sources also told EW that the rumor that Disney wants to water down the tone of Rogue One to a more "classic Star Wars adventure" is false. The company is treating Rogue One like a very different Star Wars movie. 
"The movie is very different than [The Force Awakens], and that's intentional," said a source. "It's a war film."
EW reports that, outside of Lucasfilm, only Disney CEO and Chairman Bob Iger and studio chief Alan Horn have seen the first cut of the film. No big Disney exec test screening has taken place. Disney is not forcing Edwards to make Rogue One more family friendly.
Perhaps we can finally put these reports to rest. Whatever the reason, hopefully the reshoots will get Star Wars: Rogue One to where it needs to be. This new adventure is out on Dec. 16. 
You can find our original story and updates below…
Update 3 – 06.04.16: 
THR is reporting that Disney has brought on writer-director Tony Gilroy (Michael Clayton) and veteran stunt coordinator and second unit director Simon Crane (Edge of Tomorrow) to assist with the Star Wars: Rogue One reshoots. The site suggests that Crane has been brought on to work on the film's action scenes, while Gilroy will take another pass at the script. Sources told THR that Gilroy will also be involved in helming the reshoots, which are set to take place in Pinewood Studios in London. The reshoots could last up to six weeks, according to THR.
This report seems to disprove Making Star Wars' earlier report, which suggested that Christopher McQuarrie, who was the most recent writer to work on Rogue One's script, would be involved in the reshoots. You can read that below.
Update 2 – 06.04.16:
Making Star Wars has further detailed the recently reported Star Wars: Rogue One reshoots, which are set to take place in July. The site, which has proven in the past to be a reliable source for behind-the-scenes info on Star Wars productions, is reporting that the Rogue One crew might be reshooting up to 40% of the film after Disney watched the first cut of Gareth Edwards' film.
The site also reports that Edwards will be working closely with Christopher McQuarrie, the final writer on Rogue One, on the reshoots in order to get the finished product closer to what McQuarrie put on the page, which Disney considers to be more in line with the classic Star Wars tone. Sources suggest that the reshoots aren't Edwards' fault as McQuarrie's draft wasn't finished by the time the director began filming, and that revisions late in the process are the cause of the film's current uneven tone. 
Making Star Wars goes on to say that 32 sets have been re-created for the reshoots and that the crew will be working 6 days a week for 8 weeks to get everything done in time for Edwards to go back to the editing room.
McQuarrie fired back at Making Star Wars after the report hit the internet, refuting the site's claims in a statement to Slashfilm:
If there are any reshoots on Rogue One, I'm not supervising them. For any outlet to say so is not only wrong, it's irresponsible. Gareth Edwards is a talented filmmaker who deserves the benefit of the doubt. Making a film – let alone a Star Wars chapter – is hard enough without the internet trying to deliberately downgrade one's years of hard work. Who does that even serve? Let him make his movie in peace.
The writer was also vocal about the report on Twitter:
— ChristopherMcQuarrie (@chrismcquarrie)
June 3, 2016
McQuarrie went on to criticize other sites that ran articles based on Making Star Wars' report, suggesting that reporters should have done a better job of fact-checking. It is worth noting that McQuarrie is set to direct Mission: Impossible 6, which begins shooting this fall, so the timeline for the Rogue One reshoots — if McQuarrie is indeed involved — is a bit fuzzy, especially if it will actually be an 8-week process starting in July. There's no exact start of production date on M:I 6, though.
Den of Geek reached out for comment from McQuarrie's representatives, but we have not heard back. We will update this story if and when we do. 
Update 1 – 06.01.16:
THR has filled in the blanks concerning the Star Wars: Rogue One reshoots that will take place in July. The four weeks of reshoots were ordered by Disney after watching a cut of the film that proved to be unsatisfactory. 
According to THR, the execs feel that the movie doesn't match the "classic" Star Wars tone, and they're worried that the movie might veer too much on the serious side. They hope that the reshoots will lighten the mood of the film a bit. One source told THR that Rogue One definitely feels like a war movie, something Disney wants to tweak in terms of four-quadrant appeal—both male and female, over and under 25. 
Disney may also want to make sure the tone of the film isn't so drastically different to A New Hope's. After all, Rogue One sets up the events of the original Star Wars, and a noticeable difference in tone could hurt the connection the studio is banking on. 
"This is the closest thing to a prequel ever," a source told THR. "This takes place just before A New Hope and leads up to the 10 minutes before that classic film begins. You have to match the tone!"
More on this as we learn it.
Original Story – 05.31.16:
Disney apparently has a bad feeling about Star Wars: Rogue One. According to Page Six, the cut of the film director Gareth Edwards submitted to the execs at the House of Mouse has not tested well and reshoots have been ordered. 
"The execs at Disney are not happy with the movie, and Rogue One will have to go back into four weeks of expensive reshoots in July," one source told Page Six. "Disney won't take a back seat, and is demanding changes, as the movie isn't testing well."
The report does not go into details as to what Disney wants to change about Edward's film, the first live-action standalone movie in franchise history. So far, it had seemed that Rogue One, which takes place before A New Hope and tells the story of how the Rebellion stole the plans to the Death Star, was a relatively safe choice for a standalone, as it allowed for the appearance of familiar characters—including a particular Dark Lord of the Sith. But perhaps this has not proved to be the crutch that Disney and Lucasfilm hoped. 
"The filmmaking team and the studio always anticipated additional shooting and second unit work to make the film the absolute best it can be, and the actors were aware there would be additional shooting. Coming off The Force Awakens, there's an incredibly high bar for this movie and we have a responsibility to the franchise and to the fans to deliver the best possible movie we can," a source told Page Six. 
While it's commonplace for reshoots to take place for blockbuster films such as Rogue One, four weeks of reshoots does seem like a lot of time. It's certainly indicative that Disney has asked Edwards to do more than just tweak a few minor things. 
Star Wars: Rogue One, which stars Felicity Jones, Ben Mendehlson, Mads Mikkelsen, Forest Whitaker, and Diego Luna, is scheduled to release on Dec. 16.