News
Star Wars: Rogue One DVD & Blu-ray Release Date, Bonus Features, & More
Everything you need to know about the Star Wars: Rogue One Blu-ray, including info on bonus features and clips!
Star Wars: Rogue One DVD & Blu-Ray Release Date
Rogue One: A Star Wars Story is coming to Digital HD on March 28. The Rogue One DVD and Blu-ray will arrive on April 4. 
Star Wars: Rogue One DVD & Blu-Ray Bonus Features
Here are the special features included with the
Rogue One
Blu-ray and DVD:
A Rogue Idea
– Hear how ILM's John Knoll came up with the movie's concept – and why it's the right film to launch the Star Wars stand-alone films.
Jyn: The Rebel
– Get to know Rogue One's defiant, resourceful survivor, and hear what it was like for Felicity Jones to bring her to life onscreen.
Cassian: The Spy
– Diego Luna shares insights into his complex, driven character, who becomes a hero through selflessness, perseverance and passion.
K-2SO: The Droid
– Explore the development of this reprogrammed Imperial droid, from initial pitch and character design through Alan Tudyk's performance.
Baze & Chirrut: Guardians of the Whills
– Go deeper into the relationship between these two very different characters, with Chinese superstars Jiang Wen and Donnie Yen.
Bodhi & Saw: The Pilot & The Revolutionary
– Forest Whitaker and Riz Ahmed reflect on Saw Gerrera, the broken Rebel leader, and Bodhi Rook, the Imperial pilot who defects.The Empire – Meet a dangerous new Imperial adversary…and cross paths once more with the most iconic villain of all time.
Visions of Hope: The Look of "Rogue One"
– The filmmakers describe the challenges and thrills of developing a bold new look for the movie that can fit within the world of the original trilogy.
The Princess & The Governor
– See what it took to bring the vibrant young princess of "Star Wars: A New Hope" – as well as one of her most memorable foes– – back to the screen.
Epilogue: The Story Continues
– Filmmakers and cast celebrate Rogue One's premiere and look forward into the future, to the Star Wars stories yet to be told.
Rogue Connections
– Uncover Easter eggs and film facts hidden throughout the movie that connect "Rogue One" to the Star Wars universe. 
Star Wars: Rogue One Review
Here's an excerpt from our review:
And it's largely a success, a solid, enjoyable film that takes some risks with the Star Wars universe while also remaining, to an extent, on familiar ground. If it's not a great movie – perhaps not even a great Star Wars movie, but a very good one – it's because it still relies to some degree on fan service and because it lets down its characters in a fundamental way. But it's also a fascinating look at this enormously popular and detailed universe from a slightly different angle, its humor is tinged with bitterness and cynicism, and it's also – as promised by director Gareth Edwards (Godzilla) – a war film, even if some of the themes associated with that don't get anything more than a passing look. Plus it builds to one of the best third acts in the entire franchise, a 40-minute rollercoaster that twists from sheer excitement to grief to victory to hope.
The 10 Coolest Star Wars Spaceships by denofgeek
Don't forget to listen to Den of Geek's Star Wars podcast, Blaster Canon!
Star Wars: Rogue One Runtime
Rogue One: A Star Wars Story has a runtime of 2 hours and 13 minutes, according to the listing on Fandango. 
Star Wars: Rogue One Rating
Rogue One: A Star Wars Story is rated PG-13. It's only the third Star Wars movie to receive the rating. The Force Awakens and Revenge of the Sith are the other two. The rating was revealed in this featurette:
Star Wars: Rogue One Trailer
Like The Force Awakens before it, Rogue One: A Star Wars Story has had no shortage of trailers and footage released prior to the film's debut in December. Below you can find a collection of trailers and clips from the film…
The first teaser trailer for Star Wars: Rogue One arrived back in April. Our first glimpse of the movie introduced most of the characters, and gave us some great shots of the Death Star and a fleet of Star Destroyers.
Check it out:
You can find our in-depth analysis of the trailer here.
Rogue One: A Star Wars Story took the stage at Star Wars Celebration Europe 2016 to show off new footage from the film. We got a behind-the-scenes look at the making of the movie, including glimpses at the planet Scarif and tons of new aliens and Stormtroopers!
Check it out:
After making fans wait all night during NBC's coverage of the Rio Olympics, the second Rogue One: A Star Wars Story trailer finally arrived. And it sure was worth the wait.
Watch it here:
The "final" trailer for Rogue One: A Star Wars Story dropped back in October. It's the most complete look at the film, with clips from Yavin, Scarif, and Jedha. Check it out below:
Plenty of international trailers and TV spots have been released since that "final" trailer back in October. Most of them repeat a lot of the same footage you've already seen, but there are a few never-before-seen clips within the next few videos. First, the international trailers…
This first international trailer revealed how the Rebellion learned about the existence of the Death Star. In fact, the Rebellion intercepted a coded Imperial transmission about the superweapon sent by Jyn's father, Galen Erso (Mads Mikkelsen), which might be the reason Felicity Jones' character was tasked with the mission to retrieve the Death Star plans.
Check out the trailer below:
The second international trailer featured some new footage of Darth Vader. The big guy looks great:
This one has a few new shots, including some images of the Death Star firing down on a planet, which seems to tease a scene where the Rebels are forced to escape the blast on their U-Wing. We're finally going to see the Death Star block out a planet's sun…
Check it out:
The final international trailer has arrived as well:
There have also been two international TV spots that highlight both Jyn Erso and Cassian Andor and their missions. Check them out below:
In fact, we've basically been assaulted with an Imperial barrage of TV spots for Rogue One: A Star Wars Story for the past few weeks. There are almost too many to count. Most of them rehash old footage from the trailers, but a few have some new bits you might like to see. 
One of the latest ones, the "Breath" trailer, is certainly the most important of the bunch, as it teases the return of a classic villain from the Original Trilogy. It'd long been rumored that Grand Moff Tarkin would appear in Rogue One: A Star Wars Story, and now it seems that it's true, at least if a tease in the latest trailer is any indication. First, here's the trailer:
Okay, did you catch that at about five seconds into the trailer? If not, here's a screenshot: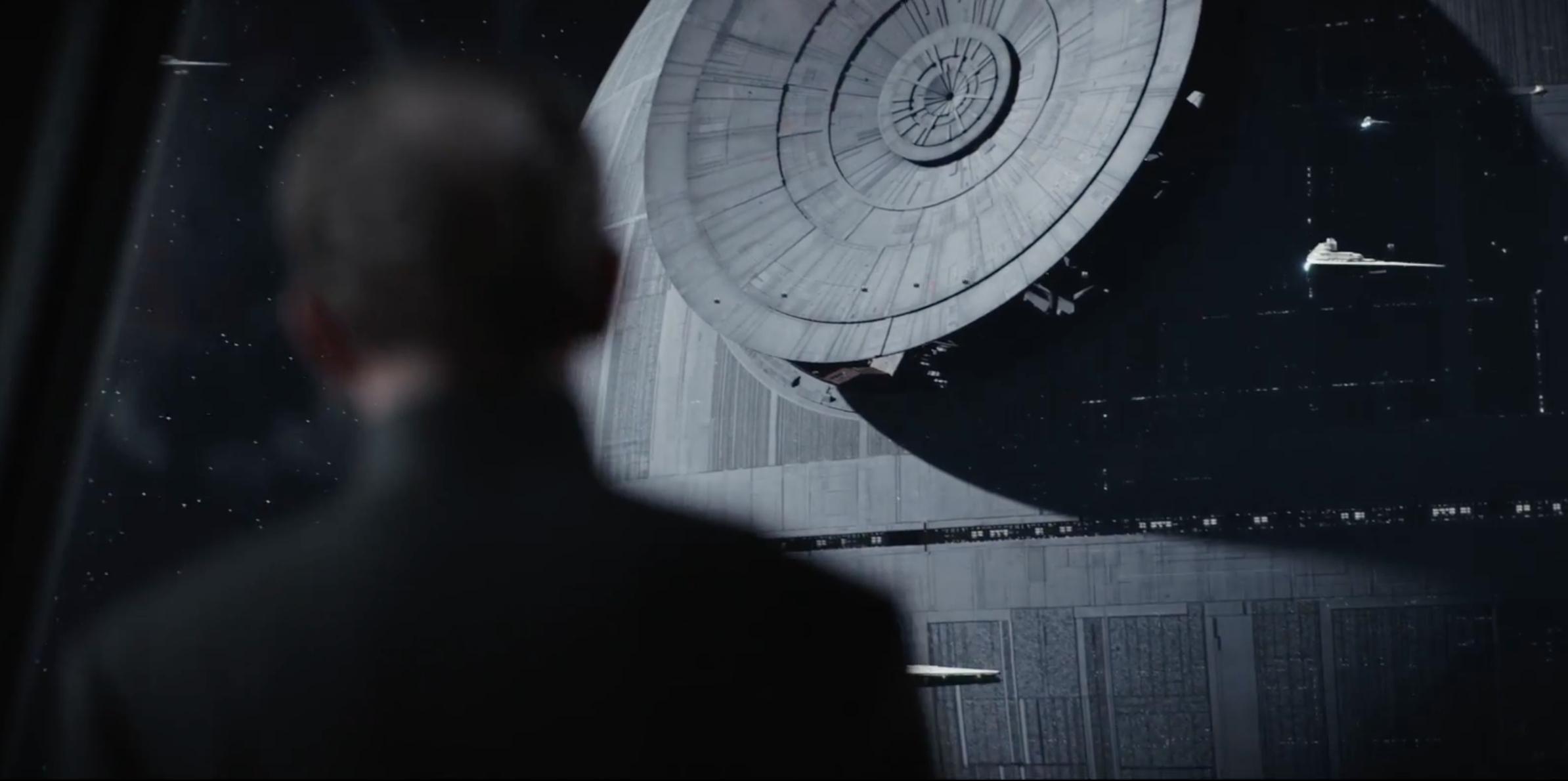 That sure looks like Tarkin, doesn't it? We know he was in charge of the Death Star in A New Hope, which means that he'd have to appear in a film about its construction. 
While this trailer pretty much confirms Tarkin's return to the big screen, it's unclear how director Gareth Edwards and Lucasfilm have brought back the character. Rumor has it that Industrial Light & Magic will recreate Peter Cushing's iconic appearance digitally, although that has not been confirmed. 
Tarkin made a brief appearance in Revenge of the Sith. He was played by Wayne Pygram in heavy make-up to recreate Cushing's appearance. 
This next short video doesn't offer much in terms of new footage, but there is a cool fly-by shot that gives fans new glimpses at the U-Wing, the new Rebel transport being introduced in the film, and the AT-ACT, a variant of the traditional Imperial walker.
Check out the promo below:
This last TV spot we'd like to highlight has a whole bunch of footage we haven't seen before. We've basically reached the point in Rogue One's marketing where there's an incredible amount of footage being released every day, and while this one may not be considered spoiler-y by some, there's a chance that you might see something you don't want to.
It's a cool trailer, though. You should probably watch it.
Check it out:
We've got the first action-packed clip from Rogue Onethat sees Jyn (Felicity Jones) and Cassian (Diego Luna) facing off against a gaggle of Stormtroopers. Actually, mostly, it's Jyn facing off against them. We see her use a combination of hand-to-hand combat and blaster fire to take them all out while Cassian steps back and watches.
Main takeaways? Geez, these Stormtroopers couldn't hit the broadside of a Death Star. Also, this movie implies this film might be more fun than expected? The clip ends with a dark humor entrance from Alan Tudyk's K-2SO.
The clip starts at about 3:11 in the video below:
Two other clips from Rogue One: A Star Wars Story dropped on the internet a few days ago. Unlike the first clip, which showed a fight sequence on Jedha, these next two videos show quieter moments from the film, including one featuring Alan Tudyk's K-2SO that's absolutely amazing. 
The first one features Jyn Erso, Cassian Andor, and Kaytoo on the U-Wing:
In the next clip, Jyn rallies the Rebel forces on Yavin. Featured in the scene is Bail Organa, played by Jimmy Smits once again. Check it out:
A fourth Rogue One clip, this time featuring Galen Erso and Director Krennic, has hit the internet, and it explains why Krennic needs Galen to return to his research as well as their difference of opinion toward the power of the Death Star. Check out the clip below:
Two more clips from the movie premiered during an episode of Jimmy Kimmel Live. The first shows the Rogue One crew coming in for a very rough landing on Eadu, one of the planets featured in the film. (It's the one where it's always raining!) Check out the clip below:
The second clip starts at about 3:19 in the video, and it shows how Jyn escaped from an Imperial labor camp on the planet Wobani:
Star Wars: Rogue One Plot
Here's the official synopsis:
From Lucasfilm comes the first of the Star Wars standalone films, Rogue One: A Star Wars Story, an all-new epic adventure. In a time of conflict, a group of unlikely heroes band together on a mission to steal the plans to the Death Star, the Empire's ultimate weapon of destruction. This key event in the Star Wars timeline brings together ordinary people who choose to do extraordinary things, and in doing so, become part of something greater than themselves.
Star Wars: Rogue One Writers
Gary Whitta (The Book of Eli) wrote the first draft of the script for Rogue One. After his exit, Chris Weitz (The Golden Compass) stepped into to do a rewrite. 
According to Birth Movies Death, it seems as though further help was sought towards the end of last year, as it's being reported that early into production, Christopher McQuarrie came in to do some tuning on the screenplay.
McQuarrie has worked as a script doctor of course for a long time, in addition to penning his own screenplays (The Usual Suspects) and directing movies (Mission:Impossible – Rogue Nation being the latest). The exact work he did on the movie hasn't been revealed or confirmed, but he's got a rich CV of films where he's done late polishes. McQuarrie is likely to be uncredited on the movie, but his contribution was said to have been of note.
Tony Gilroy (Michael Clayton) was brought in to polish the script during the Rogue One reshoots. Gilroy focused on adding additional dialogue.
Star Wars: Rogue One Music
Three months from release, Rogue One: A Star Wars Story had to find a new composer. Originally, Alexandre Desplat (The Grand Budapest Hotel) was slated the score the film, but he was replaced by Michael Giacchino (Star Trek). The extensive summer reshoots shifted the scoring schedule quite a bit, which meant that Desplat was no longer available. Rogue One is the first Star Wars film not scored by John Williams. 
Star Wars: Rogue One Cast
Here's the first photo of the cast from Star Wars: Rogue One…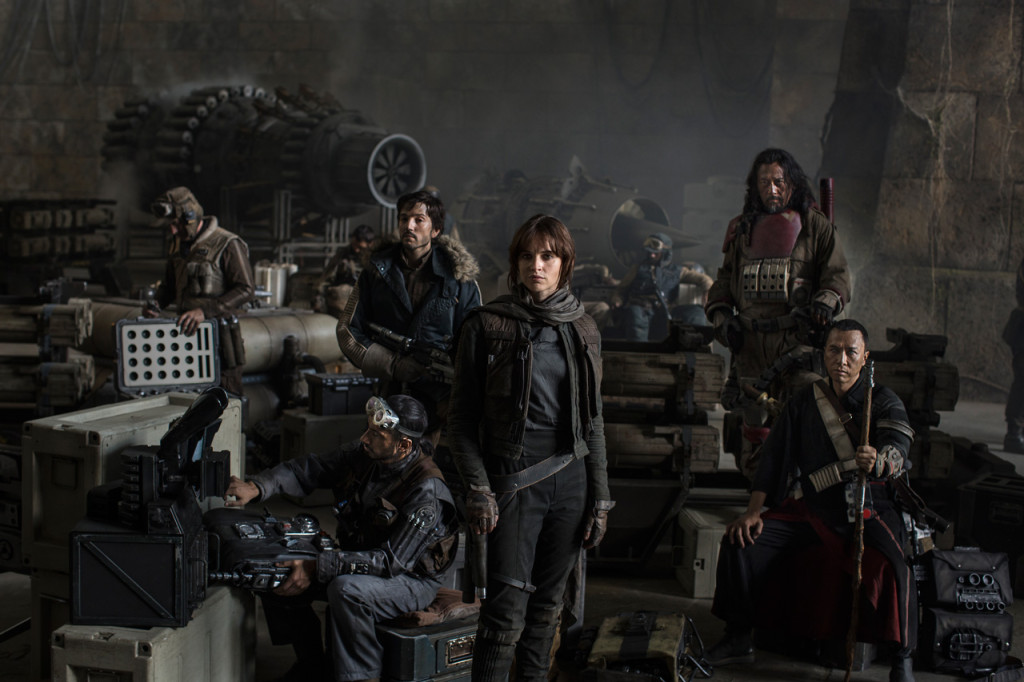 The cast is as follows:
Felicity Jones is Jyn Erso – "She's got a checkered past," Lucasfilm president and Rogue One producer Kathleen Kennedy told EW. "She has been detained [by the Rebellion] and is being given an opportunity to be useful. And by being useful, it may commute her sentence…She's a real survivor. She becomes a kind of Joan of Arc in the story."
Diego Luna is Captain Cassian Andor – Andor is a Rebel intelligence officer who "conveys a fair amount of experience and the reality of what it's like to do this every day, to try to figure out how to resist the Empire effectively and intelligently," according to Kiri Hart, Lucasfilm's chief of story development. "It's not easy."
Donnie Yen is Chirrut Imwe – Although he's not a Jedi, he's devoted to their teachings. "Chirrut falls into the category of being a warrior monk," said Kennedy. "He very much still believes in everything the Jedi were about."
Jiang Wen is Baze Malbus – Baze is Chirrut's best friend, although he doesn't believe in the Jedi like Chirrut. "He understands Chirrut's spiritual centeredness, but he doesn't necessarily support it," Kennedy said.
Riz Ahmed is Bodhi Rook – Rook is the lead pilot. "He flies a lot of cargo, one of his key jobs," Kennedy said. "And he tends to be a little tense, a little volatile, but everybody in the group really relies on his technical skills."
Alan Tudyk is K-2SO – "Kaytoo is a little bit like Chewbacca's personality in a droid's body," said director Gareth Edwards. "He doesn't give a shit about what you think. He doesn't fully check himself before he says things and does things. He just speaks the truth."
Mads Mikkelsen is Galen Erso – Galen is a brilliant scientist and Jyn's estranged father. "He's one of those people that has insight into you know specific aspects of just how the universe works," says Hart. "The circumstances of how the family got to the state that it's in is something that we probably don't want to share right now."
Ben Mendelsohn is Director Orson Krennic – "The bad guy is a lot more terrifying when he's really smart, and really effective," says FX supervisor John Knoll. "There is a lot of palace intrigue going on in the Empire, with people conspiring to move up the ranks and sabotaging each other. There's not a lot of loyalty there."
Forest Whitaker is Saw Gerrera – The character first appeared in The Clone Wars animated series as a freedom fighter on the planet Onderon. "Consider him kind of a battered veteran who leads a band of Rebel extremists," Kennedy told EW. "He's on the fringe of the Rebel Alliance. Even [they] are a little concerned about him."
Of course, thanks to plenty of trailers and teasers, we know that Saw Gerrera isn't the only returning Star Wars character in Rogue One. There's also the matter of a particularly famous Dark Lord of the Sith… Yes, it's confirmed that Darth Vader will make his big screen return in Rogue One.
Felicity Jones and Diego Luna sat down with MTV News to talk all things Rogue One. The 20-minute interview includes many charming moments, from Luna explaining his elaborate audition video to the co-stars playing with their action figures, but it's especially fun to hear them talk about what it was like when Darth Vader was on set:
When Darth Vader is on set, there is a really quiet atmosphere … Everything gets very serious and quiet and calm because there is this really scary figure coming towards you.

Throughout filming, there's always those kinds of 'pinch me' moments. These iconic, iconic designs, really, is what they are.
Check out the entirety of the interview here…
Mon Mothma may not be a familiar name to many outside Star Wars' devoted fanbase, but the ethereal Rebel leader did get one of the most memorable lines in the whole franchise: "Many Bothans died to bring us this information." Nevertheless, Mothma's role in Return of the Jedi was distinctly brief, and the character wound up on the cutting room floor in Revenge of the Sith.
Thanks to the first trailer for Star Wars: Rogue One, however, we already know that Mon Mothma has a role in the forthcoming spin-off, and that she'll be played by Genevieve O'Reilly – the actress who previously played Mothma in that deleted scene in Revenge of the Sith (Mothma was played in Return of the Jedi by Caroline Blakiston).
Don't expect Mothma to have the same brief, walk-on part she was relegated to 33 years ago, however. According to producer Kathleen Kennedy, she'll have a "significantly larger" role than she did in Return of the Jedi.
"We actually see quite a bit of her," Kennedy told Entertainment Weekly, "The Rebel alliance is in disarray. Pretty panicked. Up against it. And she is trying the best she can to provide the leadership, in amongst a wide variety of Rebel soldiers that have very differing opinions as to what to do."
By the sounds of it, Mon Mothma will be known for quite a lot more than her line about Bothans by the time Rogue One emerges in December. 
A couple of alien characters were also unveiled at Star Wars Celebration and SDCC 2016. These new alien rebels will surely catch your attention. First, meet Edrio Two Tubes: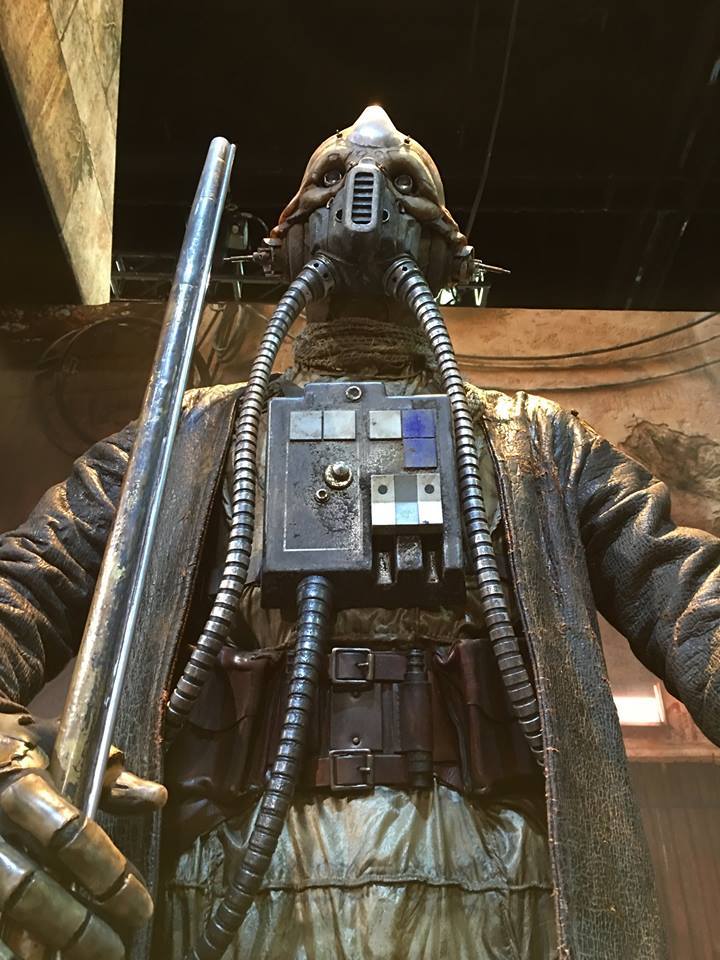 The official Star Wars Facebook page has a brief description of the character:
Edrio Two Tubes is a mercenary pilot who flies alongside his eggmate, Benthic. The two share the nickname derived from the breathing apparatus that allows their Tognath physiology to process oxygen atmospheres. Edrio's home world Yar Togna was conquered and occupied by the Empire, forcing him to flee as a refugee. Desiring to strike back at the Empire, Edrio and Benthic have allied with Saw Gerrera.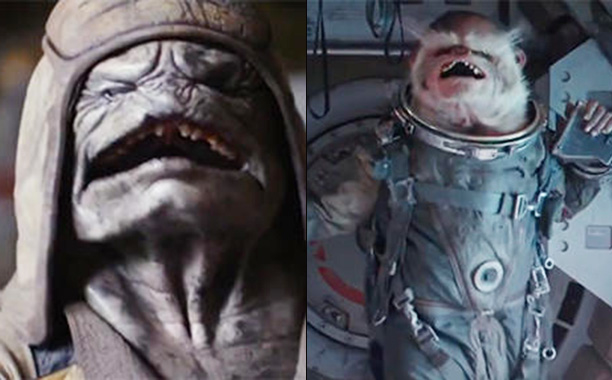 Then there's Pao aka "Bigmouth" and Bistan aka "Space Monkey" (pictured above). These two alien badasses will also join the rebel forces fighting back against the Empire. Director Gareth Edwards talked to EW about these characters, describing Pao as a platoon leader for the Rebels and Bistan as a gunner on a new ship called the U-Wing.
Despite rumors of a cameo, Han Solo will not appear in Rogue One: A Star Wars story, confirmed director Gareth Edwards and Lucasfilm head Kathleen Kennedy. Speaking to Extra, Edwards put the rumors to bed: "I'm not sure if I'm allowed to do this, but I think I should…I can put to bed, Han Solo is not in the movie."
Kennedy also confirmed this with Extra, saying the rumors of Alden Ehrenreich's involvement in the film were "not true." While we've known about Ehrenreich's casting for months, he was officially announced as the new Han Solo during Star Wars Celebration Europe. 
Jimmy Smits is to return as Bail Organa, Senator of Alderaan and adoptive father of Princess Leia. The news emerged when a fan caught a glimpse of Organa in the footage first shown off at Star Wars Celebration Europe. Smits was then asked to confirm whether he's in Rogue One during an interview on The Talk (via Collider). He confessed that, yes, he is in the spin-off, before adding that his role only amounts to a brief cameo.
Speaking to Belfast Live, Valene Kane (The Fall) revealed she had been cast in Rogue One: A Star Wars Story as Lyra Erso, main character Jyn's mother. Lyra first appear edin the Rogue One prequel novel, Catalyst, by James Luceno. 
C2-B5 is a new Imperial droid in the film, with more than a passing resemblance to R2-D2. The introduction of the new beeper came as part of the online series The Star Wars Show, and you can see the episode in question below. In it, we learn that C2-B5 – because he or she is an Imperial droid – has his memory wiped frequently. And this model comes with a different paint job too….
Here's the new droid…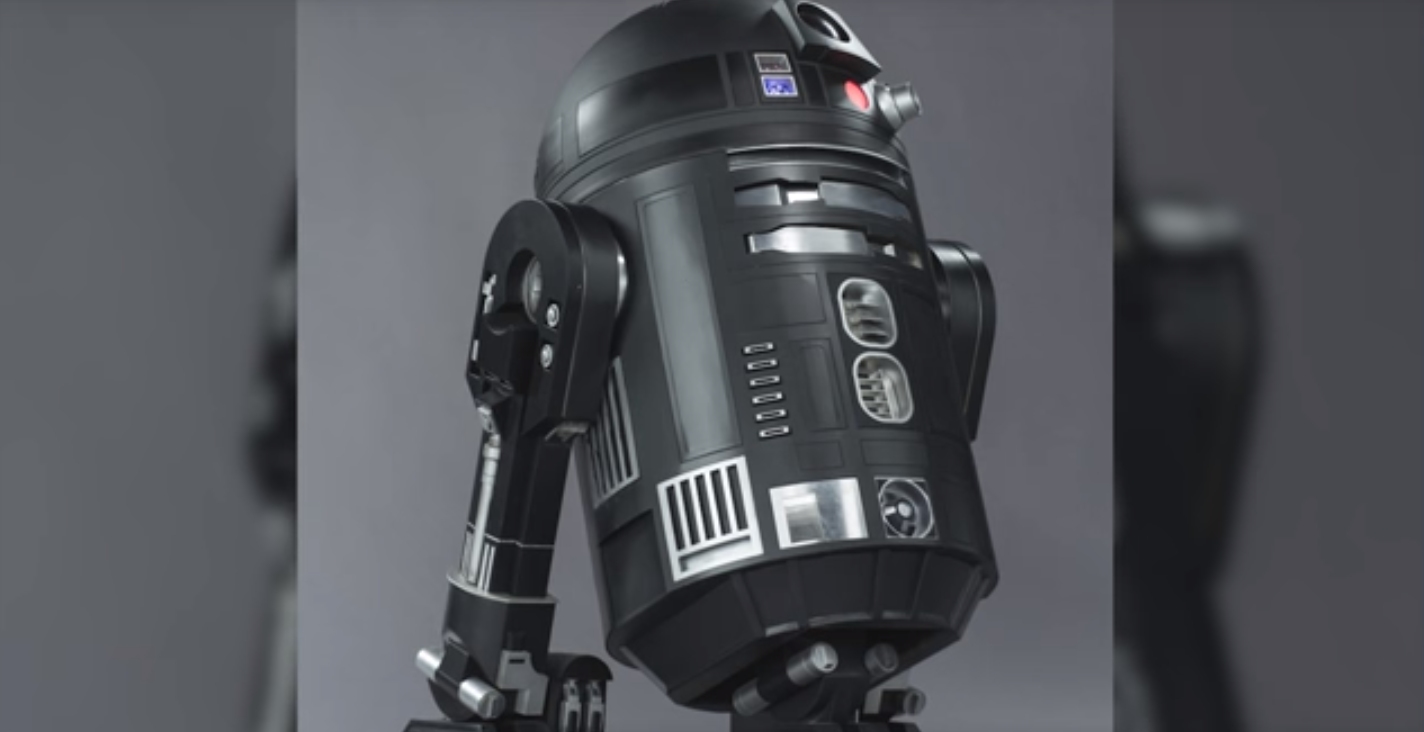 And here's the video…
A new Star Wars film wouldn't be the same without an entire mountain of tie-in toys, and true to form, Hasbro has a range of action figures and other stuff ready ahead of this year's Rogue One.
As broken by Jedi Temple Archives, one or two of the figures for the forthcoming spin-off revealed some nifty bits of information about Rogue One's characters—both of whom fight for the Rebels.
First up, there's a character called Moroff, who's best described as a Wampa (one of those big Yeti-like creatures from Hoth) crossed with Chewbacca. He comes packaged with a Scarif Stormtrooper (Scarif being the tropical planet we keep seeing in the trailers), and Moroff makes the Empire drone look very small and puny indeed. 
Star Wars: Rogue One Poster
Here's IMAX poster for the film: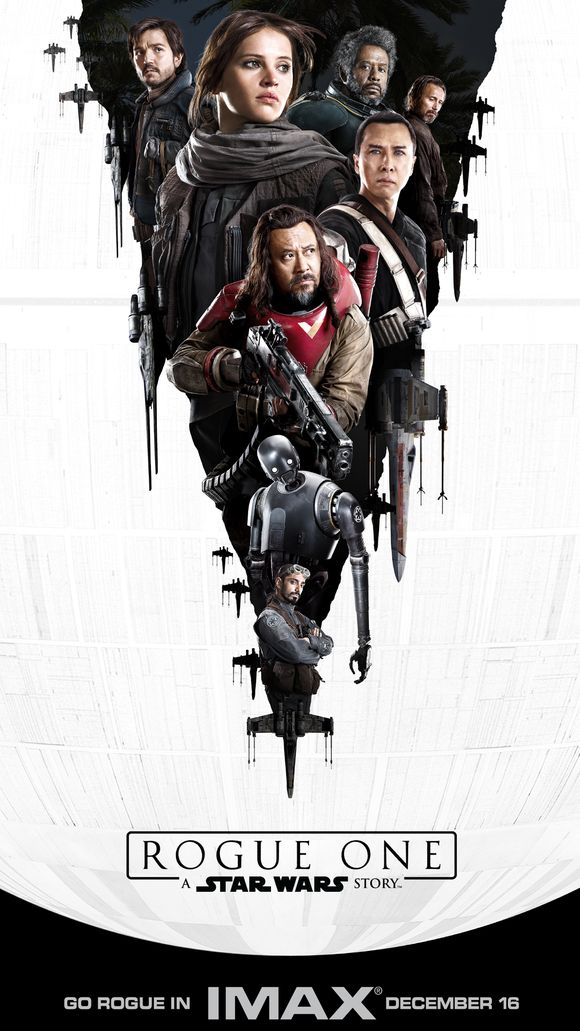 And here's the Dolby poster: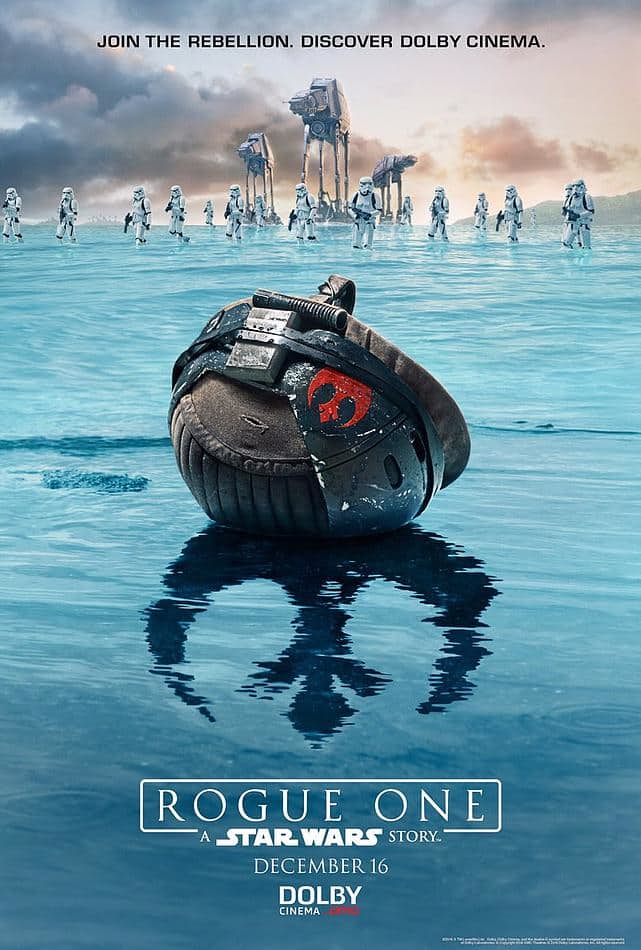 Gareth Edwards revealed this new posters before the final trailer premiered: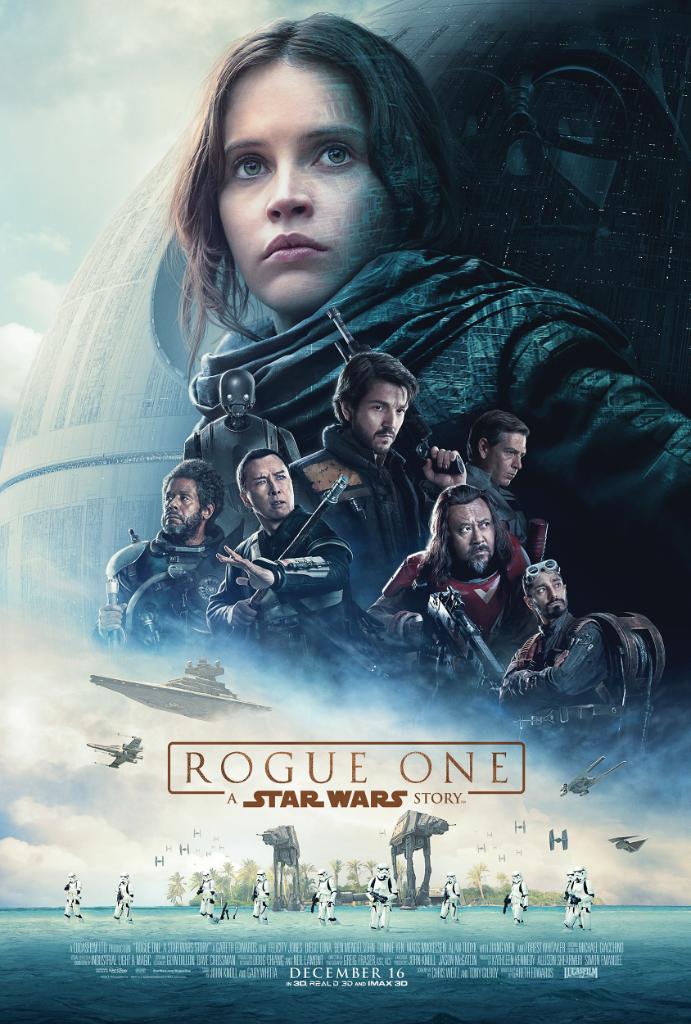 A poster was unveiled at Star Wars Celebration 2016, and it emphasizes the battle between the Rebels and the Empire on the planet Scarif. Check it out:
Star Wars: Rogue One Photos
Star Wars UK's Twitter account released two new behind-the-scenes photos of Felicity Jones performing stunts as Jyn Erso, Rogue One's protagonist. The pictures are pretty neat. Check them out below:
In other news, we have our first look at a new Rebel ship that will appear Rogue One. This one's called the U-Wing:
The new stills of the U-Wing were unveiled on the latest episode of The Star Wars Show. According to Lucasfilm story group creative executive Matt Martin, the U-Wing (or Incom UT-60D) is a troop transport and support gunship. The ship was actually first unveiled in concept art at last year's Star Wars Celebration: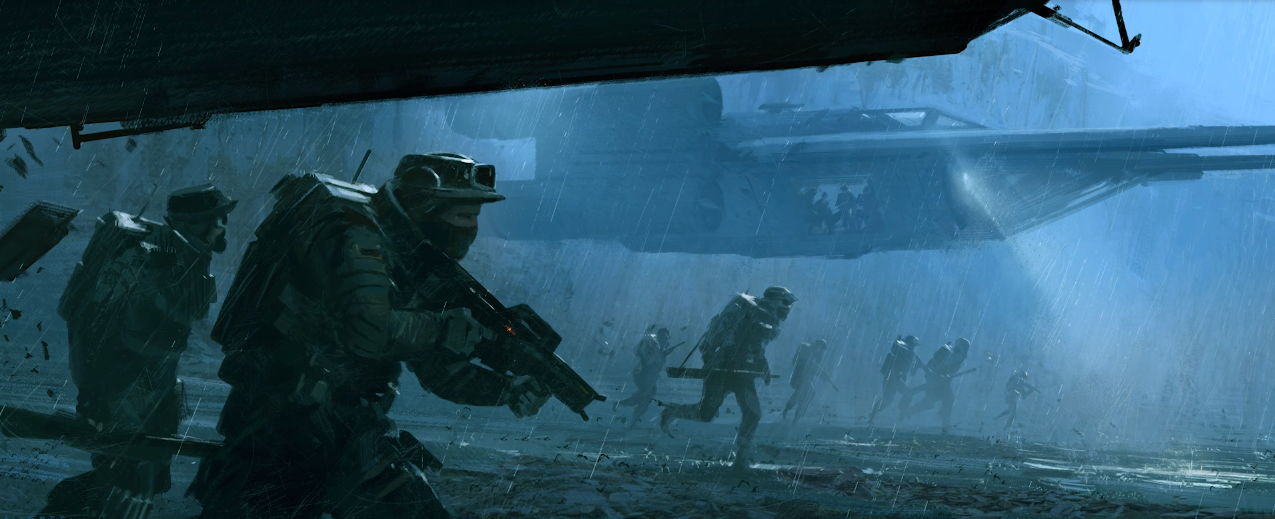 You can check out the full episode of The Star Wars Show below:
EW has released a bunch of pictures from the set of Star Wars: Rogue One. Check them out below:
[gallery:0]
Some new tidbits about Star Wars: Rogue One come courtesy of key art (via IGN) for the upcoming Star Wars Celebration in London. The art reveals the name of a new type of AT-AT as well as a new kind of Stormtrooper (no, not the Death Trooper). 
First, here's the AT-ACT (all-terrain armored cargo transport) we saw in the first Rogue One teaser: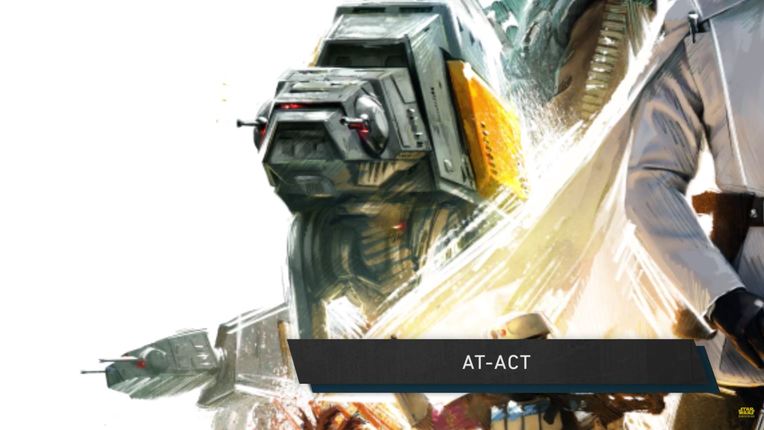 The new type of Stormtrooper is called a Shoretrooper. We're guessing they'll feature prominently during those scenes in the teaser that takes place in what seems to be a beach setting: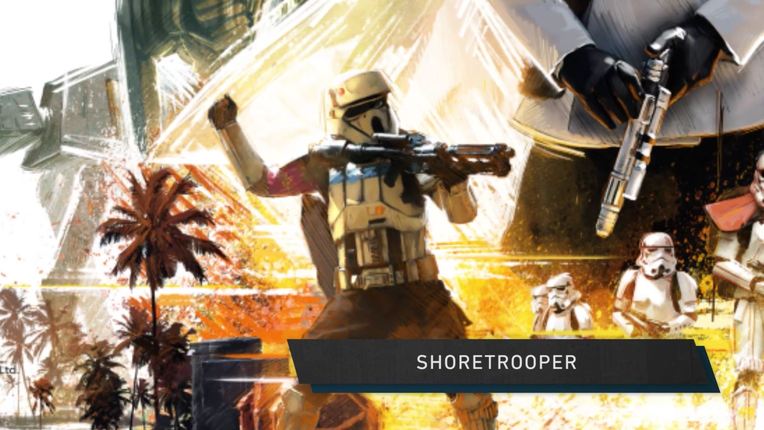 Finally, just because it looks cool, here's some key art for Star Wars Celebration itself. The casts of The Force Awakens and Rogue One share the spotlight in this one!