News
Star Wars: Phil Lord and Chris Miller Talk About Being Fired from Han Solo Movie
The former directors of Solo: A Star Wars Story have finally opened up about being kicked off the movie.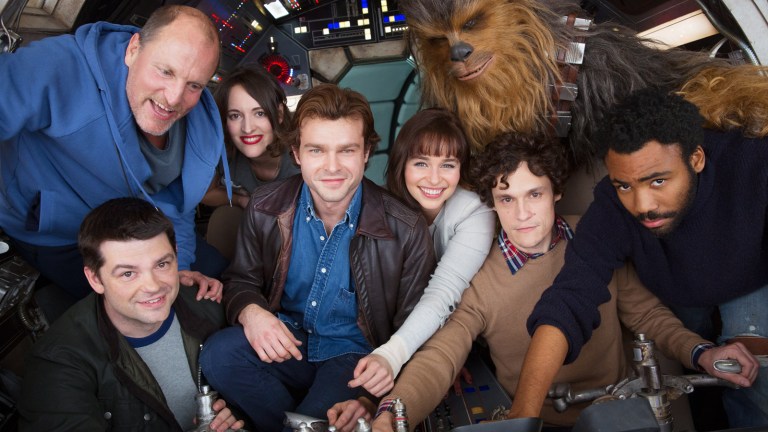 Lucasfilm president Kathleen Kennedy runs a very tight ship. This year, she's fired three directors over creative differences. One of those directors is Colin Trevorrow, who was set to direct the pivotal Star Wars Episode IX. He was replaced by J.J. Abrams after Trevorrow couldn't agree with Kennedy on where the final installment of the Sequel Trilogy should go. 
The other two directors are Phil Lord and Chris Miller, who were already filming Solo: A Star Wars Story when they were kicked off the production. We don't know exactly what went on behind the scenes but reports have said that Lord and Miller didn't work well with Kennedy and that their highly improvisational directing style clashed with what screenwriters Lawrence and Jon Kasdan had written on the page. 
Lord and Miller have kept silent about the firing (beyond a short statement) until now. At the Vulture Festival in Los Angeles this week, the Lego Movie directors finally opened up about what happened with Solo. Surprisingly, they had nothing but nice things to say.
"The experience of shooting the movie was wonderful," Lord said. "We had the most incredible cast and crew and collaborators. I think in terms of us leaving the project, I think everybody went in with really good intentions and our approach to making the movie was different than theirs. That was a really big gap to bridge, and it proved to be too big."
Lord didn't seem too cross about parting ways with Lucasfilm, though.
"Sometimes people break up, and it's really sad, and it's really disappointing, but it happens and we learned a lot from our collaborators and we're better filmmakers for it. We're really proud of the work we did on the movie and we wish everybody the best."
Veteran director Ron Howard (A Beautiful Mind) was brought in to replace Lord and Miller. It's unclear how much footage was re-shot by Howard, but rumor has it that a big chunk of Lord and Miller's work was left on the cutting room floor, replaced by Howard's new footage. In the end, we may never really know who shot what scene.
 "As Phil said, we had such a great relationship with cast and crew, we were really rooting for them, said Miller. "After we took a much-needed vacation, we got back into it and now we're writing and producing a sequel to The Lego Movie and producing a Miles Morales animated Spider-Man."
Solo: A Star Wars Story opens on May 25, 2018.