News
Star Wars: Galaxy's Edge: Opening Date, Images and Details for Disney Park Attraction
Disney's ambitiously immersive park attraction, Star Wars: Galaxy's Edge, whets your nerdy appetite before its summer opening dates.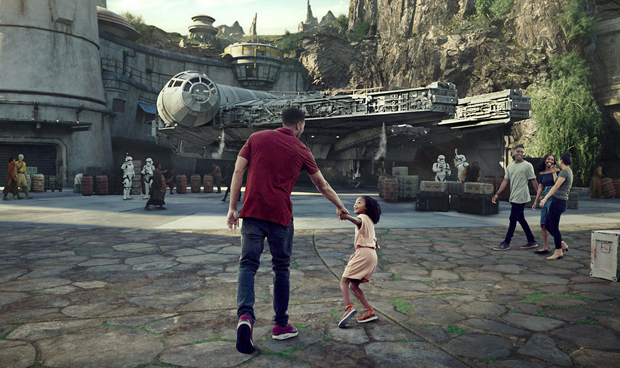 Star Wars: Galaxy's Edge, initially announced back in 2015 as a then-surreal project called "Star Wars Land," is becoming a sublime reality, as images and official information recently revealed. Indeed, it appears to be a movie-universe-immersive experience that's poised to give Universal's The Wizarding World of Harry Potter attraction a run for its money!
Disney just confirmed the opening dates of its bi-coastal Star Wars theme park invasion, starting at Disneyland in Anaheim, CA on May 31, subsequently set for Disney World's Hollywood Studios in Orlando, FL on August 29.
Galaxy's Edge will do more than simply recreate a cinematic franchise experience, since it will expand upon the sprawling canon, introducing a completely original place, a remote frontier planet on… well, the galaxy's edge, called Batuu, a place that happens to be a proverbial smorgasbord of the Star Wars universe. Based on the revealed attractions, it's safe to say that you will not be bored!
As Pablo Hidalgo, senior creative executive on the Lucasfilm Story Group, recently explained to StarWars.com of the choice to forgo an iconic and/or familiar Star Wars setting, like, for example, Tatooine's Mos Eisley Spaceport:
"We find this sweet spot [on the galactic map] where like, 'Batuu can be here,'" said Hidalgo. "And if it's here, this is what it means in terms of, where is it on the First Order's path to what it is they're doing? Where is it on the Resistance's path to what it is they're doing?"
Creative executive Matt Martin chimed in on the choice to create Batuu, explaining:
"Every little thing seems to have a backstory here. When we're making the films we kind of retroactively make up what the stories could be. But here, we were thinking of the stories as we went."
Indeed, Batuu is the planetary backdrop on which your Star Wars experience will be set, advantageously showcasing everything you could possibly evoke from the canonical universe. Besides the impressively exotic structures, the look of the planet is said to be inspired by the petrified forests of New Mexico and architectural aesthetics from visits to Morocco and Istanbul.
Batuu's Black Spire Outpost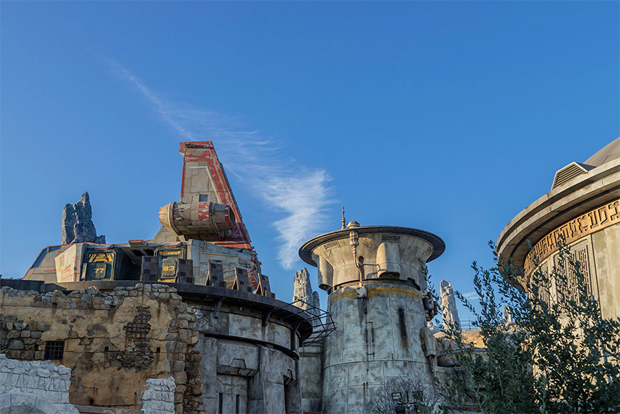 The hub for visitor activities at Star Wars: Galaxy's Edge will be the Black Spire Outpost, a structure that's destined to become iconic in the lore. There, you can grab a quasi-exotic bite to eat at Docking Bay 7 Food and Cargo, starting at Tuggs' Grub (of Strono "Cookie" Tuggs, the chef at Maz Kanata's castle on Takodana). If that doesn't suit you, you can dine at Ronto Roasters (eating exotic meats roasted in a recycled podracer engine), then wash it all down at the Milk Stand, where blue milk is served farm-fresh, or just roam around the street markets, where purple popcorn is served at Kat Saka's Kettle.
Of course, there's plenty of merchandise and various knickknacks to be bought, as well as intriguing activities at Savi's Workshop (where you can build your own lightsaber), the Droid Depot (where you can construct your own astromech droid), the Resistance Supply (where sympathizers can purchase uniforms, supplies and other items), or just hit the Toydarian Toymaker shop.
Galactic Attractions
Of course, the main draw at Galaxy's Edge are the attractions, represented here by two: Millennium Falcon: Smuggler's Run and Rise of the Resistance.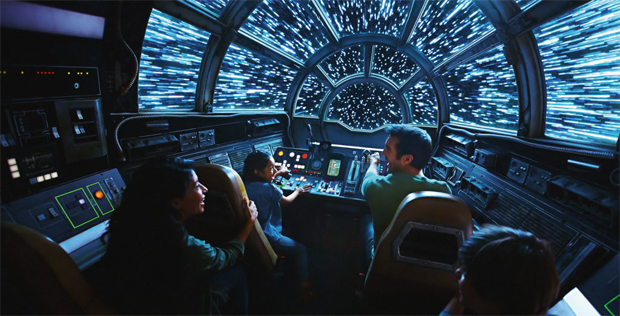 Smuggler's Run will take you inside the life-sized Millennium Falcon at which you will have no doubt dropped your jaw while passing by on your way to the Black Spire. Indeed, you – and your cohorts – will be inside what is, for all intents and purposes, a real-life version of the "piece of junk" ship that made the Kessel Run in less than 12 parsecs, manning the two guns, occupying the two cockpits and occupying the engineering sections in a completely interactive experience that will have you in an intense battle with TIE Fighters.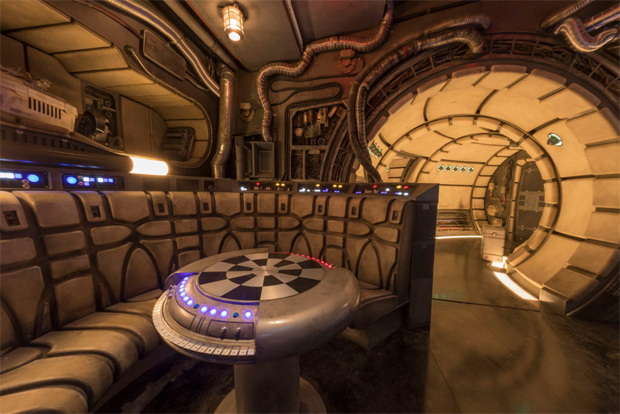 Intriguingly, the identity of your host on the Falcon will delight fans of Star Wars: The Clone Wars and Star Wars Rebels, since it will be a live-action version of the notorious smuggler, Hondo Ohnaka, who will manifest by way of advanced animatronics.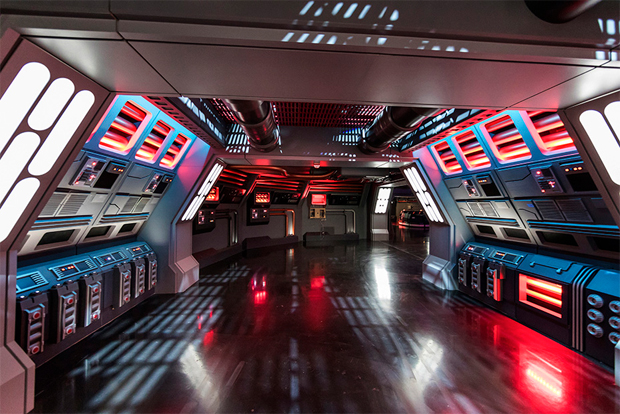 Rise of the Resistance, however, is the more ambitious experience, putting you on a mission with the Resistance that involves infiltrating a Star Destroyer that you'll be able to explore! The attraction will start when your shuttle is caught by tractor beam, which will take into the hangar – which will be recreated from the films to a tee. Once there, your mission will begin, joined by Sequel Trilogy heroes Rey, Finn and Poe Dameron via performances by Daisy Ridley, John Boyega, and Oscar Isaac. You'll even have a run-in with Kylo Ren!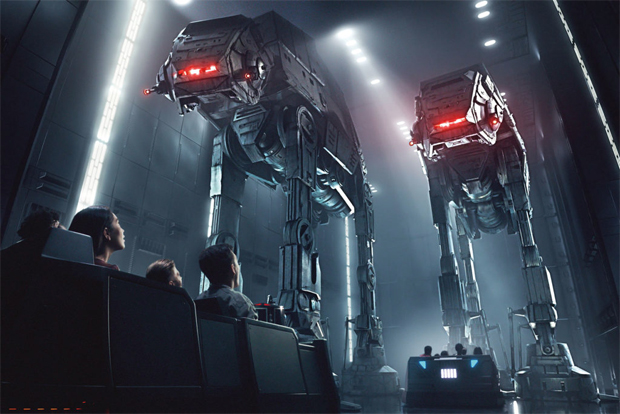 There are also plenty of surprises promised, along with teased things like a life-sized version of Poe Dameron's X-wing and an A-wing, and even a frightening face-to-face encounter with life-sized AT-AT walkers!
Atmosphere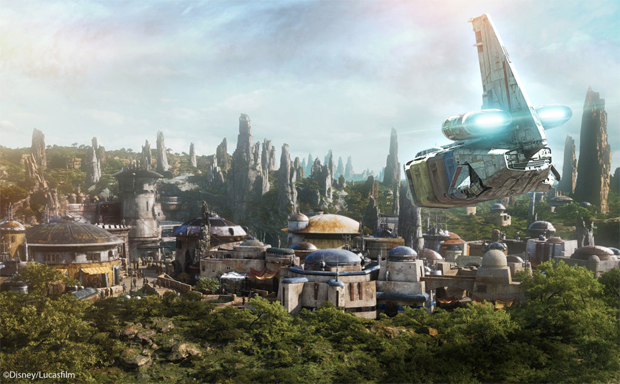 Not only will the Smuggler's Run and Rise of the Resistance attractions feature the iconic cinematic scores of John Williams, but the land of Batuu itself will be teeming with music in the form of original scores by Williams, made specifically for the park! Not only that, but you'll smell unique scents and hear Star Wars sounds at every corner from exotic music and even sound effects and alien chatter like, for example, the sound of a Jawa shouting "Utinni!." It's all designed to create an authentic atmosphere.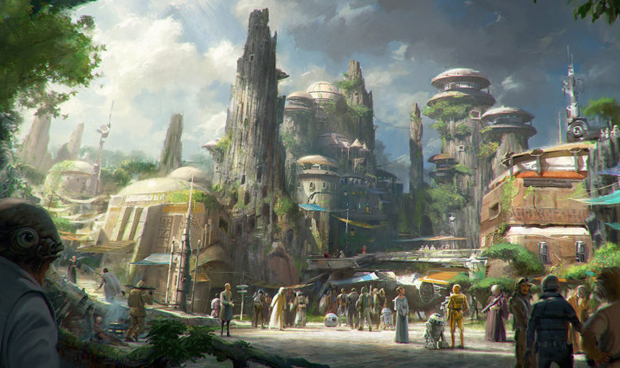 We'll keep you up to date on Star Wars: Galaxy's Edge as the opening date approaches!
Listen to the latest Star Wars Blaster Canon podcast:
Subscribe: Apple Podcasts | Spotify | Stitcher | Acast | RSS
Joseph Baxter is a contributor for Den of Geek and Syfy Wire. You can find his work here. Follow him on Twitter @josbaxter.