News
Star Wars: Episode IX: Rian Johnson Denies He's Directing
As Star Wars: Episode IX searches for a new director, The Last Jedi's Rian Johnson denies he's taking the job.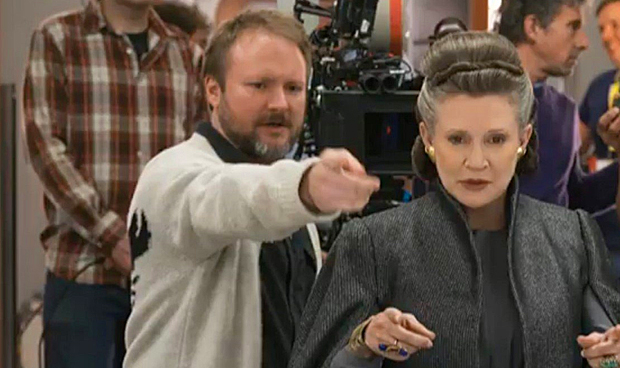 Will Star Wars: The Last Jedi director Rian Johnson step in to Star Wars: Episode IX to replace the formerly-appointed Colin Trevorrow?
That's the dominant question in the Star Wars realm right now and a recent report by Deadline seemingly validated the notion. Well, in the latest development (via THR), Johnson – speaking to a gaggle of reporters in a press conference in Japan – denies that he's planning to occupy the Episode IX director's chair! Yet, Johnson's language is vague enough to leave the notion alive, stating:
"It was never in the plan for me to direct Episode IX, so I don't know what's going to happen with it. For me, I was entirely focused on Episode VIII and having this experience. Now I'm just thinking about putting the movie out there and seeing how audiences respond to it. So, no, I'm not really thinking about that right now."
After that artful exercise in passive voice answering, Johnson continues:
"Whoever does it, I'm going to be really excited to be an audience member again, and to sit down and see what the next filmmaker has to show us and where this story ends up going."
Johnson came into Star Wars: The Last Jedi as the buzz-worthy helmer of action-drama hits such as 2005's Brick, 2008's The Brothers Bloom and, the film that got him hired, the 2012 time-bending action drama Looper. While he was relatively untested in the blockbuster arena, he survived the notorious, notes-heavy, collaborative process of working with studio monolith Disney and Lucasfilm; a process that apparently tanked Colin Trevorrow. Thus, Johnson has effectively established himself as a director who can be trusted to run with this most crucial of properties.
Johnson's denial aside, there would be a practical purpose to bringing him back behind the camera for Star Wars: Episode IX: time. Indeed, unlike 2015's Sequel Trilogy kickoff Star Wars: The Force Awakens, 2016's Original Trilogy-era spinoff Rogue One and this year's The Last Jedi, the pattern of releasing the franchise films in December will be broken by the time Episode IX arrives, set for an early release in May 2019. – Thus, now in the final quarter of 2017, cameras will need to start rolling soon enough. From Disney/Lucasfilm's perspective, avoiding the time-consuming process of breaking in another director and avoiding more potential "creative differences" might sound like a good idea, especially if they can't reach a timely decision on the new Star Wars cinematic skipper.
For now, Star Wars: Episode IX has its date with destiny set for May 24, 2019 – a year after the planned May 25, 2018 release of the Ron Howard-directed Han Solo spinoff movie. Those films, of course, will be preceded by Johnson's directorial offering Star Wars: The Last Jedi (Episode VIII), which hits on December 15, 2017.
UPDATE: Not even 24 hours after this article published, a returning J.J. Abrams would be confirmed as director and the problematic May 24, 2019 release date would get shifted to a more comfortable date of December 20, 2019.
Read and download the full Den of Geek Special Edition magazine here!