News
Star Wars: Disney Slowing Down Production of New Movies
Disney boss Bob Iger says there will be a "slowdown" when it comes to producing Star Wars movies.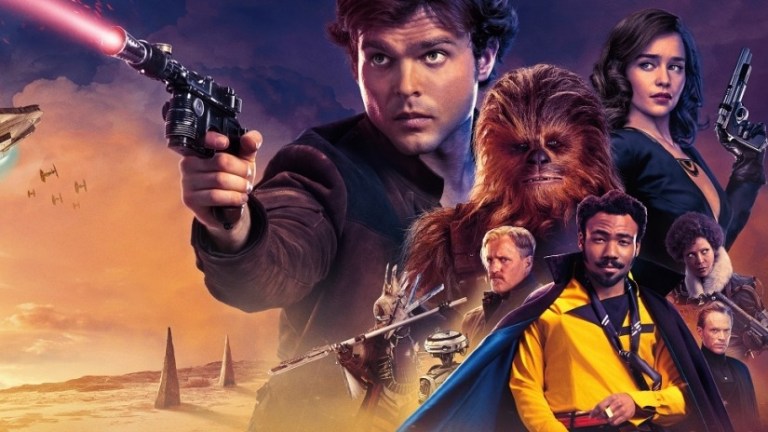 Disney is rethinking the way it releases Star Wars movies, according to CEO Bob Iger. Specifically, the company is looking at how often it releases new installments in the wake of Solo: A Star Wars Story's meager $392 million global box office take. Considering that the three Star Wars movies preceding it, including the first standalone movie, Rogue One, made more than a billion dollars each at the box office, Solo's earnings are strikingly unimpressive. 
Solo was released only five months after The Last Jedi, which some believe might be what doomed the spinoff, to begin with. Too many Star Wars movies in too short a time. According to Iger, he's the one to blame for the timing of Solo. 
"I made the timing decision, and as I look back, I think the mistake that I made — I take the blame — was a little too much, too fast," Iger explained to THR. 
Some have speculated that Solo's failure at the box office means that Disney will no longer pursue spinoff Star Wars Story films. For the time being, only Episode IX is firmly on Disney's slate, but Iger confirms that there are certainly more Star Wars movies on the way.
"You can expect some slowdown, but that doesn't mean we're not going to make films. J.J. [Abrams] is busy making [Episode] IX. We have creative entities, including [Game of Thrones creators David] Benioff and [D.B.] Weiss, who are developing sagas of their own, which we haven't been specific about. And we are just at the point where we're going to start making decisions about what comes next after J.J.'s. But I think we're going to be a little bit more careful about volume and timing. And the buck stops here on that."
While Iger only mentions Benioff and Weiss' movies specifically, Disney has several other projects in development, including Rian Johnson's new trilogy and a Boba Fett standalone that's been long in gestation. Boba Fett even has a director in James Mangold (Logan), who is also co-writing the script with Simon Kinberg (X-Men: Dark Phoenix). Of course, after Solo's weak box office take, the bounty hunter might be hurled back into the sarlacc pit. 
Reports in the weeks after Solo debuted in theaters painted a gloomy picture inside Lucasfilm, as it allegedly debated scrapping the Star Wars Story movies altogether, but the company later released a statement saying it was still developing standalone projects. Iger's update suggests, at the very least, that Disney won't take the Marvel approach with Star Wars and release a new movie every couple of months. 
Could this mean that Disney is going to take more of an "event film" approach when it comes to Star Wars, putting wider gaps between installments? Considering that the original six Star Wars movies were released three years apart in their respective decades and had successful box office runs, it couldn't hurt. That said, don't expect Disney to wait that long between movies. This may just mean that the House of Mouse is going back to the "Star Wars movie a year" approach. 
Either way, we'll have a lot of time to speculate in the year and change until the release of Episode IX in December 2019. We'll keep you updated as we hear more.
John Saavedra is an associate editor at Den of Geek. Read more of his work here. Follow him on Twitter @johnsjr9.